A new edition to FIFA this year, Volta Football is arguably the best thing about FIFA 20. Essentially a less bombastic FIFA Street that you don't have to pay extra for, you can take your skills to the concrete in 3v3, 4v4, and 5v5 matches while looking good and pulling off some ridiculous skills. While it might lack the starpower of the FIFA Street series, the ability to cultivate your own player and team is a great attraction.
If you've been playing FIFA for years, however, Volta takes some getting used to. The goals come thick and fast, there are no offsides, and there's far less room to move around in. Though they have a similar feel in terms of how players play, the new mode could be seen as an entirely different game, which is why you could do with some Volta tips.
Ranging from how to score in the mode's tiny goals, the best players to recruit, and how to make most of the formations, these Volta tips should help you get on the path to becoming a street legend.
FIFA 20 Volta Tips
Chill the Skills
Volta is all about flexing on your opponents with outrageous skill, but we've seen quite a few people just hammer the trick sticks while playing online. Don't do that.
Unless you learn the exact inputs for tricks, resist the temptation to try anything fancy as getting dispossessed in Volta often means that the opposition will have a clear run at goal due to there being far fewer defenders. Don't try to be David Beckham when you're actually David Bentley.
Find the Right Formation
Volta obviously doesn't have the same level of detail as the main game in terms of how you set your players out and how you want to play, but you should at least be checking out your formation and tweaking it to fit players' preferred formations.
Another thing to be aware of is that, similarly to Ultimate Team, your team will have better chemistry if they both come from the same home ground. If you have four players from Warehouse, for instance, it might be better to put them together rather than relying purely on higher skill players with no connection to each other.
Recruit Some Legends
Once you have completed the Volta story, you will have access to any of the street Legends you beat over the course of the narrative. Anyone you failed to beat previously can be attempted again in Volta Tour.
To access your conquered Legends, simply go to your team management screen and press R2/RT. There are unfortunately no defensive Legends out of the bunch and you can only use one at a time to keep things balanced.
Pass In Triangles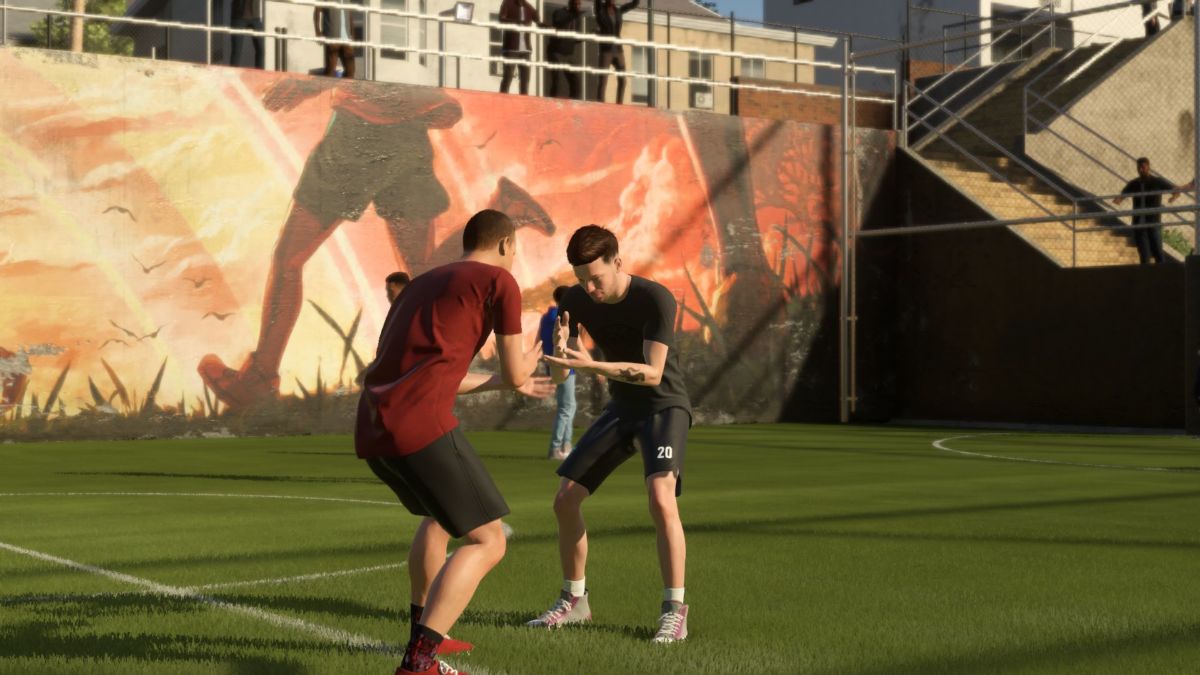 Again, you have to think of Volta as a serious game of football rather than an excuse to show off if you really want to succeed. This tip is actually taught to you early by the mode itself: play give and go in triangles.
Using L1/LB and your pass button, you can assign your players to make a forward run, which will lead to you regularly cutting through the opposition, especially when you utilise the triangle and pass quickly.
Keep Your Shape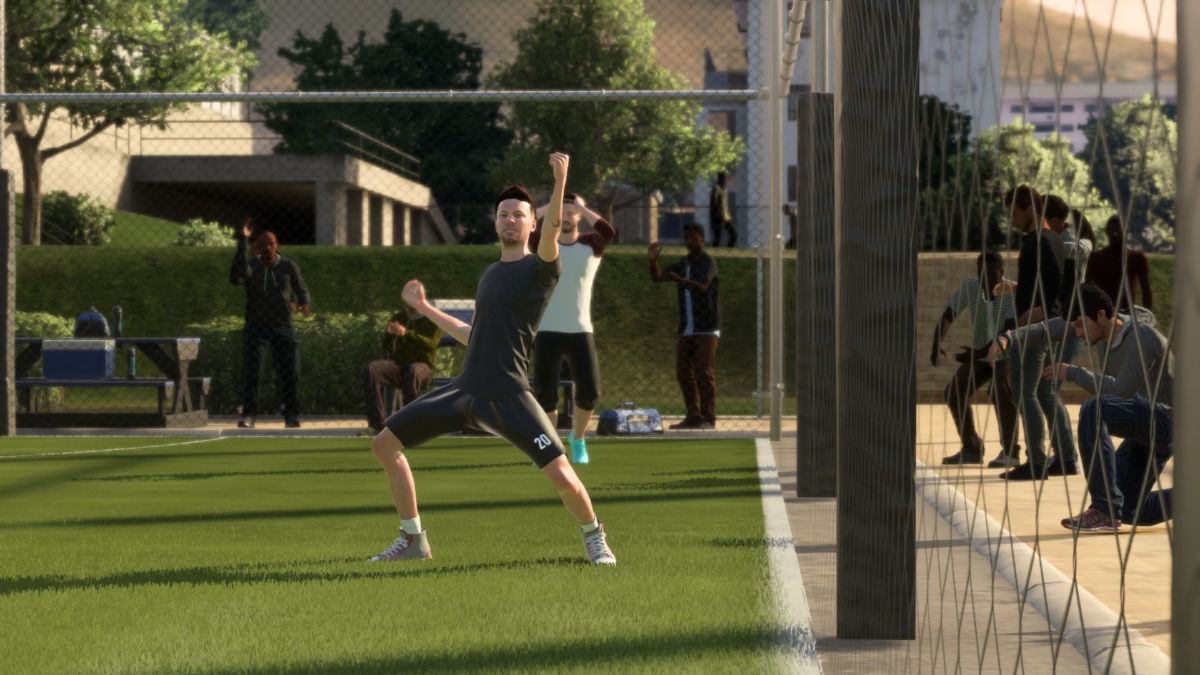 You need to defend in Volta just like you would in a regular match of FIFA. That means jockeying and containing your opponents, making sure that every opponent has a player marked. Open players are the death of you in Volta.
This tips is especially important when you are coming against players who just love to show off with tricks. Being able to negate fancy footwork will often lead to you having a counter. There's nothing wrong with getting your football fundamentals right first and foremost.
Use the Walls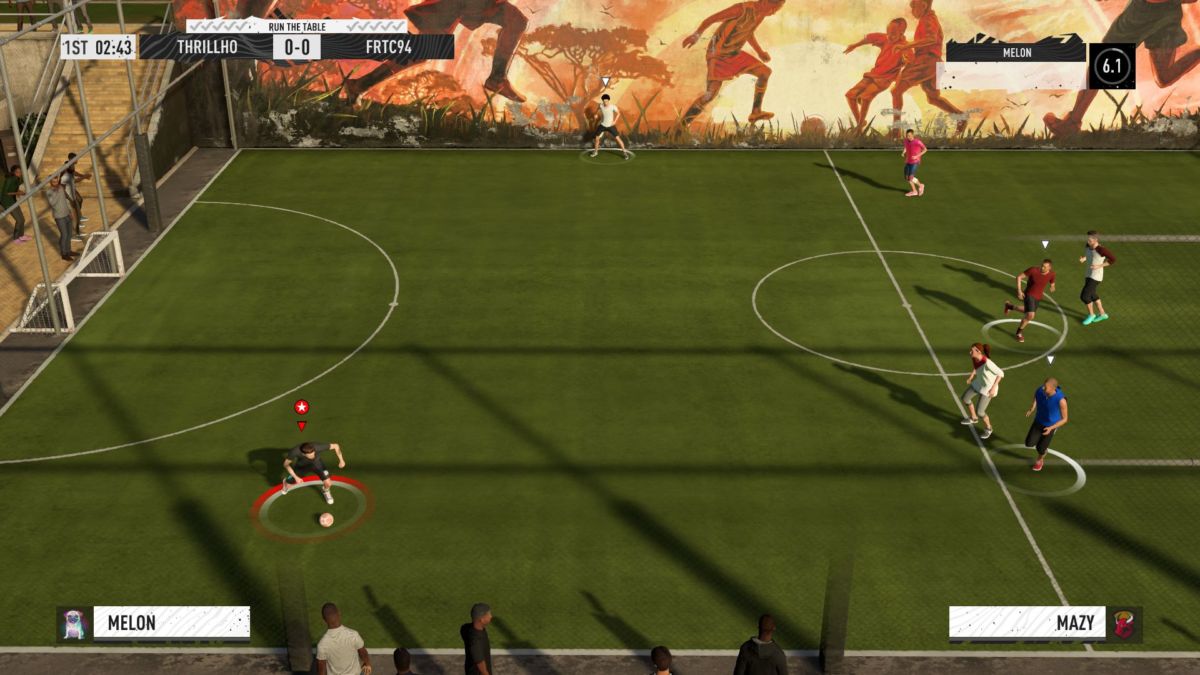 This is the most situation Volta tip of the lot, though it can make you feel like a million bucks if you do pull it off. The court walls (not available on all pitches) can be used to provide and unlikely assist, or maybe even a cheeky goal.
The walls have a huge amount of rebound potential when you strike a firm shot at them. It's all about the angle: if you hit it at a 45 degree angle, it will then rebound on the inverse and potentially land at the feet of a teammate. Use a driven pass (R1/RB) to pull these off the easiest.
Placement and Power
While you might get a million attempts on target during Volta owing to its overall open nature, finishing is another thing entirely due to how tiny the net is and how goalkeepers tend to not mind getting hit in the face.
To score goals against the goalkeeper in Volta, we recommend that you get just within their "box" and then go a finesse shot with plenty of power, making sure to aim at the more open part of the goal. You will still be left frustrated sometimes, but the lack of ease for scoring goals makes sense — Volta would just be a cricket game, otherwise.
Recruit Wisely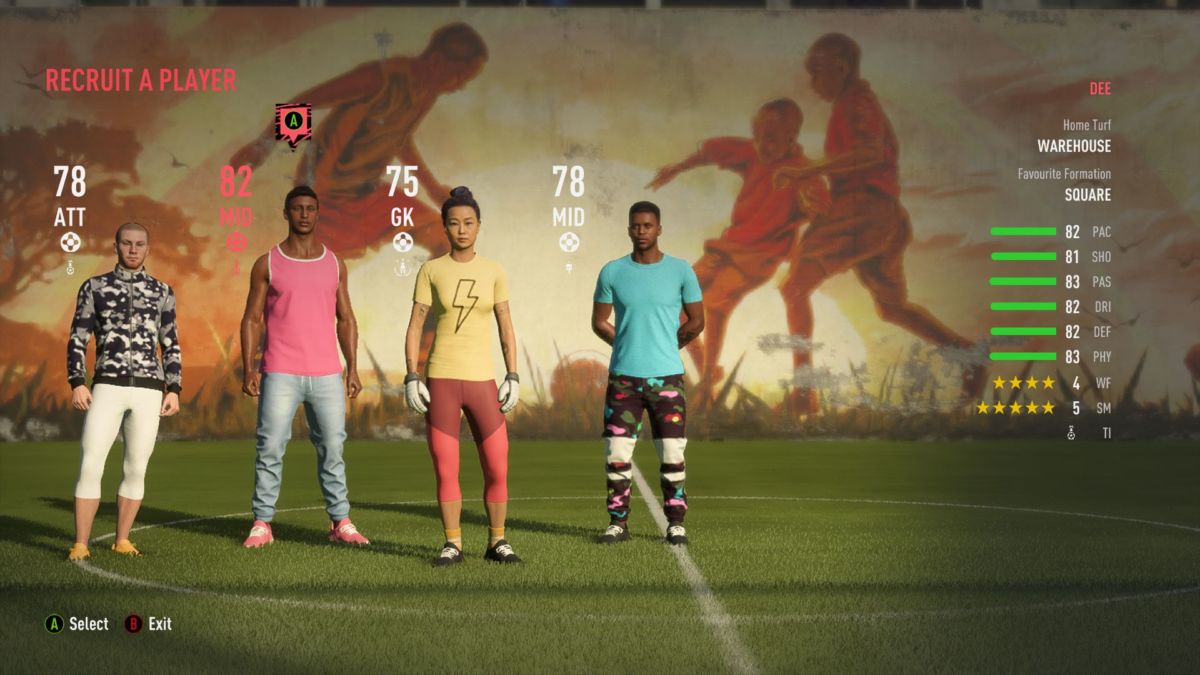 The UI for recruiting players, which you get a pick of after beating a team, is really not all that great. It shows you their home turf, but it's a little tricky to remember what formation and partnerships you are running without a point of reference.
If you can, always try to have one two duos of players, which will greatly enhance your chemistry. If there's a really high level player that you can recruit from the other team, we'd recommend swapping them out for a player from a home turf that you don't use often and then trying to see if you can incorporate them later.
If you want the best players for Volta League, don't forget that you can go all across the world in Volta tour and unlock the very best.
From our FIFA 20 review:
"FIFA 20 represents yet another conservative entry from EA that feels like it's just biding time until the next generation of consoles comes along. Featuring next to no innovation on the pitch, an underwhelming Career Mode with puddle deep changes, and a consistently shady Ultimate Team, the only real reason to play FIFA 20 is Volta, and even that might fall afoul of excessive monetisation before long. Otherwise, you aren't missing much."
MORE FIFA 20:
– FIFA 20 Beginner's Tips: Tactics, Corners, Pace & More
– FIFA 20 Wonderkids: Best and Cheapest Young Players
– FIFA 20's Career Mode Changes Are Puddle Deep
Some of the coverage you find on Cultured Vultures contains affiliate links, which provide us with small commissions based on purchases made from visiting our site. We cover gaming news, movie reviews, wrestling and much more.