It's been a period of upheaval for football in general of late, what with VAR drastically changing the matchday experience (for better or worse, I'll let you decide), rumours of an elite league hamstringing anyone outside of the upper echelons, and widespread allegations of corruption making the beautiful game less so. If you're looking for some consistency in this tumultuous time, I'd recommend FIFA 20, which is basically the same core FIFA experience we've had for the last three years now.
I've already written about how hard it is to distinguish this FIFA from the last, and that still rings true dozens of hours later. Pace is far more important this time out, meaning that Hirving Lozano can finally outpace Wes Morgan, but the changes are very surface level — or even to the detriment of the game — beyond that.
AI defending has received an overhaul, which means that defenders are far less likely to go on walkabouts while you're not in control of them. This change makes high ball situations (corners and crosses) far harder to crack, though they seem to be especially prone to the overlap as they now more or less hug an attacker, leaving them exposed to an ancillary attacker's run. This, coupled with the massive increase in pace, makes FIFA 20 a pacy winger's dream — the likes of Salah and Liverpool in general feel like a cheat code, they're that effective.
Extra attention has been paid to how the ball moves across the pitch, too. While the more realistic approach is appreciated, it feels a little at odds with the arcade nature of FIFA in general, which plays more like a highlights package than the real thing. The ball will "hang" while moving across the pitch, impacting how effectively your players can use its momentum to press forward. It's a small change, but one that negatively affects the tempo and makes FIFA 20 feel like it's stuck in two minds: arcade or simulation?
Beyond those tweaks, any additions to the core FIFA experience are so small that they're negligible, so much so that I felt like I was right back in FIFA 19 after a few hours. I'd been playing a lot of FIFA 19 in the lead up to 20 and felt myself falling into a very familiar groove before long. It's hard to innovate when every conceivable facet of a sport has already been gamified over decades of iteration, yet FIFA 20 represents the most minute of overhauls that I can recall from the series. We're essentially back at FIFA 18 with pace now being returned to its former glory and not much changing in the interim.
Similarly to previous years, it's a new mode where all the freshness can be found in FIFA 20. With The Journey's three year, erm, journey now over and Alex Hunter's story complete, Volta Football is likely to be the most fun long-time FIFA players have this year, which is a slightly less bombastic version of FIFA Street with a barely tolerable level of wince-worthy dialogue in its story mode.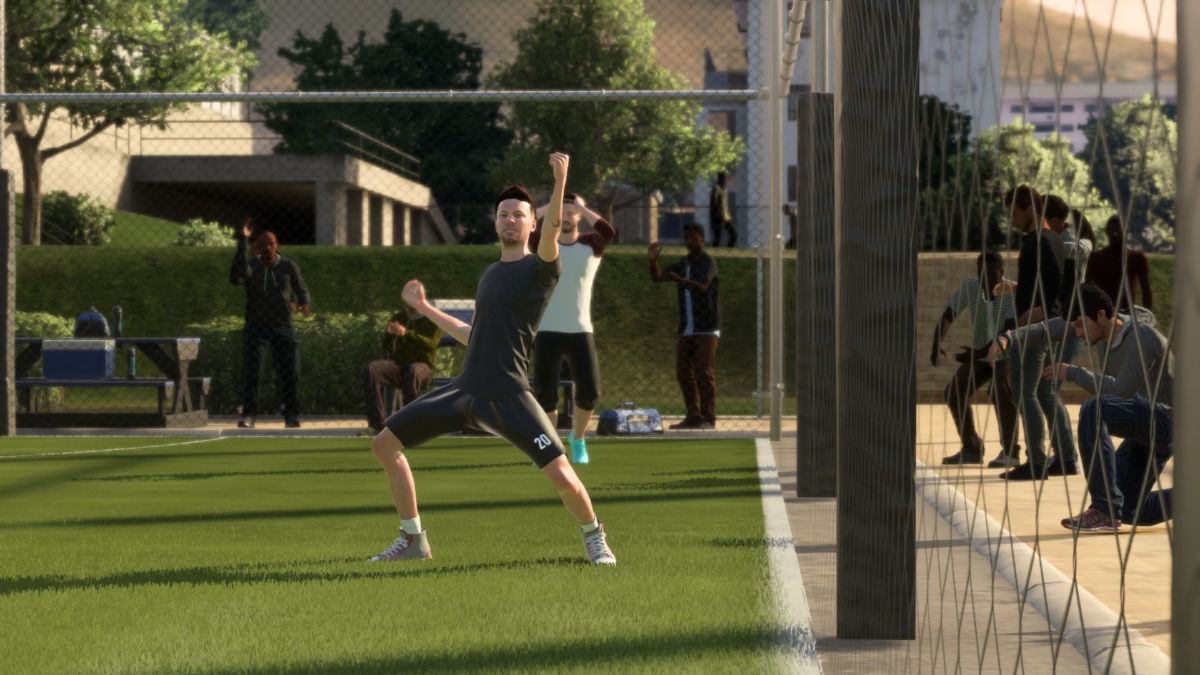 Volta is a three-pronged beast with players having access to Volta Story, Volta Tour, and Volta League. The story fails the same way other narrative modes in sports games also do in that it has enough cheese to attract every mouse in the world. The Journey just about toed the line between an interesting family drama and soap opera nonsense, but Volta fully leans into the wince factor that has plagued the likes of Need for Speed in the past. The characters all talk in a boomer's approximation of youth dialect with plain silly characterisation and twists along the way. An eleventh hour bit of character development for Revvy, the protagonist, can't stop him from coming across as an entirely unlikable dafty, either.
You're probably not here for Street Shakespeare, however, so it's lucky that what happens on the court is pretty damn fun. Available in 3v3, 4v4, or 5v5 match-ups, Volta is a condensed and skill-centric version of the main game that asks you to beat opponents while styling on them. Whether it's using the walls of a court to pull off a crazy pass, pulling off mad manoeuvres to split the opposition's defences in half, or just having a kick-about with mates, Volta is a breath of fresh air for what is otherwise a stagnant game.
Away from the story, Volta Tour is a single-player experience that allows you to travel across the world and win competitions while recruiting new players, which is handled in a pretty interesting way. Once you've beaten a team, you are then given the chance to recruit one of them to your roster. While you may initially be drawn to the highest-rated player, you have to be aware of how their "home court" and preferred formation will change your line-up's chemistry. The tactical choices in Volta are rather slender overall, though it can make all the difference to have all the things in the right places.
Meanwhile, Volta League is basically Volta's equivalent of Seasons, you going up and down leagues based on your results. It's certainly fun to face other players online in the mode, especially when so many appear to be absolutely punching their sticks for skills without much thought. It will be interesting to see what kind of crazy Shaolin Soccer matches take place between the best of the best down the line.
I do have some reservations about Volta, however, and that comes down to its rather grindy progression system for further customisation. To unlock fancier clothing, you must complete specific, annoying challenges and then spend Volta Coins to unlock them properly with you having to buy clothing individually for each member of your squad, making a universal kit quite pricey. Though EA have said there won't be any microtransactions in Volta at launch, it already seems primed for some heavy monetisation.
Career Mode has been a refuge for those who don't play Ultimate Team over the years, though the returns have been diminishing with it clear where EA's royalties lie. Some impressive changes were promised for FIFA 20, but they unfortunately become a chore instead of anything meaningful within just a couple of hours.
This time out, players can now customise their managers from a selection of presets with there being sadly little room for customisation. Once you've made your manager look like he's chewing as few bees as possible, you are then tasked with the same routine as previous years with the variety coming from player interaction and morale. Either by talking to them directly or mentioning them at press conferences, you can either boost their morale with compliments or lower it by criticising them heavily.
The problem here is that your squad's morale seems to have next to no tangible effect on their performance on the pitch, so the busywork of answering three very repetitive questions before and after every match feels completely pointless. Players can approach you with their questions/concerns and you can finally reply in FIFA 20, but the impact of any decision you make is barely noticeable. It's a decent concept, but the poor execution means that the sheen of Career wears off quickly and leaves you feeling like, again, you're just back playing FIFA 19.
To address the giant, opulent elephant in the room, Ultimate Team remains as impenetrably pointless and imbalanced to me since it was first introduced in FIFA 09. I dabble in UT each year and end up bored pretty quickly, and this year's edition was no different. I simply don't have it in me to build up a squad bit-by-bit based on random chance or grinding enough to purchase directly and then take it online to end up getting dunked on by CR7RonaldoCR7, who somehow has all the best players already.
About Those Microtransactions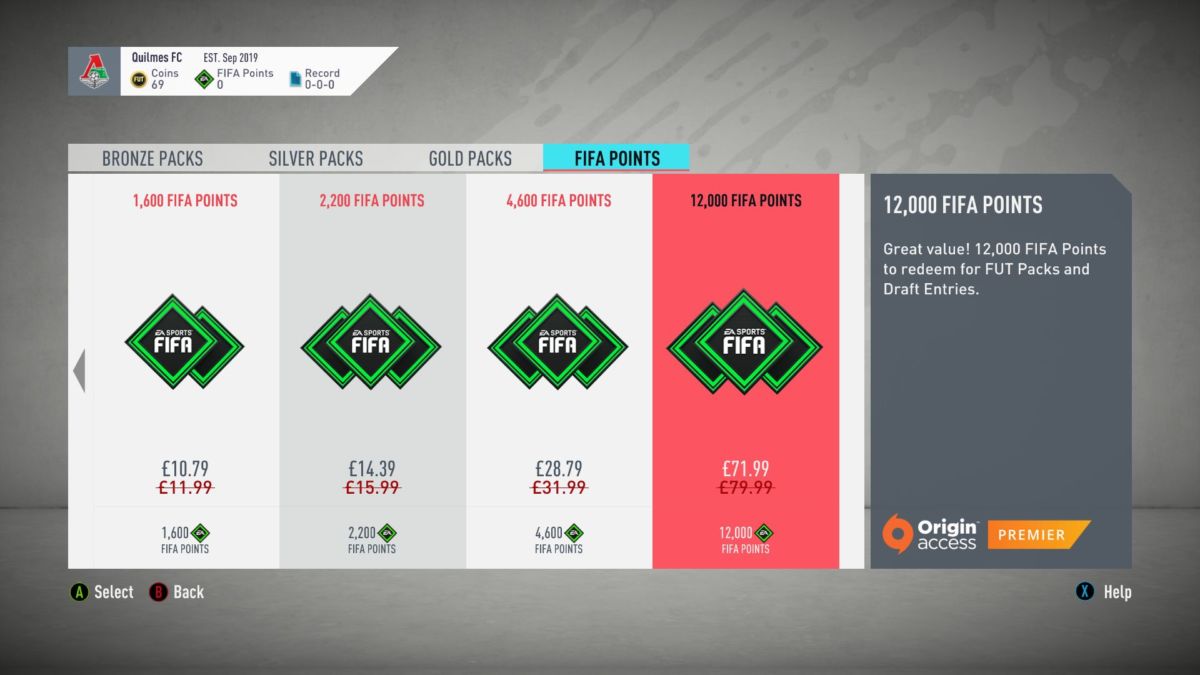 Players can buy FIFA Points for Ultimate Team to put towards Silver Packs and above.
These packs contain players based on random chance. The more you spend on the more expensive packs, the better players you will receive.
Prices start from 79p for 100 FIFA Points and go up to £79.99 for 12000 FIFA Points.
It is, objectively and definitively, pay-to-win gambling.
I say "somehow", but it's clear where a lot of elite players get their equally elite squads from: loot boxes. Having signed up for Origin Access Premier to get the Ultimate Edition, I was rewarded with a tonne of packs with lucrative players inside — instantly a better leg-up than anyone who buys the Standard Edition. I will be getting a couple of new packs every so often for having the Ultimate Edition, eliminating the need to grind as much for coins or FIFA Points as a "regular" player. If that's not pay-to-win, I don't know what is. Just look at the below: I did nothing but claim my rewards for this squad.
The overall presentation of Ultimate Team also feels somewhat exploitative, the unpacking of a rare player being made to look like an especially gauche episode of Changing Rooms with you being transported down a luxurious corridor as the player emerges from the shadows with pyrotechnics. This might seem tacky to you or I, but this overblown presentation of what is essentially gambling is basically a dinner bell for the easily suggestible. I vividly remember unpacking Harry Winks and then laughing off the ridiculousness of it all, but others might feel compelled to roll the dice again for a better unpacking.
FIFA 20 represents yet another conservative entry from EA that feels like it's just biding time until the next generation of consoles comes along. Featuring next to no innovation on the pitch, an underwhelming Career Mode with puddle deep changes, and a consistently shady Ultimate Team, the only real reason to play FIFA 20 is Volta, and even that might fall afoul of excessive monetisation before long. Otherwise, you aren't missing much.
MORE FIFA 20:
– FIFA 20 Volta Tips: Tricks, Formations, Best Players & More
– FIFA 20 Beginner's Tips: Tactics, Corners, Pace & More
– FIFA 20 Wonderkids: Best and Cheapest Young Players
Some of the coverage you find on Cultured Vultures contains affiliate links, which provide us with small commissions based on purchases made from visiting our site. We cover gaming news, movie reviews, wrestling and much more.

Verdict
With unsurprisingly shady surprise mechanics and little to no significant movement on the pitch, FIFA 20 is a stopgap entry that only has Volta to boast about.