Check out the most recent version: FIFA 21 Wonderkids: Best & Cheapest Young Players
FIFA 20's ratings have been the subject of much debate, as they always are. For those who play Career Mode, however, they don't matter nearly as much — good performances and regular play mean anyone under the age of 29 has a good chance of seeing an overall increase. This applies especially to FIFA 20's wonderkids, who can rocket up the ratings with committed training and just the good ol' passage of time.
If you're playing FIFA 20's Career Mode for the long haul, you'll know there comes a time when the likes of Messi and Ronaldo will retire, leaving the youngsters to take their place, as well as plenty of regens. Within five years of playing Career, the likes of João Félix and Kylian Mbappé will almost certainly sit atop the throne, the latter within touching distance of it already during your very first season.
However, this FIFA 20 wonderkids guide isn't about the obvious Ballon d'Or contenders, who will likely cost you every single penny to buy. It's instead dedicated to the youngsters you can buy on the cheap and cultivate to become great players. They may not necessarily become world beaters, but they won't need you unlock a financial takeover to have a chance of affording them. Plus, what's more satisfying: helping a squad full of rough diamonds to reach their potential or throwing money at anyone under the age of 25?
MORE FIFA 20: FIFA 20 Wonderkids: Best & Cheapest Young Defenders
The Best and Cheapest FIFA 20 Wonderkids
Roberto Massimo (RM)
Age: 18
Rating: 64
Potential: 77
Nationality: German
Current Club: Vfb Stuttgart
Value: €800K
You might look at Massimo's stats and be a little underwhelmed, it being peppered with reds and oranges. While he's incredibly suspect defensively and technically and always will be, it's his speed that you have to look at.
Starting off in the mid-80s, Massimo's growth sees that jump up to 90 and above, meaning that he's someone you can lump the ball to and watch him wreak havoc. With a release clause of €1.8 million, he's a great pick for lower Premier League teams who need an injection of pace.
Ellis Simms (ST)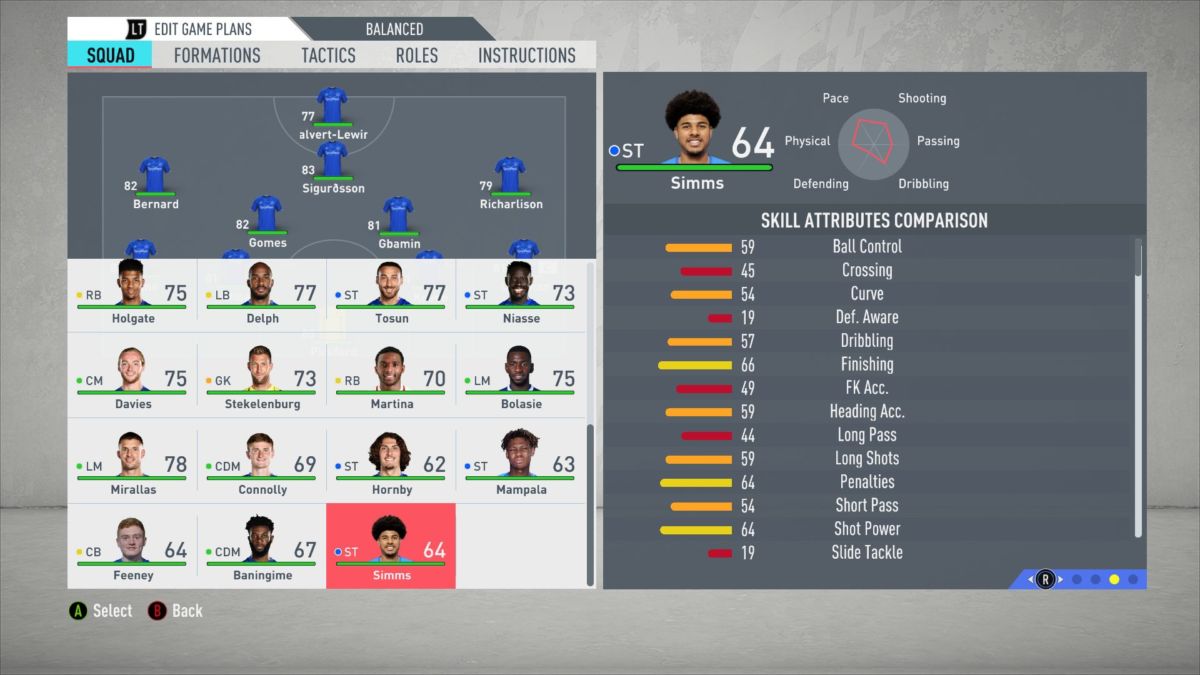 Age: 18
Rating: 64
Potential: 84
Nationality: English
Current Club: Everton
Value: €950K
The Everton youngster had some pretty wild statistics in the youth system last year, recording 32 goals in 21 appearances for the under 18 side. That knack for goalscoring has plenty of fans purring, and he's a good, cheap pickup for FIFA 20 for the long-term.
Starting off at an okay 64, Simms grows rapidly into a more than capable striker with solid stats across the board, apart from defensively. Simms will be a great acquisition for any Championship or second division side across Europe. If you're low on money, he is available on loan.
Sandro Tonali (CDM)
Age: 19
Rating: 75
Potential: 89
Nationality: Italian
Current Club: Brescia
Value: €13.5M
FIFA 20 clearly thinks a lot of Tonali, him being more or less the MVP of Serie A side Brescia (minus Balotelli, who has an alarming 82 rating) even at such a young age. As a CDM with a hell of potential, Tonali is coming for Kante's throne.
With a good amount of pace, enviable strength, and a nice dash of flair, Tonali is great at breaking up play or can even acting as a deep playmaker in the Pirlo role. Pick him up for cheap compared to most CDMs and watch his value skyrocket within a few seasons. A worthwhile transfer for a lot of mid-table teams whose eventual transfer could bring in a lot more players.
Nicolo Armini (CB)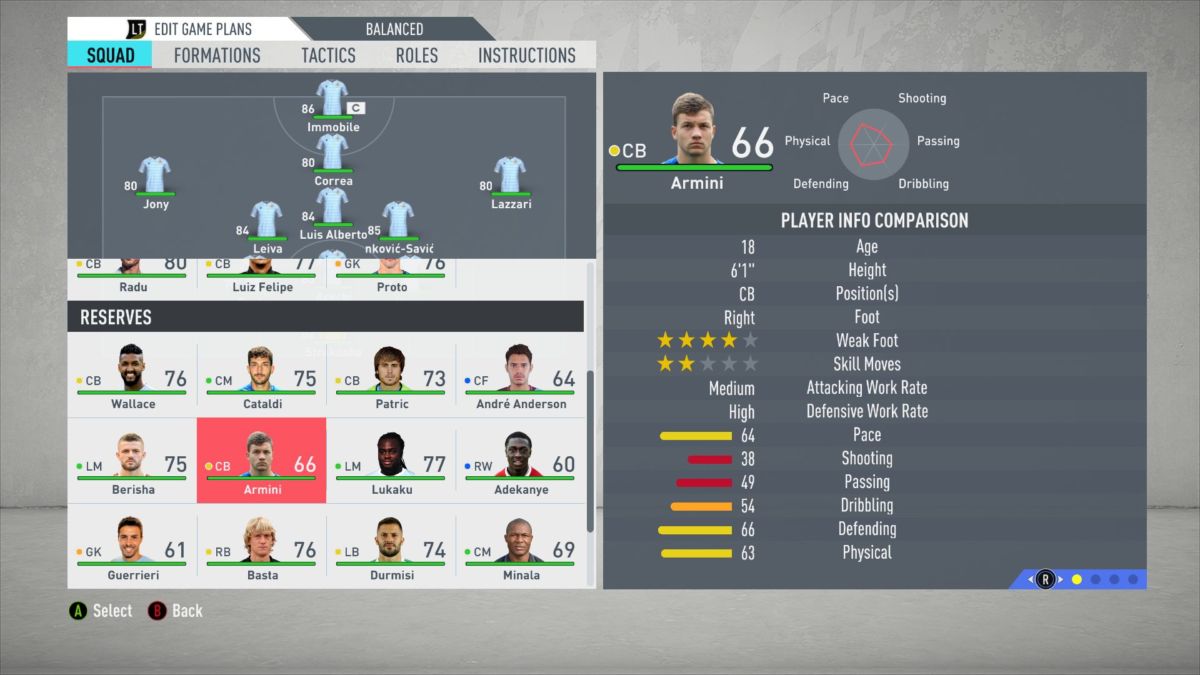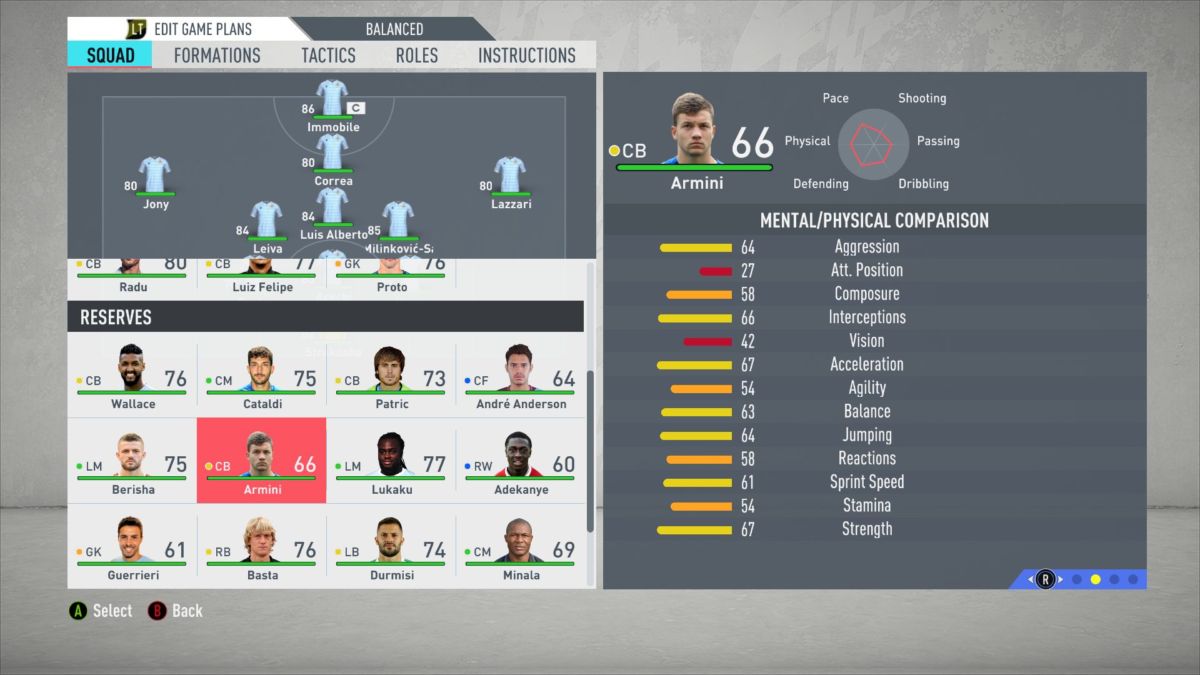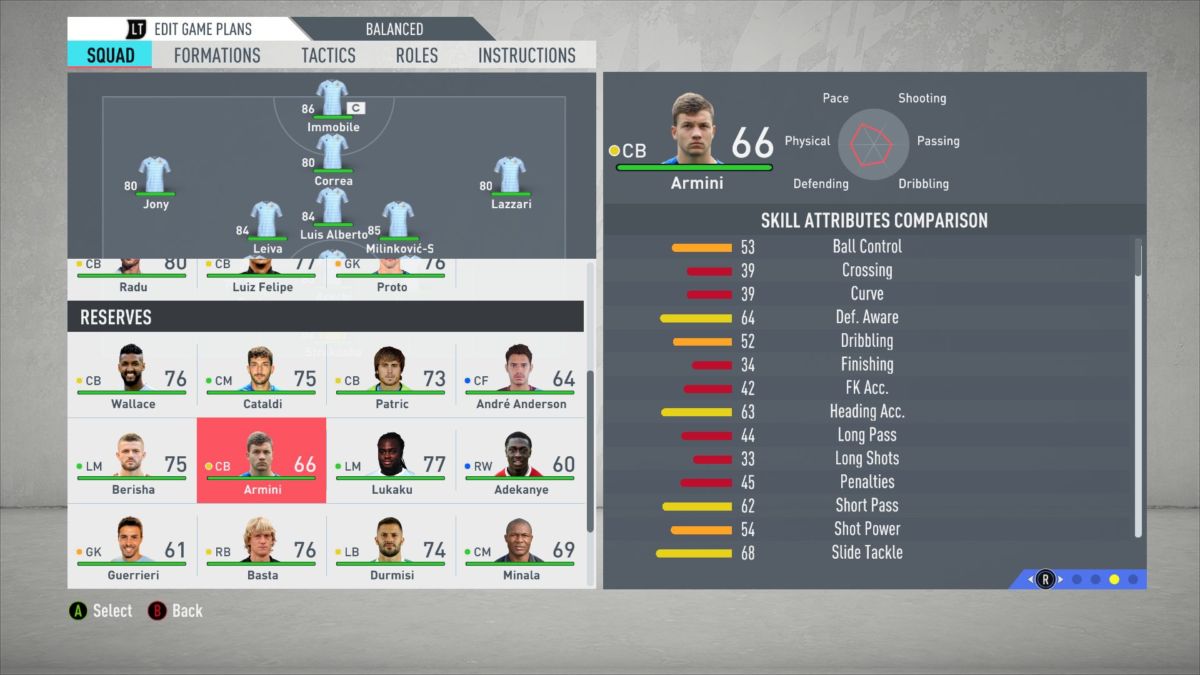 Age: 18
Rating: 66
Potential: 84
Nationality: Italian
Current Club: Lazio
Value: €1.2M
Another Italian on our wonderkids list, Armini's stats are nothing to write home about to begin with. However, stick with him (maybe send him out on loan or utilise him for cup games) and he will rapidly improve.
There's a pretty significant leap in starting rating and his final rating: 18 points, which represents one of the biggest improvements across all youngsters. While an 84 may not be good enough for the very top with his pace always being somewhat sluggish, Armini can certainly do a job for a mid-table side, especially for how cheap he is.
Ademola Lookman (RM)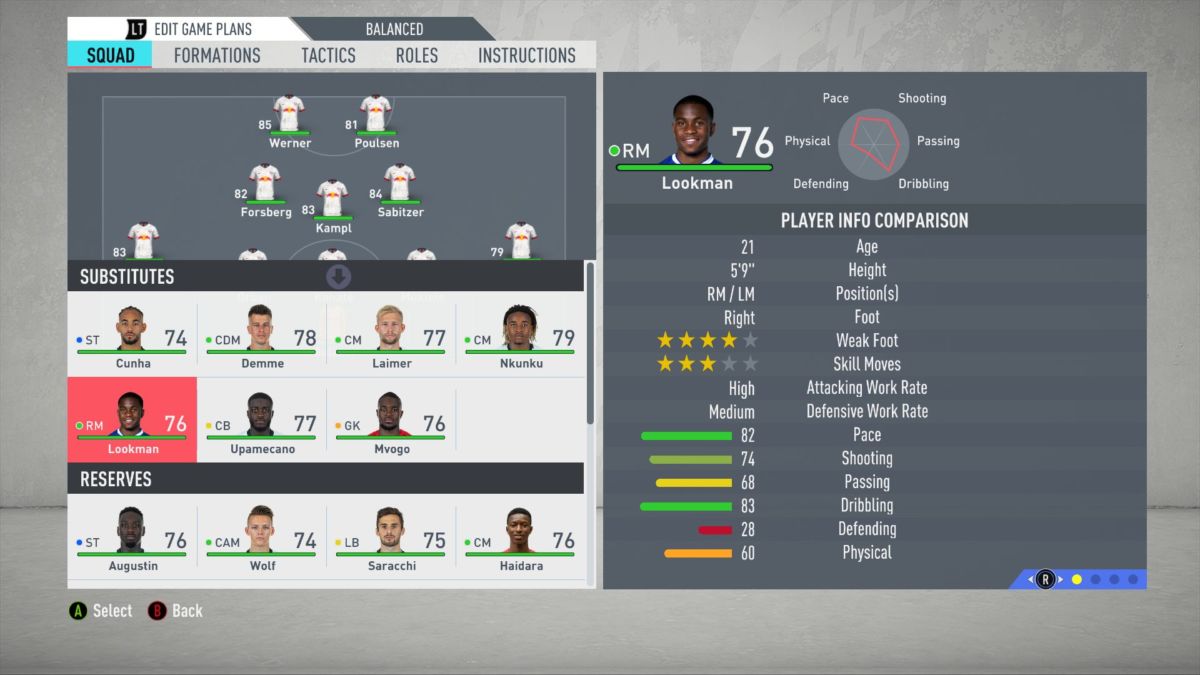 Age: 21
Rating: 76
Potential: 86
Nationality: English
Current Club: RB Leipzig
Value: €12.5M
At 21, we may be pushing the term "wonderkid" a little, but Ademola Lookman still has plenty of room to grow. After failing to establish himself at Everton, Lookman is now plying his trade with RB Leipzig in the Bundesliga, where he previous spent a successful loan.
Blessed with pace and a decent reading of the game, Lookman will blossom into one of FIFA 20's best wingers. He's not that cheap, but Lookman will improve any mid-table side. EA have definitely undervalued him for his skill moves, it must be said.
Ben Woodburn (CAM)
Age: 19
Rating: 68
Potential: 83
Nationality: Welsh
Current Club: Liverpool
Value: €1.9M
One of Wales' brightest young talents, Ben Woodburn is definitely a rough diamond in FIFA 20, him starting off with very poor strength and lacking some of the finesse to be a really creative influence on a match.
However, if you play him just behind the striker, his strong positioning and pace will allow him to convert a few goals. His potential isn't quite as inspiring as other choices here, though he will do well at a lower league side pushing for promotion. He's on loan at Oxford from Liverpool, so you will have to wait a season before snagging him.
Gavin Bazunu (GK)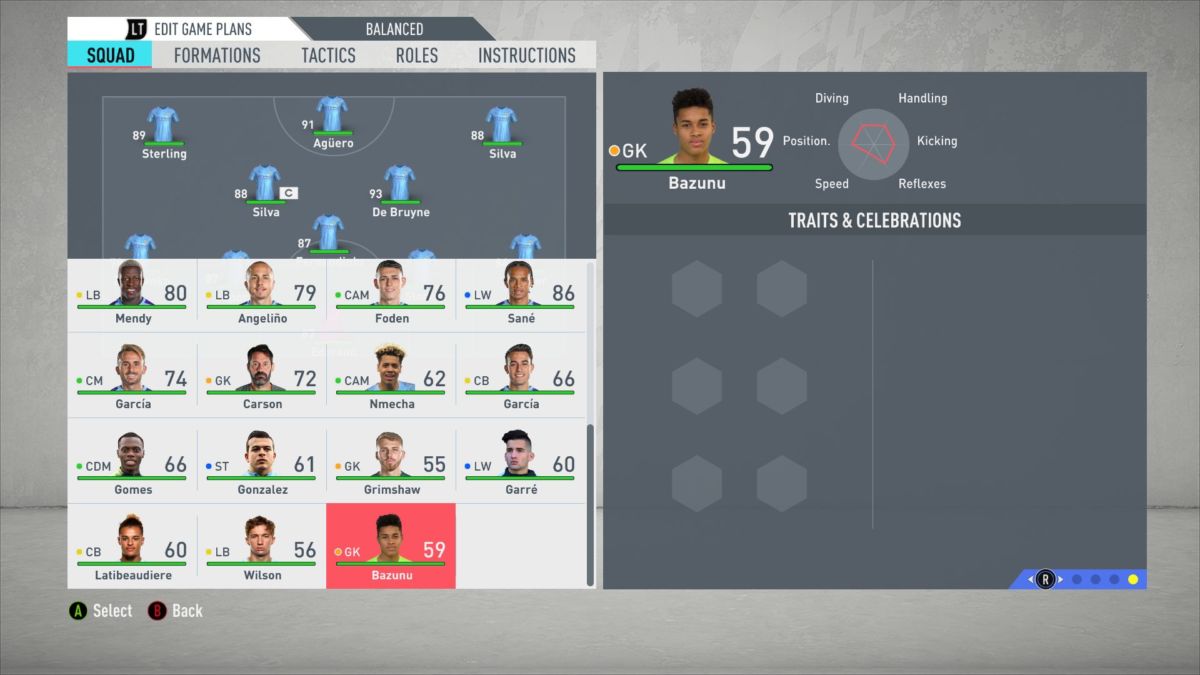 Age: 17
Rating: 59
Potential: 84
Nationality: ROI
Current Club: Manchester City
Value: €290K
Quite possibly the biggest pound-for-pound improvement for a FIFA 20 youngster, Bazunu will turn from Bosnich to Buffon if you stick with him for long enough thanks to a huge 25 point leap. His status in a packed Man City side means he's yours to loan and cultivate without any fuss.
An 84 potential rating won't make him the best goalkeeper in the game, but it does bring him in line with the likes of Jordan Pickford, who's on a rung below the premier tier. His height gives him an advantage, so League 1 and 2 sides should definitely be looking at him.
Dominik Szoboszlai (CAM)
Age: 18
Rating: 77
Potential: 89
Nationality: Hungarian
Current Club: FC Red Bull Salzburg
Value: €12.5M
A youngster so good that EA have already buffed him initial 74 rating to a 77 in FIFA 20, Szoboszlai plies his trade in Austrian football, though you get the impression that he won't be there for much longer.
A tall, combative attacking midfielder, the ball sticks to Szoboszlai's feet and then rockets off it when he takes a thunderous shot. His potential takes him into the top 10 of the game's overall ratings and he would already be a really good choice for any top side, though he may be better as a sub or for sending out on loan.
Takefusa Kubo (RM)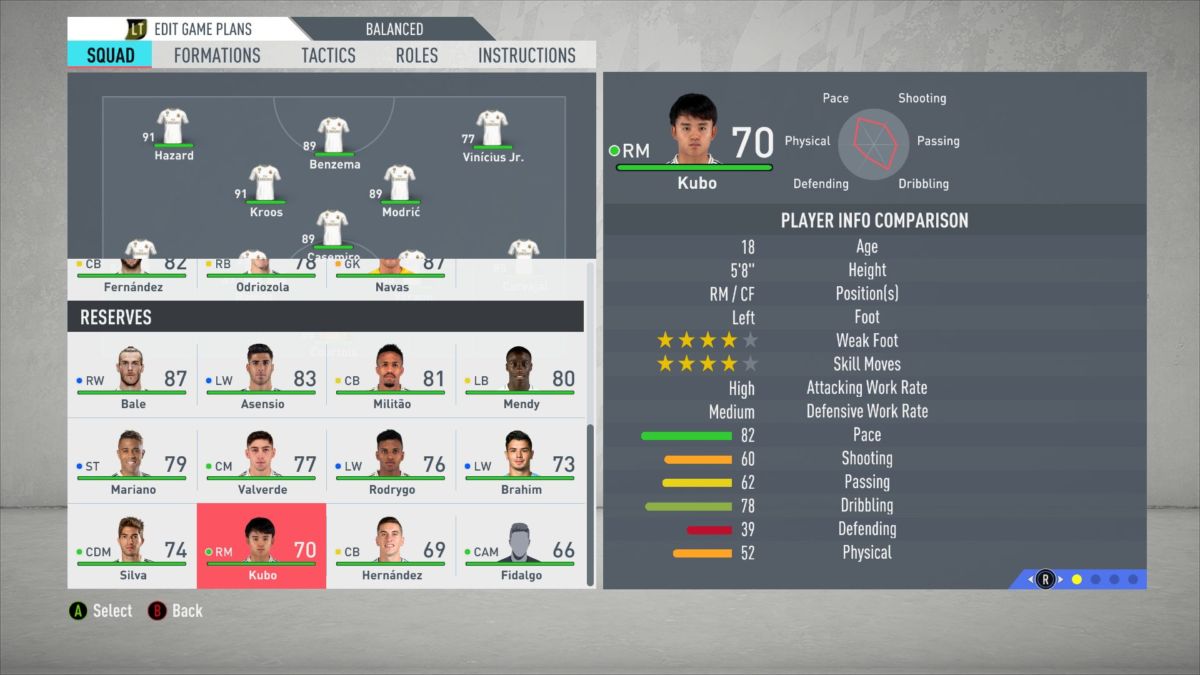 Age: 18
Rating: 70
Potential: 87
Nationality: Japanese
Current Club: Real Madrid
Value: €3.7M
Sometimes it feels like EA rate some youngsters highly because of the big club they play for — remember Odegaard? That seems to be the case for Real Madrid's engimatic Takefusa Kubo, who goes on to become one of the game's best wingers with some persistence.
Already one of the quickest players in the game, Kubo's only let down by some rough technicals and not being strong at all, though this does improve with age. A lot of teams can pick him up on loan, though his small transfer fee may mean that you should buy him early and develop him yourself.
Ethan Ampadu (CB)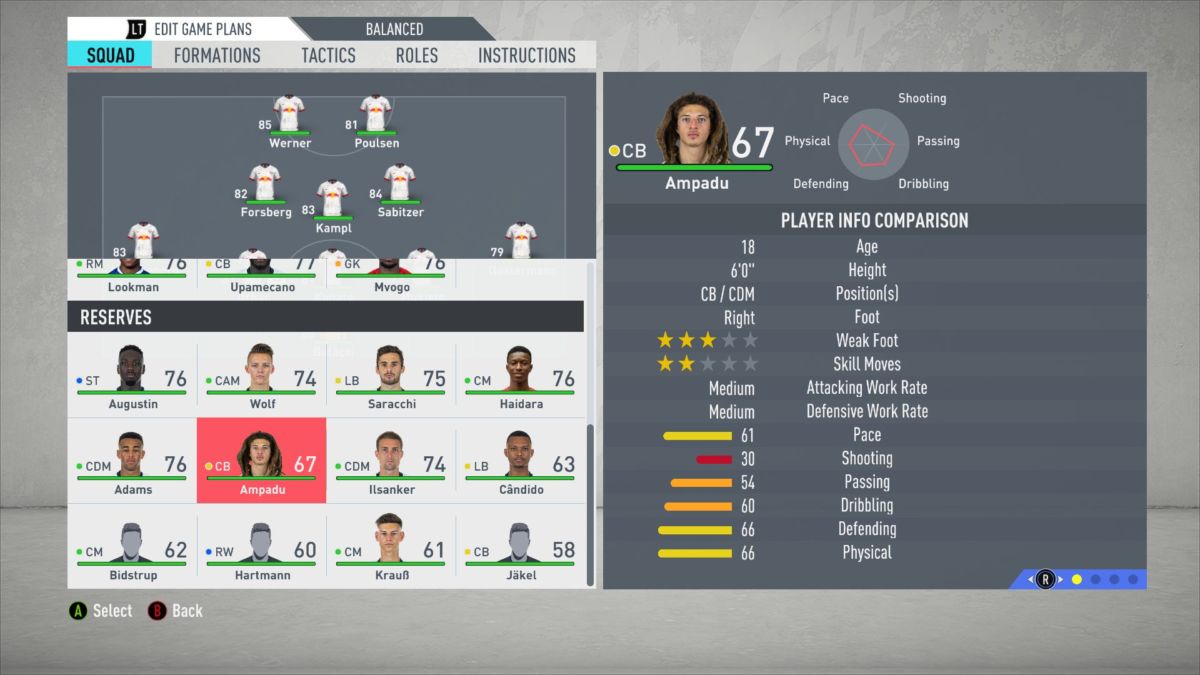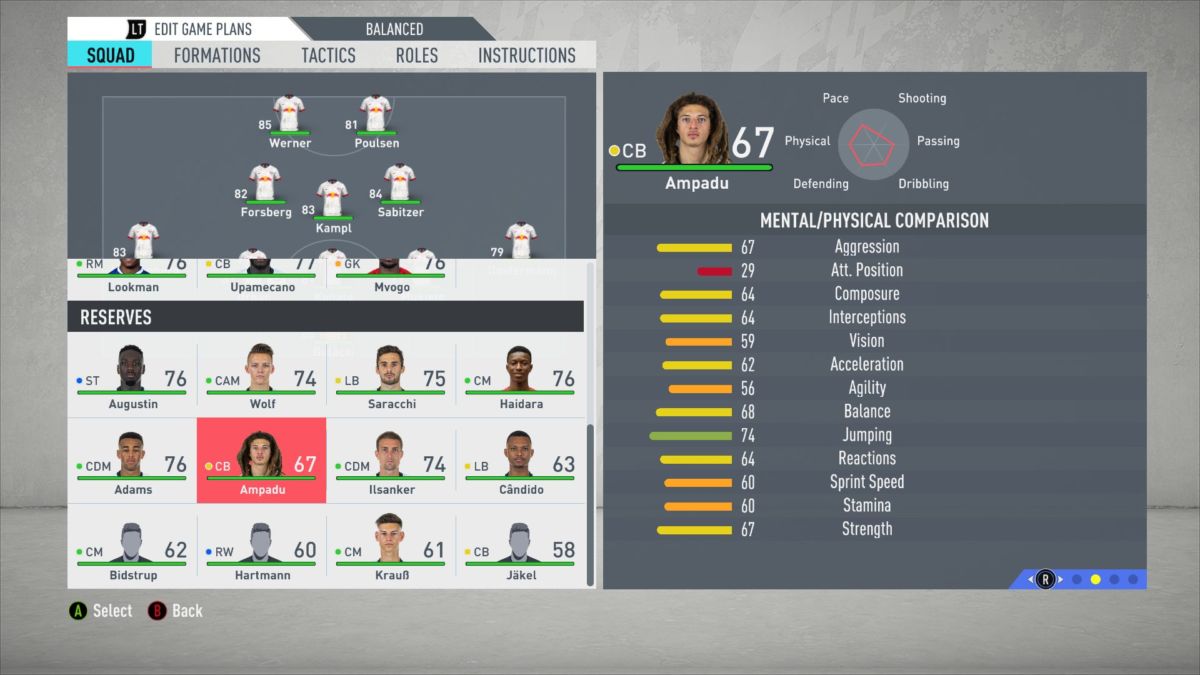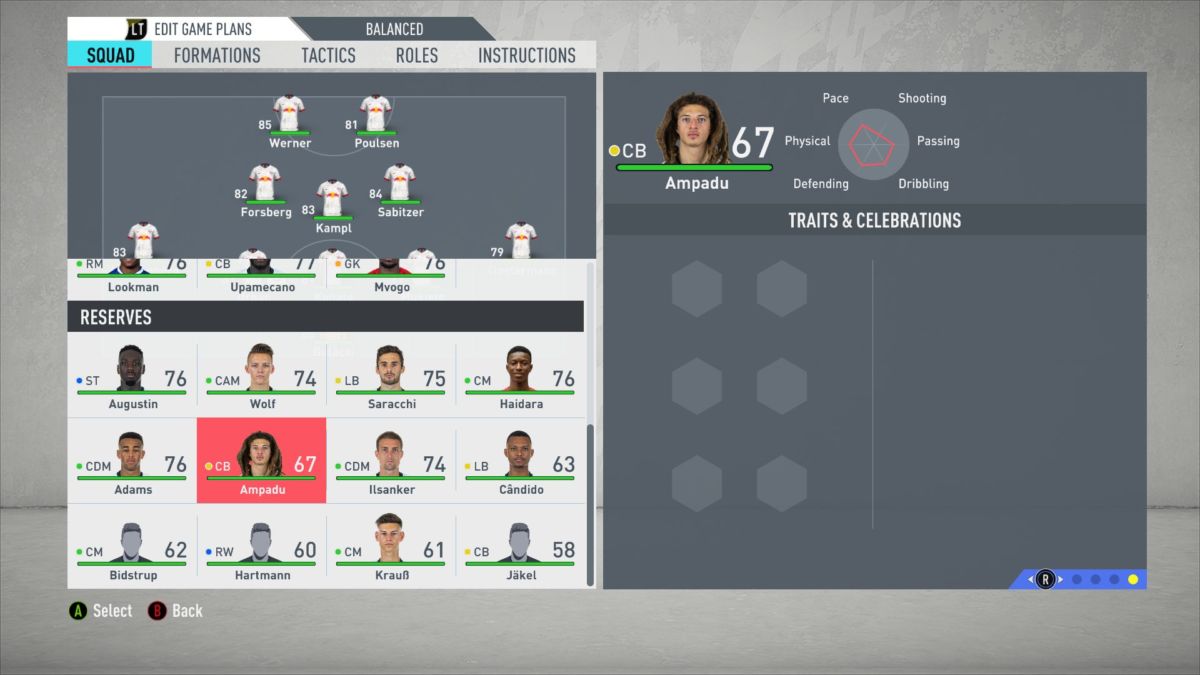 Age: 18
Rating: 67
Potential: 86
Nationality: Welsh
Current Club: Chelsea
Value: €1.5M
Ampadu shone in an up-and-down Chelsea squad last season, so it's odd that he's been sent out on loan for this campaign when Chelsea are defensively a little thin. Sure, he might not be the best pick right now, but his potential sends him soaring into the top ten defenders within a few years.
He is, bizarrely, on loan at RB Leipzig despite them having plenty of quality at CB, so you may have to wait a season before picking him up. A well-rounded defender, Ampadu's pace and physicality will only get better with age. The future of Welsh football is pretty bright indeed, according to FIFA.
More FIFA 20 Wonderkids
Below are a few of the more obvious wonderkids in FIFA 20 with high potential and price tags, as well as those that can do a decent job for most teams.
Key: Name | Position | Rating | Potential | Club | Value
Kai Havertz | CAM | 84 | 92 | Leverkusen | €46M
Gianluigi Donnarumma | GK | 85 | 92 | Milan | €41.5M
Callum Hudson-Odoi | RW/LW | 74 | 88 | Chelsea | €11.5M
Rodrygo | LW | 76 | 89 | Real Madrid | €14M
Moise Kean | ST | 76 | 89 | Everton | €14.5M
Houssem Aouar | CM | 81 | 89 | Lyon | €26M
Jadon Sancho | RM | 84 | 92 | Dortmund | €44.5M
Lucas Paquetá | CAM | 79 | 89 | Milan | €20.5M
Nuno Tavares | LB | 72 | 84 | Benfica | €4.9M
A. Wan-Bissaka | RB | 79 | 88 | Manchester United | €17.5M
Joe Gomez | CB | 80 | 88 | Liverpool | €20M
Diogo Costa | GK | 70 | 86 | Porto | €2.8M
Eduardo Quaresma | CB | 64 | 88 | Sporting CP | €800k
T Almada | CAM | 72 | 92 | Velez Sarsfield | €5.7m
FIFA 20 is out now for PC, PS4, Xbox One, and Switch.
From our FIFA 20 review:
"FIFA 20 represents yet another conservative entry from EA that feels like it's just biding time until the next generation of consoles comes along. Featuring next to no innovation on the pitch, an underwhelming Career Mode with puddle deep changes, and a consistently shady Ultimate Team, the only real reason to play FIFA 20 is Volta, and even that might fall afoul of excessive monetisation before long. Otherwise, you aren't missing much."
MORE FIFA 20:
– FIFA 20 Beginner's Tips: Tactics, Corners, Pace & More
– FIFA 20 Wonderkids: Best and Cheapest Young Players
– FIFA 20's Career Mode Changes Are Puddle Deep
Some of the coverage you find on Cultured Vultures contains affiliate links, which provide us with small commissions based on purchases made from visiting our site. We cover gaming news, movie reviews, wrestling and much more.