Platforming fans were eating good in 2021, with It Takes Two, Super Mario 3D World & Bowser's Fury, Psychonauts 2, Ratchet & Clank: Rift Apart and Super Monkey Ball: Banana Mania, but one platforming game might have fallen under the radar for some: Demon Turf. A brilliant debut for the partnership between Fabraz and Playtonic Friends, Demon Turf stood shoulder to shoulder with platforming giants, and if you missed it the first time around, you've got a second chance now with Demon Turf: Neon Splash.
A stand-alone expansion for Demon Turf, which is oddly only available for PC and Nintendo Switch despite the main game being on PlayStation and Xbox, Neon Splash sees Beebz and the gang transported to a colourful world inside of a painting, with the only way to escape being by completing 10 short but challenging platforming levels. While it's a bite-sized version of Demon Turf proper, Neon Splash is a mostly enjoyable platforming game that can keep you occupied for hours.
Fans of the original Demon Turf will find that the majority of the gameplay is the same here, aside from the fact the combat is gone completely, which isn't the saddest loss in the world. Players control Beebz, navigating through a host of levels, collecting sweets and making their way to the exit. Due to Neon Splash being a standalone expansion compared to the main version, you won't be collecting new abilities throughout your journey, as every move you need is available from the first level, but there's more than enough depth and room to learn throughout the game's levels.
In fact, the movement is slightly improved over the original version of Demon Turf, largely because Beebz can now do a mid-air triple jump instead of just a double jump, giving her more upwards mobility and the ability to recover from certain accidental falls from ledges. Aside from that, Beebz still has the ability to dash, glide and turn into a hoop that can go really fast. Yes, that ability still doesn't make that much sense, but it's still incredibly fun to go fast and drift around parts of a level.
Also improved somewhat are the checkpoints. You could only place a couple of checkpoints in the original, which acted as both respawn beacons when you died and also fast travel locations to traverse the level when collecting all the sweets. Here, you can place checkpoints as many times as you like, but can only have two active at one time it seems. The levels are shorter, so its use for gathering collectibles was diminished anyway, but the infinite checkpoints are a great way of enabling a player to discover their own level of challenge. Sticking a checkpoint down before every jump is a safe way of playing, but you won't be getting those trophy times.
The mods system also makes a return in Demon Turf: Neon Splash, as Beebz can use the collected sweets to purchase one of six mods, each of which changes her outfit and gives her some kind of buff. There's a few decent ones to choose from, but the one that gives your dash/spin move a bit of vertical movement is the most broadly useful; you could just buy that after level two and be done with all the others.
As for the levels themselves, they're admittedly a bit weaker than the levels in the main version of the game, largely due to the fact that the levels feel like a hodge-podge collection of reskinned assets from the main game rather than anything consistent. Instead of towns and villages filled with things to discover in the original Demon Turf, the Neon Splash levels are just floating platforms and other obstacles seemingly for the sake of it. If anything, they feel like levels that'd be created by the modding community, using what's already available, throwing a new coat of paint on it and calling it something new.
This isn't to say that the levels in Neon Splash are bad. Far from it, in fact, though they're certainly a lot more straightforward than in the regular version of Demon Turf. There's enough leeway between the obstacles you'll have to navigate and Beebz's various abilities that you can find some interesting shortcuts to save time, which you'll need to do if you want to get the trophy times and earn that 100% completion.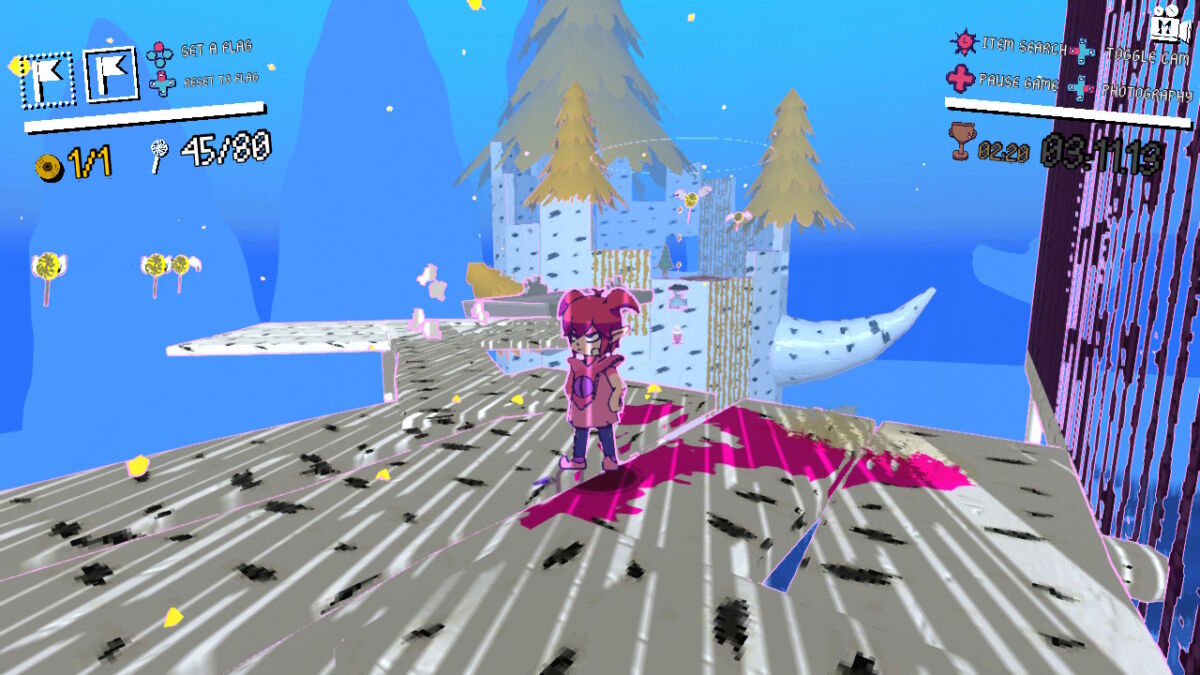 Neon Splash does seem to wear its influences on its sleeve though. Perhaps here more so than in the main game, Demon Turf's comparisons and similarities with Super Mario Sunshine come into focus. Beebz's spin/dash move feels just like Mario's hover in Sunshine, and a lot of the platforming puzzles in Neon Splash have the same feel as some of the levels in that Gamecube classic. If ever there was a platforming game to emulate, Sunshine is a great one to go for.
Despite being a smaller version of Demon Turf, there's still plenty to sink your teeth into, with 10 regular levels along with 9 more challenging remix levels that offer new hurdles to overcome, as well as one final bonus level if you achieve 100% completion. Getting those time trial trophies alone will take forever, as the levels demand perfect play and deathless runs in order to achieve those harder Gold times.
Neon Splash serves multiple purposes really. For fans of the original Demon Turf, it's a chance to experience some excellent platforming gameplay and challenge levels for a cheap price, though again, the fact it's not available on all platforms is weird. As for new players, it's an extremely cheap way to experience the gameplay before diving into the main game proper. It's not quite as memorable as the main game, but it's damn fun nonetheless.
A code for Demon Turf: Neon Splash was provided by PR for the purposes of this review. 
READ MORE: 15 Best Switch Platformer Games You Should Play
Some of the coverage you find on Cultured Vultures contains affiliate links, which provide us with small commissions based on purchases made from visiting our site. We cover gaming news, movie reviews, wrestling and much more.

Verdict
Demon Turf: Neon Splash is a bite-sized version of one of 2021's best platformers, and while it's not quite on the same level, it's still great fun.