Rose-tinted glasses just aren't what they're cracked up to be. Now, I know that's a worrying opening sentence for a review about Super Monkey Ball: Banana Mania, which is ostensibly a HD re-do of the first two Super Monkey Ball games with Deluxe thrown in for good measure, but worry not: Banana Mania is a great game. The rose-tinted glasses refer to my memories of Super Monkey Ball. I remember being good at the game, but that clearly must have been a lie.
For as much as I love Super Monkey Ball and have fond memories of growing up with it, especially those first three games, there's no escaping the fact that it's a devious little bastard of a game. All those cutesy characters, vibrant worlds and mellow soundtrack betray the reality that Super Monkey Ball will chew you up and spit you out the first chance it gets. There's very little mercy to be found here, but you can't stop yourself from having just one more go, which quickly and often turns into an hour of beating your head against the same wall until either it breaks or you do.
If you've never played a Super Monkey Ball game before, the premise couldn't be simpler: you control a monkey, or in Banana Mania's case, a monkey/hedgehog/Dragon of Dojima, as you navigate them through a platforming level. The twist is that the monkey is trapped in a ball, and you move them by titling the stage, allowing gravity to do the work for you.
Where the rose-tinted glasses come into play for me is how the level design leads to some interesting, almost paradoxical moments. Throughout the game's roster of levels, there's so many intricate contraptions and machines that make for elaborately designed levels, with trampolines, moving platforms and others all included.
I remember these big, obtuse levels with dread, and not without reason too. They're still pretty hard, like the rest of the game. Strangely though, the most difficult levels (for me anyway) are those with slopes and inclines that require precise movements and speed control. Never mind all those moving platforms or rewind switches, it's the slight hills you need to watch out for.
Though, really, pretty much every obstacle in this game is a hard one. Maybe nothing quite as awful as Banana Blitz's Ultra Heaven Stage 5, but still. The difficulty in a game like Super Monkey Ball seems to vary from person to person, and sometimes even just level by level. I've struggled more on some World 7 levels in the Story Mode than I did in World 10, so expect a bit of a rollercoaster jumping into this one.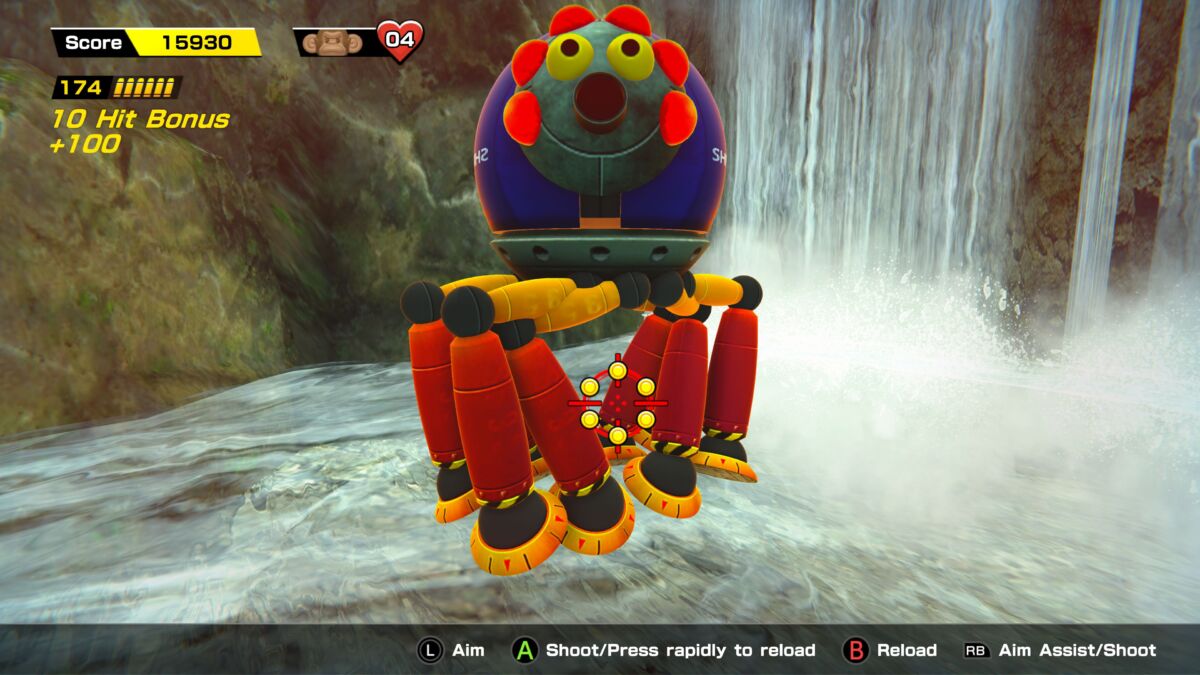 As a collection of Super Monkey Ball's greatest hits, Banana Mania boasts all the content from those first three games, including the story mode, all 4 difficulty levels of Challenge mode for both Monkey Ball 1 and 2, and all 12 party games. All of these have been updated with new visuals and music, making them look better than they ever have before, but the content just doesn't stop there.
On top of what's mentioned above, Banana Mania introduces a host of new content, including Marathon modes for both Monkey Ball 1 and 2's Challenge mode, letting you challenge every level from all four difficulty levels of each game in one go, along with a decent selection of special modes that change the core gameplay and level design of certain levels to create new challenges. Those high difficulty levels were bad enough, but now try them while grabbing every banana, or avoiding dark bananas. How about levels where the start and finish lines are reversed?
It's here where the Deluxe edition levels are also found, with 46 additional levels crammed into another challenge mode, allowing you to experience even more incredible Super Monkey Ball. It would've been nice to see them better integrated into the game, but giving the Deluxe levels their own special mode is a nice way of acknowledging that game's history. If you want a love letter to Super Monkey Ball, Banana Mania is it.
If Banana Mania was simply just a bundle of what's already come before it, it'd still be a decent game, but it's the additions that make it much more of an enticing purchase. Firstly, you can finally move the camera with the right stick, and while it's slow to rotate, it almost eliminates the need for blind movements, which is just lovely. On top of that, those special modes give the game that extra bit of replayability once you've conquered the regular modes, but for new players, there's some additional updates that should make the difficulty feel much more manageable.
The helper function is a feature players can turn on whenever they like via the options or pause menu, which doubles the amount of time on the clock to allow players to explore the level at a more relaxed pace. It also adds a slow down time button, tied to the bumper, which is used to make small adjustments that you otherwise wouldn't be able to. For levels that require balancing on small beams (which is a good portion of them, in fairness), the helper function is a fine addition.
The only real drawback to the helper function is that it both disables achievements and leaderboard scores, meaning if you want to maximise your bragging rights potential, you'll have to finish the levels the way the developers originally intended. That said, there's a practice mode for players to hone their skills on those already completed, so the helper function is a great way to finish levels so they're available for practice, allowing you to get better on a more full run.
SEGA also removed lives and continues from Challenge mode too, so brute force is another option.
Perhaps the best addition though is the Points Shop and Missions. The Points Shop is a place to purchase new characters, modes and customisation options, with the player earning points for completing missions and levels. While it would be nice to have more cosmetics than what's on offer to ensure there's more reasons to earn points, the missions do a great job of incentivising experiencing as much of the game as possible. They even solve an issue that some of the Story Mode levels have.
Basically, the Story Mode levels are cribbed from the Challenge Mode levels, which has always been the case, but in Challenge Mode, each level acts as a floor. Certain levels offer multiple warp gates, which can warp players up multiple floors, similarly to Mario's warp pipes. However, Story Mode is just linear progression with no warping, making these added gates pointless for a long time. Now, the inclusion of Missions gives players rewards for taking on those more challenging gates, which feels like a great way of shoring up a decades old oversight.
While Banana Mania seems like a perfect update for a beloved series, there's a couple of faults here, mostly due to the fact that it seems like it could do "more". For instance, the Party Games, a collection of 12 minigames from Bowling, Golf and Racing, are present in this version, and if you've got 3 other friends locally, you'll be having a blast here for a long time. It just would have been nice if Super Monkey Ball: Banana Mania added some kind of online lobby for these minigames, letting players enjoy all the fun they offer without worrying about inviting people over.
Speaking of not going far enough, those special modes like Dark Banana or Reverse only feature 10 levels each, meaning they're not quite as big as the other modes on offer. They're filled with hard levels, so you'll be playing them for a while, but there's less to see here. Some additional levels, even as part of a free update down the line, would be lovely.
Banana Mania also has some issues with its user experience that could easily be solved with a few "don't show me this again" boxes. Once you've failed a level multiple times, a prompt will appear asking if you want to enable the helper function, and while it's appreciated the first few times, it'd be nice if it stopped appearing for good. I know it's there, I don't need to be reminded of it every time I suck at a level. The same could be said when finishing or failing a level: I don't need to see the "press X to save a replay" prompt every time.
These are just minor gripes that could easily be solved with a few updates, and while we don't know if more levels/modes or online support for party games are on the cards, the collection we have right now is more than worth your time. If you're a fan of Super Monkey Ball, you've probably already pre-ordered Banana Mania, but for those curious, this is the game to start with.
A code for Super Monkey Ball: Banana Mania Digital Deluxe Edition was provided by PR for the purposes of this review. 
READ MORE: Super Monkey Ball: Banana Mania: 10 Guest Characters We Want To See
Some of the coverage you find on Cultured Vultures contains affiliate links, which provide us with small commissions based on purchases made from visiting our site. We cover gaming news, movie reviews, wrestling and much more.

Verdict
A fabulous collection of one of gaming's most deceptively difficult games, Super Monkey Ball: Banana Mania is pure, unadulterated fun.