In the current strategy games market, the biggest challenge for simulation wargames is being able to marry their deep and complicated gameplay core with modern sensibilities and design philosophies. The Combat Mission series has a long and venerable history dating all the way back to the early 2000s and showed promise as an innovative bridge between tabletop wargaming and the digital medium. Does Battlefront.com's Combat Mission Cold War successfully ride the wave of the genre's latest developments?
Combat Mission Cold War is a simulation wargame where prospective commanders will play out hypothetical battles of a Cold War gone hot on the battlefields of West Germany in the late 70s and early 80s as either NATO's US contingents or the Warsaw Pact's Soviet forces. Players will fight battles ranging from tiny platoon-level skirmishes with only a handful of squads all the way up to massive battalion-level brawls with a wide range of troop types. These battles can be fought in single-player and multiplayer modes in either real time or turn-based formats, with the former exclusive to single-player.
Players will definitely find that Combat Mission has no shortage of content and modes to play. There's a great range of prepared scenarios to play from either side, several campaigns with a string of linked missions, and a quick battle mode with an extensive suite of customization options to get straight into the action. There's also a fully functioning scenario editor for players to imagine and realize their own Cold War "what if" scenarios.
For multiplayer, there's a solid variety of connectivity options, ranging from direct IP address connection to an automated play-by-email system. Many of these more complicated options are holdovers from Combat Mission's earlier installments, but they're still nice-to-have options for added flexibility.
Combat Mission's greatest strength lies in its highly detailed, realistic, and authentic tactical gameplay. Most wargames of Cold War's ilk typically have deep combat systems and features, and this Combat Mission installment is no different.
There's a huge variety of units, vehicles, weapons, and equipment, each with their own strengths, weaknesses, and behavior, with the Cold War setting helping the game stand out from the pack. The distinctions are also factional, which adds additional layers to learning the intricacies of using every troop type. Altogether, Combat Mission Cold War has a high skill-ceiling and plenty of tactical decision-making depth and flexibility.
Most impressively, Combat Mission makes intelligence and reconnaissance an integral part of the battlefield with unit optical equipment, weather, terrain, and unit stealth affecting spotting, a system that many other strategy games simplify or streamline to their own detriment. This approach to combat makes maneuvering around the battlefield and firefights all the more tense and frustrating in equal measure.
Unit variety and specialization, along with the emphasis on reconnaissance, makes effective combined arms tactics all the more crucial to victory that not only takes into account different weapon systems, but also the layout of the terrain and position of dominating geographic features. Combat Mission's detailed and granular command and orders system aids in making intricate plans and maneuvers a reality, while also giving the player an unprecedented amount of control and flexibility to experiment with positioning and tactics. However, such a reliance on precise control is a double-edged sword.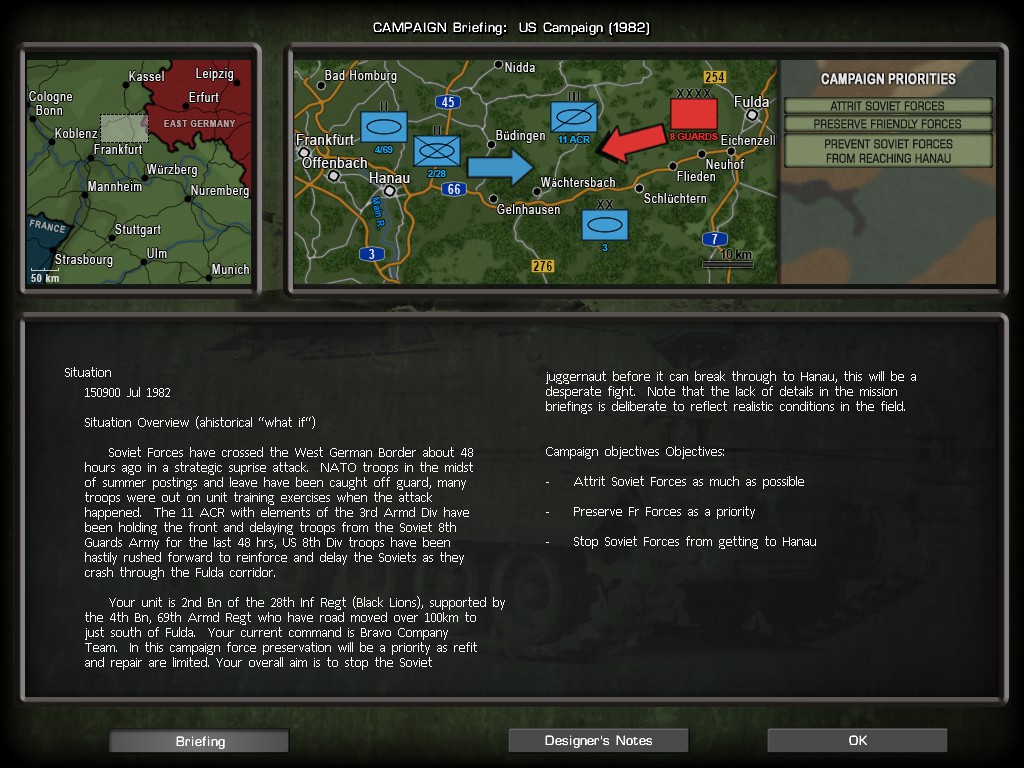 Unfortunately, Combat Mission Cold War, more than any other simulation wargame like Grand Tactician: Civil War, best represents the problematic and polarizing game design of this subset of strategy games. Essentially, there's an overemphasis on one aspect of the game — in Cold War's case, its gameplay — to the extreme detriment of everything else, which ends up hampering the entire experience.
There's no excuse to repeat the same mistakes and fall into the same traps on a consistent basis without addressing such pitfalls, especially when other similar games have learned their lessons and pushed the genre forward as a whole. Aside from minor graphical and UI updates, as well as basic changes in setting, Combat Mission Cold War feels like a game from 2007, the year the series got a major engine update, and that the franchise has been doing the same thing for over 14 years with little evolution.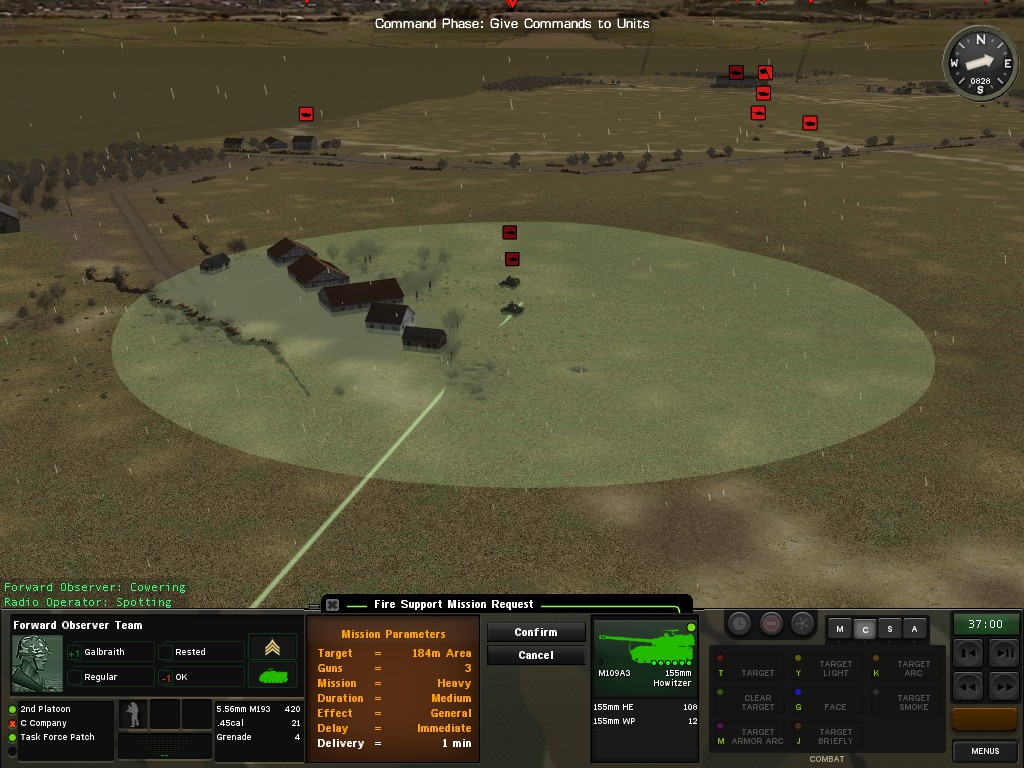 The first of the game's many severe issues is its presentation. While the graphics and audio are average at best, they at least get the job done with decent unit models and basic textures for buildings and terrain.
The UI is the worst offender when it comes to presentation, along with a complete dearth of UI customization options. The lack of tooltips to help learn the dense unit UI is sorely missed and will take players a lot of fiddly alt-tabbing and out-of-game research to get comfortable with the UI.
Worst of all is that Combat Mission Cold War is clearly not designed to run on modern but highly common 1080p screens, meaning that depending on your specific setup, the game UI will shrink to the point of unreadability. The only way to scale the UI is by lowering the game resolution to anything lower than the basic desktop setting and ideally to 1024×768 to utilize the excessive negative space. The game engine desperately needs an overhaul.
I mentioned how the granular control system is a double-edged sword in that it both gives players more precision in their orders, but it has the flipside of being incredibly tedious, especially in larger scale battles. This is mostly down to the lack of a robust system for controlling and commanding groups of units.
In addition, for a game that's so reliant on studying the terrain and the battlefield, camera controls are stiff, clunky, and awkward, making it exhausting and frustrating to read the battlefield. The lack of overlays or line of sight tools (the inconvenient unit target command doesn't count) is sorely felt. Altogether, players will spend an inordinate amount of time fighting the game's controls and the game itself rather than engaging in compelling tactical decision-making.
All these aforementioned issues all lead to the core problem of Combat Mission Cold War and the series as a whole – accessibility. There's effectively no explicit tutorial that can at least help unpack some of the game's most difficult systems, which is inexcusable, especially for strategy games. Long and dense manuals are neat bonus supplementary material, but are no longer an effective replacement for interactive mechanics and features, especially when it comes to learning the game.
Another component of Combat Mission's poor accessibility is the unreasonable price. For a game that feels more like a Cold War expansion to the modern-set Shock Force 2 and Black Sea installments than a fully-fledged big budget game, the current price tag is way off the mark and almost guarantees a niche audience due to the high barrier to entry.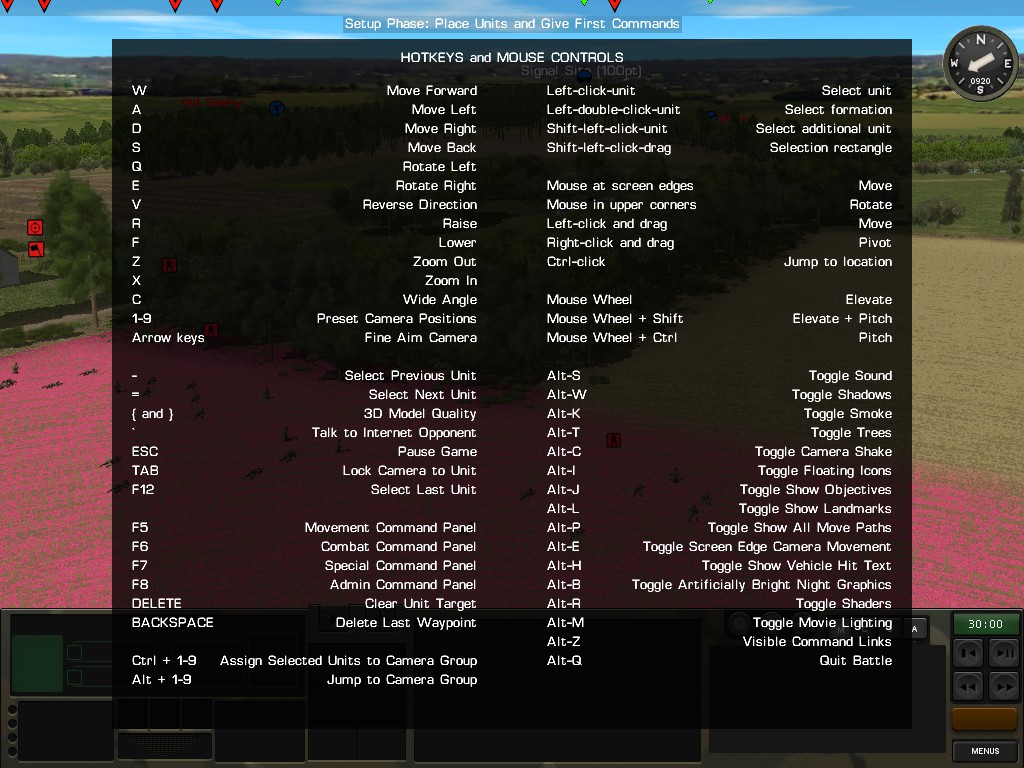 Luckily, when it came to bugs and crashes, I didn't encounter anything game-breaking or frustrating. However, the game's performance drops on higher resolutions, especially when panning the camera over large patches of busy terrain and concentrations of troops. While this may not be too important in the turn-based mode, it still adds to the frustrating sluggishness and tedium of the gameplay and can have an impact when playing in the real-time mode.
If you thought King's Bounty 2 and Stronghold: Warlords were games in desperate need of a facelift in both game engine and design philosophy, Combat Mission Cold War definitely takes the cake. It's incredibly frustrating to see Combat Mission in such a state as it's about halfway to a great game with its solid tactical gameplay, yet the other half that's been completely forgotten weighs down most of the positive elements it offers to the strategy genre. Combat Mission: Cold War feels like the first rough draft of a decent senior thesis or dissertation that's been submitted as the final version.
When it comes to the Cold War setting and the simulation wargame subset, there are other series that do similar things to Combat Mission, such as Close Combat or Wargame. I have fond memories of the original Combat Mission games from the early 2000s, but at this point we find ourselves in the 2020s and the strategy genre has developed, while the Combat Mission series seems to be moving at a glacial pace. Unless you're an incredibly dedicated Combat Mission fan, Cold War's a hard game to recommend.
A Steam key was provided by PR for the purposes of this review.
Some of the coverage you find on Cultured Vultures contains affiliate links, which provide us with small commissions based on purchases made from visiting our site. We cover gaming news, movie reviews, wrestling and much more.

Verdict
While the tactical gameplay authentically captures the Cold War battlefield, Combat Mission Cold War is stuck in the past under a mountain of frustration and tedium of its own design.