Wrestling, or redneck anime if you prefer, is one of the oldest forms of entertainment still going to this day, but it feels like modern wrestling is going from strength to strength.However, as far as the games are concerned, it feels like the classics are still the best. But which wrestling game is the champion?
For this list, we've compiled a ranked list of the best wrestling games that money can buy. Unfortunately, while you might expect Def Jam: Fight For New York on this list, we've gone for a (mostly) pure pro wrestling view with this list, and FFNY is just a brawler with famous rappers. It's still an excellent game, but for this list's purposes, it's not quite eligible. With that out of the way, here's the best wrestling games ever made.
The Best Wrestling Games
15. Gang Beasts
Developer: Boneloaf, Coatsink
Publisher: Boneloaf
Platform(s): PC, PS4, Xbox One, Switch
This entry probably feels a bit disingenuous given the clarifications made in the intro, but I stand by the notion that Gang Beasts is just a physics-based Royal Rumble. You batter your opponents enough until you can throw them over an obstacle and onto the floor below. If that's not a Royal Rumble, and therefore wrestling, I don't know what is. If nothing else, it's somewhat like sumo wrestling at least.
Up to 8 players are dropped into various dangerous arenas, whether that's a traditional wrestling ring (I'm telling you, it's squishy body graps), a train in motion, a lift dangled precariously on the side of a building or an aquarium that's home to the world's biggest squid/kraken.
Your goal is simply to outlast everyone else, either by dodging hazards or by punching, kicking, headbutting and throwing your competition to their doom.
14. WrestleMania XIX
Developer: Yuke's
Publisher: Yuke's, THQ
Platform(s): Gamecube
Honestly, WrestleMania XIX feels like an apt follow-up to Gang Beasts on this list, largely due to the absurd but fun WrestleMania Revenge mode, where you play a fired wrestler ordered by Stephanie McMahon to play havoc with Vince's WrestleMania plans. Doing so apparently involves smashing cars, beating up cops and throwing poor, innocent construction workers off ledges into the black void below.
Granted, the Revenge mode is about as silly as wrestling gets, but there's enjoyment to be found in the chaos. Couple that with a decent suite of creation tools and a roster that encapsulates the best of the Ruthless Aggression era, and WrestleMania XIX is certainly a wrestling game worth remembering.
13. Ultimate Muscle: Legends Vs New Generation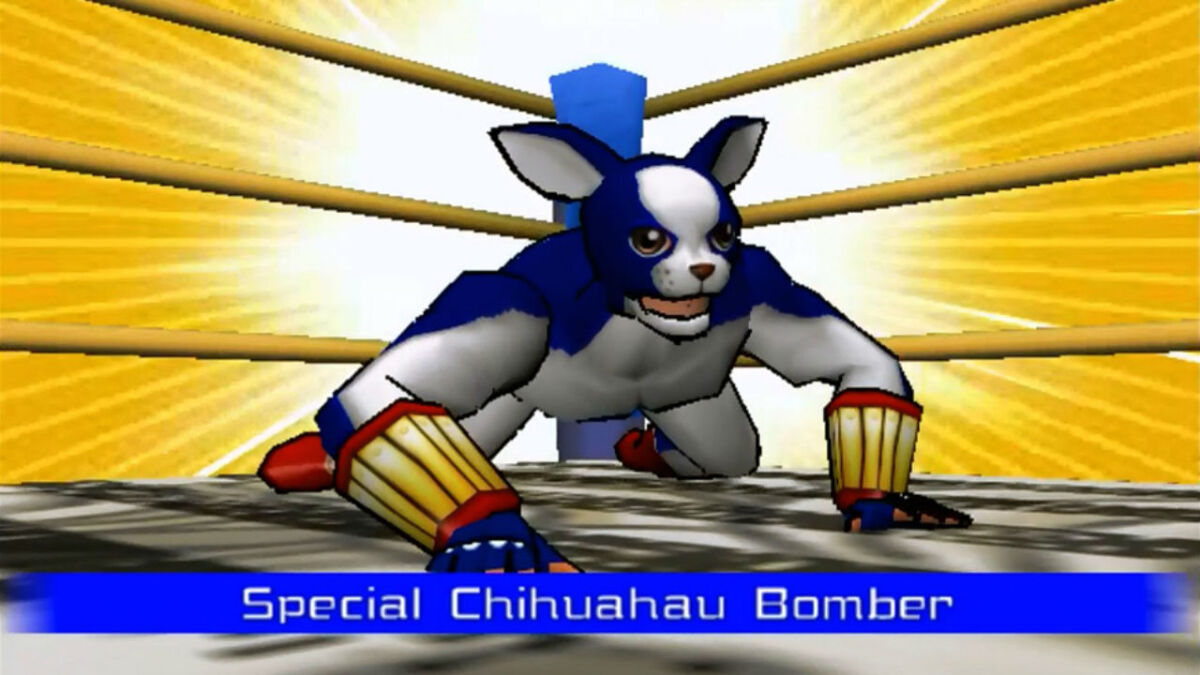 Developer: AKI Corporation
Publisher: Bandai
Platform(s): Gamecube
We've already alluded to it, but wrestling is often jokingly referred to as "redneck anime", so an anime/manga series about wrestling feels like a natural progression. Ultimate Muscle was that series, and while it might have been overshadowed by Dragon Ball when shown on Cartoon Network, it still managed to accrue a cult following, and games like Ultimate Muscle: Legends Vs New Generation helped with that.
Players control pretty much all of the big hitters from the series, as the older generation are pitted against the new blood like it's 2006/7 era WWECW. Except, you know, not crap. As an anime game, the action is fast and arcadey, breaking the traditional wrestling game rules by introducing divekicks and other, more fighting game-esque mechanics, but it's still fun enough to be considered one of the best wrestling games ever.
Still, watching the cutscenes for the tag team super finishers never gets old.
12. WWF Smackdown: Just Bring It
Developer: Yuke's
Publisher: Yuke's, THQ
Platform(s): PS2
Did you know that SmackDown: Just Bring It was called Exciting Pro Wrestle 3 in Japan?
Anyway, the SmackDown series' third entry added a host of new features to the experience, including being the first in the series to feature commentary. From then on, commentary in wrestling games would go on to be regarded as the worst aspect almost without fail, so thanks Just Bring It.
Aside from that, Just Bring It added more authenticity than its predecessor, as it was the first game in the series to offer both two finishers for each wrestler, along with complete entrances instead of just a lone taunt in front of a titantron. While the roster might have been outdated due to the then-ongoing Invasion angle, the action was still excellent from bell to bell.
11. WCW/nWo Revenge
Developer: AKI Corporation
Publisher: THQ
Platform(s): N64
Say what you want about the absolute implosion that was WCW, but to have one of their biggest creations, the nWo, be featured on the name and box of their flagship video game speaks to the level of pop culture significance the brand wielded at that time. Far from just a shameless cash-in though, WCW/nWo Revenge could easily be considered one of the best wrestling games ever made thanks to the incredible pedigree of its developers.
WCW/nWo Revenge is widely regarded as the best WCW game ever made, which is no surprise given that it was developed by AKI Corporation, responsible for such hits as Def Jam Vendetta and other games appearing on this list. AKI's success came from its exceptional grappling system, which allowed for more moves than any other wrestling game of its kind, while maintaining a faster paced, arcade-like experience.
10. WrestleMania 2000
Developer: AKI, Natsume
Publisher: THQ
Platform(s): N64
The Monday Night Wars were a breeding ground for betrayal, turncoats and deception, with the biggest wrestlers and stars jumping ship from one brand to the other, and sometimes even back the other way again. As it turns out, the gaming industry was no different, because once AKI Corporation finished and shipped WCW/nWo Revenge, a deal was struck between them and then-WWF to develop WrestleMania 2000.
While the game might be based on the infamously rubbish "McMahon in every corner" WrestleMania, the game itself had plenty to love, including a massive story mode that allowed players to challenge for multiple championships. There were also specialty modes, like Royal Rumble and King of the Ring, along with the ability to create your own wrestlers, PPV events and even championships.
Given how important the creation suite has become for wrestling games, WrestleMania 2000 was ahead of its time.
9. WWE 2K14
Developer: Yuke's
Publisher: 2K Sports
Platform(s): PS3, Xbox 360
2K Games haven't exactly garnered the best reputation for themselves as the current stewards of the WWE license, but their first ever game seemed to indicate good things for the series. Granted, WWE 2K14 was more the responsibility of then developer Yuke's, before the series was passed over to 2K's internal studio Visual Concepts, but that's besides the point. It was called 2K14, and it's probably the best 2K wrestling game so far.
Building on the Predator Engine technology introduced in WWE '12, 2K14 is a content tour de force. Along with the always excellent creation tools, 2K14 included two excellent modes that celebrated the history of the most recognisable wrestling show ever: WrestleMania.
The Showcase Mode, 30 Years Of WrestleMania, spotlighted dozens of incredible matches (and Goldberg vs Brock Lesnar), while The Streak mode allowed players to both defend and beat The Undertaker's intact undefeated WrestleMania streak.
Yeah, that mode aged well.
8. Saturday Night Slam Masters
Developer: Capcom
Publisher: Capcom
Platform(s): Arcade, SNES, SEGA Mega Drive/Genesis
Not every great wrestling game needs to use huge licenses and brand identity to be successful. It helps, but there's a few original wrestling games that can stand shoulder-to-shoulder with the titans of the industry.
One such game was Saturday Night Slam Masters, Capcom's own wrestling game that managed to compete with more old school offerings like WWF WrestleMania and others.
Like Just Bring It, SNSM had a much better name in Japan with Muscle Bomber: The Body Explosion. Players pick from eight different wrestlers, including Final Fight's Mike Haggar and Gunloc, who's heavily implied to be Guile's brother, and compete in 1v1 or 2v2 matches.
With simple controls and vibrant characters, it's no wonder that this game has been so fondly remembered as one of the best wrestling games ever made throughout the years.
7. Def Jam Vendetta
Developer: AKI Corporation, EA Vancouver
Publisher: EA Sports BIG
Platform(s): PS2, Gamecube
Had Def Jam: Fight For New York been on this list, it probably would have taken the number one spot. The fact is, there's a reason why FFNY has overshadowed Vendetta when discussing the series, and that's because it's more fun, but Vendetta is a much better wrestling game.
Def Jam's core appeal is simple: seeing the likes of Ghostface Killah and DMX hitting enziguris and piledrivers on each other simply doesn't get old.
Vendetta sees iconic rappers along with a few less than stellar original characters battle in wrestling matches for up to four players. While you can play Vendetta like a straight-laced wrestling game, whittling your opponent down with submissions or trying for pinfalls, the real star of the show is the Blazin' moves: elaborate and devastating finishers that can KO your opponent. I was a big fan of the Vertabuster, myself.
6. Fire Pro Wrestling World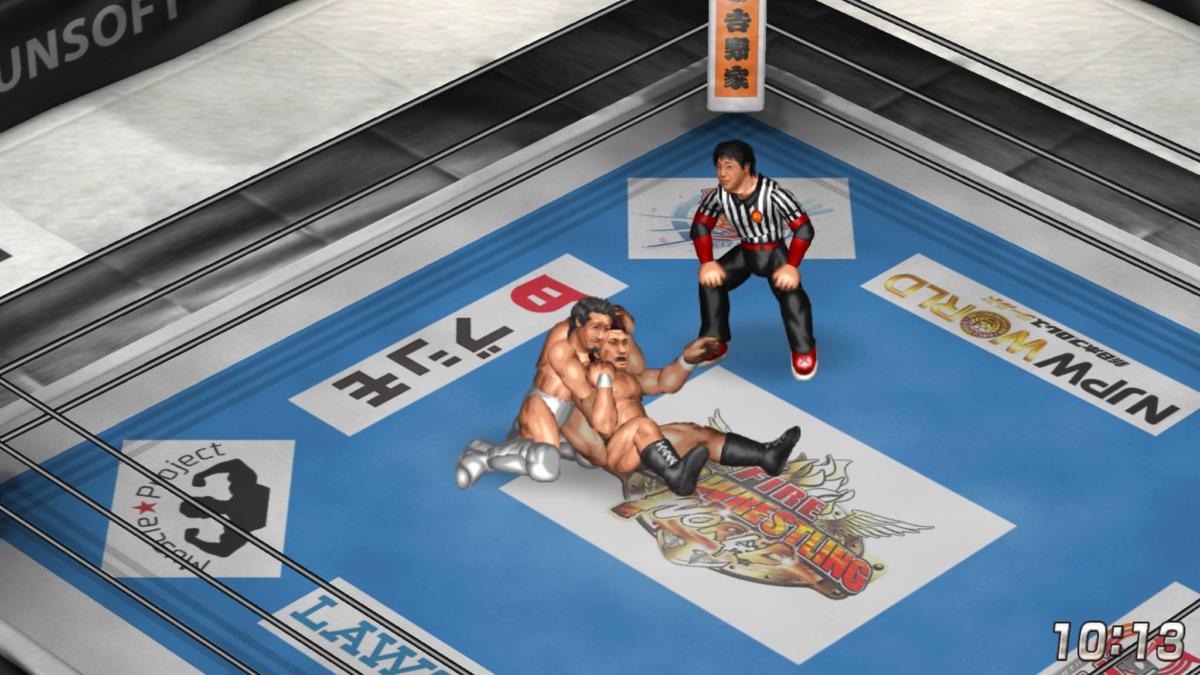 Developer: Spike Chunsoft, ZEX Corporation
Publisher: Spike Chunsoft, Ravenscourt
Platform(s): PC, PS4
The Fire Pro series has existed for years as the more technical yet infinitely more rewarding alternative to the mainstream WWE series of wrestling games, allowing players more control than most games over the wrestlers, arenas, move-sets and more. If you've ever wanted to be the ruler of your own personal federation, Fire Pro is the game for you.
The most recent release, Fire Pro Wrestling World, amps all the iconic aspects of the series up to 11, including more wrestlers, creation tools and more. Fire Pro even signed a deal with NJPW to include many of their top stars, though you can always just add your own if you like.
While the gameplay and controls are far-removed from the usual wrestling games, there's a world of depth and enjoyment to be found if you're willing to put in the work.
5. WWF Smackdown 2: Know Your Role
Developer: Yuke's
Publisher: Yuke's, THQ
Platform(s): PS1
While the best wrestling game ever made is probably the most obvious pick you can imagine, the SmackDown games and early SmackDown vs Raw titles have earned a reputation as being one of the most consistent runs of excellent wrestling games, and that run started with WWF Smackdown 2: Know Your Role. Pity they skipped a game to complete The Rock's catchphrase with Shut Your Mouth, but I digress.
Know Your Role's action certainly wasn't as technical as anything that AKI were developing, but the formula for lightning-quick action and fun was there. The Season Mode was improved to accommodate for multiple players, with lots of unlockables to uncover along the way.
Know Your Role was also the first game in the Smackdown series to include wrestler creation, and even allowed for Ladder matches between Stephanie McMahon and Paul Bearer. Game of the year material.
4. WWE Smackdown Vs Raw 2006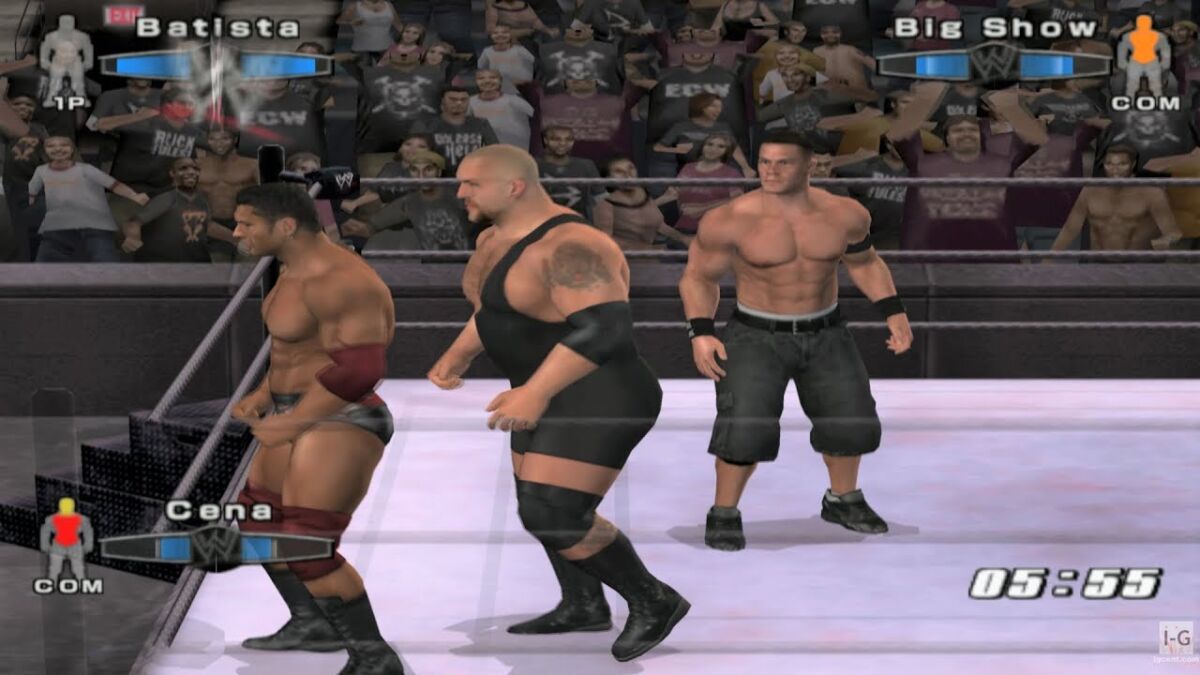 Developer: Yuke's
Publisher: THQ
Platform(s): PS2, PSP
It often feels like the Smackdown Vs Raw series doesn't get the same level of respect as other wrestling games throughout history, which is a bit of a shame. Most of them took a more hands-on approach to adapting wrestling-like storytelling to the game's career modes, and the introduction of analogue stick grappling controls in SvR 2007 added an extra hint of realism to the game. Using the right stick to bounce Triple H's head off the steel steps never got old.
However, one SvR game has had more of an impact on wrestling and gaming fandom than any other, and that's WWE Smackdown Vs Raw 2006. The reason is simple: GM Mode.
So many wrestling games focused on the fantasy of being in the ring, but there's also joy to be found in the dream of managing your own show. As the GM of Raw or Smackdown, you're in control of top rivalries, stars and matches, even going as far as to play matches to ensure certain outcomes.
It's a deeply engrossing and brilliant mode that's thankfully coming back.
3. WWE Smackdown: Here Comes The Pain
Developer: Yuke's
Publisher: Yuke's, THQ
Platform(s): PS2
Adorned with his face and catchphrase, WWE Smackdown: Here Come The Pain would be released in October 2003, during the height of the company's huge push of Brock Lesnar, who'd then go on to leave the company about six months later. Here Comes The Pain indeed, but for who? Still, Here Comes The Pain makes an outstanding case to be considered the best of the solo Smackdown games.
Here Comes The Pain enhanced the grappling system to include more moves than ever, meaning that wrestlers felt less and less like carbon copies, and introduced the body and limb damage system that's become a mainstay for the series ever since. The roster includes 50 wrestlers composed of then-stars and a few legends to boot, and features the first video game appearance of the Elimination Chamber.
2. WWE All-Stars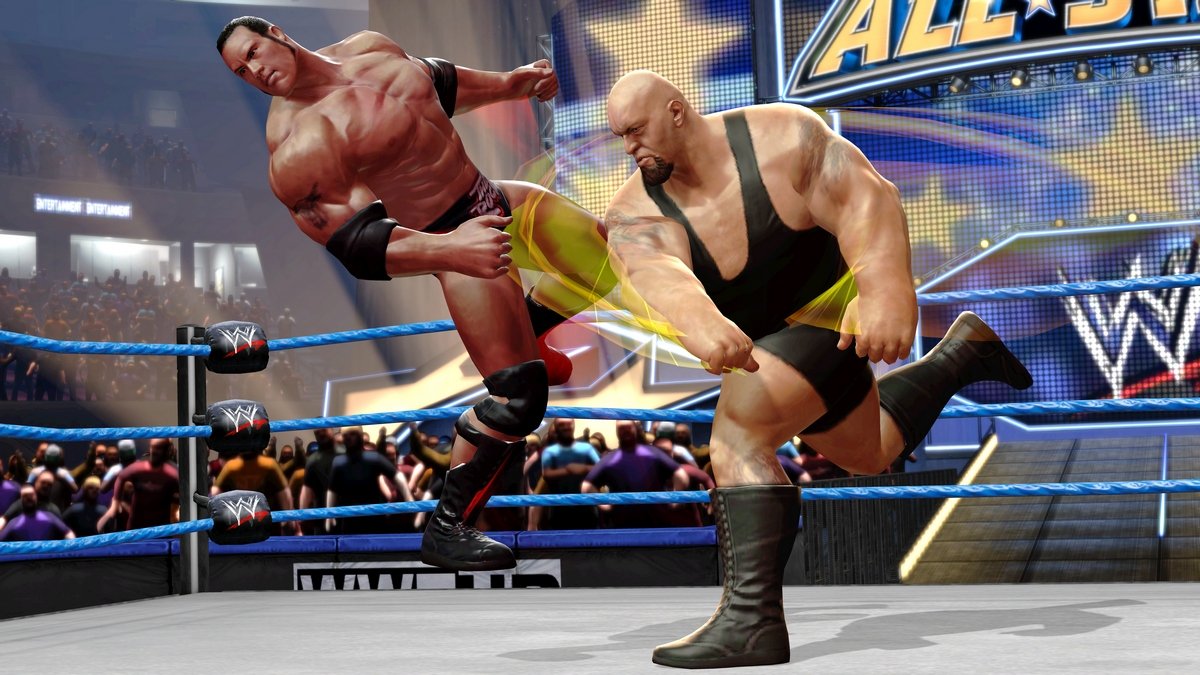 Developer: THQ San Diego
Publisher: THQ
Platform(s): PS2, PS3, PSP, Xbox 360, Wii, 3DS
The best wrestling games come into their own as party games, when you've gathered your friends together to have one big scrap. Not everyone enjoys wrestling, but most people can recognise The Rock vs Rey Mysterio. Most wrestling games capture this party game spirit well, but none have ever really compared to the sheer bombast that is WWE All-Stars. If you want to see Stone Cold Steve Austin get thrown 20 feet in the air before being chokeslammed, this is the game for you.
All-Stars is a celebration of WWE's past and present, pitting current wrestlers against legends in a larger than life battle for supremacy. Up to four players compete in various match types, with victory determined by pinfall, submission or KO.
With a roster of recognisable wrestlers and gameplay that was both accessible and deep (the counter system was absolutely ridiculous), All-Stars absolutely deserves a sequel as it's one of the best wrestling games ever made. It certainly needs a sequel that's better than Battlegrounds, at least.
1. WWF No Mercy
Developer: AKI Corporation
Publisher: THQ
Platform(s): N64
The top choice couldn't be anything other than No Mercy, arguably the crowning glory of all wrestling games.
It's also one of the N64's best ever games, so much so that it wouldn't be surprising to see Nintendo fans reverse their opinions on the N64 Emulator that comes with Switch Online if No Mercy gets included. There's even an active mod community that supports No Mercy with new content to this day. No wrestling game has had more staying power than this one.
The follow-up to WrestleMania 2000, No Mercy refines the AKI engine that became such a hit in the previous game, while adding heaps of new content to keep players coming back for more. Perhaps the biggest overhaul was the Championship Mode, which included seven selectable storylines of the player chasing various titles. Depending on your choices, and your wins/losses, you'd experience a different story every time.
Truly, the pinnacle of all wrestling games.
READ NEXT: The Best Vampire Games To Sink Your Teeth Into
Some of the coverage you find on Cultured Vultures contains affiliate links, which provide us with small commissions based on purchases made from visiting our site. We cover gaming news, movie reviews, wrestling and much more.