Bet you didn't think upgrading your Switch's memory would take more effort than just popping onto Amazon and buying the first microSD card you find. However, there are components to microSD cards that definitely make some much better than others. From storage size to reading and writing speeds, you really need to pay attention to what you're buying.
Of course, that's why we're here. Finding the best SD cards for your Nintendo Switch can be a process, but we're happy to knock down your options to these 15 cards. Before we get to them, though, let's quickly recap some of the terms you may see when shopping around for a microSD card.
MORE SWITCH: Best Switch Accessories | Best Switch RPGs | Best Nintendo Switch Games For Kids
What Types Of SD Cards Are There?
microSD (Secure Digital)
Of the three types of "micro" memory cards out there, SD is the most basic and is not what you'll be looking for. Generally, the maximum capacity of a standard microSD card is 2GB. In terms of your Switch, that's not even enough to store your system data. microSD cards are also slower and less efficient. This isn't the day and age for inefficiency.
microSDHC (Secure Digital High Capacity)
The microSDHC is a bit of a better option, but still not quite enough if you're looking to really build your Nintendo Switch library. Capable of 4GB to 32GB, the microSDHC is better for casual players that don't have their eyes on many of the downloadable games on the Switch's online store.
microSDXC (Secure Digital eXtended Capacity)
Now here's the motherload of all microSD cards. The microSDXC is what you pop into your hybrid console when you're looking to really stock up on games to play. Capable of a capacity of up to 1TB, you'll have plenty of fun filling this bad boy up with a host of forgettable and unforgettable Switch titles. Hey, you have the room, why let it go to waste?
What's Important For SD Cards?
Read Speed
How fast do you want to get into your downloaded games? That's exactly what the read speed determines, how fast the memory card can read data on the card and open it. You want a higher read speed no matter what you're trying to accomplish, especially when it comes to your Switch. When it comes to microSD cards, all but the standard card average out at 104 MB/s. Some cards are capable of hitting 150 MB/s, which is more than ideal if you can get your hands on one.
Write Speed
Your microSD card's write speed determines how fast your microSD card can save your game data. Like the read speed, you don't want a card that tops out on the lower end of the spectrum. Though write speed is more important to photographers and videographers, it's good to know the capabilities of your Switch's SD card. The average write speed of all but the standard microSD card is 104 MB/s.
UHS (Ultra High-Speed)
You won't find this label on base model microSD cards. The UHS indicator is a classification of the memory card's speed. UHS-I, UHS-II, and UHS-III relate directly to the read and write speed and break down as follows:
UHS-I: Maintains a read speed of up to 104 MB/s
UHS-II: Maintains a read speed of up to 312 MB/s
UHS-III: Maintains a read speed of up to 624 MB/s
You're more likely to find UHS-I cards for your Switch, which is more than fast enough to perform as you need it to.
X Speeds
Because things can't be simple, not all microSD card manufacturers use MB/s to indicate card speeds. Instead, they use what we'll call "X Speed." For instance, a card with a speed factor of 1000x has a read speed of 150 MB/s. It starts at 100x (15 MB/s) then, at 200x, jumps to 30 MB/s and continues in increments of 15 MB/s per every 200x classification (400x is 60 MB/s, 600x is 90 MB/s, and so on).
Best Switch microSD Cards
Now that you're properly informed, let's get down to finding you the best microSD card(s) for your Nintendo Switch.
Silicon Power 32GB Dual Pack microSDHC Card
Okay, hear us out. It's recommended that Switch owners have at least a 32GB memory card. We know that, in hindsight, that's not a lot of space, but let's say you're not looking to stock up on the latest and greatest. Instead, you want a cheap option that can stand up there with the big boys. That's where Silicon Power's 32GB UHS-I Class 10 microSDHC card comes in.
Despite its very affordable price for two SD cards, you still get to enjoy read speeds of up to 85 MB/s. It has everything one could need, and for new Switch owners that just dropped a bunch on the console and accessories, it will be nice to spend less on storage and have more money left over for games.
As for the second card? Gift it to another Switch owner to share the wealth of thrilling hybrid gaming.
Gigastone 32GB microSDHC Card
Why drop a ton of money on a memory card when it won't leave you any cash left over to download games onto it? Gigastone offers this incredibly inexpensive 32GB microSDHC card for those that want to focus their money on what really matters. You may have some trouble loading a ton of larger AAA titles on this microSDHC card, but it's great for smaller indie titles to help pass the time. With transfer speeds of 90 and 20 MB/s, it's a workable microSDHC card if you're not keen on the library of big adventures.
SanDisk 64GB The Legend of Zelda microSDXC Card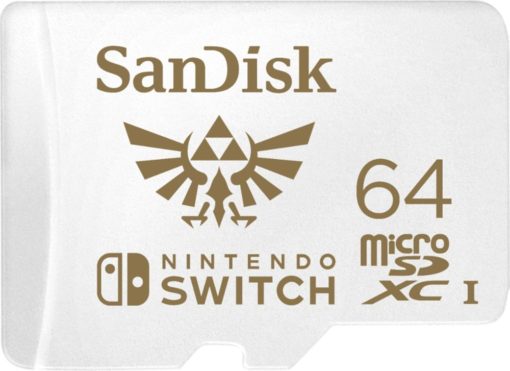 Its size isn't incredibly impressive, but who can resist this officially licensed The Legend of Zelda microSD card? The microSDXC card is a crisp white with gold lettering and features the iconic Wingcrest from Nintendo's popular series. Sure, you can't see the card when it's in use, but knowing you have The Legend of Zelda protecting your saves will make you feel so much better.
Or maybe you'll just enjoy the 100 MB/s read speed and 60 MB/s write speeds. That's important, too. The 64GB of space will give you some space to go on a shopping spree, but you may have to sacrifice a few titles.
PNY Elite 128GB microSDXC
Here is 128GB of elite storage for your Switch, capable of transfer speeds of up to 85 MB/s. Sure, there is better out there, especially at somewhat lower prices, but PNY's Elite 128GB microSDXC is a top-performing option that can also write up to 80 MB/s. Of course, other factors will play into it, but with this card, you should be downloading and playing your most anticipated titles in no time.
If that's not worth the extra cost, we don't know what is.
Kingston Canvas Select 128GB microSDXC UHS-1
This delightful little card, which comes with an adapter should you need to transfer your save files to your PC, sports 128GB of memory and a transfer speed of 90 MB/s. Pair that with a write speed of 45 MB/s and you have yourself a microSDXC card that is going to serve you well as you stock up on the Switch's latest and greatest. The capacity could be higher, but it's a suitable option for mid-range players not looking to play everything that releases on the hybrid console.
Patriot V30 128GB microSDXC
Spend a little, get a lot with Patriot's V30 128GB microSDXC card. We've established that 128GB of memory is plenty for your Switch, so prepare yourself for hours upon hours of entertainment with the Patriot installed. The microSDXC card from Patriot Memory can read up to 100MB/s and write at a max of 80MB/s, though, as with any card, you can expect that to dip a little in your Switch. However, that doesn't take away from the convenience and affordability of Patriot's 128GB microSDXC card.
SanDisk Ultra 128GB microSDXC
It's difficult not to get drawn to a recognizable name like SanDisk. It's even harder when SanDisk serves up a 128GB memory card capable of transfer speeds of up to 100 MB/s. You'll be loading up games left and right with little delay. Well, you could, at least, if there was a reason to do that.
What's most impressive about this Class 10, UHS-I SDXC card is that it's not unreasonably priced at all. You can purchase one of these cards for the same price as a decent quality indie game. Or Rocket League.
SanDisk 128GB Super Mario Bros. Mushroom microSDXC
Save your favorite first-party Nintendo games onto an SD card branded by Nintendo. Oh, how meta. It's fitting that this microSDXC card sports the iconic Power-Up Mushroom considering it sports transfer speeds up to 100MB/s and 90MB/s. It's all you could ask for when it comes to quickly downloading and booting up the games you've been anxiously waiting to play. Being an officially licensed Nintendo product, you at least know you can trust it to interact well with your Switch.
Lexar Professional 1000x 128GB microSDXC
It has "professional" in the title, so it must be good, right? In this case, that actually is the case. The Lexar 1000x is a UHS-II card capable of hitting up to 150MB/s read speed. As if that weren't' nice enough, it comes with 128GB of memory, which is more than enough for you to get a ton of use out of your Nintendo Switch. For what it offers, the Lexar Professional isn't insanely overpriced but do expect to drop the price of a brand new game on it. Luckily, there are plenty of games in the online store that don't cost much.
SanDisk Extreme 128GB microSDXC
SanDisk's Extreme line of microSDXC memory cards go all the way up to 1TB. Unfortunately, you pay quite a bit to experience the UHS-III speeds of the high-end SD card. So, we say save more than $170 and go for the 128GB model, which benefits from the same transfer speeds. The SanDisk Extreme can reach speeds of up to 160 and 90MB/s, which is definitely worth having when you want to load this bad boy up with Skyrim, Breath of the Wild, Smash Bros., and other memory hogs.
Lexar 633x 256GB microSDXC
Cherrypicked from a long list of different microSDXC cards, Lexar's 633x is a top contender for best Switch SD card. Why, you ask? Sure, the 256GB of space have something to do with it, but we can't help but love the 95 MB/s transfer speed. At 256GB, that's nearly 20 copies of The Legend of Zelda: Breath of the Wild or 160 copies of Snipperclips. Pick your poison, you've got the room.
SanDisk 256GB Super Mario Bros. Power Star microSDXC
Much like how it's responsible for giving Mario the power of invincibility, the Power Star printed on this 256GB microSDXC card bestows a seemingly endless supply of memory to your Switch. Switch games don't take up a lot of memory, so you'd be surprised how far this card will get you. As with the other Super Mario branded cards, it tops out at a transfer rate of 100MB/s and 90MB/s. Now if that doesn't make you want to belt out a signature Mario "Wahoo!", we don't know what will.
Samsung 256GB Evo Plus microSDXC
Read speeds of up to 100MB/s. Write speeds of up to 90MB/s. Storage that tops out at 256GB. Now that's a tasty combination of stats. The Samsung 256GB Evo Plus microSDXC card has everything you could ask for in your Switch storage, including a price that won't hurt your wallet too much. When purchasing an SD card for your console, you want a mix of efficiency and storage. Samsung's Evo Plus perfects both to give you everything needed to start building that gaming library.
SanDisk Ultra 400GB microSDXC
What if you really, really love to buy every game imaginable? You save up for AAA releases and jump on indie games on a whim. You're going to need a card that's fast, but also robust with memory. Allow us to introduce you to SanDisk's 400GB microSDXC UHS-1, Class 10 memory card. The ample space is beyond what most people need for the Switch, but you can't wait to start downloading to fill it up. As an added perk to this 400GB treasure, you'll also experience 100MB/s read speeds for smooth loading from your expansive library.
SADBOX 1TB microSDXC Memory Card
For a Class 10 microSDXC memory card, there's at least one hitch that keeps the SADBOX card from reaching top status. It only transfers at a rate of 80 MB/s. Not to say that's bad, but it is a dip from some higher-end cards. Still, there's no doubt that SADBOX's SD card is going to serve you and your Switch well, especially with its 1TB of space. There's little need to reserve yourself when browsing the online shop with space of that caliber.
MORE GAMING GUIDES:
– 15 Best Cheap Gaming Headsets To Treat Your Ears With
– 20 Best Cheap PS4 Games You Should Pick Up
– 15 Best Cheap Gaming Keyboards That Won't Break The Bank