To get the most out of your at-home console, you typically just need a controller, a headset, and an online subscription. For the Switch, though? Things get a little trickier. Nintendo's hybrid console can also be taken on the road and played on a table top, meaning you'll need accessories that cater to both its mobile and stationary modes.
With all the different options out there, finding the best gizmos and gadgets to accompany your Switch can be a hassle – so we took the difficulty out of the situation and laid them all out for you below.
When you're ready to do some shopping for your Nintendo Switch, be sure to add the following best Switch accessories to your list.
The Best Switch Accessories
17. Snakebyte Ring:Kit S
A bit of a niche Switch accessory, this one, the Snakebyte Ring:Kit S is designed for those who have been playing a lot of Ring Fit adventure and want an alternative thigh strap. While the one that comes with the game is fine enough, this one is much more breathable.
That means the Ring:Kit will still "stick" to your thigh during heavy use without constricting movement. As for Ring Fit itself, while some may call it an accessory all its own, the fact that it comes with a bonkers story mode means that belongs in its very own category on Switch.
16. TFY Car Headrest Mount
Whether you have kids that cause a ruckus on the road or you've been relegated to the backseat, this headrest mount from TFY allows you to bring your Nintendo Switch along as a distraction. An elastic, velcro band securely wraps around most headrests while durable silicon straps keep the console in place. Think of it as playing it in tabletop mode without the awkward neck strain.
The angle and stationary placement may make it difficult for two people to play, but the design is practical, the unit keeps the Switch in place while on the road, and it comes at a very affordable price.
Additionally, the mount easily detaches and can be wrapped around an airplane tray table, because nothing says "break out the motion gaming" like the cramped quarters of a modern airliner.
15. Anker PowerCore Speed 20000 PD
Whenever you're dealing with a portable electronic, the concern for battery life rears its ugly head. This is especially true with the Nintendo Switch, which has a less-than-stellar battery. When you're flying, traveling on the road, or just passing the time between classes, you want the comfort of knowing your battery won't die instantly.
The PowerCore from Anker is your remedy for a dead or dying battery when you're on the go. The portable charger delivers the charge needed through a USB-C cable to keep your Switch running. The compact unit charges within four hours and provides enough power to run your console for an additional eight hours of playtime.
It's a little on the long side, but the Anker PowerCore is thin enough to fit in many Nintendo Switch carrying cases.
14. HORI Nintendo Switch Multiport USB Playstand
Upgrade your Nintendo Switch stand with the HORI Nintendo Switch Multiport USB Playstand. Not only does this solid unit give your console more stability when played in desktop mode, but it also features four USB ports for your Switch-compatible devices.
Never be limited by the number of USB ports again with this adjustable playstand. Keyboards, wired controllers, the LAN adapter, the Switch power adapter, and more can be plugged into HORI's multiport stand. Create your own Switch arcade with multiple controllers and an arcade stick to enjoy a different take on tabletop gaming with your friends. The versatility of the Switch is in full swing when you break out this stand.
Switch between four different angles to find the most comfortable view. When not in use, the stand folds up into a small, convenient design that's easy to carry around with you.
13. Joy-Con Comfort Grip Joy-Con Gel Guards
For hands that need a softer surface to grab onto, there are the Switch Comfort Grip Gel Guards. This pair of silicon covers for your Joy-Cons slip right over the Switch's standard controllers for a more comfortable gaming experience. Included thumbstick caps keep your thumbs from slipping off in the heat of battle.
The sleek, ergonomic design is all about prolonging playtime and preventing your hands from cramping and getting sore. Easy to slip on and off, the gel guards are easy to clean and are less prone to the buildup of gunk and grime over hours upon hours of play.
Unfortunately, this and any protective cover for your Joy-Con will not work with the grips as they get in the way of the snug connection from the controller to the peripheral.
12. Nintendo Switch Adjustable Charging Stand
Keep your Nintendo Switch charged with an official stand made to deliver the juice. The Adjustable Charging Stand is Nintendo's answer to the standard dock, which doesn't let you play on the 6.2" LCD display. Rather than watch your console lose power quickly, the adjustable stand plugs right into your Switch and provides a charge while keeping it at an angle for more comfort tabletop play.
Far less complex than HORI's multiport USB stand, the Adjustable Charging Stand is designed with only one port or the AC Adapter. The first-party peripheral extends your playtime while keeping your neck from going stiff with multiple comfortable viewing angles.
11. 8Bitdo SN30 Pro Controller
With a library of SNES games that includes Super Mario Kart, Star Fox, Kirby's Dream Land 3, Super Mario World, Super Ghouls'n Ghosts, and The Legend of Zelda: A Link to the Past, you may want to round off that nostalgic feel with a controller designed after the SNES gamepad.
This Bluetooth pad features the same layout of the classic controller with a few improvements that are perfect for gaming on the Switch. Motion controls and rumble vibration add another layer to the experience whether you're playing on your Switch or any number of Android, macOS, or Windows devices.
The 8Bitdo isn't a replacement for the Joy-Con or even the Pro controller, but it's a fun, nostalgic addition to any Switch setup.
10. GameCube Controller Adapter
When Super Smash Bros. Ultimate released, it did so with GameCube nostalgia on everyone's mind. To feed into it, Nintendo released the GameCube Controller Adapter. Compatible with classic GameCube controllers, the adapter allows players to relive the good 'ole days of gathering around a GameCube playing Super Smash Bros. Melee.
If you're not old enough to understand the nuances of the GameCube controller and the joy of Melee, Nintendo released another peripheral you'll absolutely want to add to your collection of Switch accessories.
What is it, you ask?
9. Super Smash Bros. Ultimate Edition GameCube Controller
It's a super awesome Super Smash Bros. Ultimate Edition GameCube Controller! Players that remember the GameCube will love the feel of this special edition controller. Others will have to take a moment to get used to the unusual layout, but once they do, they'll be Final Smashing all over the place.
Branded with the Super Smash Bros. logo, the black controller is a slick copy of the original GameCube controller, right down to the unattractive button colors. Want to transport yourself back to the start of the 21st century? Heres a Switch accessory that lets you do so.
8. Snakebyte Arrow:Charge S
There sure are a lot of controllers that you can be using at once with the Switch, whether that's the Joy-Cons or the rather snazzy Pro Controller. Unfortunately, it can be a little difficult to charge them all at once quickly and efficiently. Enter the Arrow:Charge S.
A charging dock for various controllers, the Arrow:Charge S from Snakebyte is a small marvel of a Switch accessory that can charge five controllers simultaneously. Better yet, it even has an LED display to show you just charged your peripheral is. Sure beats sitting around and twiddling your thumbs while you wait.
7. Steelseries Arctis 1 Wireless
The online scene for the Nintendo Switch isn't great, but that doesn't mean you should skimp on your headset. You still want something to deliver high-quality audio when you're out in public. You also don't want to be tied to your console with a wire. So, get yourself the Arctis 1 Wireless 4-in-1 Gaming Headset.
"4-in-1!", you exclaim in astonishment. Yes, four. The Arctis syncs up to your Switch, PS4, PC, and Android devices without the hassle of having to wait for it to pair. The 2.4 GHz wireless, ultra-low latency audio is delivered to your Switch via a USB-C dongle. You'll be chatting with fellow Fortnite, Super Smash Bros. Ultimate, and Splatoon players without any delay or interference.
If you just want to use the headset for audio, remove the ClearCast, noise-canceling mic and enjoy the comfort and quality of your Arctis headset.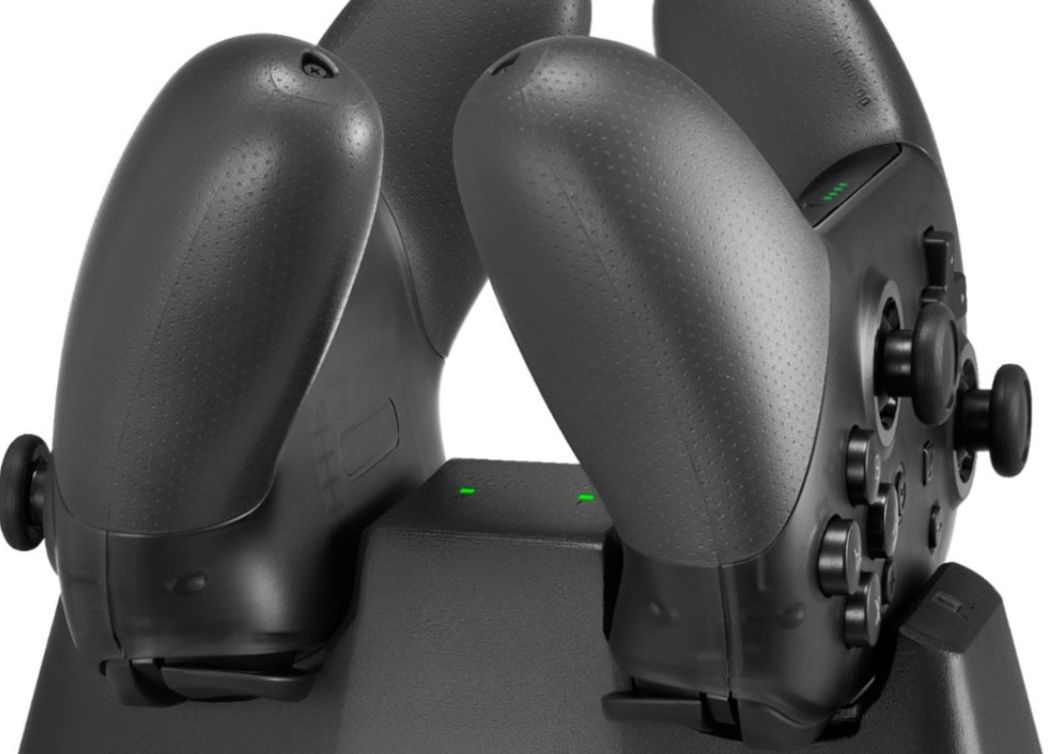 There is nothing like a dead battery in the middle of an adventure. Imagine chipping away at your opponent's health in Fortnite only for your controller to die because you forgot to plug it in. The Insignia Charging Station Dock keeps at least one controller charged while you're using the other. Or, is a bulkier reminder that you should probably plug in your Pro controllers at the end of a gaming session.
Compatible with two Switch Pro Controllers, the charging station dock may be bigger than a simple USB-C cable, but it's still a pretty compact unit. You won't have to worry about knowing when your controllers are ready for play thanks to built-in LED indicators.
Charging your Pro controllers is fast, efficient, and more convenient than ever with Insignia's dock.
5. PowerA Joy-Con Charging Dock
Joy-Con controllers typically charge when attached to your docked Switch. That's all well and good, but what if you have more than two Joy-Con controllers? There's almost no getting around owning a Joy-Con charging dock. Compatible with up to four Joy-Con controllers, the charging dock is one of the best Switch accessories you could own.
An LED indicator lets you know when your controllers are ready for use, which is helpful if you need to swap out a dying pair. The Joy-Cons slide right into the dock, click into place and start charging immediately.
4. Tomtoc Carrying Case
Are you ever planning to take your Switch on the go? There is no way you can do so without a designated carrying case. Tomtoc offers a variety of different Switch cases, but there are two we'd like to showcase that cater to two different types of players.
The first is a slimline case, perfect for carrying the console, two Joy-Con controllers, and ten games. Made with military-level protection, the gray case is designed with insets for the Joy-Con's thumbsticks and buttons that optimize space. The ten games all store on one side of the inner flap so there's nothing to rub against your screen.
There's also a much larger option for players that want to take everything imaginable. The case is designed with insets for your dock, the console and two Joy-Con controllers, the console's power adaptor, a pro controller, Joy-Con grips and straps, and 32 game cartridges. All of your cables and thinner accessories can fit into a separate zippered pouch.
3. Samsung 256GB EVO Plus Class microSDXC
To make the most out of your Switch, you'll want more than the 32 GB of internal memory. Any 'ole microSD card will work, but this Samsung 256GB card is a high-class, spacious memory card that will help you build up your library of games.
The EVO Plus microSDXC card can read up to 100MB/s to prevent hiccups when playing your favorite games. Designed to be waterproof, temperature proof and resistant to x-rays and magnets, you won't have to worry about losing your collection of Switch games.
2. amFilm Tempered Glass Screen
Whenever there is a screen involved, especially a touch screen, you never want to leave it unprotected. The amFilm Tempered Glass Screen is designed to prevent your Switch screen from scratching while also providing an anti-fingerprint layer that doesn't distort the console's image.
At only .3mm thick and with 99.9% transparency, you won't see any dip in the sensitivity of your Switch's touchscreen. This may not mean much, but it's also designed with a 9H hardness. In short, you'll be able to put your screen through a lot without worrying about ruing it.
1. Switch Pro Controller
The Joy-Con wound up being a surprising motion controller, but there is nothing like the fullness and comfort of a standard control. For the Switch, that's the Pro Controller. Taking cues from Sony and Microsoft, Nintendo crafted an ergonomic gamepad with the staple pair of thumbsticks, four face buttons, separate D-pad, and four shoulder buttons.
When not utilizing the Switch's motion gaming, the Pro Controller is the best way to enjoy its growing library of titles. With a simple USB-C to USB-A cable, the Pro Controller is rechargeable so you're not wasting money on batteries. HD rumble, motion compatibility, and an amiibo reader are definite perks in an already beneficial controller.