Tip type, tip type. Without our beloved gaming keyboards, we wouldn't have the rhythmic clacking of keys to enjoy. You know the sound.
That "click, click, click" that we can just barely hear under our too-loud background music or the screaming of our teammates. For standard users, a keyboard is a communication tool that provides the mechanics needed to send emails and social media messages.
When part of a PC gaming setup, a keyboard is an implement of death and destruction and a tool every adventurer needs in their satchel. Even the best cheap gaming keyboards can be the same as an overpowered weapon, providing players with the keys, fluidity, and sensitivity needed to dominate the playing field.
When shopping for a gaming keyboard, whether to replace a broken one or to accompany your first gaming PC, it's easy to be driven toward high prices. The higher the price, the better the keyboard, right? That's not always the case, especially when you have these 15 best cheap gaming keyboards on the market to contend with the bigger (and much more expensive) players.
The Best Cheap Gaming Keyboards
15. DAREU Gaming Keyboard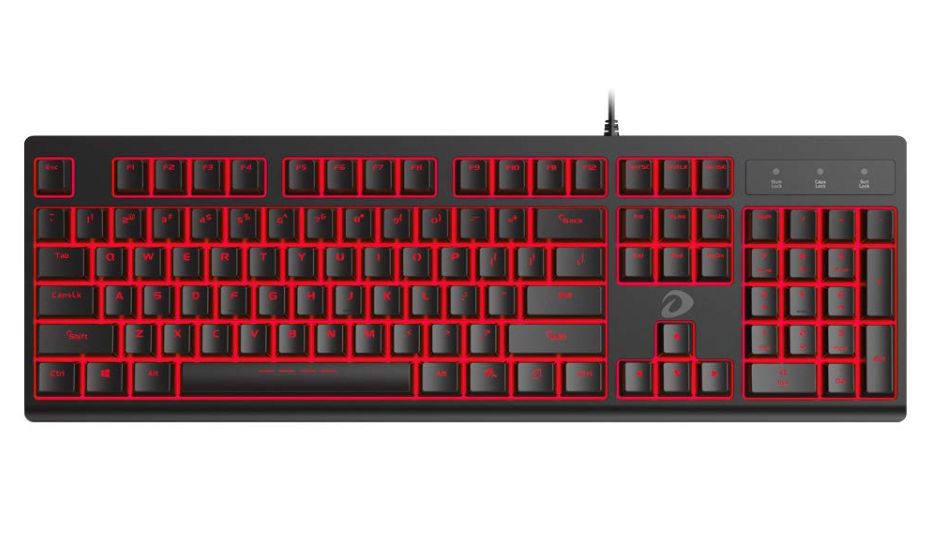 PROS:
– Attached numpad
– Non-slip ergonomic design
– 7 lighting modes
CONS:
– Not a true mechanical keyboard
– Backlighting cannot be turned off
Simplicity. When it comes to a gaming keyboard, it may not be the first thing you think of, but the DAREU opts for a simple user experience with a Function key that allows for just under a dozen short key functions.
The attached number pad makes this a versatile option for office use as well, but the 7 color lighting modes and 4 backlight levels solidify its place in any PC gaming setup. A non-slip ergonomic design and non-conflict keys enhance the user experience, though it does slip a little with forced backlighting and merely the replication of a mechanical keyboard.
14. AULA SI-859 Gaming Keyboard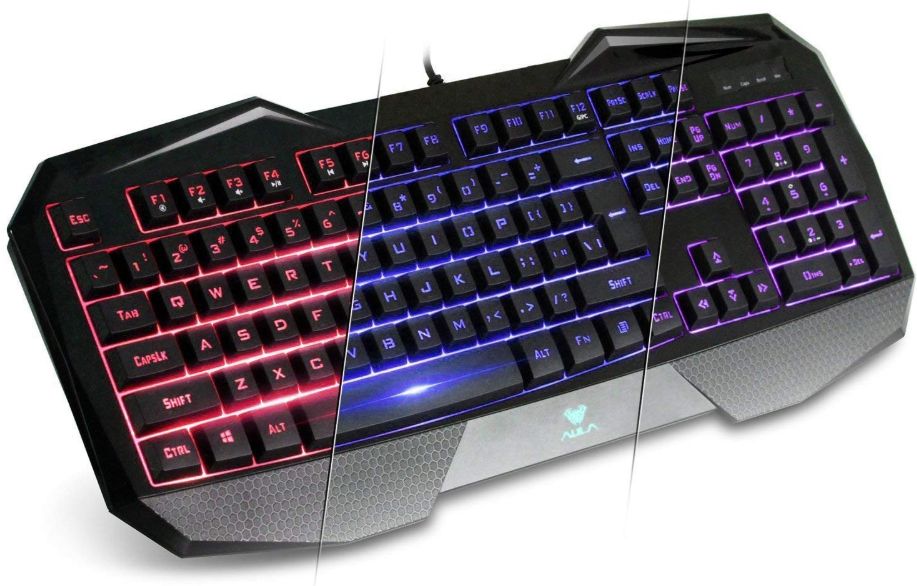 PROS:
– Spill-proof design
– Gaming mode locks out critical keys
– Anti-ghosting keys
CONS:
– Awkward design
– Limited LED adjustment
If you can get past the slightly awkward wrist rest, which indents about where it's needed most, and minimal lighting displays, the AULA SI-859 is a suitable and affordable option. When it comes to gaming, maximum efficiency with each keystroke and anti-ghosting keys ensure every input is registered.
At the height of any game, things can get a little hectic. That's where the spill-proof design comes in to protect the important, moving parts. Function and multimedia keys provide complete control while a gaming mode puts a lock on critical keys to prevent unwanted keystrokes in the middle of that hours-long boss battle.
13. Velocifire TKL02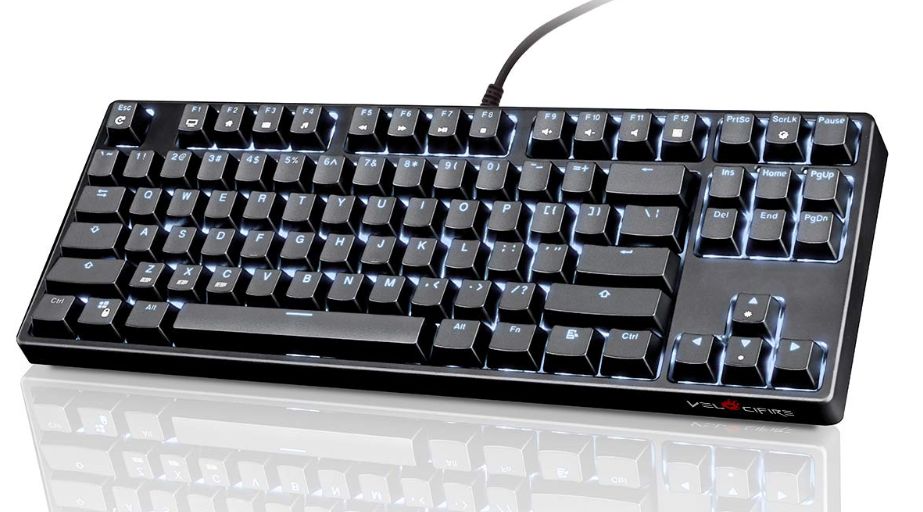 PROS:
– Responsive mechanical keys
– Wireless
– Portable
CONS:
Maybe too simple for some players
Tenkeyless
One color backlight
It may not look like much, but the TKL02 is exactly what you need when you're looking for a simple gaming keyboard. A wireless keyboard without a numpad, the TKL02 is easily transportable and comes with a dongle for compatibility with most gaming PCs. The loss of a numpad may be a huge con for many, while others won't even realize it's gone.
It's not high-end features that sell this base keyboard, but the mechanical switches, dim backlight, and portability. Responsive keystrokes and raised buttons add comfort and usability that are best for both amateur and more professional players. Minimalists will love the sleek design, which doesn't distract with a flashy appearance.
12. VicTsing Gaming Keyboard
PROS:
– 19 non-conflict keys
– Fully controllable backlighting
– Natural tilt with integrated rest pad
CONS:
– Keys can feel stiff
– Lettering is prone to bring wearing off
– No color cycle
To create its ergonomic gaming keyboard, VicTsing took what's standard on a normal keyboard and tweaked it to fit the fast-paced environment of the video game industry. This VicTsing keyboard is designed with medium height keycaps for faster response and a better feeling with each keystroke. The natural tilt and integrated rest pad provide comfort to your wrist and fingers without interfering with your game.
With the VicTsing, you don't have to decide whether you're a WASD or arrow key user as the non-conflict keys allow for simultaneous use should you decide to swap should you feel the need to. Control your PC with 12 multimedia shortcuts that don't interfere with what you're playing.
11. BlueFinger CM200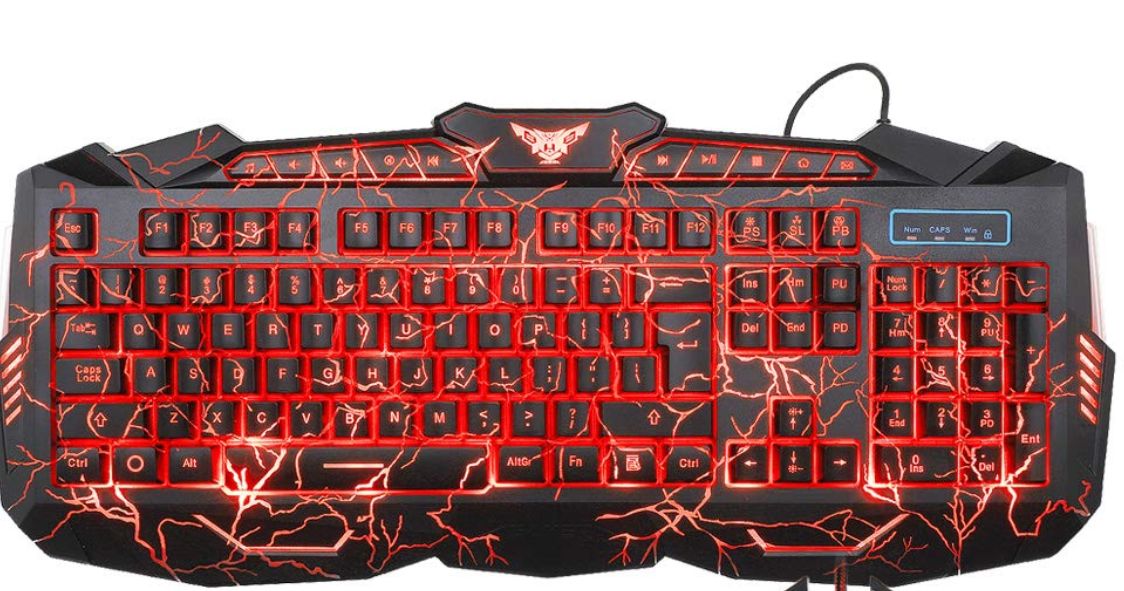 PROS:
– Customizable lighting
– Durable cracked case
– 19 non-conflict keystrokes
CONS:
– Limited features
– Too busy of a design
Even though you're buying cheap, you want the best that your budget can get. That doesn't mean you have to skimp on quality, as you may have realized. Even the best cheap gaming keyboards can be powerhouses on the market. The BlueFinger CM200 may not have the features of some of the other PC gaming keyboards, but its durability and design helps elevate it a bit.
Looking past the cracked exterior, which is etched into a high-quality ABS shell, you'll have access to 10 multimedia keys and 19 non-conflict keystrokes, an essential for the world of gaming. The BlueFinger CM200 features a multitude of lighting options to give users the customization they look for.
10. Logitech G213 Prodigy
PROS:
– Links to other Logitech G products
– Personalized backlighting
– Integrated media control
– Responsive keystrokes
CONS:
– Keys are not mechanical
– Limited key reassignment
– Frame can be flimsy
You can generally trust Logitech to produce sturdy product, like the G213 Prodigy gaming keyboard. At first glance, it's clear to see that the G213 is already more advanced than other options thanks to its 16.8 million colors that can be personalized to your liking.
Of course, lighting doesn't make a good keyboard. For that, you have to look at the responsive keys and integrated media control. Switch between flat or tilted to find the configuration that is most comfortable for your wrist and fingers. The G213 is a versatile gaming keyboard that connects to and works with other Logitech G products.
9. EagleTec KG010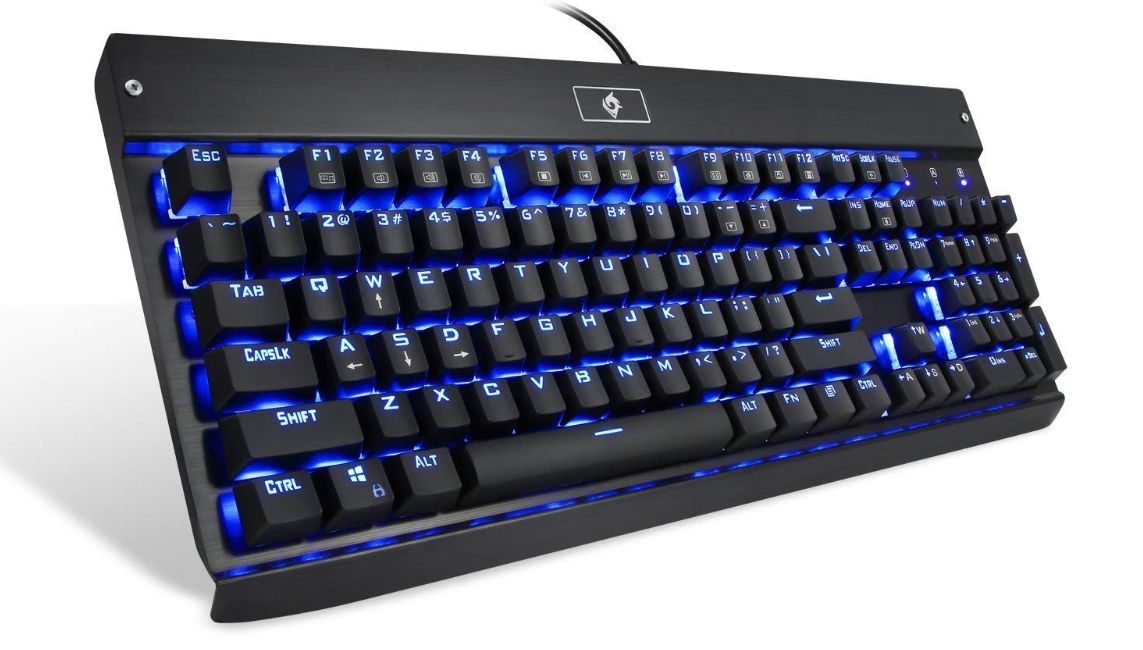 PROS:
– Interchangeable arrow / WASD keys
– Aluminium and ABS casing
– Spill-resistant
– Mechanical keys
CONS:
– Can short out easily
– Dim LED lighting
– Loud keystrokes
When you're looking for a reliable and durable gaming keyboard, you should be focusing your search down to mechanical keys. The durability and tactility make them better suited than membrane keyboards, which is just one benefit the EagleTec KG010 offers over its competition.
Made from aircraft-grade aluminum and ABS casing, even the most hardcore players will have a hard time destroying this keyboard. Its compact size is perfect for players on-the-go, but the interchangeable arrow and WASD keys and anti-ghosting may be a better selling point. The EagleTec is even spill-resistant, which may relieve some worry for hardcore gaming sessions.
8. Cooler Master Devastator 3
PROS:
– Mechanical feel
– Dedicated media buttons
– Built-in wrist rest
CONS:
– LED cannot be customized
– A little bulky
A keyboard doesn't have to have an insanely cool name to be worth purchasing. It doesn't hurt, however. The Cooler Master Devastator 3 may sound like a device created by Skynet, but this keyboard and mouse combo won't go hunting you down in the past. Instead, it will provide you with a great value for a sleek-looking gaming pairing.
If it's a mechanical feel you're looking for, the keys of the Cooler Master Devastator will give you great pleasure despite being a membrane keyboard. Even if not paired with an equally-as-impressive mouse, the keyboard would be well-worth its modest price tag. Of course, nothing is perfect, and the Cooler Master Devastator suffers from limited LED lighting options.
7. Corsair K55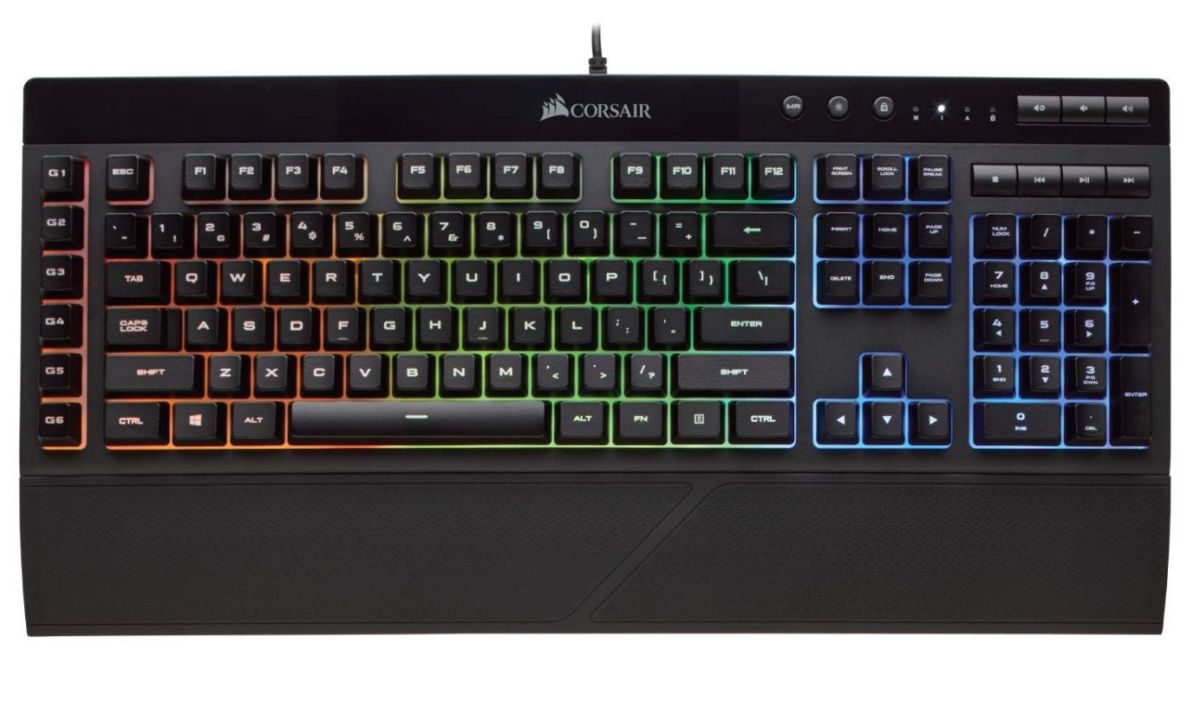 PROS:
– Simple design without sacrificing features
– 6 programmable macros
– Multimedia controls
– Removable rubber wrist rest
CONS:
– No mechanical feel with keystrokes
– Limited LED colors
– Not very durable for gaming
No rule that says gaming keyboards have to look like space-aged products. Sometimes, even the most basic looking keyboard is suitable to take on your greatest opponents on the battlefield. The Corsair K55 proves that substance trumps style with anti-ghosting keys, detachable rubber wrist rest, 6 dedicated macro keys, and multimedia controls that let you take control of audio without interrupting your game.
Simplicity is key with the K55, which is why the macro customization requires no additional software or installations. Though tinkering with software may be a breeze for gaming PC owners, it's one less step needed to get into the game. You won't get that signature mechanical click with each keystroke, but it will be responsive, soft, and satisfying.
6. ROSEWILL Gaming Keyboard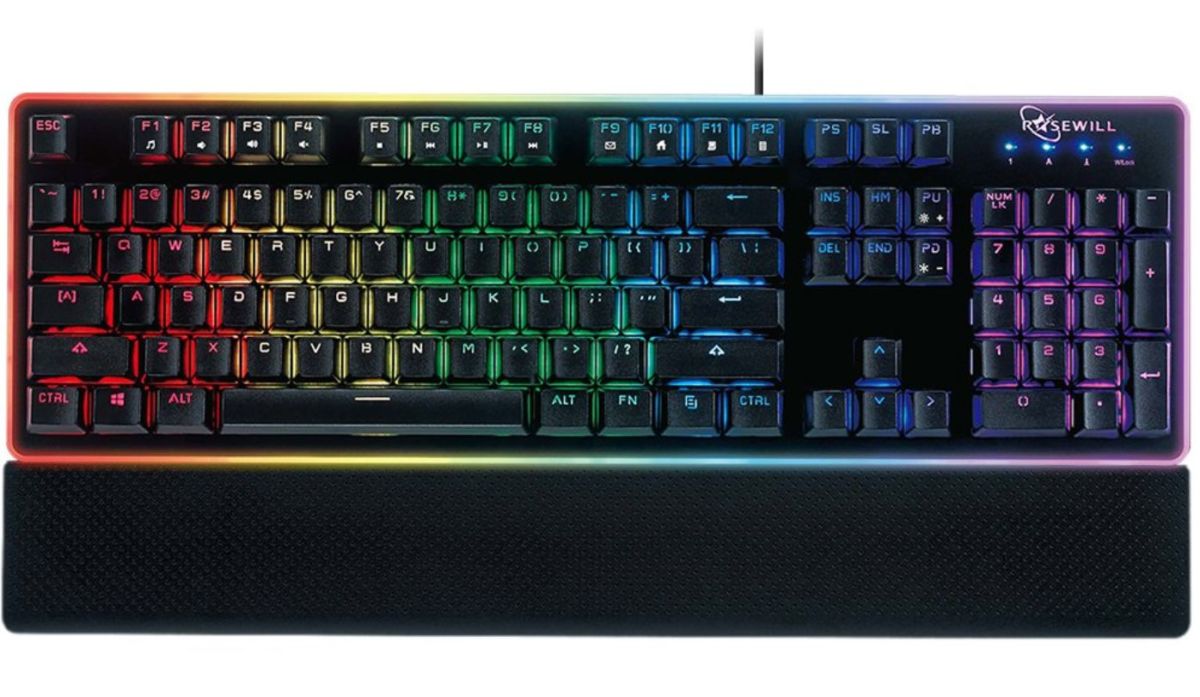 PROS:
– Ergonomic design reduces fatigue and strain
– 26 anti-ghosting keys
– Adjustable backlighting
CONS:
– Unique shape may not be for everyone
– Keystrokes could be more responsive
Looking for a keyboard that has a designer look? Something to spruce up your PC gaming setup? Then you'll want to stop looking. The ROSEWILL gaming keyboard features sharp edges and a contoured appearance that gives it more of a futuristic look and feel.
As for its inner workings, the ROSEWELL features 26 anti-ghosting keys and non-slip ABS keycaps, two features that are perfect for PC gaming. Even if you aren't a fan of the unique shape, the ergonomic design is going to work wonders on your game, providing your wrist with the necessary support needed to prevent fatigue.
5. Redragon S101 Gaming Keyboard
PROS:
– Changeable WASD and arrow buttons
– 19 simultaneous keystrokes
– Attractive backlighting
– Win key can be disabled
CONS:
– Bulky and not portable
– Membrane keyboard
Just because a keyboard is pretty to look at doesn't mean it functions well. Then again, that doesn't mean it doesn't. The Redragon S101 is a fine example of the latter scenario – beautiful and practical. The rainbow-colored backlighting is a fun addition to the S101, but it's the mechanics that shine.
Capable of registering up to 19 simultaneous keystrokes, the Redragon is a dream for amateur PC players just starting to learn the ropes. The changeable buttons and win key blocking also enhance the usability of the S101, but we have to be honest. It's just an attractive keyboard. A PC gaming setup should look good, and the sleek black shell with rainbow-colored LEDs really pop.
4. Havit Rainbow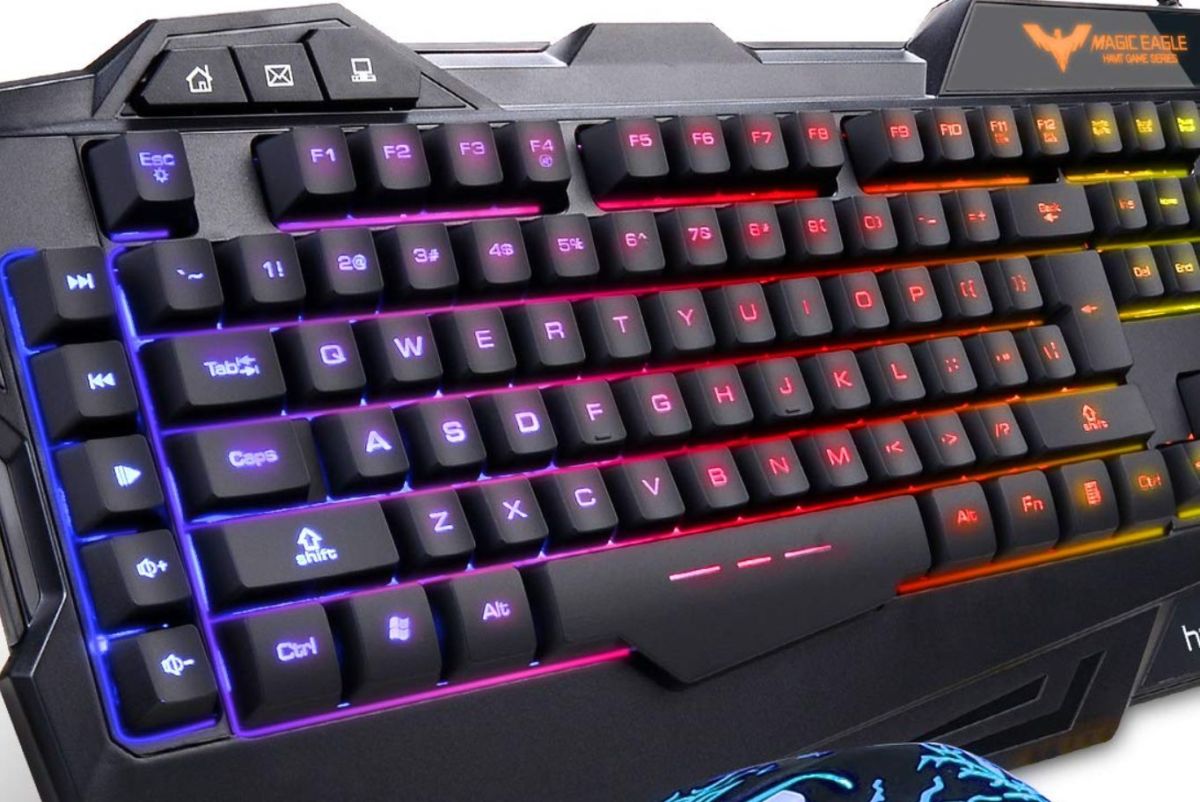 PROS:
– 7 breathable lights
– 19 non-conflict keys
– Interchangeable WASD keys
– Extended spacebar
CONS:
– Membrane-based keys
Non-conflict keys are essential to PC gaming. Of the 104 keys on this colorful keyboard, there 19 can be operated at the same time without issue. The design is ergonomic and sleek, a combination that provides the necessary comfort for long sessions of gaming.
The built-in wrist rest and extended keyboard are explicitly designed with PC gaming in mind, and the interchangeable WASD keys are a nice touch. Five dedicated multimedia keys put you in control, and each keystroke is responsive, though it would be more beneficial for gaming if the keys were mechanical and not membrane-based. If you like the soft glow of LED lighting, you'll enjoy the Havit Rainbow's 7 breathing lights should be a perk.
3. Redragon K552-R KUMARA
PROS:
– Mechanical keys
– Anti-ghosting and conflict-free
– Switchable WASD and arrow keys
– Compact size for portability
CONS:
– Limited lighting options
– No numpad
– Not too durable
If it's bulk you're looking for, you won't find it with the highly portable Redragon K55-2R KUMARA. If you don't mind giving up the numpad for the sake of a smaller unit that performs exceptionally well, the KUMARA should be a suitable option for you and worthy addition with the other best cheap gaming keyboards.
Conflict-free keys and anti-ghost promise responsive input without the worry of inputs overriding one another. The moment you perform a keystroke, you'll hear the telltale sign of a mechanical keyboard, which is sure to give you a boost on the battlefield. There may not be any programmable macros, but 12 function keys and 12 multimedia controls offer ease-of-use, especially when you're in the thick of battle and need to lower the volume.
2. Cougar CORE EX Hybrid Gaming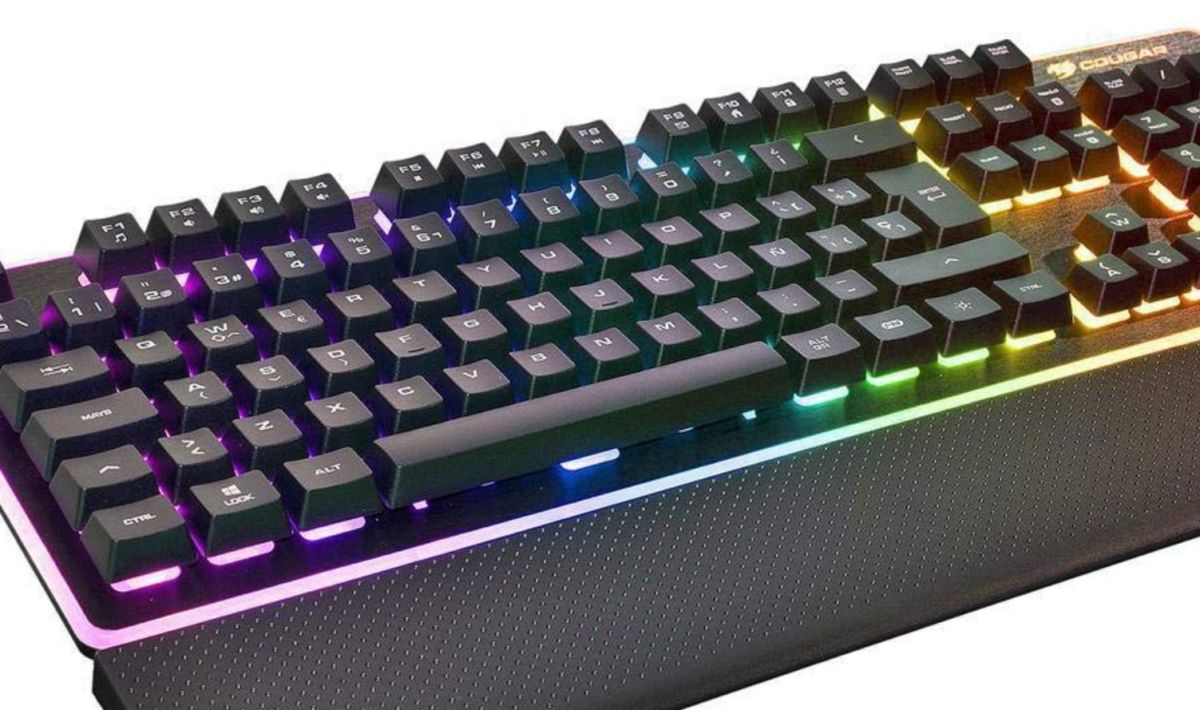 PROS:
– Mechanical keys w/ anti-ghosting keystrokes
– WASD and arrow key swap
– Detachable wrist rest
– Not too loud
CONS:
– No programmable macros
– LED lighting can be too bright
It may be one of the more unique designs we've showcased on this list of the best cheap gaming keyboards. It's also one of the more versatile and feature-rich.
The Cougar CORE EX looks like a keyboard without the outer layer of protection, and it's that design that almost makes it more of an efficient piece of gaming equipment. No bulky shell to get in the way, leaving nothing but the clacking of mechanical keys.
Function shortcuts, anti-ghosting keystrokes, and hybrid mechanical switches create an environment fit for gaming. Swap out the WASD and arrow keys to better suit your style of play and go back to dominating the arena. With no shell to get in the way, the RGB lighting is vibrant, maybe to a fault.
1. Tt eSports Challenger
PROS:
– Rubber dome for comfort and durability
– Anti-ghosting keystrokes
– 6 dedicated macro keys
– 3 programmable profiles
CONS:
– Membrane-based
– Limited LED customization
It's right there in the name. The Tt Challenger is built specifically with eSports in mind, and though competitive gaming can be costly, this keyboard is made to be affordable.
While gaming is often best suited with a mechanical keyboard, the membrane-based Tt eSports Challenger stands up to the competition with few pitfalls. Comfort and design are high on the Tt eSports Challenger's perks as the rubber wrist rest provides you with the support needed to prevent fatigue and cramping over long periods.
It may take a bit to get used to the unique design, but once you do, it will be the PC gaming experience you've been hoping for. Interchangeable keys and 6 dedicated macros with 3 storable profiles let you customize the Challenger to your needs.
MORE PC GAMING:
– The Best Cheap Gaming Mice That Won't Break The Bank
– The Best PC Gaming Controllers For 2019
– Sony's Masters Of The Universe Reboot May Go Straight To Netflix
Some of the coverage you find on Cultured Vultures contains affiliate links, which provide us with small commissions based on purchases made from visiting our site. We cover gaming news, movie reviews, wrestling and much more.