Gaming on a budget. When you first imagine the concept, it sounds impossible. Between a high-end PC and the games you'll want to play, the costs seem insurmountable. But what if there were a way to cut costs with cheap gaming mice, even if it were just a few dollars?
Among the components that can cause the price of your PC setup to skyrocket is a reliable and comfortable gaming mouse. While one could easily spend more than $100 on a gaming mouse, as this list will show, there is no need to.
We always assume that a higher price means it's technically better, but the following fifteen cheap gaming mice are among the best that money can buy – and they're not going to drain your bank account. You may be surprised to find that you're not sacrificing features, quality, or style for the of saving money.
Whether you're just getting into PC gaming or have been at it for a while, spare your wallet and consider purchasing any of the following best cheap gaming mice.
The Best Cheap Gaming Mice
15. MSI Interceptor DS B1
PROS:
– Anti-slip surface reduces slipping from sweat
– Weight system with 8 removable weights
– On-the-fly DPI switch
CONS:
– LED lights can't be toggled
– Low maximum DPI of 1,600
If you don't mind a wired option and LED lighting that can't be switched off, the MSI Interceptor could be the best cheap PC gaming mouse for you. The Interceptor has room for improvement to become a high-end option, but what it does provide is enough for casual and semi-serious PC players.
Though its 6 buttons are not programmable and the DPI tops out at 1,600, the adjustable weight, anti-slip surface, and ergonomic design are enough to make this worth considering. Two side buttons provide some added convenience for certain genres and the center DPI switch gives you the access needed when it's most crucial.
Buy on Amazon
Buy on Overclockers
14. LIIR G125 Gaming Mouse
PROS:
– Simplistic for casual players
– Ambidextrous design
– 8-month battery life with indicator
– Added weight for improved stability
CONS:
– No programmable features for in-depth gaming
– Low DPI maximum of 3,200
A mouse doesn't have to feature a ton of options to be a gaming mouse. Some, like the LIIR G125, is about accessibility for more casual players. The flashy and decorative design is about as intricate as this mouse goes, but its easy-to-learn layout and low DPI will appeal to newcomers to PC gaming.
The G125 is good for up to 3,200 DPI, comes with 6 buttons, and is given extra weight for a heftier feel and stability. Though not programmable, the buttons function as they should and are designed for maximum ambidextrous comfort.
13. E-Blue Mazer II
PROS:
– Adjustable DPI of up to 2,500
– Omron switches rated for up to 5 million clicks
– ~30 hour battery life
– No wire to hinder mobility
CONS:
– Limited DPI settings
– Heavier than many other options
– Designed specifically for right-handed players
When a gaming mouse looks like the prototype of an aerodynamic futuristic car, you know you're in for something good. You also expect a hefty price, which you won't get with the E-Blue Mazer II. This cheap gaming mouse may not be feature-rich, but it does the job well.
An adjustable DPI from 500 to 2,500 and 3,000 f/s are sure to come in handy during fast-paced MOBAs. Far from the most customizable option, E-Blue sacrifices the bells and whistles of a high-end gaming mouse for the sake of simplicity that will cater to more casual players. For the appearance of a pricey gaming mouse, the Mazer II is designed with an LED accent glow.
12. Havit HV-MS672 Gaming Mouse
PROS:
– Easy to plug-and-play
– Ergonomic to fit most hand sizes comfortably
– No batteries
– Very inexpensive
CONS:
– Only 4 DPI levels
– LED light is on a constant cycle that can't be changed
– No programmable buttons
There is "budget-friendly" and then there is "stretching your budget as far as possible." The HV-MS672 wired gaming mouse falls under the latter with a price so low you may think you're just getting an empty shell. The colorful mouse is an aesthetically pleasing design with contours for a comfortable grip.
Six buttons and a quartet of DPI levels gives you everything you could need to get in the game, though the customization options may be a little limited. With so few DPI options, players that like a range of settings may be a little disappointed with what Havit produced with the HV-MS672. As with many in the category, this cheap gaming mouse features a rotating series of colors that breathe while you play.
Buy from official site
Buy from Amazon
11. VersionTECH Gaming Mouse
PROS:
– Precision tracking works on most surfaces
– Plug-and-play, no extra drivers needed
– Hyper-fast scroll wheel
CONS:
– Limited DPI range
– No programmable buttons
Comfort is one of the most important features of any PC gaming mouse. With the stylish VersionTECH mouse, it's not just important, it's a key feature that make this a top choice when you're looking to save money.
The 7-color breathing LED that glows through the cracked design is fancy, but it's the plug-and-play functionality and DPI optical tracking technology that really sells this accessory. Though the DPI tops out at 2,400, for slower-paced genres, it's an ideal option. Further solidifying that this isn't quite the mouse for detailed games are the 6 pre-programmed buttons.
10. TSV Rechargeable X70 Gaming Mouse
PROS:
– Cycle of 7 breathing LED colors
– 10 million button click life
– Rechargeable batteries
– Mac OS compatible
CONS:
– Only 6 buttons
– No button customization
– Charger can be faulty
With one look, there is no denying that this is a gaming mouse. The soft LED glow, the multiple buttons, the slick design – it's everything we've come to know gaming mice to be. What's most surprising is the price, which is a great value for what you get.
The TSV may not be the best on the market, but its 4 DPI modes, 2.4GHz wireless functionality, rechargeable batteries, and 10 million click lifespan are what casual players need for their PC. Where the mouse does slip is with its limited buttons and customization options. With only 6 buttons that aren't programmable, the X70 may not be best for more involved genres.
9. Vegcoo Wireless Gaming Mouse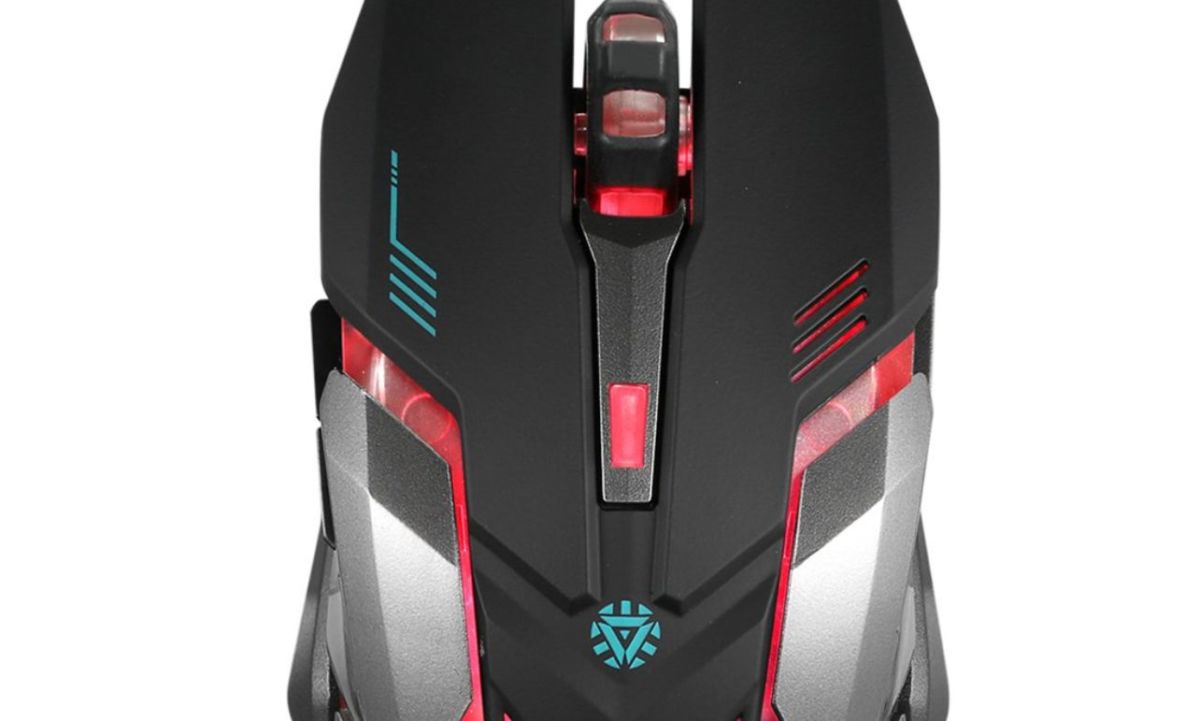 PROS:
– Soundless left and right mouse button clicks
– Rechargeable battery
– Comfortable design built for long play sessions
– Easily adjusted DPI
CONS:
– Only 3 levels of DPI (1,200-2,400)
– No programmable buttons
This wireless gaming mouse may look like an intricate piece of hardware, but there is no question of its accessibility to casual players. The curved design with extended right and leftmouse buttons add a level of comfort for maximum play time. Soft glow LED lighting is a fine feature, but the Vegcoo wireless mouse excels with its button design.
Not only are the main buttons soundless, they're accompanied by 6 other buttons, including a DPI switch that swaps between 1,200, 1,600, and 2,400. It may not be the most advanced when it comes to features, but the rechargeable battery is a convenient feature that helps make up for its shortcomings.
8. Redragon M601 Centrophorus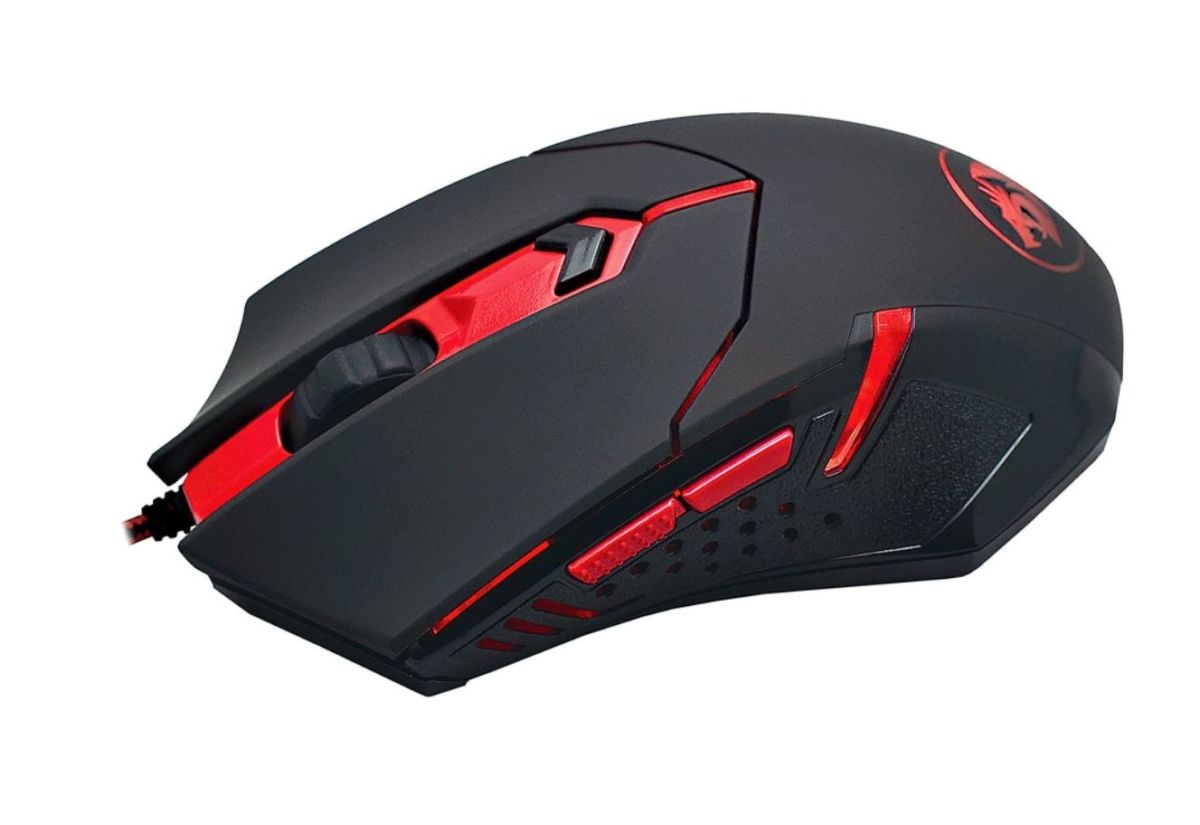 PROS:
– Comfortable, ambidextrous design
– 8 removable weights
– 6 buttons with 2 programmable options
CONS:
– Limited DPI range
– Minimal customization options
With a name as cool as "Redragon," who wouldn't want to have this cheap gaming mouse as part of their setup? Great name aside, the Redragon is a suitable mouse designed for casual and slightly more serious players.
Though its DPI only goes up to 2,000 with the press of a center button, 6 optimized buttons and 2 programmable side buttons give its owners a bit to tinker around with. Whether you like a little weight or want to keep your mouse hefty, the Redragon features 8 removable weight pieces. What helps the M601 stand out is its ergonomic design, which is ambidextrous and comfortable.
Buy from Amazon
Buy from Newegg
7. Lenrue Laser Gaming Mouse
PROS:
– Very inexpensive
– Multiple programmable profiles
– 6 programmable buttons
– Reinforced braided cable with anti-interference ring
CONS:
– Limited light patterns
– No customization on Mac OS
– Clunky scroll wheel
One of the easiest ways to save money is to buy wired. The other is to consider this Lenrue Laser Gaming Mouse, a sleek-looking and affordable accessory that features 6 programmable buttons, a high-precision metal base for durability, and a cycle of 4 colors.
For the price, this Lenrue mouse is quite impressive, with downloadable software that lets you adjust DPI up to 3,200, program the buttons, and configure multiple profiles. An ergonomic design makes this gaming mouse comfortable, even over long periods of play.
6. PICTEK Gaming Mouse
PROS:
– Up to 7,200 DPI
– 1,000Hz polling rate
– Programmable buttons for personalized play
– Sweat resistant and anti-fingerprint cover
CONS:
– High scrolling speed
– Unstable cursor
– Grip can get uncomfortable
When you want a range of DPI settings but don't want to spend a ton, you'll want to look at the PICTEK gaming mouse. To cater to a wide range of players, there are 5 DPI levels, ranging from 1,200 to 7,200, that are easily adjustable with the click of a button.
The PICTEK is designed with first-person shooters in mind and features multiple polling rates that top out at 1,000Hz. It's one of the smoothest of the best cheap gaming mice, providing maximum accuracy for the tensest of online matches.
5. Anivia T90
PROS:
– Up to 9,200 DPI
– Eight button configuration
– Adjustable weights
– Breathing ambient lighting
– Soft surface for comfort
CONS:
– No customization
– Limited grip
– Color cycle cannot be changed
Options are one of the biggest selling points of any gaming mouse. They're even better when that mouse is on the "cheaper" side and not expected to offer any. The Anivia T90 is an affordable PC gaming mouse that doesn't skimp on the options. Switch through 6 DPI settings, from 1,000 to 9,200, with the press of a button to enjoy a personalized experience that best fits the genre you're playing.
Designed with 8 adjustable weights, players can enjoy a comfortable experience no matter their preference. Though there are 8 buttons, none of them are customizable, but the Fire Key near the index finger adds a convenient way to access long press, double click, or triple click features.
4. VicTsing Wireless Gaming Mouse
PROS:
– Simple design for casual gaming
– Long battery life
– Adjustable DPI with switch button
– Storable nano receiver for convenient plug-and-play
– Lightweight
CONS:
– Highest DPI setting is 2,400
– Limited buttons and customization
When you don't want to deal with a ton of bells and whistles or aren't looking to get in too deep with your gaming mouse, you turn to something like the VicTsing Wireless Gaming Mouse. The design is simple and very similar to a standard mouse.
Its contours are designed relatively the same, which lends to maximum comfort over long periods of play, but the mouse is lacking in additional buttons. There are only 2 programmable buttons, and the DPI settings are also very limited. Since there is no LED lighting or enhanced features, the VicTsing benefits from a long battery life off of simple AA batteries.
3. TeckNet HYPERTRAK Gaming Mouse
PROS:
– 10 customizable buttons
– Choose your light color
– Adjustable weight
– Compatible with older versions of Windows
CONS:
– Mac OS compatibility issues limit number of functional buttons
– Difficult to master software
– Poor scroll wheel design
If you have the time to invest in learning a considerably complex software, then there is a big payoff to be had with the HYPERTRAK. It's on the higher side of cheap gaming mice, but TeckNet delivers a feature-rich peripheral that's made to turn casual players into professionals. Six removable weights let you customize how heavy the mouse is while 10 buttons can be programmed with the included software.
To improve durability, the cord is built with a gold-plated connector that won't wear down over time. If not for complaints about flawed scroll wheels, confusing software, and the higher, but still inexpensive, price, the HYPERTRAK would easily be the best cheap gaming mouse on the market.
2. Zelotes Optical Gaming Mouse
PROS:
– 7 buttons with 5 customizable options
– Comfortable design with molded finger rests
– No need for batteries
– Built-in weight adds a hefty feel and controls stability
– Maximum DPI of 5,500
CONS:
– Ergonomic design is specific to right-handed players
– Limited programmable options
The Zelotes optical gaming mouse is a versatile option that features a decent range of DPI options, starting with 1,000 and stopping at 5,500. It may not be the high range that some first-person shooter players prefer, but it's suitable for most genres.
For enhanced customization, the Zelotes features 2 programmable buttons of its total 7 buttons. This affordable gaming mouse is made for comfort, but specifically for right-handed players. Grooves on the right side give your ring and pinky finger a place to rest, reducing fatigue over long periods of play. Zelotes also dims down the LED lighting for a less distracting accessory in your PC gaming setup.
1. Logitech G203 Prodigy Gaming Mouse
PROS:
– 6,000 DPI
– Comfortable, simple design
– High accuracy
CONS:
– Lacks programmable features
– Main buttons are loud when clicked
If you want simplicity and reliability, you can't go wrong with the G203 Prodigy gaming mouse from Logitech. Its design may look a little too basic to be a gaming mouse, but Logitech didn't pull punches when it delivered on the G203. Sure, there are only 6 buttons and it may not have that shiny LED glow of other models on this list, but Logitech favored practicality over style.
When shopping for a gaming mouse, accuracy and DPI are usually high on the must-have list. The G203 tops out at 6,000 DPI and is praised for its steady accuracy and smooth stability. With a few more customizable features and a couple of added buttons, the G203 would have been perfection in mouse form. The G300S is a suitable replacement for down the road when you're looking to spend a little more.
MORE PC GAMING:
– The Best PC FPS Games You Should Play
– The Best PC Gaming Controllers For 2019
– The Best PC Horror Games To Play (If You Dare)
Some of the coverage you find on Cultured Vultures contains affiliate links, which provide us with small commissions based on purchases made from visiting our site. We cover gaming news, movie reviews, wrestling and much more.