What's more fun than playing video games? Playing with friends. Ever since the days of the arcades, there's always been a unique social experience that only video games can provide. Some of our fondest gaming memories don't necessarily come from the games themselves, but from the experience shared with other players.
The Nintendo Switch offers a wide variety of titles that can be enjoyed with a group of people. Some of which are bound to bring out the competitive side of any player — which might lead to some occasional trash-talking.
So if you're looking for casual titles that anyone can enjoy or some competitive games that are sure to drive a wedge between the strongest of friendships, then here's a list of the best Switch party games.
15. Party Golf
Developer: Giant Margarita
Publisher: Giant Margarita
Players: 8
Up to 8 players can take part in this engaging golf game that puts a new spin on the genre. The main goal is simple: race to reach the hole before anyone else, which makes for a chaotic experience that's sure to get competitive real quick.
It's hard to believe how such a simple concept can be so engaging, but that seems to be a pattern with these games. Simplicity goes a long way, and the fact that it's easy to pick up and play makes it even better for playing with casual gamers.
With over 100 game modes, procedurally-generated levels, and more than 300 custom settings, there's enough variety to keep things fresh for each match.
14. Snipperclips
Developer: SFB Games
Publisher: Nintendo
Players: 4
Snipperclips is a delightful puzzle game that allows players to cut objects and even other players into a variety of different shapes and sizes in order to solve each challenge the game provides. Up to four players can play at the same time, which makes for a fun and chaotic experience with friends.
There are also different ways to go about solving these puzzles, as the game lets players come up with creative solutions for each level. The game also lets players undo certain actions like resetting the stage or the shape of the characters.
All in all, it's a fun party game that encourages teamwork and creativity from players while also being incredibly charming.
13. Screencheat: Unplugged
Developer: Samurai Punk
Publisher: Samurai Punk
Players: 4
A game that takes advantage of the obvious problems that come with local multiplayer shooters, Screencheat actually requires players to cheat by looking at other player's screens.
The players never actually appear on the map, and the only way to find them is to look at other player's perspectives in order to determine where they might be located.
It's just a brilliant concept that turns a negative into a positive and creates a totally unique experience  — and it's hard to believe this concept hasn't been explored to this extent before.
12. Puyo Puyo Tetris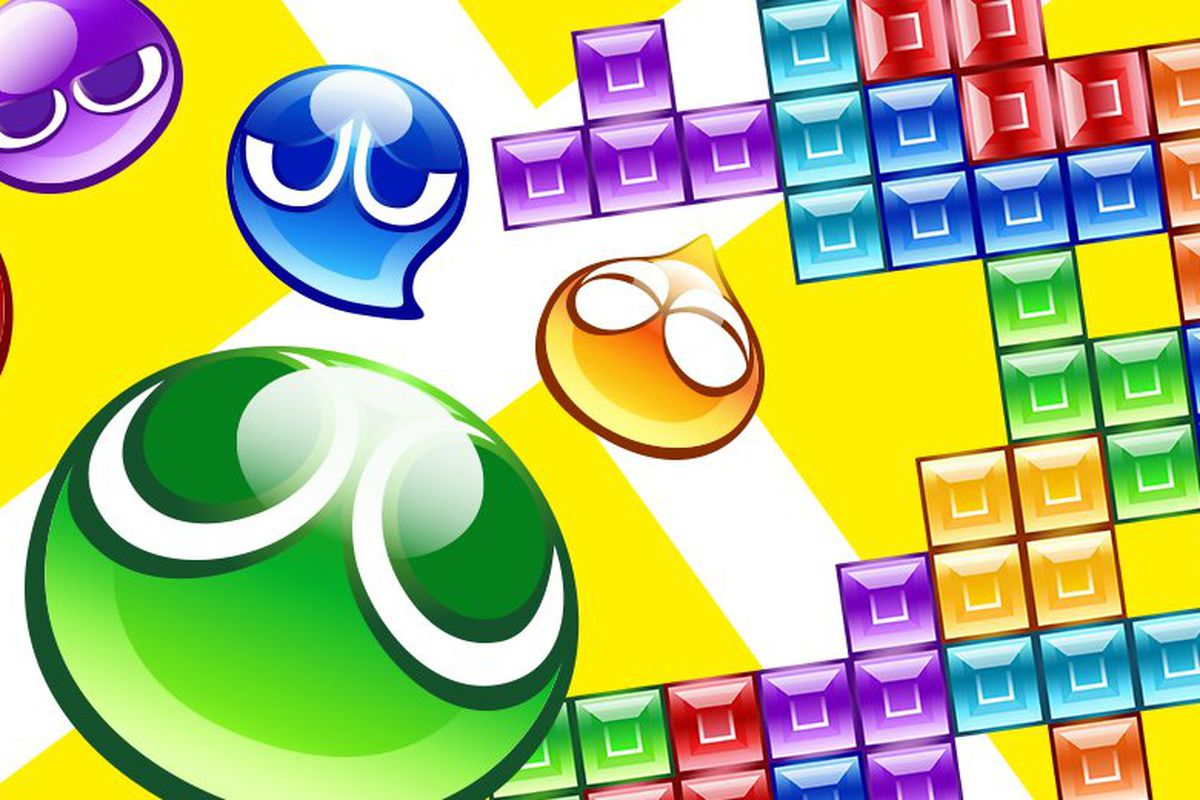 Developer: Sonic Team, Bitbaboon
Publisher: Sega
Players: 4
Puyo Puyo Tetris combines two of the most celebrated puzzle franchises in gaming history  —  the universally beloved Tetris and Sega's long-running Puyo Puyo series  —  to create a frantic and exhilarating puzzle game that takes the best elements from each series.
There are several game modes to keep players busy, and up to 4 players can choose from either Puyo Puyo or Tetris style in versus mode, which makes for a unique experience.
There are even fusion modes that combine the play styles from both series. Puyo Puyo Tetris is an incredibly fun puzzle game on Switch that any player can enjoy.
11. Lovers in a Dangerous Spacetime
Developer: Asteroid Base
Publisher: Asteroid Base
Players: 4
Man your battle stations in this frantic 4-player co-op game where each player takes on a variety of different roles in order to keep the spaceship intact.
Each station has a unique function, which means players will be changing their positions constantly as the ship travels through space.
It's a unique balancing act that requires a lot of cooperation and teamwork, so make sure you and your friends are on the same page. But if there's some miscommunication, it still makes for a fun experience seeing how quickly things can fall apart amidst the chaos of space.
So if you're ready to go against the forces of anti-love with a couple of friends, then assemble your crew and get ready for lift-off.
10. Arms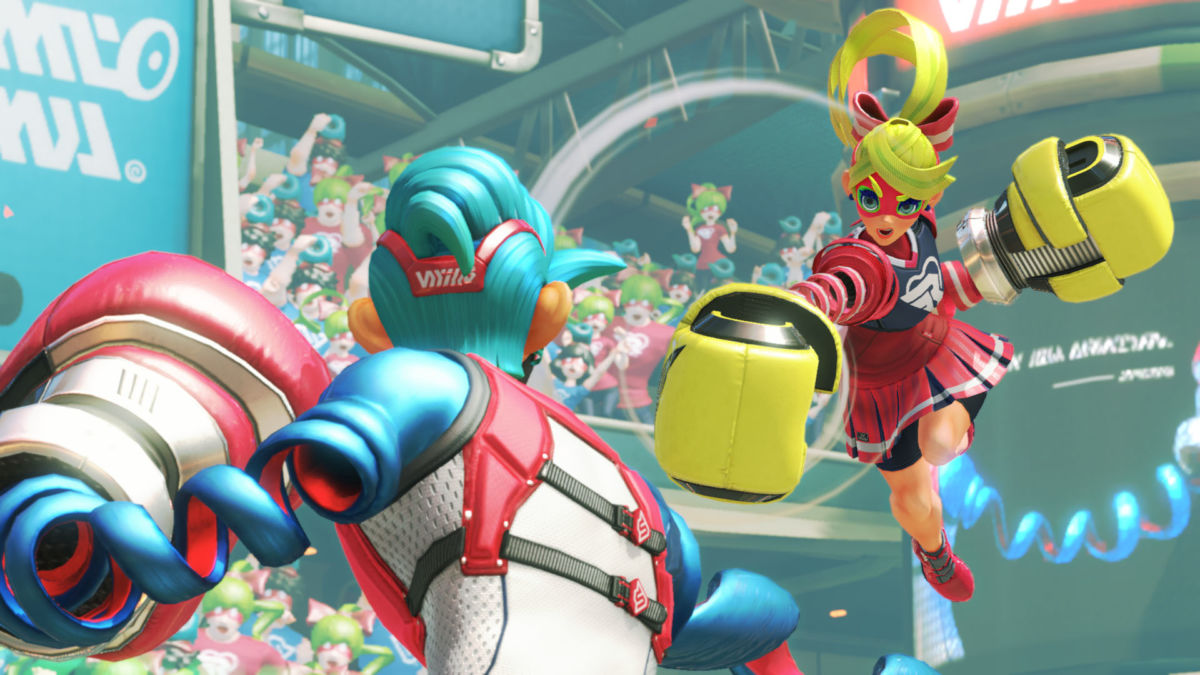 Developer: Nintendo
Publisher: Nintendo
Players: 4
At first glance, many players thought that Arms was just going to be an extension of the boxing minigame found in Wii Sports  —  but that couldn't be further from the truth.
Sporting a unique combat style, Arms features an interesting approach to the fighting genre as players go head-to-head in a variety of different game modes.
Players will be able to choose from several characters as they punch, block, dodge, and throw their enemies in order to get the upper hand in a match. Some modes actually incorporate sport elements, like basketball and volleyball, which makes for a unique dynamic since the main objectives change.
Arms is a fun game with plenty of charm and personality, and if players want to mix things up a bit, there's always the option to use motion controls with the Joy-Cons.
9. Rayman Legends
Developer: Ubisoft
Publisher: Ubisoft
Players: 4
In this continuation of Rayman Origins, the reboot that brought new life to the series back in 2011, up to 4 players can work together as they go through some of the most inventive platforming stages the genre has to offer.
With fast-paced action and different characters to choose from, the game is sure to bring tons of fun to your living room. There are also music-themed levels that require players to jump, run, and attack to the rhythm of the music.
This is one of the most impressive platformers of the last decade, and the fact that you can play it on the go is even better.
8. New Super Mario Bros. U Deluxe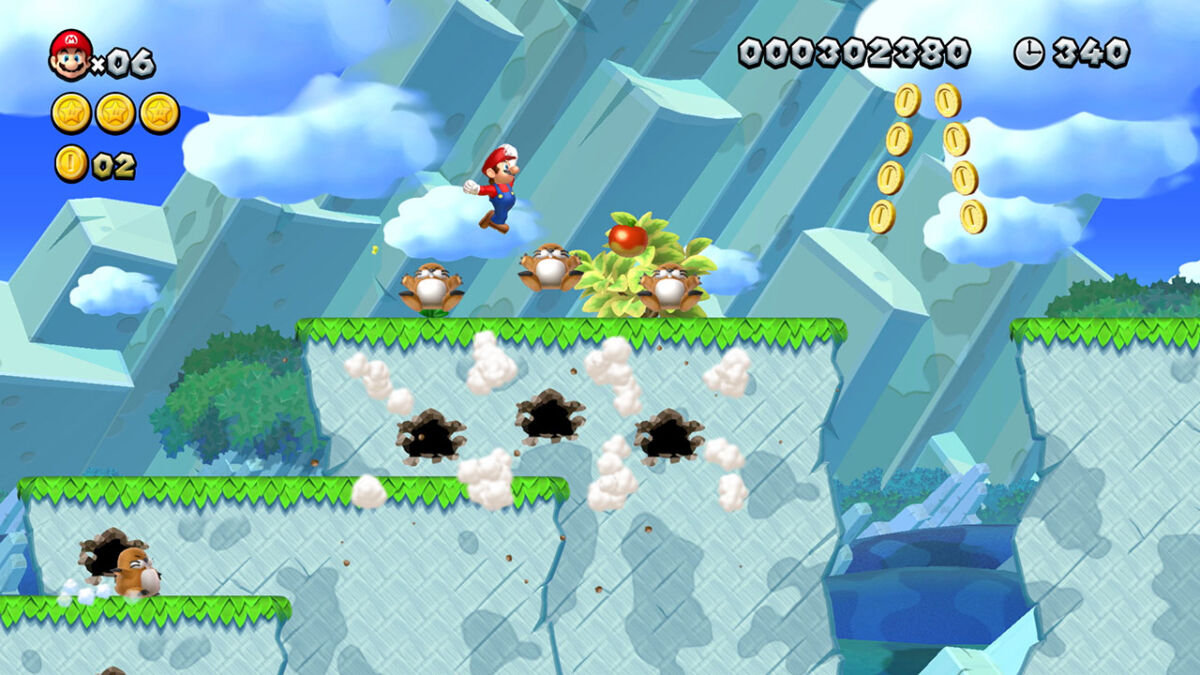 Developer: Nintendo
Publisher: Nintendo
Players: 4
There's something about Mario games that bring out the worst in people. And in New Super Mario Bros U Deluxe, you'll find yourself frustrated at the chaos that ensues whenever a group of players attempts to work together in order to achieve the same goal.
Many players will be left behind if they can't keep up, and others will be used as platforms for their comrades to advance. While this might be an intense experience for the players involved, the catharsis of finally reaching the end goal is a feeling of accomplishment that's hard to describe.
With over 160 levels to play through, including a Luigi-themed expansion, Super Mario Bros. U Deluxe has enough content to keep players busy for a long time to come.
7. Castle Crashers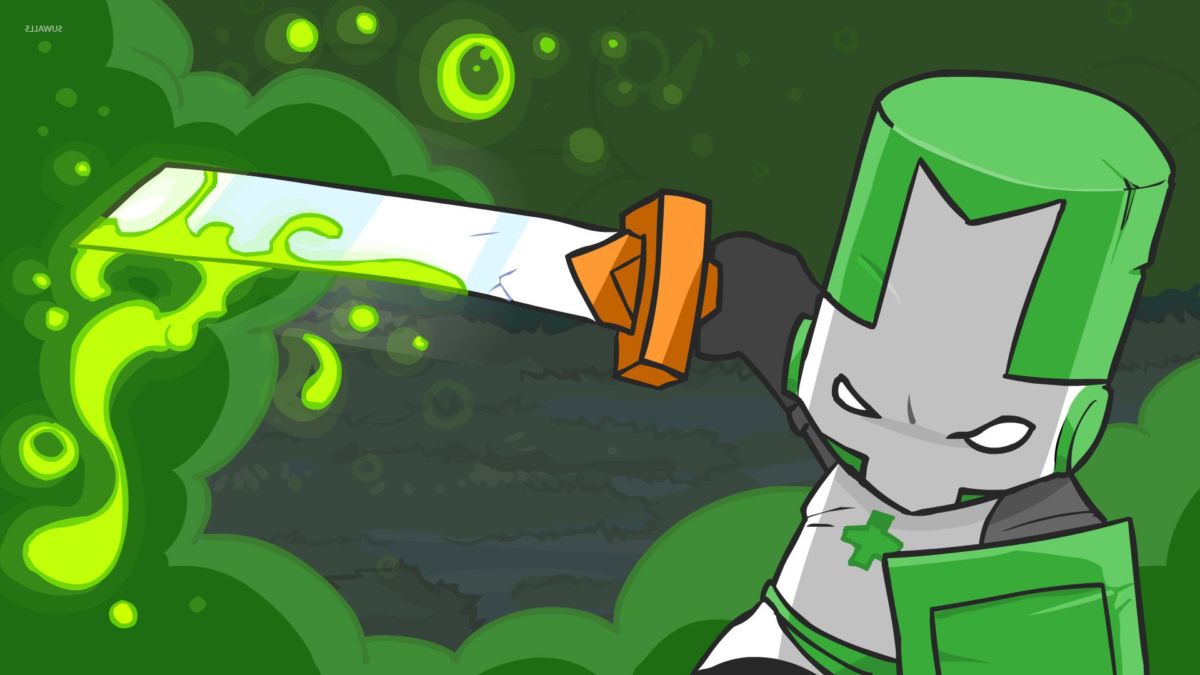 Developer: The Behemoth
Publisher: The Behemoth
Players: 4
Who doesn't love a good beat 'em up? A staple in the arcades, so many incredible co-op experiences have been etched into the memories of gamers everywhere with classics like Teenage Mutant Ninja Turtles and Double Dragon —  and Castle Crashers manages to capture the same magic as those side-scrolling classics.
Up to four players can take part in an engaging campaign that provides a unique feeling of teamwork and camaraderie as the game goes along. There's also a sense of progression since the game allows characters to level up and gain new abilities throughout their journey.
This is a fantastic homage to old school beat 'em ups, and it should be considered as one of the best in the genre.
6. Overcooked! 2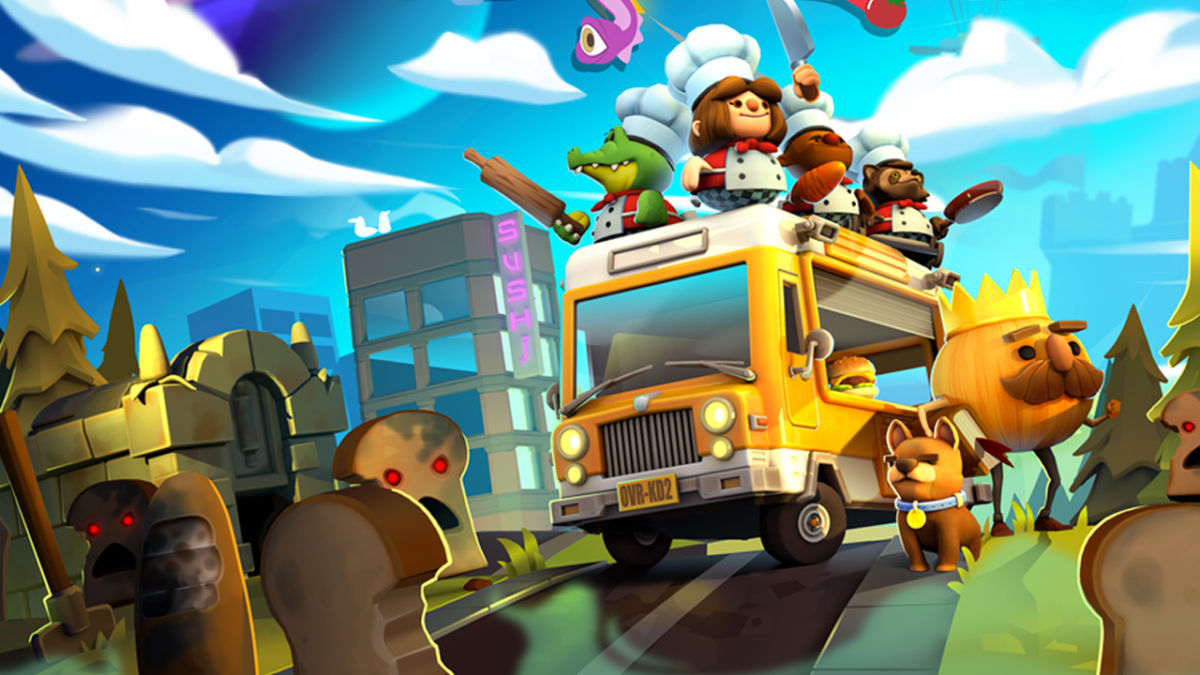 Developer: Ghost Town Games
Publisher: Team17
Players: 4
Who would've thought that cooking could be this much fun? Up to four players can take part in this ridiculous fun cooking simulator in which players prepare orders as fast as they can before they get overwhelmed.
The fun mainly comes from the chaos that ensues as players bump into each other and struggle with the sheer number of orders. The new throw mechanic allows players to toss ingredients from one player to another, which makes things a lot easier.
But some levels actually change the overall setting or feature moving platforms and obstacles, which means players will have to figure out how to maneuver their way around the kitchen.
5. The Jackbox Party Pack
Developer: Jackbox Games
Publisher: Jackbox Games
Players: up to 8
This package features a collection of mini games that are sure to brighten up any get-together. Since 2014, Jackbox Games have released a new package each year with five new games in each iteration— and you can't really go wrong with any of them.
From trivia games to murder mystery whodunnits, there are so many games that will leave players in hysterics. All you need is a smartphone to download the Jackbox app, connect to the session, and you're pretty much set. The players are given prompts through their device and hilarity ensues.
You'll be pretty hard-pressed to find a series of titles that are as fun to play and easy to pick up for non-gamers than the Jackbox Party Pack games. Plus, with online play, you can connect with friends from the comfort of your own home.
4. Super Mario Party
Developer: NDcube
Publisher: Nintendo
Players: 4
The Mario Party games are always a blast, especially when you're playing with friends, and it's no different for Super Mario Party on the Switch.
Similar to other entries in the series, players compete with each other in a board game as they try to finish with as many stars and coins as possible. The game features a number of minigames that pit players against each other in a variety of different scenarios.
You can also sabotage other players' progression by taking items from them or limiting their actions. For years, the Mario Party series has ended many friendships with its short-lived alliances and frequent betrayals — so enter at your own risk.
3. Rocket League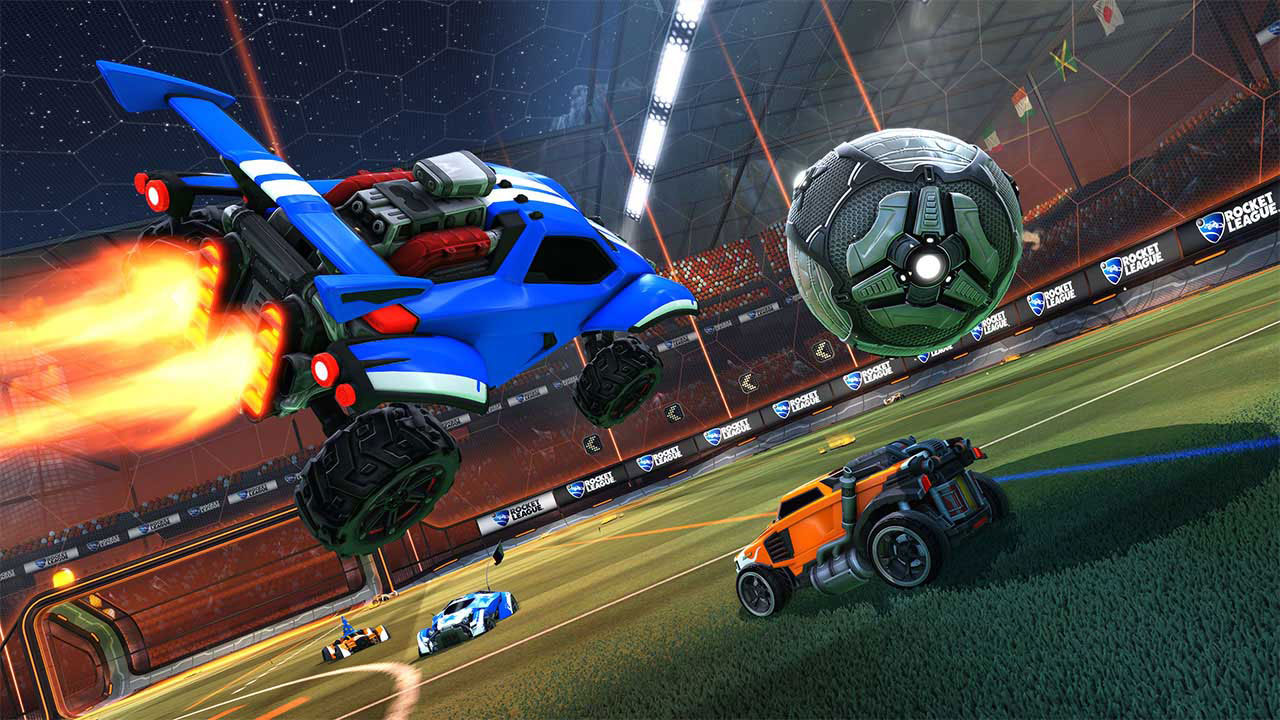 Developer: Psyonix/Panic Button
Publisher: Psyonix
Players: 4
Rocket League is a remarkable creation that takes a simple concept, like soccer with cars, and turns it into one of the best multiplayer games of the last decade.
Players take control of rocket-propelled vehicles and defy the laws of physics as they jump, flip, and gain momentum in order to push a ridiculously large ball into the opposing team's goal — which is easier said than done.
With its competitive multiplayer and addictive gameplay, it's easy to see why Rocket League has maintained its popularity even years after its release.
2. Mario Kart 8 Deluxe
Developer: Nintendo
Publisher: Nintendo
Players: 4
There's a reason why the Mario Kart series has been one of Nintendo's most successful franchises — the games are just so much fun.
So many games have tried to imitate the Mario Kart formula, but none ever come close to the thrills that the original series can provide.
Originally released for the Wii U back in 2014, Mario Kart 8 Deluxe features all of the DLC released over the years plus several new additions that are exclusive to the Switch port.
With new racing tracks, characters, and vehicles, this fantastic entry to the Mario Kart series will have players begging for "one more race."
1. Super Smash Bros. Ultimate
Developer: Nintendo
Publisher: Nintendo
Players: 8
Battle it out with a couple of friends in the latest installment of Nintendo's ultimate crossover fighting game. Super Smash Bros. Ultimate features the largest roster to date, filled with fan-favorite characters from some of Nintendo's most iconic franchises.
Featuring an engaging single-player campaign, players will be able to unlock over 80 playable characters — and even more with DLC — each with their own unique moves and abilities.
Unlike most fighting games, the Smash games are pretty accessible for the average player. The controls are simple enough to grasp after a few matches, which means anybody has a chance of coming out on top.
And with so many characters, game modes, and stages to choose from, this is a must-have title that'll keep any Switch owner playing until the wee hours of the morning.
Need more of the best party games on Switch? Here's some extra games on Nintendo's little diamond you could try out with pals:
– 15 Best Switch eShop Games Worth A Download
– 15 Best Switch Co-Op Games You Should Play
– 10 Best Switch FPS Games You Should Play
Some of the coverage you find on Cultured Vultures contains affiliate links, which provide us with small commissions based on purchases made from visiting our site. We cover gaming news, movie reviews, wrestling and much more.