Considering that the Nintendo Switch is perhaps the most prolific and readily available of all the modern consoles, especially with the more recent OLED model that launched this year, it's more than likely you'll be picking up some kind of Switch game as a Christmas present for someone. If you're not sure what to pick, we've listed a few games that you should check out. Here's the best Nintendo Switch games for Christmas 2021.
The Best Switch Games For Christmas 2021
1. Pokémon Brilliant Diamond & Shining Pearl
Developer: ILCA, Game Freak
Publisher: Nintendo
For games to buy at Christmas, it's hard to go wrong with a Pokémon game, and Brilliant Diamond & Shining Pearl might be the best offerings in a while. As remakes of two classic games in the series, BD & SP offer a brilliant chance at spending the holiday season with something truly nostalgic. If you're looking for a gaming gift as a couple and you have two Switch consoles on hand, this is a solid option.
2. Metroid Dread
Developer: Mercury Steam, Nintendo
Publisher: Nintendo
Metroid fans have been waiting for a long time for a proper 2D Metroid sequel, so depending on who you've got on your Christmas gift list, Metroid Dread might already be in their gaming library. For everyone else, Dread is a return to the iconic Bounty Hunter Samus Aran at her absolute best, as she battles a wide variety of foes both old and new. While it might not be for the little ones, Metroid Dread is a great gift that'll keep anyone you buy it for happy, until they get stomped by the hard bits.
3. Super Mario 3D World & Bowser's Fury
Developer: Nintendo
Publisher: Nintendo
A gift for the family, Super Mario 3D World just feels like the perfect game to break out on Christmas Day, with its bright colours, easy to learn controls and emphasis on co-op fun. With support for up to four players, you can complete dozens of interesting levels as a team, but when dinner has finished and everyone's cleared out, the Bowser's Fury expansion makes for a wonderful solo experience.
4. Mario Party Superstars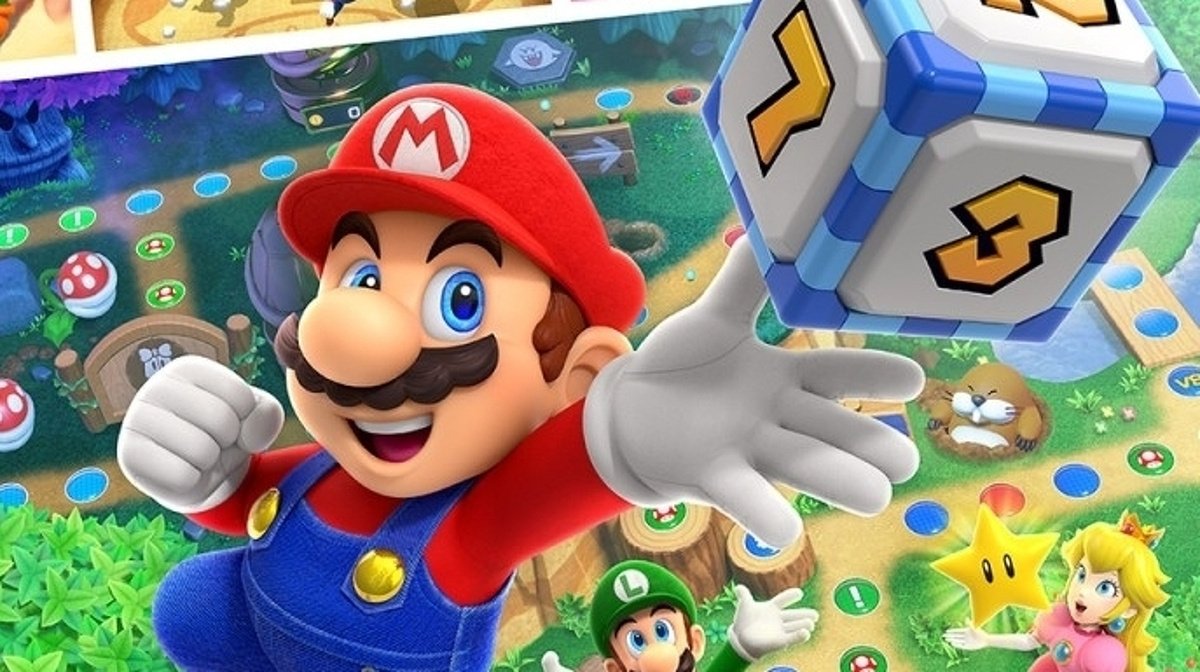 Developer: NDcube
Publisher: Nintendo
Arguments and Christmas seem to go together like pigs and blankets, so why not have some control over how those arguments start? Instead of raising voices because of family drama, start shouting at your family because they're conspiring to steal your stars in Mario Party Superstars. A greatest hits compilation for the series, Mario Party Superstars includes boards and minigames from some of the best games Mario Party has to offer.
5. Monster Hunter Rise
Developer: Capcom
Publisher: Capcom
A game you could sell to anyone on the premise that you can have a cute dog or cat companion, Monster Hunter Rise is the latest mainline MH game in a series that's really come into its own in the mainstream. As you'd expect from a Monster Hunter title, you take missions to kill or capture monsters, using the gear from them to upgrade and take on harder monsters. It's a constantly satisfying loop that'll have anyone who plays it gripped for a long time.
6. Monster Hunter Stories 2
Developer: Capcom
Publisher: Capcom
If regular monster hunting isn't as appealing to your gift recipient, perhaps they'd prefer something a bit more like an RPG. Monster Hunter Stories 2 is the second installment in the RPG spin-off series, with the player taking on the role of Kyle, who works together with a black-winged Rathalos to save the world from human conspiracies and ancient threats. For MH fans, it's a new insight into the game's world and a new way to experience Monster Hunter. For everyone else, it's just a damn good RPG.
7. Shin Megami Tensei V
Developer: Atlus
Publisher: Sega, Nintendo
Most people likely know the Shin Megami Tensei series as the franchise that spawned the Persona spin-off series, but this year saw Shin Megami Tensei V launch on the Nintendo Switch, its first chance in years to grab the limelight. If you're buying for someone who's even had so much of a passing interest in Persona, or they love their dark, post-apocalyptic RPGs, SMT V is the pick for Christmas 2021.
8. New Pokémon Snap
Developer: Bandai Namco
Publisher: Nintendo
There are three things certain in life: death, taxes and adorable Pokémon. While the first two admittedly aren't very festive, taking pictures of adorable things happening around you is the very spirit of Christmas, making New Pokémon Snap a worthwhile Christmas gift. As a Pokémon photographer, you'll travel through different areas, taking lovely photos of the creatures and antics you discover, before sharing those photos online with other players.
9. WarioWare: Get It Together!
Developer: Nintendo
Publisher: Nintendo
For those who find Mario Party moves at too slow of a pace, WarioWare: Get It Together! is the option for you. While Mario Party emulates board games with dice rolls and turns, WarioWare is just a barrage of hundreds of mini-games, each requiring the player to figure out the mechanics in a heartbeat. With support for different gameplay modes for multiple players, WarioWare: Get It Together! is a great family pick this Christmas.
10. Mario Golf: Super Rush
Developer: Nintendo
Publisher: Nintendo
Arguably the pick that would get your dad interested in either gaming or just participating this Christmas, Mario Golf: Super Rush takes the core gameplay of one of the world's oldest recognisable sports and makes it silly, with great effect. Instead of just trying to hit the ball into the hole in the fewest strokes, players can also race against each other to finish holes in the fastest time, using power-ups to screw each other over.
11. No More Heroes 3
Developer: Grasshopper Manufacture
Publisher: Grasshopper Manufacture
Definitely not a gift to give to the kids, No More Heroes 3 is on the acerbic end of zany and weird. Playing as hapless hero Travis Touchdown once again, you're tasked with defending Santa Destroy from an alien invasion, taking on their biggest heroes in what might be Travis' most difficult battle yet. Is No More Heroes 3 for everyone? Definitely not. Will it make for a memorable gift? Almost certainly.
12. Neo: The World Ends With You
Developer: Square Enix
Publisher: Square Enix
The pick to give to someone who's a fan of more obscure JRPGs than your typical blockbuster releases, Neo: The World Ends With You is a sequel to a cult classic RPG. Improving the formula by rendering the world in full 3D, along with some gameplay tweaks, Neo: TWEWY sees players taking on the role of Rindo Kanade, as he along with others try to survive the deadly Reapers' Game.
13. The Great Ace Attorney Chronicles
Developer: Capcom
Publisher: Capcom
Phoenix Wright wasn't the first successful video game lawyer, as in the Ace Attorney world, there was a predecessor. Playing as Ryunosuke Naruhodo, an ancestor to the great Pheonix Wright, you'll travel between Japan and Victorian London, solving five murder-mystery episodes that you'd come to expect from the Ace Attorney series. If you're buying for someone who's just started gaming, and you want to convince them that not everything is a violent FPS, this is a worthy purchase.
14. Persona 5 Strikers
Developer: Omega Force, P-Studio
Publisher: Sega
Anyone else still find it weird that Persona 5 Strikers is available on the Switch, but P5 Royal, or even the vanilla version, isn't? Anyway, Strikers is a Musou-inspired sequel to the events of the first game, following the Phantom Thieves as they travel across Japan trying to save the world all over again. Strikers is a more action oriented approach than P5's regular turn-based approach, so if turn-based isn't your gift recipient's jam, or you just want to give them more Persona stuff, Strikers is a solid gift option.
15. The Legend Of Zelda: Skyward Sword HD
Developer: Tantalus Media, Nintendo
Publisher: Nintendo
While Breath of the Wild might sit on top of the list of best Zelda games available on the Nintendo Switch, there's a case to be made that Skyward Sword is still a fantastic dungeon-exploring adventure worth checking out. As Link, you'll explore a brand new world, interact with imaginative creatures and find heaps of secrets along the way; all of which have been improved and enhanced from the original Wii release for the Switch.
16. Spiritfarer
Developer: Thunder Lotus Games
Publisher: Thunder Lotus Games, Skybound, iam8bit
Do you know someone who has perhaps too many tears stored inside their head? They might like Spiritfarer, a game seemingly designed to unlock tear ducts. You play as the titular Spiritfarer as they attempt to guide spirits to the other side. While discovering their (often heartbreaking) stories along the way, you'll also be building up your boat, farming, fishing, and so much more. Might not be the best game for the very young ones as it's a little upsetting at points, but the game's lessons about death and grief are worth learning for most ages.
17. Gang Beasts
Developer: Boneloaf, Coatsink
Publisher: Boneloaf, Skybound
For something altogether more light-hearted, Gang Beasts is chaotic fun for the whole family. Silly with a capital S, players must face off in slapstick fights across Beef City while their characters flub around like jelly. Whether it's the funny physics, tonnes of costumes, or general madness, Gang Beasts has gone down as one of the most popular multiplayer games of all time for good reason. Grab seven opponents and start flinging yourself around.
18. Ori: The Collection
Developer: Moon Studios
Publisher: Iam8bit, Xbox Game Studios
Two of the best Metroidvania games of the last ten years are available in one amazing collection on the Switch. Ori And The Blind Forest Definitive Edition and Ori And The Will Of The Wisps are both included in this physical edition, which also comes with their digital soundtracks and art cards. Play as Ori and discover their purpose, but not before you let out an absolute bunch of tears thanks to the game's soaring score and sumptuous visuals. The emotional pain is worth it, though.
READ NEXT: 15 Best Xbox Games For Christmas 2021