Games can simultaneously make us feel powerful and a little on the dense side. For every army we slay and boss we beat, there's a puzzle that we can't quite solve.
The best puzzle games are ones that make players feel smart, that don't require a trip to Google, where all the pieces are easily identifiable and the parameters are clear. It's the balance between being taxing and obtuse that allows games to promote lateral thinking in a way no other medium possibly could.
Of course, there's also the kind of puzzle titles that Tetris both created and perfected so long ago – the quick-thinking recognition of patterns, colours, or both.
With VR, mobile gaming, and the rise of indies, there's never been a better time to get a mental sweat on, and whatever console or device you own there's bound to be something you can dive into.
With that in mind, and in no particular order, here are the finest puzzle titles you can find.
1. The Witness
Developer: Thekla, Inc
Publisher: Thekla, Inc
Platform(s): PC, PS4, Xbox One, iOS
Already mentioned in our best Xbox One indie games list, The Witness is a feat of video game design that feels as if it's too good to be true.
Exploring the game's deserted island and solving puzzles may not sound too revolutionary, but the way The Witness uncovers its secrets gradually and how they all interlink has to be seen to be believed.
Over the course of its story, it not only opens the player's mind to new ways of approaching tasks but subtly teaches a unique design language that permeates every pore of the experience. Essential stuff.
2. Tetris 99
Developer: Arika
Publisher: Nintendo
Platform: Switch
If you'd ever looked at a humble game of Tetris and thought to yourself "this would make a great battle royale experience" then you're smarter than we are.
Tetris 99 takes the standard block placement of Tetris but influences each of its ninety-nine players' individual sessions with extra blocks which are sent out either at random or in targeted attacks.
The last player standing is crowned champion, and while this all sounds incredibly simple, Tetris 99 offers the same kind of sweaty palms that PUBG, Fortnite and Apex fans will have enjoyed as things tick down.
Special note, too, for Tetris Effect. Much more than Tetris in VR, it's one of the medium's most quintessential titles, mixing music and puzzle perfection to create a wholly unique take on the classic block-builder.
3. Puyo Puyo Tetris
Developer: Sonic Team
Publisher: Sega/Deep Silver
Platform(s): PC, PS4, PS4, Vita, Wii U, 3DS, Switch, Xbox One
Ok, it's Tetris again, but it's also puzzle classic Puyo Puyo and if you put the two together, you end up with this essential title.
With a cast of colourful characters, a nonsensical campaign mode, and the ability to play both colour-matching Puyo Puyo matches, block-wrangling games of Tetris, or a mix of both, Puyo Puyo Tetris is ideal for local multiplayer sessions.
In fact, it's ideal for the Nintendo Switch where you can split the Joy-Con controllers between two players, wherever you are.
READ NEXT: 15 Best MMOs For PS4 You Should Try Out
4. Monument Valley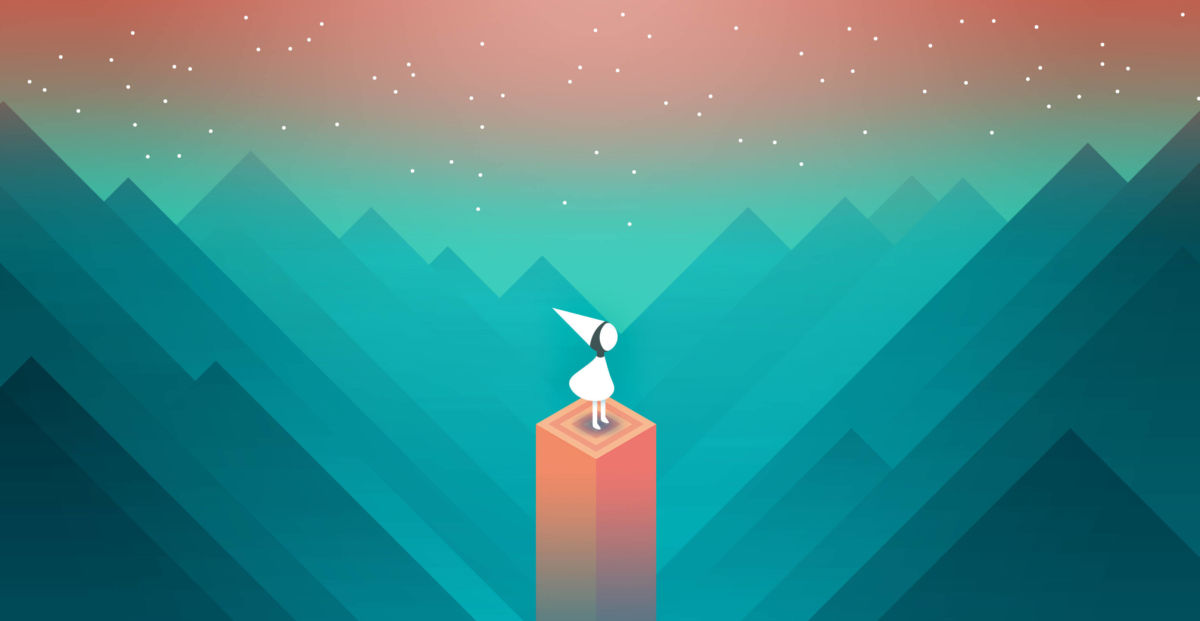 Developer: Ustwo
Publisher: Ustwo
Platform(s): iOS, Android
Ustwo's indie smash hit was, for a long time, proof of the power of mobile gaming. Its pastel colours, serene architecture and MC Escher-inspired level design remain timeless to this day.
Navigating zany staircases and topsy turvy platforms from an isometric perspective, Monument Valley is a fairly short title but remains ever so sweet, winning multiple awards and holding a Metacritic score of 89.
It also made an appearance in Netflix's House of Cards, which not too many games can say, and the sequel proved just as popular, weaving a more personal narrative of a mother and daughter navigating the similarly puzzling world.
5. Portal 2
Developer: Valve
Publisher: Valve
Platform(s): PC, PS3, Xbox 360
While Valve may have shifted to VR development and maintaining Steam these days, Portal 2 remains some of the developer's finest work.
This puzzle sequel brings back silent protagonist Chell, passive-aggressive villain GLaDOS, and new character Wheatley (voiced by British comedy legend Stephen Merchant).
It takes everything good about the first title, the puzzles, learning curve, and humour, and dials it up to eleven – while still finding time to add a full co-op campaign with its own unique challenges and characters.
6. Gorogoa
Developer: Jason Roberts
Publisher: Annapurna Interactive
Platform(s): PC, PS4, Switch, Xbox One, iOS
Blurring the lines between puzzle and art in a similar way to Monument Valley, Gorogoa is a unique game that plays with perspective.
Up to four images are presented to players, and each needs to be manipulated to fit a larger whole. It's a little tricky to express how this works, but it essentially boils down to a puzzle where all of the pieces need to be tweaked in some way.
A very clever title, and developed by just one man, Gorogoa is one of the most unique ouzzle experiences you'll find in gaming.
READ NEXT: 10 Best Golf Games To Take A Swing At
7. Baba Is You
Developer: Hempuli
Publisher: Hempuli
Platform(s): PC, Switch
One of the smartest gaming experiences of the last few years, Baba Is You works around the manipulation of various in-game rules which are shown as words within each level.
Controlling Baba, a small white creature, players are tasked with reaching a goal via whatever method is possible. For example, if one rule is "Wall Is Stop", players can separate the phrase so that "Wall" no longer "Stops" Baba – opening up fresh avenues of progression.
It's another game that is tricky to properly explain without experiencing, and you really should. Just be prepared for some tricky levels.
8. Keep Talking and Nobody Explodes
Developer: Steel Crate Games
Publisher: Steel Crate Games
Platform(s): PC, PS4, Xbox One, Switch, iOS, Android
If solving puzzles under pressure isn't your strong suit, then you might want to give Keep Talking and Nobody Explodes a miss.
This bomb-disposal game offers a convoluted explosive to disarm for one player, complete with switches, number puzzles, patterns and wires to cut, while other players have to explain what the instruction manual suggests once the first player has identified each bomb module.
This instruction manual can be found online, meaning players can use their smartphones to play, but for our money, the game is best played in VR – with the player in the headset fiddling with the bomb while other players shout commands.
9. Grindstone
Developer: Capybara Games
Publisher: Capybara Games
Platform: iOS
Arguably best known for the oft-delayed Below, Capy Games' mobile title Grindstone dropped as part of Apple Arcade's initial offerings and won rave reviews.
A cartoonish tale of a brutish hunter cutting through swathes of monsters by matching colours, it adds fresh elements almost constantly but never feels anything other than an addictive brainteaser.
If you're already signed up to Apple's gaming service, you owe it to yourself to play Grindstone. What else are you going to do on your morning commute?
10. Fez
Developer: Polytron Corporation
Publisher: Trapdoor
Platform(s): PC, PS4, PS3, Vita, Xbox 360, iOS
One of the breakout hits of the Xbox Live Arcade movement, at first glance Fez looks to be a standard 2D platformer that's brought to life by a gorgeous pixel-art style.
Once you've claimed the titular magic hat, however, the game allows for shifting of perspectives with the shoulder buttons which means the game can play with perception and hide secrets in more places than ever.
If you'd like to know more about Fez's troubled development, Indie Game: The Movie is an unflinching look at designer Phil Fish's struggles to finish and release the game.
READ NEXT:
– 20 Best PS4 Co-Op Games You Should Play
– 32 Best Zombie Games You Should Be Devouring
– 10 Best Metroidvania Games You Should Check Out
Some of the coverage you find on Cultured Vultures contains affiliate links, which provide us with small commissions based on purchases made from visiting our site. We cover gaming news, movie reviews, wrestling and much more.