Couch co-op games hold a special place in our hearts because not only do they allow us to chill out and recharge, but there's also an opportunity to bond with friends and family over a shared experience. The best PS5 split-screen games can bring together gamers of all ages for hours and hours of competitive or collaborative fun.
Sometimes you feel like embarking on a shared journey where you take on every challenge the game throws at you together as a team. Other times, you just want to prove that you're the best by kicking everyone's butt at a fighting or racing game. Whatever your motivation for playing couch co-op, this list of the best split-screen games on PS5 will make you want to grab your buddies and jump into a new game that you can all enjoy together.
The Best PS5 Split-Screen Games
10. Can't Drive This
Developer: Pixel Maniacs
Publisher: Pixel Maniacs
Players: 2
Can't Drive This is a fast-paced competitive co-op game that gives players the option to be either a racecar driver or track designer.
You can try your hand at racing a monster truck to the other end of a massive track in the sky or you can be responsible for laying the track in front of the racers. Can't Drive This offers split-screen co-op for two players, with one player driving and the other building the road for them to drive on.
Of all the games on this list, Can't Drive This might be the most likely to destroy friendships and cause the living room to erupt into chaos, so don't say we didn't warn you.
9. Fortnite: Battle Royale
Developer: Epic Games
Publisher: Epic Games
Players: 2
No list of the best PS5 split-screen games would be complete without the cultural phenomenon that is Fortnite. The game's Battle Royale mode is especially fun in split-screen with a friend sitting beside you, either cheering you on or wishing for your demise.
With Epic constantly adding new challenges, weapons, and characters to the game, you can play as heroes from some of your favorite franchises like Marvel, The Walking Dead, and Street Fighter. The 100-player Battle Royale is totally bonkers and can be super addictive in split-screen if you're both obsessed with being the last man standing.
8. Dirt 5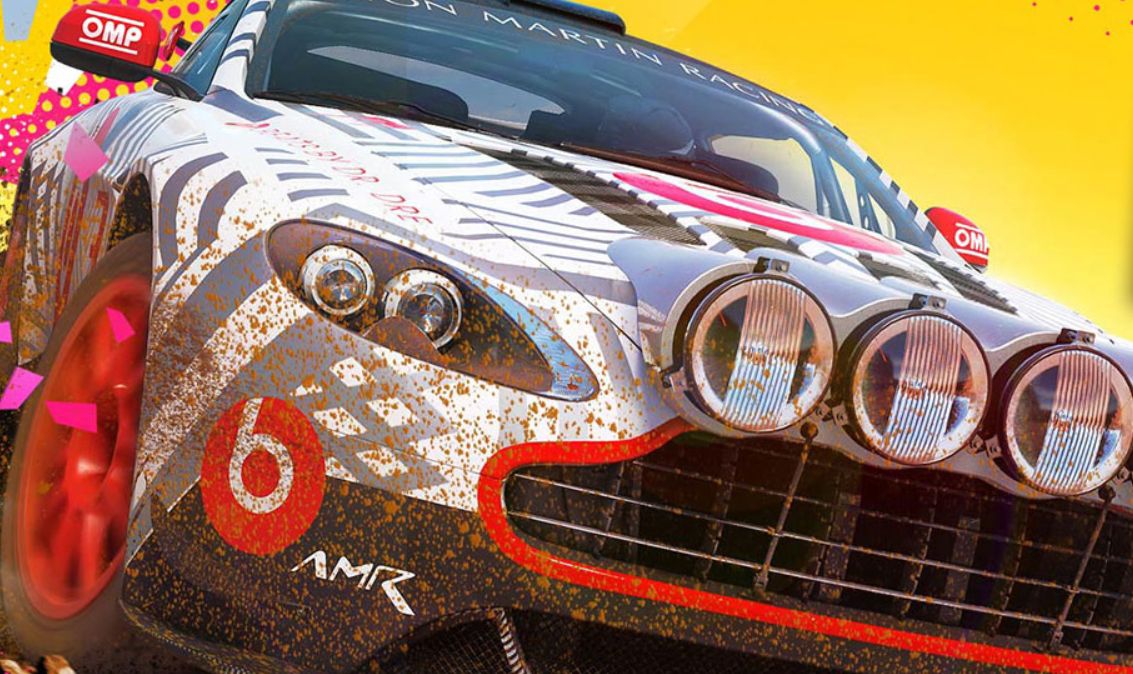 ​​Developer: Codemasters Cheshire
Publisher: Codemasters
Players: 2
For hours of competitive fun at breakneck speed, look no further than Dirt 5. This is an arcade-style game that focuses on off-road racing where you take the cars into the dirt, snow, and even over dangerous icy terrain.
As you can expect from the PS5, the visuals are gorgeous which really make the environments and tracks pop. You can play in a variety of locations around the world, including the foothills of the Himalayas and a remote Norwegian town with the Northern Lights glowing above you.
Dirt 5 offers everything we could want from a racing game on the PS5 and is absolutely best enjoyed with a buddy.
7. Human: Fall Flat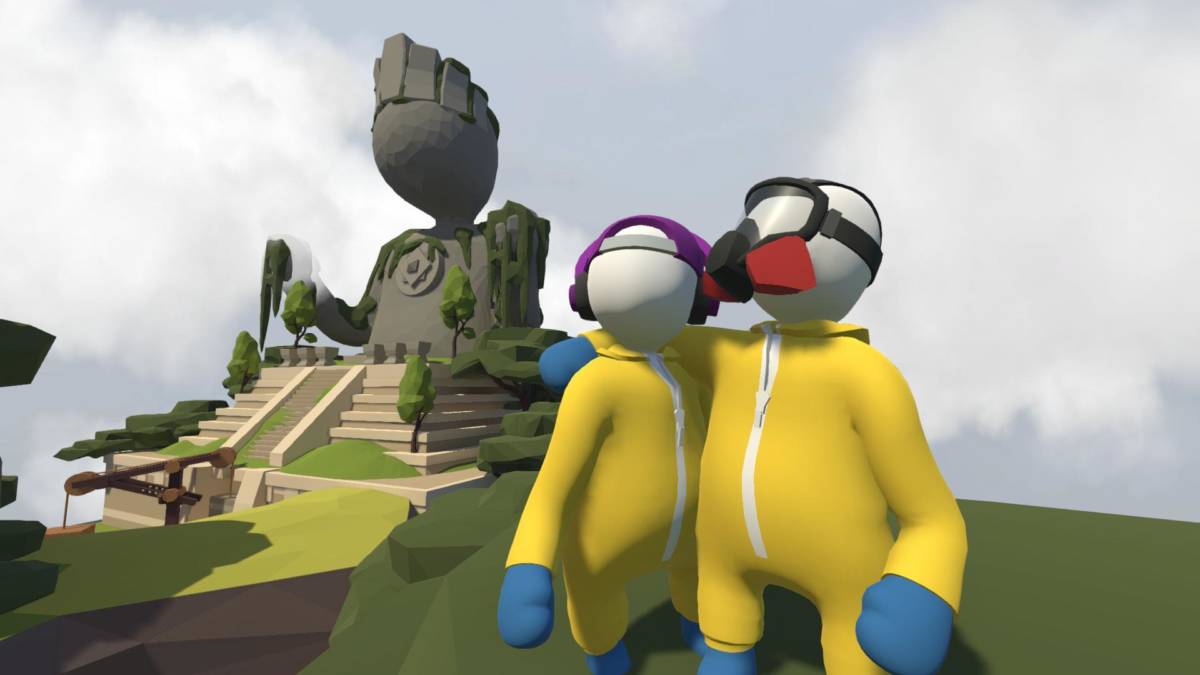 Developer: No Brakes Games
Publisher: Curve Digital
Players: 2
We all know that physics platformers have the ability to turn even the most mundane tasks side-splitting hilarity. Especially when you play together with a friend, watching both of you fail epically has the power to turn things around for the better on even the worst day.
In Human: Fall Flat, you play as a minimalist and extremely uncoordinated character named Bob as he tries to find his way out of weird dreamscapes, despite a lot of failing and falling. When you play in two-player split-screen, you'll really need to collaborate to solve the stage's puzzles and make it out together.
6. Quake
Developer: Nightdive Studios
Publisher: Bethesda Softworks
Players: 4
Quake proves that if a game is stupidly fun to play, that alone is enough to make it a timeless classic. One of the original fast-paced first-person shooters, fans of games like Doom and Wolfenstein will feel right at home playing this stellar remaster of Quake. The remaster retains its original art style but adds 4K resolution and runs at around 100 FPS, ensuring that both new players and veterans can find something to enjoy.
Along with all the classic levels, Quake on the PS5 also adds new levels from the game's original designer, John Romero, and a brand new mode called Horde Mode. In Horde Mode, you and up to three other players try to survive as long as possible through waves and waves of increasingly difficult enemies. All these new additions make a 25-year-old game a must-buy in 2022.
5. Rocket League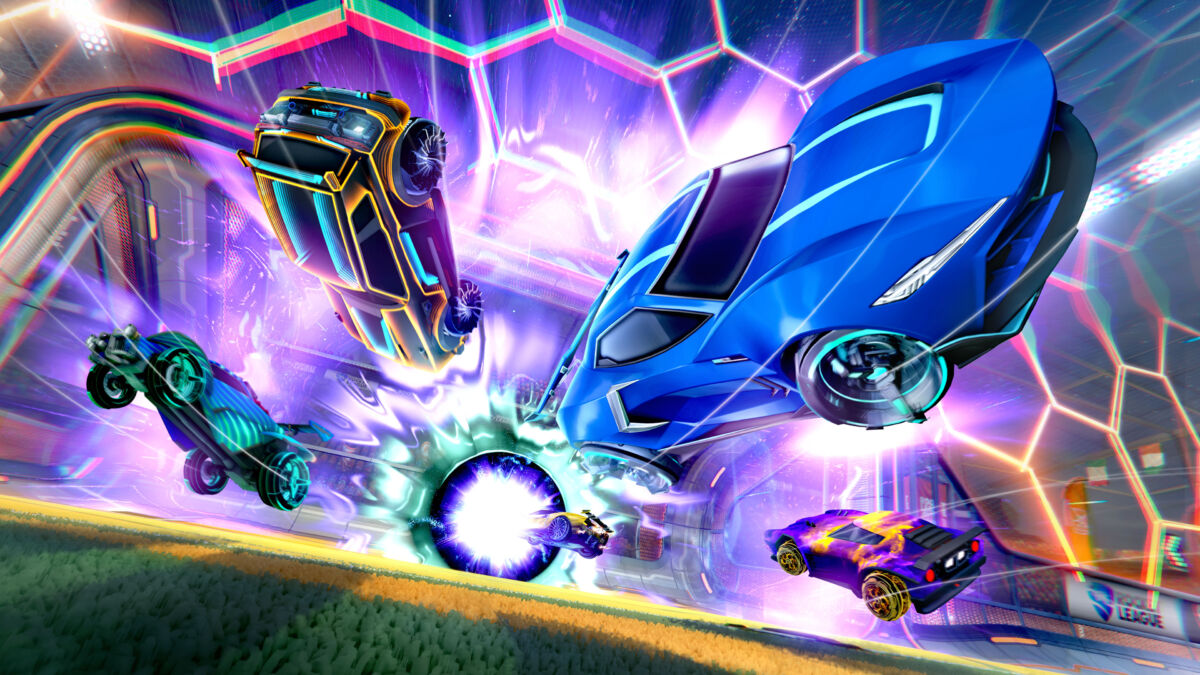 Developer: Psyonix
Publisher: Psyonix
Players: 4
Rocket League became an instant multiplayer classic across all platforms when it was released in 2015. In terms of team-based co-op games with stunningly explosive visuals, it doesn't get much better than Rocket League on PS5. With the added ability to play in 120 FPS mode (on supported TVs), Rocket League looks sharper than ever on the PS5.
Even though it's a car game and a soccer game rolled into one, you don't have to be good at either in order to rock at Rocket League. In fact, something that makes it so much fun to play with friends is that you often pull off amazing moves and score without really understanding how you pulled it off. And given that Rocket League is completely free to play, there's no reason not to check this one out next time you're planning some split-screen gaming time with friends.
4. Minecraft
Developer: Mojang Studios
Publisher: Mojang Studios
Players: 4
Among the all-time great couch co-op games, Minecraft holds its own among the best PS5 split-screen games an impressive 20 years after its initial release. Two decades and several consoles later, Minecraft for PS5 is standing strong as a top option for when you wanna have creative, survival game fun with a friend for hours on end.
With new content constantly being added, you and your friends can always find something fresh and interesting to do. From surviving the nether to creating the ultimate self-sustainable farm to exploring the world, Minecraft offers something that appeals to every gamer.
One of the best things about Minecraft is that it's a cross-generational game that can easily be enjoyed by kids, parents, and grandparents alike. With straightforward controls, drop-in/-out gameplay, and simple but deep mechanics, it's easy to see how Minecraft has become a household name around the world.
3. Stardew Valley
Developer: Concerned Ape
Publisher: Concerned Ape
Players: 4
To those who know and love it, Stardew Valley is more than just a farming simulator. Much like the main character's story of leaving their tedious office job for a simpler life in Pelican Town, Stardew Valley represents an escape from reality where you can focus on appreciating the little things.
And all the best parts of Stardew Valley just keep getting better when you switch to its customizable co-op mode. You and up to three other players can share a huge farm and play split-screen from the same PS5 by either starting a new farm together from scratch or building houses on an existing farm and inviting new players to live there.
You can also choose to up the challenge with lower profit margins and either separate your money into different wallets or keep it all in a shared account. The fact that you get to decide what kind of experience you want to have together is one of the things that makes Stardew Valley an outstanding split-screen game.
2. Borderlands 3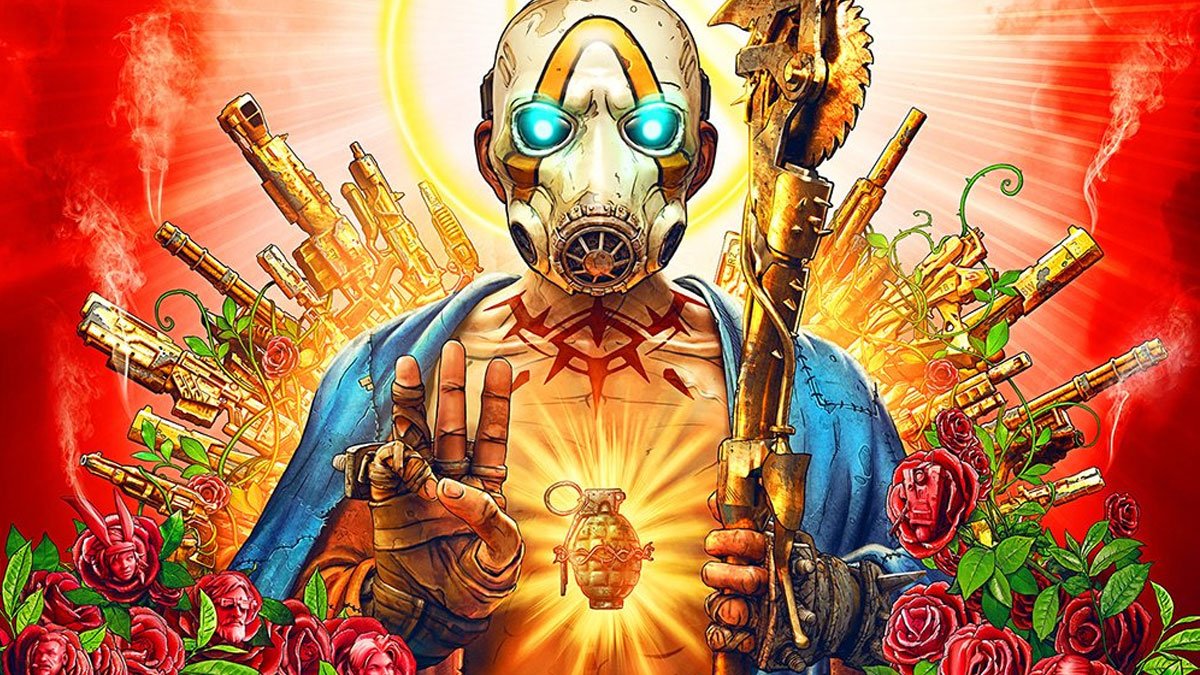 Developer: Gearbox Software
Publisher: 2K Games
Players: 4
For brutal split-screen fun, nothing beats the Borderlands series. And with the new options Gearbox added specifically for co-op play, Borderlands 3 on PS5 is its most exciting gameplay experience so far.
This installment is just as dynamic as the first three, but it also has two different co-op modes. Cooperation mode gives each player their own unique loot, so grabbing that coveted orange weapon won't remove it from your partner's screen. Coopetition mode, however, works according to classic Borderlands rules and you'll have to decide how to split up the loot you get.
Borderlands 3 isn't just limited to Pandora, you actually get to travel around the universe and explore planets with unique environments and life. Not to mention that with the unbeatable vertical split-screen mode, you'll want to keep playing for hours at a time and excitedly jump back in anytime you have a spare moment. Borderlands 3 and its 4 DLC packs offer hundreds of hours of co-op fun together for one of the best split-screen experiences you can have on PS5.
1. It Takes Two
Developer: Hazelight Studios
Publisher: Electronic Arts
Players: 2
If you're looking for a delightful bonding experience for two players, It Takes Two is the game for you. Like the studio's previous game, A Way Out, you can't play this game single player because it was specifically designed for co-operative play.
Cody and May have been accidentally transformed into two tiny handmade dolls by their young daughter after telling her they plan to divorce. Suddenly they find themselves in a world that's much bigger than they remember, even though it's still their own house. The mother-father duo have to set aside their differences and work together to get back to their human bodies.
It Takes Two keeps things exciting by introducing new gameplay mechanics for each stage, and giving Cody and May each separate abilities for that stage. And for some of the puzzles you need to watch your partner's screen instead of your own, which makes It Takes Two a super innovative split-screen game.
READ NEXT: 22 Best PS5 Co-Op Games To Play With Friends
Some of the coverage you find on Cultured Vultures contains affiliate links, which provide us with small commissions based on purchases made from visiting our site. We cover gaming news, movie reviews, wrestling and much more.