Now that Pride month is here, it's only apt that we have a list of the best LGBTQ+ movies on Netflix. While queer storylines aren't non-existent anymore, with more LGBTQ+ representation emerging in modern cinema, good queer cinema isn't always a guaranteed thing. The good news is that we've done the legwork for you, diving into Netflix's extensive library to unearth some movie gems you didn't know existed.
Most of these films are love stories, though not necessarily romantic love, with much of the focus on family dynamics and friendships. Some of these movies centre around queer characters, however, the plot that ensues isn't focused on their sexuality. There are also some great documentaries to check out as well.
Here are the best LGBTQ+ movies on Netflix you should watch.
The Best LGBTQ+ Movies On Netflix
1. Brokeback Mountain (2005)
Director: Ang Lee
Is there a more versatile director than Ang Lee? From period films like Sense and Sensibility, to offering his own spin on the martial arts film in Crouching Tiger, Hidden Dragon, Ang Lee has been able to dive into any genre with ease – his focus as always is on telling a good story. He does the same here with Brokeback Mountain.
The film follows a 20 year affair between rodeo cowboy Jack Twist (Jake Gyllenhaal) and ranch hand Ennis Del Mar (Heath Ledger), an affair that started one night on Brokeback Mountain. The two go on to marry other women, forced to suppress their own desires and move on with their lives because society would not be able to accept them as they are. Lee's film does such a wonderful job at showing how it's not just these men's lives that are affected; their wives too are also driven to live lives of half truths, to be with men who can never fully commit to them.
It is a beautiful, poignant film, with Lee managing to bring a gay love story to mainstream cinema, yet never erasing its queerness to appeal to a mainstream crowd.
2. A Single Man (2009)
Director: Tom Ford
We move from forbidden love to grief, which A Single Man explores with such exquisite visuals and storytelling.
George (Colin Firth) is a college professor who recently lost his lover, Jim, in a car accident. Unable to imagine his life without his love, George contemplates suicide. As he goes about his daily routine and puts his affairs in order, his encounters with colleagues, students and an old friend (Julianne Moore) lead him to make a final decision as to whether life is worth living without Jim.
A Single Man is a devastating watch, exploring themes like death, bereavement, grief and loss, with brilliant acting by Firth.
3. Holding the Man (2015)
Director: Neil Armfield
Holding the Man is based on the 1995 memoir of the same name by Timothy Conigrave (who died a year after the memoir's publication), which tells the story of Conigrave's (Ryan Corr) relationship with his partner John Caleo (Craig Stott). The screenplay is written by Tommy Murphy, who adapted Conigrave's memoir for stage in 2006. The pair first met in the 1970s, when both were pupils at Xavier College, and stayed together, more or less, until Caleo's death from Aids years later.
From the moment they catch sight of each other, Tim and John fall hard and fast, and their romance is kept under wraps until the truth comes bursting out into the open, with John suffering more because his father (what a tremendous performance from Anthony LaPaglia) is unable to accept his son's sexuality.
Corr and Stott, who had to play their characters from age 16 to 34, did so convincingly, and their performances and chemistry make Holding the Man a compelling and frank examination of coupledom and queer romance.
4. Other People (2016)
Director: Chris Kelly
You just need to take one look at the ensemble cast in Other People, and that should be enough reason to watch it.
The movie follows comedy writer David (Jesse Plemons), who moves back to Sacramento to help his sick mother (Molly Shannon), fresh from a break-up with his boyfriend. His family is conservative and his father Norman (Bradley Whitford) is unable to accept David's sexual orientation, so sometimes David feels like a stranger in his own home.
Other People is so funny, yet utterly heartbreaking at times – contrasting themes Kelly manages to weave so compellingly together. This is the first time we see Plemons in lead role as well, and he brings such a natural charismas and likeability to the role of David. Even if David's story hasn't happened to you, there is an earnest relatability to Other People, due in large part to the great performances from each member of this wonderful cast.
5. Lovesong (2016)
Director: So-yong Kim
Lovesong is So-yong Kim's fourth feature film – a tender exploration of female friendship and intimacy.
Feeling neglected by her husband Dean (Cary Joji Fukunaga), Sarah (Riley Keough) embarks on an impromptu road trip with her young daughter Jessie and her best friend, Mindy (Jena Malone). It appears there is more to Sarah and Mindy's relationship than just friendship, but when the line is crossed, Mindy runs away from it. The two find themselves reconnecting years later at Mindy's wedding.
Lovesong is a love story told through meaningful looks and gestures, with gorgeous cinematography to boot.
6. Dear Ex (2018)
Director: Mag Hsu & Chih-Yen Hsu
Upon his father's death, 13 year old Song Chengxi and his mother Liu Sanlian discover that Chengxi's father named his male lover Ah Jie as his life insurance beneficiary, instead of her or Chengxi. Tired of his mom's nagging and excessive tiger mom ways, Chengxi moves in with Ah Jie, and a tug of war between widow and lover ensues.
While Chengxi is the narrator and main character, Dear Ex focuses on Sanlian and Ah Jie's narratives, specifically, how they each came to love Chengxi's father. Both claim to be victor of his love, but come to realise there are far better ways to show they love him than to compete with each other in order to ascertain who loved him first.
7. Alex Strangelove (2018)
Director: Craig Johnson
Alex Truelove (yes, that's his name) is a high school senior plans who plans on losing his virginity to his girlfriend Claire (Madeline Weinstein). Things get complicated when he meets the handsome and charming Elliott (Antonio Marziale), and finds himself questioning his sexuality. Marziale's Elliott is out and proud, comfortable in his sexuality and who he is.
In comparison with the much more popular Love, Simon that came out the same year, Alex Strangelove isn't as much about the difficulty in coming out, but more about the uncertainty of teenage sexuality – how do you know which labels belong to you?
Director Craig Johnson based the film on his coming of age experience, which adds to the film's authentic storytelling, though it does feel a bit dated in the language used sometimes – who even says "interwebs" anymore?
It also deals with the social pressures that Alex has to contend with, like his male friends teasing him about his inability to close the deal with girlfriend Claire, which forces Alex to fast forward his plans, even though he might not be ready for that next step. If you've watched Hulu's Love, Victor, a TV series that was built as a follow-up to Love, Simon, Alex Strangelove explores very similar themes and ideas, though it is a little bit more on the raunchy side.
8. Circus of Books (2019)
Director: Rachel Mason
Circus of Books premiered at the Tribeca Film Festival, a documentary about the queer book and porn shop owned by director Rachel Mason's parents. Mason is a big part of the story as well, which makes Circus of Books a unique offering in the documentary space. Documentary filmmakers always feel they need to have some distance to the story to be able to tell it properly and objectively, but the familiarity the filmmaker has with the material can sometimes make the narrative more compelling.
Rachel's parents, Karen and Barry Mason, founded Circus of Books in the 1960s when they needed a source of income after the previous company they owned went under. They found a temporary gig as an independent distributor for Larry Flynt, which produces explicit magazines. Meanwhile, Rachel and her siblings were completely in the dark about the adult entertainment aspect – to them, it was just a regular bookstore.
The documentary's exploration of the cultural importance and impact of the store, and its part in LGBTQ+ history, is what makes it a riveting watch.
9. Straight Up (2019)
Director: James Sweeney
Director James Sweeney does triple duty here, directing, writing as well as being one of the main stars of his own film.
Sweeney plays Todd, a professional house sitter, and when Todd meets Rory (Katie Findlay), who's an actress, the two hit it off straight away. On paper, they make sense, except for the obvious elephant in the room – Todd is gay, and Rory is straight. But Todd and Rory do love each other, so can they still share a romantic relationship, even if the physical aspect is missing?
It ventures into similar territory as The Object of My Affection, which starred Jennifer Aniston (Nina) and Paul Rudd (George), best friends who love each other and fit together intellectually, but couldn't cross the line into romance because of George's sexuality. I would argue that Straight Up does a better job at the subject matter, thanks in great part to Sweeney's smart script, and the amazing chemistry between him and Findlay.
10. Disclosure (2020)
Director: Sam Feder
Disclosure, which has Laverne Cox as its executive producer, also features her story, dealing with a topic still rare in popular media – the transgender experience.
Cox's portrayal of Sophia Burset on Orange Is the New Black led to her becoming the first openly trans person to be nominated for an Emmy. In the opening minutes of the documentary, Cox speaks about how the characters she plays, be it in film or TV, affect the public's perception of trans people, "even when the characters aren't necessarily trans identified".
Looking at how trans people have been portrayed in films, such as Dressed to Kill and Silence of the Lambs, where individuals like Buffalo Bill are presented as violent and suffering from mental disorders. On the flipside we have films like Boys Don't Cry and Dallas Buyers Club, with narratives that end in tragedy. Disclosure makes it clear that representation does not just mean having films/TV shows that feature trans people, but the importance of having representation that doesn't make use of these former tropes.
11. The Boys in the Band (2020)
Director: Joe Mantello
The Boys in the Band is adapted from the 1968 play of the same name, which was written by Mart Crowley. The play was groundbreaking stuff, given that it openly discusses gay relationships, a topic that was considered taboo at the time.
Jim Parsons' Michael is a screenwriter hosting a birthday party for his friend Harold, played by Zachary Quinto. When rain forces the party to move indoors, things take a dramatic turn after Michael suggests a game of everyone taking turns to call the one person they truly loved.
It is a star-studded cast indeed, made up of the likes of Matt Bomer, Andrew Rannells, Charlie Carver, Robin de Jesús, Brian Hutchison, Michael Benjamin Washington and Tuc Watkins. It's the same cast that was in a revival of the play in 2018, and Mantello was also the director of that revival. The play won a Tony Award for Best Revival of a Play in 2019, even though the original never opened on Broadway.
12. Your Name Engraved Herein (2020)
Director: Kuang-Hui Liu
Your Name Engraved Herein is set in 1980s Taiwan, after the country just emerged from decades of martial law.
Jia-han (Edward Chen) has just transferred to a new school, where he meets Birdy (Jing-Hua Tseng). Jia-han feels the palpable connection between the both of them, but isn't sure what to make of it, and isn't sure where Birdy stands on the whole thing. Jia-han starts to question things even more when Birdy strikes up a relationship with a girl when the school goes coed.
Your Name Engraved Herein has touches of Call Me By Your Name – both are coming of age films, dealing with bright effervescence of first love but also the uncertainty and pain that comes with it.
13. A Secret Love (2020)
Director: Chris Bolan
Terry Donahue, who was a catcher for the All-American Girls Professional Baseball League, is the subject of A Secret Love.
Terry and Pat Henschel, who was her partner of over 65 years, never came out to their friends and family, presenting themselves as close friends who live together – and nobody thought anything of it. With the pair getting older, the move to assisted living facilities seems inevitable, especially since Terry is 93 and was recently diagnosed with Parkinson's disease.
The film follows the pair as they come out to some family members in the present, while also diving into their past and the realities of being part of the LGBTQ+ community in Chicago in the 1950s. It is a love story told with care, and will draw tears from you before you reach the end.
14. The Half Of It (2020)
Director: Alice Wu
The Half Of It is director Alice Wu's sophomore film, released 14 years after her debut film Saving Face. The Half Of It follows Ellie Chu (Leah Lewis), a high school student forced to grow up far too early because of her mother's death, and we see her hustling and trying to pay the bills by getting paid to write essays for her classmates. She excels at school and is a talented musician, but there is an echoing sense of isolation.
Things change for Ellie when she gets an unusual request from Paul Munsky (Daniel Diemer), with him needing her help to write a love letter to Aster Flores (Alexxis Lemire). The complication here is that Ellie herself has a crush on Aster, which becomes a deeper love after the two start writing to each other. The situation gets even more complicated when Ellie ends up spending all this time with Paul in a bid to tutor him to win over Aster, and the two become close friends.
The Half Of It is truly one of the most beautiful coming of age films, handling the themes of romance and friendship in such a delicate, thoughtful way. The best part is that it's on Netflix, available for you to watch over and over again.
15. I Care A Lot (2021)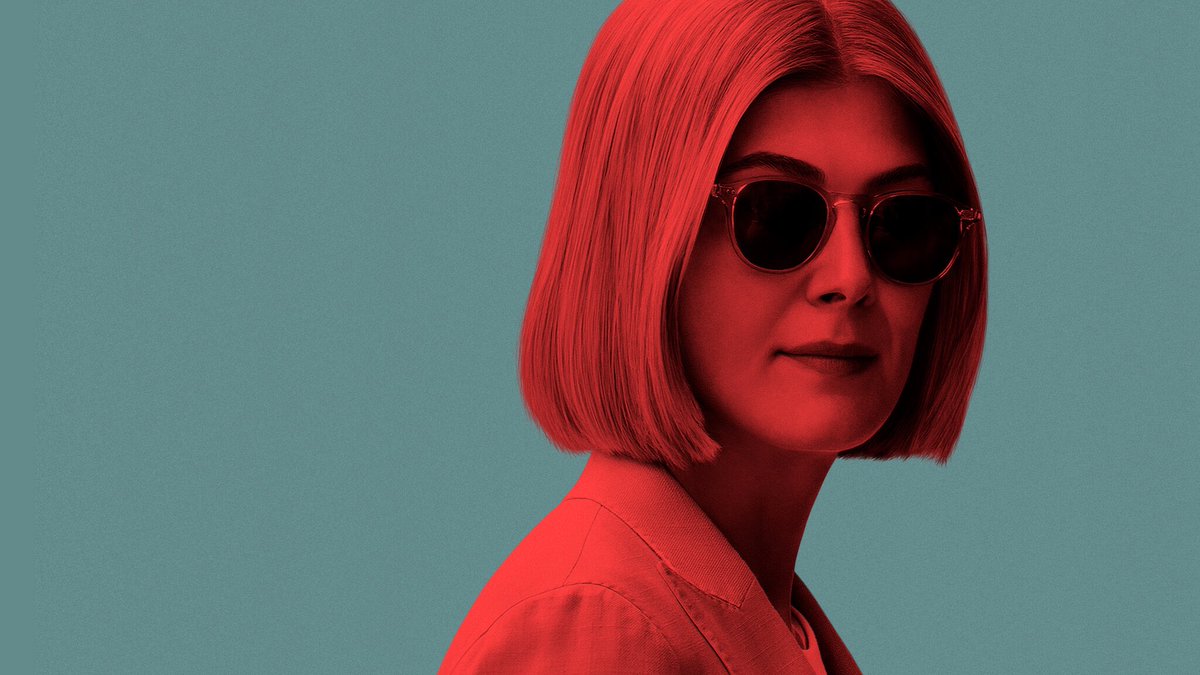 Director: J Blakeson
Rosamund Pike plays Marla Grayson, a chic, sleek, well-groomed sociopath who has made a career out of hustling the elderly.
Marla isn't the most likeable anti-hero, but she does have a sincere relationship with her girlfriend Fran and isn't completely unflappable in the face of danger and murder. I Care A Lot, with its oversaturated colours, paints a strong sense of artifice and superficiality – you know that you're in an empty, morally bankrupt world, so don't expect to root for anyone.
Pike is so deliciously wicked in this, and her performance is ice-cold villainous perfection, and while the film is a tad uneven in execution, Pike's Marla Grayson will command your attention till the end, even when you would rather look away.
READ NEXT: 10 New YA LGBTQ+ Books To Read And Pre-Order This Pride Month
Some of the coverage you find on Cultured Vultures contains affiliate links, which provide us with small commissions based on purchases made from visiting our site. We cover gaming news, movie reviews, wrestling and much more.