Football Manager 2022 is a football management game (if you can believe it) that's about as deep as you want it to be. While there are countless players that analyse all the data with Guardiola levels of obsession and micro-manage every detail of management in the new Data Hub, there are also those who love to just use the best formations and tactics to help them see glory.
Success in Football Manager really comes down to two things above all: tactics and talent. The Galacticos wouldn't have achieved anything without a guiding hand, and Leicester wouldn't have defied the odds to win the Premier League without the right set-up. You can't hope for much without either: the best players become even better with the right tactics, and the worst players can defy the odds with a good formation.
With that in mind, we've compiled the best Football Manager 2022 tactics and formations for you to pore over, but bear in mind that they aren't a plug and play, one size fits all solution. You will need to train your team to get used to them, and you may have to train new positions or even buy new players to make them work. You should also be tweaking your FM 22 tactics over time, as the dastardly AI will eventually figure you out.
The Best Football Manager 2022 Tactics
Sexy Sheffield 5-2-3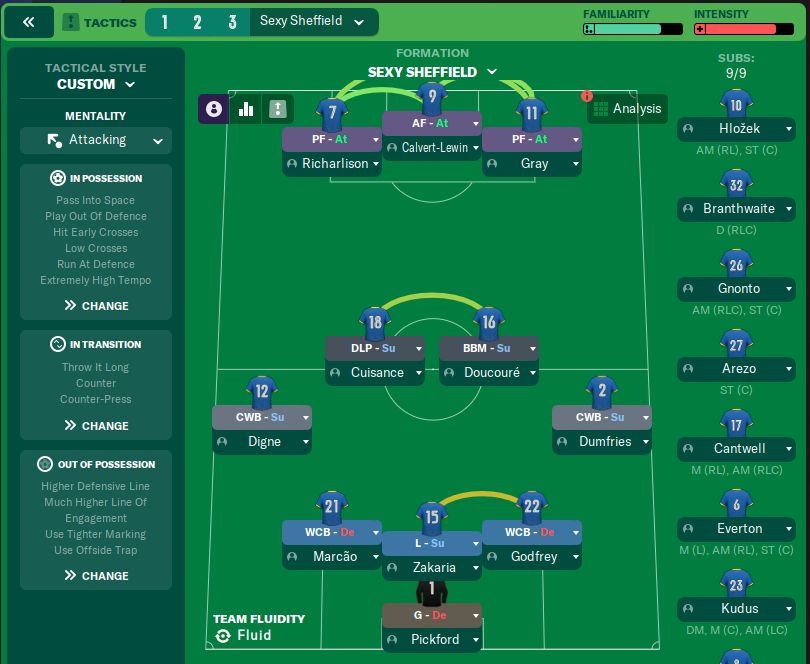 A true Frankenstein's Monster of a tactic, Sexy Sheffield 5-2-3 is a version of Sheffield United's enterprising tactic that saw them defy the odds (for a while, at least) in the Premier League which also utilises the wide centre-backs introduced in Football Manager 2022.
These wide centre-backs operate a lot like full-backs, pushing up the field where applicable and getting into much more attacking areas. The libero, meanwhile, can be a defender, but you will find a lot of joy with a defensive midfielder in the role as well, someone who can dip in and out of both areas of the pitch.
With your wing-backs crazy high up the pitch and lots of players moving in an out of positions at once, it must be said that Sexy Sheffield is a bit of a leaky tactic, but one that saw me smash the goal difference record in the Champions League with pretty much five goals a match. It doesn't make conventional sense, but it definitely works.
4-4-2 Lower League Legend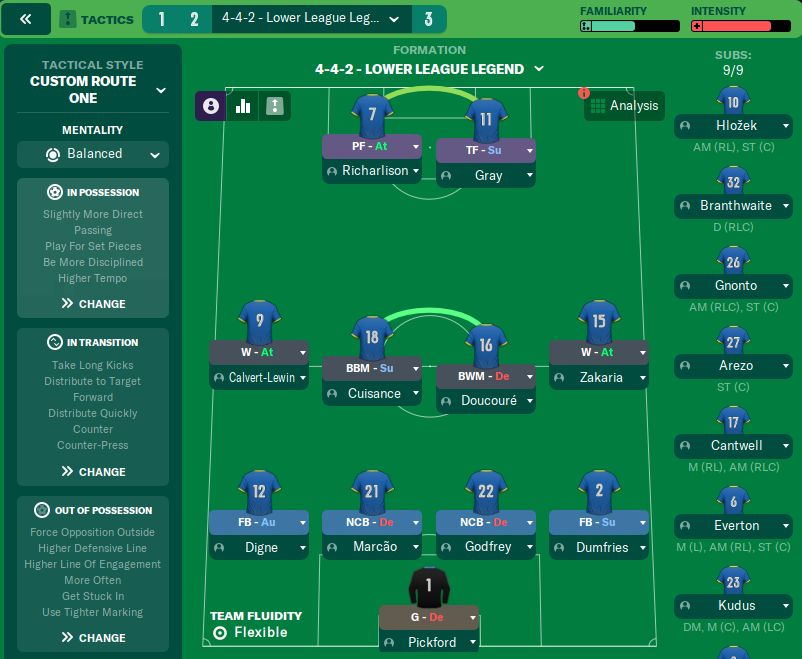 The classics are classics for a reason. 4-4-2 Lower League Legend is a very straightforward tactic that you can understand from a simple glance: getting the ball up the pitch then hoofing anything that comes back your way.
One of the best formations for, let's say, less skilled players, the 4-4-2 Lower League Legend is largely contingent on your target forward (a change to the target man from last year) being able to hold up the ball and control it mostly from your goalkeeper hoofing it up the pitch. You'll want a tall, strong TF for this tactic, of course.
Many Football Manager players tend to really over-complicate things with just an excessive amount of instructions, but sometimes, especially below an elite level, just getting up and down the pitch as fast as possible is all you need.
Gegen Rest 4-2-3-1
Sports Interactive are in a bit of a bind with gegenpressing. As a football sim, they want to be as close as possible to the real thing, which has been dominated by high intensity pressing tactics in recent times. However, it did make things a tad predictable, almost too easy when you could load any gegenpressing tactic in previous games and just waltz to glory.
To change things up, SI have nerfed the effectiveness of the 4-2-3-1 somewhat this year, meaning that players will get significantly more tired if they are asked to hound and harry over the entirety of a match. You now have to pick your battles and when to trigger the press, otherwise your players will be out on their feet come the 60th minute.
The Gegen Rest 4-2-3-1 takes this basic idea of gegenpressing that's worked in the past and simply lowers the intensity a bit to help your players stay out of the medical centre. While it's one of the best tactics in Football Manager 2022 that will no doubt win you plenty of games, we really do recommend that you try something else for more variety.
Tiki Taka Ataka 4-1-2-3
With gegenpressing being such a dominant force in Football Manager for so long, many players are switching things up to tiki-taka as the next best thing, or at least to try and spice the formula up a little. Tiki-taka also has a lot of pressing, but it more about controlling possession than the slightly more direct gegenpressing style most employ.
Thanks to Tiki Taka Ataka (a brilliant name, yes, thank you), there's one key change that will ramp your xG right up: shoot on sight. It's a simple instruction that is antithetical on paper to retaining possession as your players will always shoot when given the chance, but what tiki-taka does provides so many more openings.
As the opposition will be pulled around all over the pitch with your constant passing game, it opens up plenty of gaps in their defence, allowing your midfielders to get away more shots than normal. You obviously won't score every single time, but your xG will certainly rise, as will the amount of goals you score — you can't just pass it around forever.
Leicester 15-16 PL Winning Counter Attack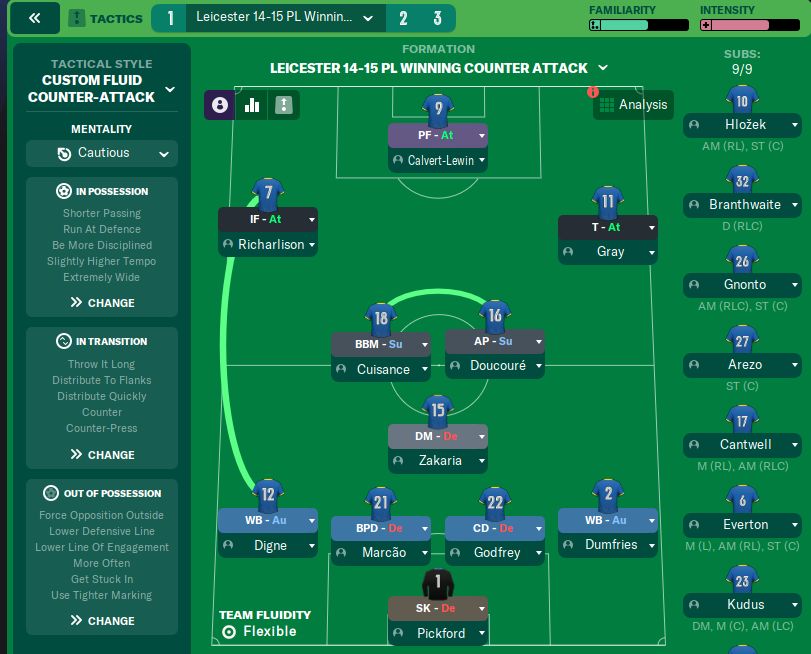 It's hard not to talk about Leicester when discussing effective tactics in football, as their exploits in the 2015–16 Premier League season, somehow winning the league after just avoiding relegation the season before, have been emulated by plenty of relative minnows to great effect ever since.
A tactic that relies heavily on speedy counter-attacks, strong centre-backs, and a defensive body in midfield in the Kante role, Leicester 15-16 PL Winning Counter Attack is a solid tactic in Football Manager 2022 for when you're away from home, or expect to have lower possession.
The key thing here is to have a trequartista playing on either side to replicate the Mahrez role, a sort of playmaker who plays out on the wings. You should have steel in the middle of the park (though Kante may be out of your budget) and pace up top, and before long you should also have plenty of points on the board.
4-2-4 Goalscoring Machine 2022
Everyone has to to try at least one "off-center" FM 22 tactic this year, and the 4-2-4 Goalscoring Machine 2022 could be just the one for you.
Those who appreciate symmetry will not be able to handle the style of this one, thanks to the Shadow Striker basically hugging the wing and the Advanced Forward playing on his own while focusing on the right. However, it's a tactic that defies logic and works, even if it does look like the SS and IF will be tripping over each other.
If you're looking for a high-scoring tactic in Football Manager 2022 that will miraculously not make you lose an absolute tonne of goals yourself, give 4-2-4 Goalscoring Machine 2022 a try.
Football Manager 2022 is available on PC and Xbox.
READ NEXT: Football Manager 2022: Best Free Agents You Should Sign
Some of the coverage you find on Cultured Vultures contains affiliate links, which provide us with small commissions based on purchases made from visiting our site. We cover gaming news, movie reviews, wrestling and much more.