Football Manager 2022 is here to deliver a new season of transfers, tactics, and the tyranny of Callum Wilson. While it's very tempting to boot up a save as PSG, Manchester City, or now Newcastle, there's something to be said for wheeling and dealing with the best free agents.
Of course, no player is really free these days thanks to agent fees, signing fees and so on, but there's lots to love about picking up quality players without a transfer fee and helping to weave their story as well as yours. Imagine turning a discarded, underloved player into one of the world's best, or at least into a legend at your club?
If you're trying to save some money (or just generally have none), here's the best free agents in Football Manager 2022 you should be checking out.
Football Manager 2022's Best Free Agents
Daniel Alves
Age: 38
Position: RB
Wage: £29k
Most Recent Club: SPO
A bona fide footballing legend, Dani Alves is the perfect right-back cover for a season, a stop gap that will do a great job for cup games at the very least.
While not blessed with pace (not a surprise considering he's nearing his 40s), Dani Alves still has all the talent in the world with the ball at his feet. He also has some fairly conservative wage demands, though you shouldn't expect him to be starting every game.
Joris Gnagnon
Age: 24
Position: D (C)
Wage: £22k
Most Recent Club: Sevilla
Joris Gnagnon is a bit of an anomaly in the footballing world. While still only 24, he only made seven appearances for Sevilla in three years at Sevilla and never really had any injuries that would hold him back.
It's difficult to see why he didn't play more when looking at his attributes. A powerful CB (check out that strength) with excellent heading and mentals, Gnagnon will more than do a job at most top-level clubs. Act fast: the whole of France wants him at the start of a save.
Jack Wilshere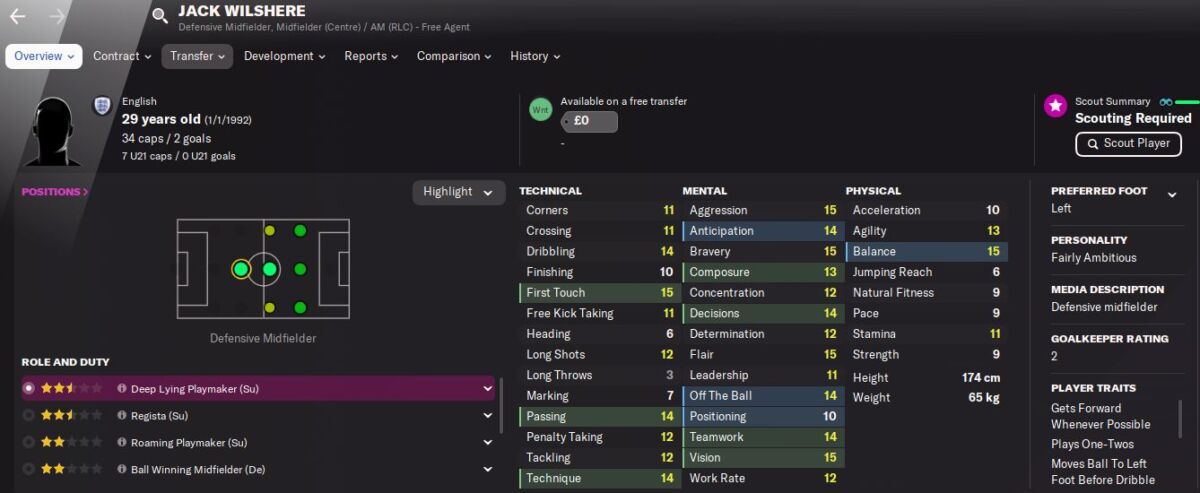 Age: 29
Position: M (C)
Wage: £16.5k
Most Recent Club: Bournemouth
Poor Jack Wilshere. The player who rampaged through Barcelona and had the footballing world at his feet deserves better than being one of the best free agents in Football Manager 2022. Still, if you're feeling like weaving a redemption story, Wilshere is probably the best player to do just that with.
While really poor physically (having ninety injuries will do that to you), Wilshere has all the mental and technical attributes to do a job for most lower half teams across Europe. He even has the lower wage demands to match, so if you can risk his injury record and want a spark in midfield, seek out Wilshere.
Nabil Bentaleb
Age: 26
Position: DM
Wage: £34k
Most Recent Club: Schalke 04
A player who's frustrated and delighted fans of his many previous clubs, Bentaleb has always felt on the cusp of breaking out but has never really managed to get there. He starts off Football Manager 2022 as a free agent following a frustrating time at Schalke, to say the least.
Excelling as a mezzala, Bentaleb is a solid option in the middle of the pitch, a good passer of the ball who you shouldn't expect to go past anyone thanks to his so-so physicals. If you're looking for some decent cover in the middle of the park, Bentaleb will certainly do a job without necessarily wowing.
Paulinho
Age: 32
Position: DM
Wage: £51k
Most Recent Club: Al-Ahli
A player entering the twilight of his career (though he arguably has been for a while, having moved to China and then Saudi Arabia), Paulinho is ex-Barcelona and Tottenham talent who can fill a hole for at least a season.
Just about solid in every attribute, Paulinho is an all-rounder who can score plenty of goals from midfield. Those physicals will take a sharp decline in his second season, though the mentals will be great for mentoring units. While his wage demands are slightly on the high side, it's hard not to be tempted to sign a player for free who's cost £100+ million in transfer fees throughout his career.
Koke Vegas
Age: 25
Position: GK
Wage: £10.5k
Most Recent Club: Mallorca
As well as having a very cool name, the Spaniard Koke Vegas still has a lot of potential room to grow but will at the very least be a solid pair of backup hands for most teams across Europe.
He has just about all the attributes you want for a second choice goalkeeper, with solid handling, reflexes, and general mentals. While you might not be able to challenge for the top with him playing most matches, Vegas will certainly provide good depth on a cheap wage.
Iago Falqué
Age: 31
Position: AM (RLC)
Wage: £23k
Most Recent Club: Benevento
A true utility attacker, Falqué can fill in across the front in pretty much every position if called upon, though shouldn't be expected to start banging the goals in every match. This ex-Barcelona player has never been prolific, but he's always done a job.
At 31, Falqué is ultimately a stop gap option for most, though his technique and passing skills make him a surprisingly good player in the attacking midfield. However, as FM is becoming less about attacking mids and he hasn't got the pace required for the wings, try not to expect the world of him.
Gastón Ramírez
Age: 30
Position: AM (RLC)
Wage: £21k
Most Recent Club: Sampdoria
An enigmatic talent for most Southampton fans, Gastón Ramíre never quite managed to put all of his obvious talent together over the course of his career, but that's kind of a good thing for you if you're looking for free agents in Football Manager 2022.
Another utility player, Gastón Ramírez is a flashy Uruguayan who doesn't have the best physicals but will do his best as he has the perfectionist personality. A player of his talent starts a save off with a lot of admirers, so have a word with his agent as soon as possible if you need some short-term quality in midfield.
Sebastian Giovinco
Age: 34
Position: Attacking Midfielder (Centre), AM (L), ST (C)
Wage: £73k
Most Recent Club: Al-Hilal Saudi Football Club
The diminutive Giovinco is a bit of a hidden free gem in Football Manager 2022, having wandered off to Saudi Arabia for a bit before leaving for pastures new. At 34 years old, he's not exactly going to last you for seasons and seasons.
However, as a back-up option who knows where the back of the net is, Giovinco is a little hard to beat — a glance at his finishing, first touch, vision, and passing is evidence of that. His wages are a little high and he's a tad too slow to be a winger, but if you need someone to dictate the game up top, you can't go wrong.
Football Manager 2022 is available now on PC and Xbox.
READ NEXT: 5 Best Football Manager Save Ideas
Some of the coverage you find on Cultured Vultures contains affiliate links, which provide us with small commissions based on purchases made from visiting our site. We cover gaming news, movie reviews, wrestling and much more.