Originally a manga by Koyoharu Gotouge, Demon Slayer (or Kimetsu no Yaiba) was turned into an anime by studio Ufotable in 2019. While keeping almost 100% of the original manga's plot, the anime also plays wonderfully well on screen, with its success leading to plenty of Demon Slayer merch too.
The numbers speak well of Ufotable's success with the series. Take Demon Slayer: Mugen Train, for example: it managed to become the highest-grossing Japanese film worldwide, beating Studio Ghibli's Spirited Away.
So far, the series has two seasons and a movie, but Demon Slayer: Season 3 is on the way. As people look for a way to cope with waiting, there is only one thing to do: spend money on Demon Slayer merch.
As you wait for the third season, check out the best Demon Slayer merch to gift that person you like, or as something for yourself.
12. Demon Slayer Poster
The thing Kimetsu no Yaiba is most praised for is its visuals. We all love how stunning the battle scenes look, and the characters' styles are uniquely cool. You can hang all that epicness in your room.
With this offer, you can choose from different collections of 5 posters each, all with their own matching style. Inosuke couldn't look any more epic with that boar mask of his.
11. Demon Slayer Lamp
Get a Demon Slayer nightlight, for the night is dark and full of demons.
A lamp with customizable tones alway looks great in any bedroom, and it's a great way to show off your tastes. Also, every real geek knows these kinds of colours go hand-to-hand with a gaming station. Even more so if it involves cool anime references.
10. Demon Slayer Mug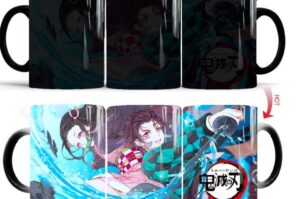 No matter how many times you see it happening, these heat mugs never lose their magic.
With one of these, you can look inconspicuous, until the hot tea pours in. Out of nowhere, everyone will see the awesomeness of Tanjiro's breathing technique, or the flexing of Inosuke's biceps, or Nezuko being Nezuko.
You should try to gift someone a heat mug, only without telling them it's a heat mug. They'll get a nice surprise.
9. Demon Slayer Keychain
Like any souvenir shop, a merch list always has a keychain. Everyone has keys, anyways.
You can choose from many different styles for this keychain, but they all come with 5 characters. They might or might not be useful to ward off demons, but what's sure is that they will hang nicely from your keys. You can also try to hang them on a chain for your neck or wrists.
8. Demon Slayer Backpack
Okay, you might not be able to fit a demon girl inside this Demon Slayer backpack, but it's still stylish.
This is one piece of Demon Slayer merch that, besides making you look cool, are actually useful. And while they all reference demon slayers, the designs are all very distinct. You can choose from Nezuko's, Tanjiro's and Tomioka's patterns.
7. Demon Slayer Abbey Road T-Shirt
After watching something, some visuals stick with us, like when Rock Lee removes the weight from his legs, or when Spike, in the end of Cowboy Bebop, makes a "bang" with his fingers.
In Demon Slayer, a scene we all know is Tanjiro, Nezuko, Zenitsu and Inosuke walking in a straight line, towards their next adventure.
This t-shirt manages to capture that scene, but with a slight touch of English rock music.
6. Demon Slayer Sabito Mask And Tanjiro Masks
This is a reference to the Warding Masks from the series. In Demon Slayer, Tanjiro's master handcarves the masks and enchants them to make them ward off evil.
There are two options you can choose from: the mask Sabito wears during his encounter with Tanjiro, and the mask Tanjiro wears while fighting the Hand Demon.
Just don't try to hunt demons with these masks. Actually, don't try to hunt demons at all.
5. Demon Slayer Nendoroid Figure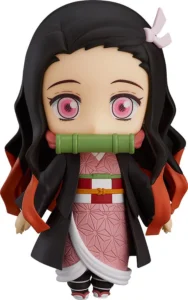 Nezuko is the most iconic character from the series, everyone knows that. She's the cute thing that runs around, helping Tanjiro kill demons. But there are also plenty of other Demon Slayer Nendroid figures to check out.
But if you're gonna get a cute figure, why not pick the cutest? And no one's cuter than Nezuko. Even with the veins popping out of her demonic forehead.
4. Demon Slayer Tanjiro Earrings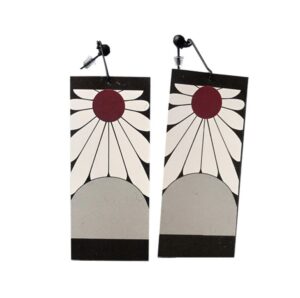 Tanjiro's earrings are a memorable aspect of  the series. They look simple and, at the same time, stylish.
This accessory goes perfectly well with Tanjiro's robe from this list, and they're a must for cosplaying.
3. Demon Slayer Tanjiro's Robe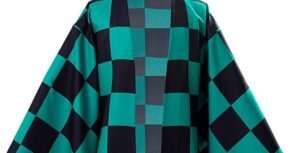 Tanjiro's kimono just needed to be included.
Whether it's to show off to friends, to cosplay, or to pose in front of the mirror, this robe is fit for more than one occasion. Consider getting the katana, the earrings and the mask from this list. That way, you finish the whole Demon Slayer look.
2. Demon Slayer Bamboo Blade Katana
Like Shinobu, you might lack the strength to cut a demon's head off, but at least you can own a Demon Slayer katana. And poison it.
For this merch, there are many options to choose from. And yes, you can even get Shinobu's blade.
1. Demon Slayer Nezuko Tamagotchi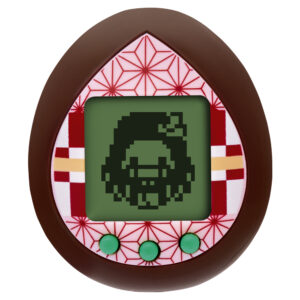 If you've ever wanted to get a pet Nezuko, this Demon Slayer merch is definitely for you.
For many people, the Tamagotchi was a crucial childhood element. Now, the device comes with Demon Slayer flavours.
You take care of its needs and watch it grow, basically. Usually, you end up procrastinating, only to (spoiler alert) watch the thing die in the end.
As much as this particular one is for Nezuko, you can browse Bandai Namco's store and choose from many other characters.
READ NEXT: The Best Geeky Gifts for Christmas 2022