It's tough being a geek these days. There are so many things we want, with limited resources to procure them. Christmas tends to be a gold mine for gifted nerdery, so long as our loved ones and Secret Santas know how to shop for the right presents. These geeky gifts for Christmas 2022 should give you plenty of ideas for the gamer, sci-fi fan, or tech fiend in your life. To help ease the pains of shopping, we've included a little breakdown of who would appreciate or benefit from each of these geeky Christmas gifts.
Ultimate Geeky Gift Guide
1. PlayStation Controller Alarm Clock
Perfect For:
– PlayStation fans
– Teens that have a hard time getting up in the morning
This surprisingly realistic PlayStation DualShock controller alarm clock may have some trying to game first thing in the morning.
Featuring a functional d-pad and face buttons, used to set the time, date, and alarm, the DualShock clock is a 1:1 replica of the classic controller. The clock sits on a PlayStation base and is powered via an included micro USB to USB cord.
PlayStation fans will love having this showpiece sitting next to their bed or even in their gaming room. It's definitely a good way to set an alarm to limit how long they play every day.
2. Numskull Movie, Gaming, TV Logo Lamp Wall Light – Various
Perfect For:
– Ghostbuster fans
– Anyone looking to add a little light to their office or workspace
Who ya gonna call to light up your office? Surprisingly, the Ghostbusters can help with that. This molded plastic ambient light mimics the iconic sign that hung off Hooker & Ladder 8 in the movie Ghostbusters.
Plugged in, it emits a gentle glow that lights up a space just enough without being too harsh. The sign makes for a great accent light that sits on a desk or, if you have Command strips, hangs on the wall.
For added convenience, the plastic light works with three AA batteries so you don't have to struggle with a wire and take up precious outlet space. Of course, that means we should probably add batteries to this list of the best geeky gifts for Christmas 2022.
3. Jurassic Park Chess Set
Perfect For:
– Jurassic Park fans
– Chess aficionados
– Kids that love game night
John Hammond had his park full of dinosaurs. The recipient of this awesome gift can have a game closet full of them.
This Jurassic Park chess set features the iconic creations of InGen, from good 'ole Rexy, who stands in as the queen, to velociraptor knights. The two sides of the board are designated by brown and green coloring and feature a whole row of Jurassic Park greats.
The officially licensed set comes with 32 surprisingly detailed pieces and a branded 18.5-inch game board. Each intense match on this board is 65 million years in the making.
4. Aluminum Cardholder
Perfect For:
– Individuals serious about identity theft
– The dapper geek who loves sleek styles
Not everyone would be excited about a wallet made from space-grade aluminum and outfitted with RFID blocking. But it's almost a guarantee that the geek in your life would.
This minimalist, heavy-duty cardholder measures only .2-inches thick and is designed specifically for credit, debit, and store cards. There is a cash strap that serves as a sort of money clip, but the focus here is keeping those debit and credit cards safe from scanners.
Ekster delivers a high-quality product that emphasizes the safety of the user's identity and style. Break this wallet out at a party, and it's definitely going to attract every nerdy personality there.
5. MYNT3D Professional Printing 3D Pen
Perfect For:
– Creatives interested in 3D printing
– Artists looking to try a new medium
There's a bit of magic behind the concept of a 3D-printing pen. It's wild to think you can create just about anything by simply drawing in mid-air. Now you can see why it would delight the nerd community. Whatever the user can imagine, they can bring to life on the table in front of them. Hence the magic.
Much cheaper than a 3D printer and far less tech-reliant, MYNT3D's printing pen is a great gift for someone being introduced to the world of 3D printing. Be sure to also buy filament refills in different colors so they can really expand their creativity.
6. Stainless Steel Keycaps
Perfect For:
– Streamers and content creators
– Office workers that like a unique aesthetic
Few things are more important to video game players than the aesthetics of their setup. That's why LED lighting is so prevalent these days, and why these stainless steel keyboard keycaps are on this list of geeky gifts for Christmas 2022. The metallic surface of the included W,A,S,D keys shimmers while still glowing with any RGB backlighting.
While this set is specifically for the W,A,S,D keys, a gaming staple, there are options for directional keys, the escape key, and a full set of Q through R and A through F. While the stainless steel keys are sharp, they're also available in metallic blue and rose gold.
7. Star Wars Electric Salt and Pepper Mill Grinder
Perfect For:
– Star Wars fans
– At-home cooks and frequent dinner hosts
A long time ago in a galaxy far, far away, a scruffy nerf herder just wanted his roasted porg to have an elevated flavor. So, he whipped out these electric salt and pepper mill grinders. The lightsaber hilt design of each grinder is a Jedi favorite, especially those partial to red and blue kyber crystals.
Star Wars fans will pine to have this culinary tool in their kitchen, which they'll use while wearing their Darth Vader chest plate apron. Each grinder is fully electric and capable of pulverizing salt and pepper into a usable granule.
Whether feeding a table of Wookies or hosting the Emperor for brunch, these grinders are essential.
8. Arcade1Up At-Home Arcade Cabinet, Various
Perfect For:
– Lovers of boardwalk arcades
– Nostalgic video game aficionados
What could be cooler than having an arcade in your own home? It's the ultimate nerd dream, and Arcade1Up has made it a possibility.
With over 20 different home-sized cabinets to choose from, including classics like Ms. Pac-Man and Ultimate Mortal Kombat 3, there's an option for just about anybody. Who wouldn't want a tabletop "countercade" of the iconic Turtles in Time or a space-conscious two-player cabinet for Marvel vs. Capcom 2?
The units can be a little expensive, but their build, artwork, marquee, and overall quality are well worth the price.
9. Storm 2 Cyberpunk-Styled Power Bank
Perfect For:
– Geeks with multiple devices to charge on-the-road
– Frequent travelers
There are few greater tools for geekdom than the power bank. With one device, users can keep their phone, laptop, Switch, Steam Deck, and much more charged.
Typically designed to be rather flat and uninspired, the power bank gets an upgrade with the Storm 2. Modeled after a cyberpunk aesthetic, the Storm 2 features a screen that displays a host of data, including the input and output voltage.
Equipped with 2 USB-C, 1 USB-A, and 1 DC outlet, the power bank works with virtually any device. It's also designed with voltage, short circuit, and temperature protection to prolong its lifespan.
10. Gamertag LED Night Light
Perfect For:
– Streamers and content creators
– Online players with a unique, standout gamertag
Content creators will love finishing off their vibe with a light with their gamertag etched into it. The acrylic display can be adorned with one of 12 different fonts, each one fashioned after classic games like Grand Theft Auto and Minecraft. Each LED night light comes with a remote control that swaps between the 16 different colors.
Whether prominent on their desk or set in the background as a conversation piece, the LED night light stands out to showcase the name their viewers know them by. It's even just a great gift for players that really love their gamertag, especially if there's a meaning to it.
11. Marvel Unlimited Comics Subscription
Perfect For:
– Marvel fans
– Comic book connoisseurs
Marvel offers a unique service for fans of its bevy of spandex superheroes. The subscription service, Marvel Unlimited grants access to an archive of over 30,000 classic Marvel comics and select new issues. New comics are added weekly, though new issues are released approximately three months after they've hit retailers.
Sign up the comic lover in your life to a monthly or annual plan, or gift them the Annual Plus kit, which includes exclusive invites to Marvel events, a merchandise discount on Marvel products at shopDisney.com, a limited edition figurine, and more.
Subscribe to Marvel Unlimited right here.
12. GameSir X2 Pro Mobile Game Controller
Perfect For:
– Players that travel frequently
– Players always looking for new ways to game
This clever little unit allows for convenient on-the-go gaming right from the user's phone. The X2 is available in Bluetooth wireless, Lightning wired, and USB-C wired configurations to cater to iOS and Android users. Players will enjoy low-latency, cloud gaming over services like Xbox Cloud Gaming, which offers a host of games like Gears 5 and Forza Motorsport.
Of course, the experience isn't identical to a PC or console gaming, but the X2's button configuration is familiar and comfortable. It's easy for both casual and hardcore players to dive right in and enjoy high-end mobile gaming.
13. Disney+ Subscription
Perfect For:
– Disney, Marvel, Pixar, and Star Wars fans
Where can one go for all the Disney animated films, Marvel movies, and Star Wars TV series they could want? Disney+, of course.
This streaming service condenses the best of Disney, along with Pixar and National Geographic into one convenient location. Watch Jeff Goldblum's quirky show about everyday things before flipping to see Thanos snap half of life out of existence. The range of content is wild, and perfect for fans of geek media.
A year of Disney+ can be gifted at a relatively reasonable price, ensuring the Disney, Marvel, or Star Wars fan on your shopping list is set with 12 months worth of content.
14. Xbox Game Pass / PS Plus Subscription
Perfect For:
– Xbox One, Xbox Series S, or Xbox Series X owners
– PS4 or PS5 owners
There is no more practical gift for PlayStation or Xbox console owners than a subscription to the respective subscription service. A 12-month PS Plus subscription has the ability to unlock everything from online multiplayer to game trials and cloud streaming. It all depends on the tier. Gift a Premium subscription for those features and a full catalog of streamable PlayStation classics.
Unfortunately, Xbox have largely discontinued 12-month codes for Xbox Game Pass, but a 3-month subscription to Xbox Game Pass Ultimate is still worth investing in, as it grants Xbox players access to a massive library of games, from AAA titles to indie greats. Members also receive access to Xbox Live, so they can enjoy co-op and competitive multiplayer gaming with their friends.
Both are essentials for their respective consoles and make one of the best geeky gifts for Christmas 2022.
15. Meta Quest 2
Perfect For:
– Players looking for a fully immersive experience
– Anyone interested in VR
Climb death-defying cliffs. Take on infected villagers. Practice your aim at the gun range. Go toe-to-toe in frantic sporting events. Step into the ring with powerful kings of the ring. All of this and so much more are possible from the comfort of your living room with the Meta Quest 2.
This consumer-friendly virtual reality headset requires no hookups and no external store. Everything is available through the headset.
Games like Resident Evil 4, The Walking Dead: Saints & Sinners, BONELAB, Beat Saber, and Blade & Sorcery are just a small handful of the high-end VR titles available through the Quest 2. It may not be as technically impressive as PC units like the Oculus Rift or HTC Vive Pro 2, but for the price, it's definitely a worthwhile unit for anyone intrigued by virtual reality.
16. Tubbz Ryu Rubber Duck Figure
Perfect For:
– Fighting game fans
– Anyone looking for a fancy new toy in their bathtub
Pop Figures have become big business when it comes to geeky collectibles, but we're here to put forward an alternative you may not be aware of: TUBBZ. These collectible figurines turn iconic characters into rubber ducks, and they're utterly wonderful.
If you're buying for a fighting game geek in particular, this TUBBZ figure of Ryu is one of the best gifts you can give, but TUBBZ also supports a variety of other franchises and IP from across gaming and pop culture. From Ghostbusters to Lord of the Rings, there's a TUBBZ gift out there for everyone.
17. Groot Flower Pot & Pen Holder
Perfect For:
– Guardians of the Galaxy fans
– Plant lovers
– Office workers
Whether you know someone with a green thumb or in desperate need of office storage, Groot can swoop in for the rescue. This polyvinyl molded pot is large enough to hold a small plant but can also be repurposed for those loose pens and pencils.
The adorable little Groot looks on with those big innocent eyes, and he just melts your heart whenever you look at him. He's the perfect showpiece for Marvel fans, whether it's to grow a small cactus or keep the office desk organized.
Measuring 6-inches, the Groot planter doesn't take up too much space at all and is available in three different adorable poses.
18. Periodic Tableware Laboratory Shot Glasses
Perfect For:
– Chemistry nerds
– Social drinkers
Nothing says "Nerd Alert" quite like a set of shot glasses inspired by laboratory beakers. Each four-piece set comes with two different styles of laboratory-ready glass beakers. These shot glasses could stand up to some real experiments, but the only chemistry going on with them is finding the perfect drink to pour.
The two Erlenmeyers and two beakers can hold 50 milliliters and are great for casual social gatherings. Whoever you buy them for will love having something to show off that everyone can get enjoyment out of.
Coupled with the full line of laboratory-inspired drinkware, these glasses are a worthy investment for any nerdy character in your life.
19. Pokémon Scarlet and Violet
Perfect For:
– Pokémon fans
– Explorers
Pokémon Scarlet and Violet represent the next step for the IP as a whole, with players able to step out into a massive open world for the first time ever.
If you have a Pokémon fan in the family, either of these games will be a very welcome geeky gift under the Christmas tree. And if you're confused on what the differences are between them, it's easy to figure out.
20. The Lord of the Rings: The Motion Picture Trilogy 4K Blu-ray
Perfect For:
– Those who love elevenses
– Anyone who isn't Sauron
The Lord of the Rings remains one of the most beloved trilogies across all of pop culture, with it being a staple of many people's Christmas, thanks to the movies originally releasing around the festive season.
This 4K Blu-ray is the best way to re-experience how LOTR was originally seen in cinemas, with the highest possible resolutions and picture quality. The boxset is also the extended versions, which are essential viewing for dedicated Rings fans.
21. Dreamcast Wireless Charging Mat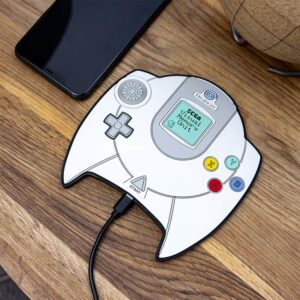 Perfect For:
– Thirtysomething retro fans
– Those who miss the Dreamcast
The Dreamcast really should have been a much bigger success than it was. For one reason or another, it only ever managed a relatively small but immensely dedicated audience.
Celebrate this odd little box's legacy with this wireless charging mat for your iPhone, Samsung, and Nokia devices that boasts 10W super-fast charge, meaning you're never out of the game for long.
Buy from Just Geek (ships worldwide)
22. Atari 50: The Anniversary Celebration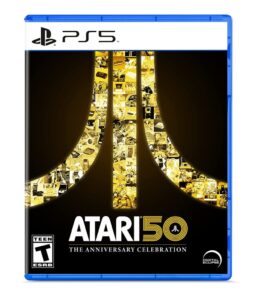 Perfect For:
– Fourtysomething gamers
– Historians
Atari 50: The Anniversary Celebration is pretty much the perfect collection of all things Atari and an absolute must-have for any of the more mature gamers you know.
Packed with almost 100 games both never seen before and reimagined, as well as exclusive interviews and insight, Atari 50: The Anniversary Celebration is an absolute tome of gaming history that should be the perfect geeky gift for any historians in your family.
23. Divoom Ditoo Speaker
Perfect For:
– Pixelheads
– People who party on the go
Fancy a Bluetooth speaker that does more than just blare out Mariah Carey this Christmas? Try out a Divoom Ditoo instead, which comes with almost a wild amount of extra features for the geeks in your life.
Packed with a game, keyboard, alarm clock, radio, and even a way to make pixel art, this versatile little dynamo may look like a retro computer but it's somehow even more powerful (and much, much cooler).
24. Attack on Titan: Colossal Edition 1
Perfect For:
– Potato enjoyers
Got an anime fan to buy for this Christmas? You won't find a much bigger anime than Attack on Titan, so why not start reading the manga that it's all based on?
Attack on Titan: Colossal Edition 1 is a massive compilation of Vol. 1-5 of the smash hit manga that also includes 15 color pages that have never been seen anywhere else. If you need your Eldian misery with a slightly different flavor, check this massive compendium out.
25. The Art Of Horror Movies: An Illustrated History
Another horrifying book (but for different reasons), The Art Of Horror Movies An Illustrated History is an updated version of one of the best love letters to the horror genre in the literary world. Featuring 600 images from classic horror that's never been seen before, as well as plenty of insight from some genre masters, this is quite the tome.
If you're shopping for a horror fan, The Art Of Horror Movies: An Illustrated History is a perfect choice.
26. Dungeons and Dragons Starter Set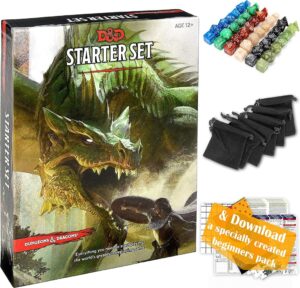 Perfect For:
– Storytellers
D&D has come a long way, so long in fact that it's actually somewhat cool, if you can believe it. It's properly mainstream now, with shows, podcasts, and plenty more focused just on it, so this D&D starter set is perfect for anyone who's focused on getting into it.
Coming with 42 dice, bonus packs, paper figures, and bags, this is a great way to get someone to dive into brand new worlds. You even get an eBook included for how to roll dice.
27. Switch OLED
Perfect For:
– Nintendo fans
We'd be lying if we said that the Switch OLED is an absolutely essential purchase for anyone who already owns a Switch, but it still remains the best way to experience Nintendo's little marvel.
This model offers no interior upgrades on earlier, more basic Switch models, but it does boast an OLED screen that really allows some games to really pop. Again, it's a bit of a pricy upgrade for those who already own a Switch, but if someone's yet to make the, ahem, switch, it's the best you can get.
28. The Rise of the Dragon: An Illustrated History of the Targaryen Dynasty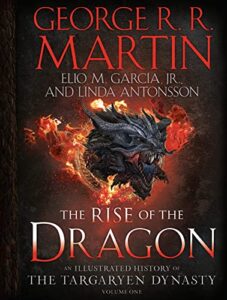 Perfect For:
– People willing to give Thrones another chance
It's been quite the redemption story for the Game of Thrones-verse following the release of House of the Dragon, with it now being a real favorite amongst House Geek once again. The Rise of the Dragon: An Illustrated History of the Targaryen Dynasty is the perfect book for any dragon fans this Christmas.
Featuring input from head honcho George R. R. Martin, this is a stunning artbook packed with lore and all you could need about the titular house.
29. Razer Anzu Smart Glasses
Perfect For:
– Avid video game players
– Tech lovers
Razer is synonymous with gaming peripherals, from its line of RGB keyboards to ergonomic mice. The Razer Anzu Smart Glasses, however, step beyond the norm, offering a solution to the perceived dangers of blue light with a convenient twist. This pair of gaming-friendly glasses feature a built-in Bluetooth headset and microphone, which are far clearer than we would have expected them to be.
The glasses come with two sets of lenses, one for standard indoor use and a shaded pair to protect from the sun. The core purpose of the Anzu Glasses is to mitigate the effects of blue light, which is alleged to cause a variety of issues from dry eyes to blurry vision. The result is a piece of tech that's functional and practical while making the user feel like some kind of secret agent.
30. Garmin Instinct Esports Edition Gaming Smartwatch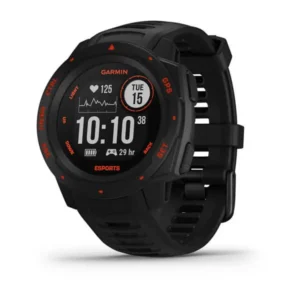 Perfect For:
– Streamers
– Esports players
– Health fanatics
Even esports players and streamers need to keep an eye on their health. In fact, because they sit for so long, it's maybe more so important for them to watch their body performance. Garmin's Instinct Esports Edition smartwatch allows them to do exactly that while integrating aspects of their overall health into their livestreams.
The watch can link up to a live broadcast to display the player's stress level and heart rate, which really elevates the viewer experience. Instinct also measures esports activity, which tracks different metrics to determine how the user's body is performing. The Garmin also connects to a smartphone to push text and email notifications. It's the best way to keep on top of what's happening outside the game without getting too distracted by a phone.
31. Stealth 700 Gen 2 Max Headset
Perfect For:
– Multi-platform gamers
– Cable haters
You're not exactly struggling for choice when it comes to wireless headsets these days, but the Stealth 700 Gen 2 Max makes your choice very simple when you look at what it can do with very little fuss required. Simply take it out, turn it on, and connect via Bluetooth to your favorite devices almost seamlessly for up to 40 hours of play off a very quick charge.
Depending on which particular model you buy, whether PlayStation or Xbox, the Stealth 700 Gen 2 Max Headset works with most devices with Bluetooth capabilities, including your Steam Deck. Pair it with the Turtle Beach Audio Hub app to get even more out of the already incredible sound, especially if you're using 3D audio on the PS5.
32. Vulcan II Mini Gaming Keyboard
Perfect For:
– FPS fanatics
– Those with limited space
We're a long way away from the days when keyboards had to take up your entire desk, which Roccat's superb Vulcan II Mini proves with its sleek form factor that allows those who play FPS games religiously to make full use of the desk room available for their mouse movements. It's never been easier to whip around 180 degrees, especially with multiple player profiles that allow you set your inputs for different games.
Gamers who need some style will get a kick out of the Vulcan II Mini's broad suite of customisation options, including RGB lighting and unique keycaps that can easily be swapped in and out. Add in its 100 million press life to keep you gaming for longer, hyper-fast actuation, and its quiet presses and you have quite the powerhouse packed into a small form. If you know someone who loves CS:GO, Valorant, or any competitive shooter like them, the Vulcan range is absolutely worth the investment.