With the rise of online gaming, couch co-op games are perceived as going the way of the dodo. They're even a selling point if they allow you to play with your friends from the comfort of your couch, that's how uncommon they are. It's a strange situation for anyone who grew up in the 90s, a decade in which countless friendships were put on the line in games of Goldeneye and Mario Party.
In basic terms, couch co-op (also known as local co-op) allows you play games with friends right next to you in front of the same television, hence the "couch". Throughout the 90s and most of the 2000s, couch co-op was the definitive way to play games together, friends staying over at each other's houses for late night gaming sessions.
With games like Halo, which built a lot of its reputation on local multiplayer, doing away with split-screen and more and more games adopting purely online components, you couldn't be blamed for being pessimistic about the future of picking up and playing games with your friends in the living room. However, there's still a decent stream of the best couch co-op games releasing fairly regularly and refusing to bend the knee to the norm, as well as some all-time classics that you can always fall back on.
Here, then, are the essential couch co-op games for partnering up and taking down whatever the game throws at you. It's a multi-generational and eclectic list that's in no order, so there's bound to be something for every taste and level of experience, meaning that maybe even your nan would want to pick up a controller. Also, it's worth remembering that even though some games are only listed for PS4 and Xbox One, they will also play on PS5 and Xbox Series X | S thanks to backwards compatibility.
BEST COUCH CO-OP GAMES: A Way Out | Hidden Agenda | Overcooked 2 | Unravel Two | Streets of Rage | Lego Games | LittleBigPlanet 3 | Dead Nation | Rayman Legends | Nex Machina | Diablo III | Halo: The Master Chief Collection | Resident Evil: Revelations 2| Rock Band | Keep Talking and Nobody Explodes | Don't Starve Together | Portal 2 | Salt and Sanctuary | Cuphead | Golden Axe | PHOGS! | Scott Pilgrim vs. The World: The Game | Moving Out | Borderlands 3 | No Straight Roads
1. A Way Out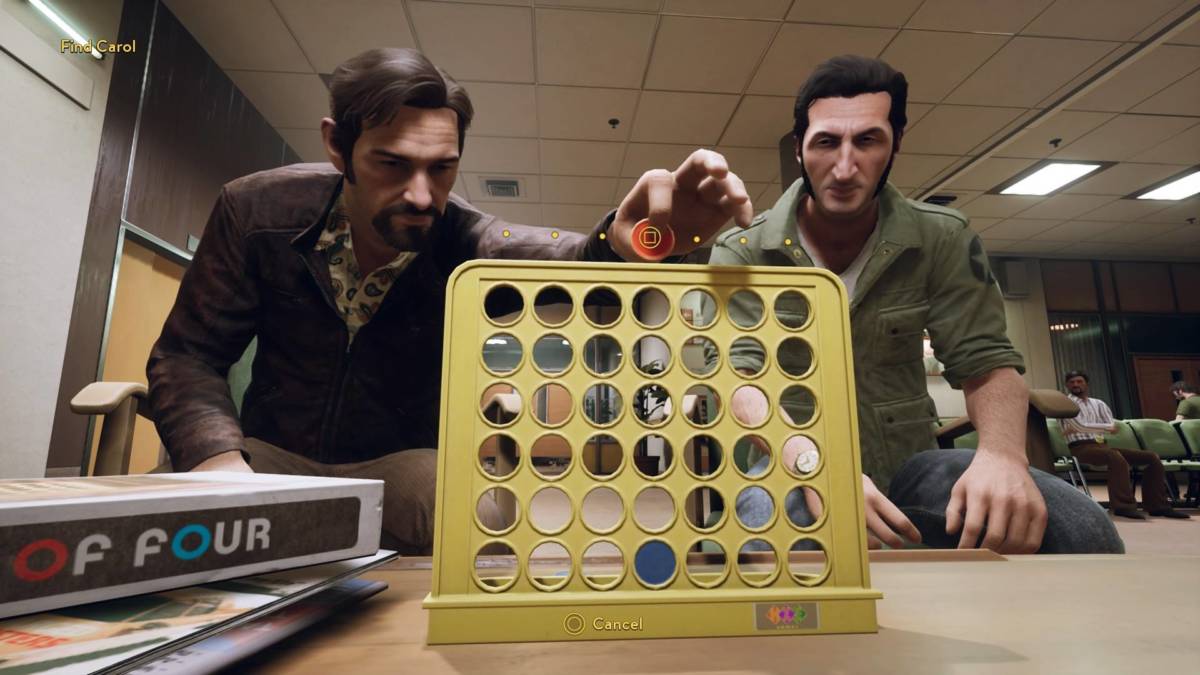 Developer: Hazelight
Publisher: EA Originals
Platform(s): PC, PS4, Xbox One
Players: 2 players
To say that A Way Out is a kick up the backside for mainstream gaming would be an understatement.
Not only could you play through the entire campaign in local co op with a friend next to you with a controller in hand, but you could also play online, even if the other person didn't have a copy of the game. Perhaps a surprisingly pro-consumer coming from something affiliated with EA.
Playing as Leo and Vincent, you and a buddy must escape from prison and then set out on a quest for revenge. Cinematic and engaging with plenty of gameplay quirks, A Way Out utilises its split-screen perfectly and is easy to pick up and play for gamers of all experiences. A truly underrated gem of 2018 that more people should play.
From our A Way Out review:
"Even with some sloppy writing and a hackneyed story, A Way Out's gameplay is so infectious and its heart so sincere that it's almost impossible to resist. Long live couch co-op."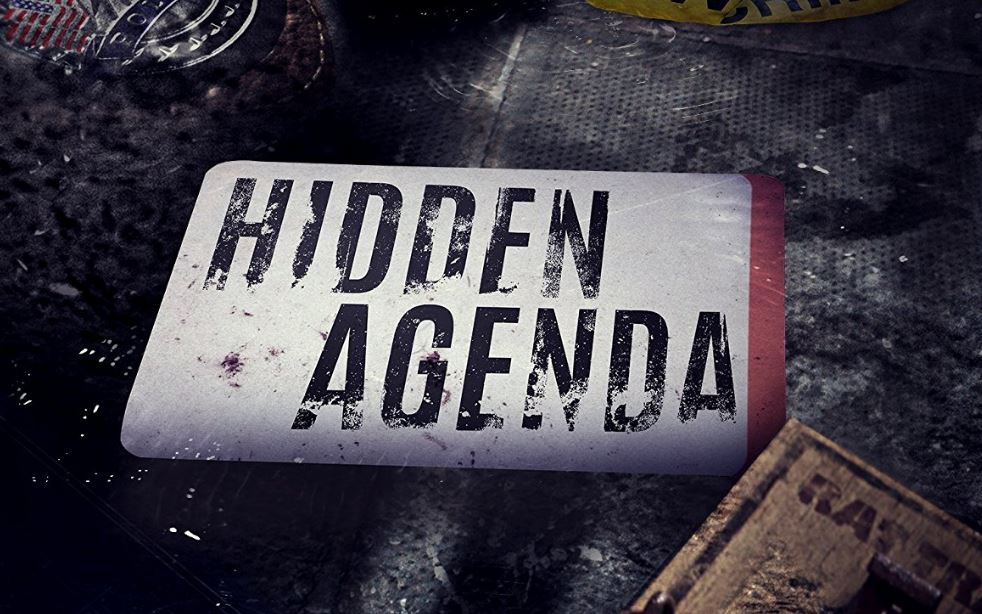 Developer: Supermassive Games
Publisher: SIE
Platform(s): PS4
Players: 4 players
PlayLink is an interesting (if not really all that exemplary) series of games on the PlayStation 4 that more people should really take a look into, especially if you have any non-gamers to entertain. Using just your mobile phones means that anyone can pick up and play a PlayLink title, though your grandmother may need to upgrade her Nokia 3510 to get involved.
Hidden Agenda is actually a hybrid of couch co-op and competitive play, and it works pretty well. Players must track down a serial killer by making tough decisions, but they must also be suspicious of each other. Every so often, a player will be given a titular hidden agenda to complete without anyone else realising. Perfect for weeding out the snakes in your family.
From our Hidden Agenda review:
"It isn't without some (pretty irritating) flaws, but Hidden Agenda could be the game that shows people what PlayLink is made of."
3. Overcooked 2
Developer: Team17, Ghost Town Games
Publisher: Team17
Platform(s): PC, PS4, Xbox One, Switch
Players: 4 players
You can replace the original Overcooked with its sequel if you're looking to save a few bucks, because they're ultimately the same thing: couch co-op games that will put your bonds to the test by tasking you with running a bustling kitchen when the orders pile up. Who will be the Gordon Ramsay in your friends group?
Overcooked 2 is one of the best couch co-op games because it hides a lot of stress underneath its cutesy veneer. Everyone needs to be doing their jobs and effectively — whoever's responsible for it all coming crashing down is likely going to be struck from the Christmas card list.
It's best enjoyed with a full crew, so recruit people you're sure aren't going to let you down, you culinary tyrant.
4. Unravel Two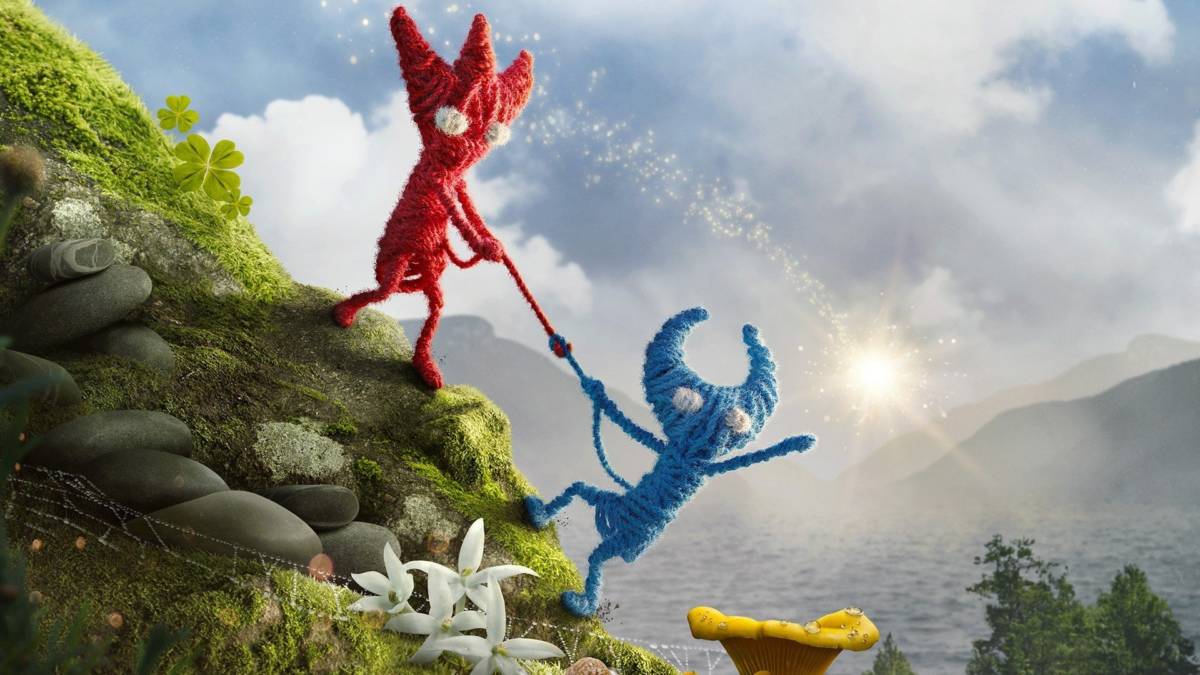 Developer: ColdWood Interactive
Publisher: EA
Platform(s): PC, PS4, Xbox One, Switch
Players: 2 players
Unravel was a gorgeous platformer that won more than its fair share of hearts, so when its sequel surprise-dropped during E3 2018, there were plenty of people who were intrigued to see how it would turn out. The answer, thanks to the introduction of some great co-op that doesn't tax the mind too much, was that it was the natural and superior continuation.
Two players can take control of their own respective Yarnies, each as important as the other. Players must work together to use momentum and finesse to solve puzzles, as well as to hold each other gently at just how beautiful and pure the whole thing is.
Unravel Two is one of 2018's most underrated games and a prime example of how much couch co-op can enhance the experience.
From our Unravel Two review:
"It's a genuine step-up from its predecessor with smoother controls and more gameplay styles while also retaining the irrefutable charm that won the first game so many fans. With any luck, Unravel Two will win many more."
5. Streets of Rage
Developer: Various
Publisher: Sega
Platform(s): Various
Players: 4 players
"What's a Streets of Rage?", you ask before we dropkick you out of a window for insubordination. The franchise has arguably done more for couch co-op than any other, bringing with it its eminently cheesy charm and the fact that you will be unable to put it down, even when the boss transports you right back to the beginning because he's a cheap asshole.
The original game is what many hallow as the best in the series, and it's hard to argue with that as it's when it was at its purest. Playing as Axel, Blaze, or, erm, Adam, you and friends must fist and slice your way through the streets (with a bit of rage) and rid them of crime. The original is a little dated, sure, but Streets of Rage holds up remarkably well in terms of "one-more-try" appeal.
After many years out in the wilderness, Streets of Rage 4 released to wild acclaim and introduced millions of new players to a world of chomping chickens and kicking ass.
6. Lego Games
Developer: Traveller's Tales
Publisher: WB Games
Platform(s): Various
Players: 4 players
And we mean basically any. The Lego games are known for being easy pick up and play couch co-op games that suit any gamers for any age with tie-ins for many famous licenses to choose from. It could be argued that their heyday was with the Harry Potter and Star Wars games, but recent fare has also been more than worth a look.
Titles like Lego Marvel Super Heroes and Lego The Incredibles are all going to suck up your time — Traveller's Tales' games have a sneaky habit of being simple yet surprisingly addictive, meaning that you will be hunting down bricks like a madman before too long.
What's that, son? You haven't been to school in four days? Don't worry about it. We are Lego now.
7. LittleBigPlanet 3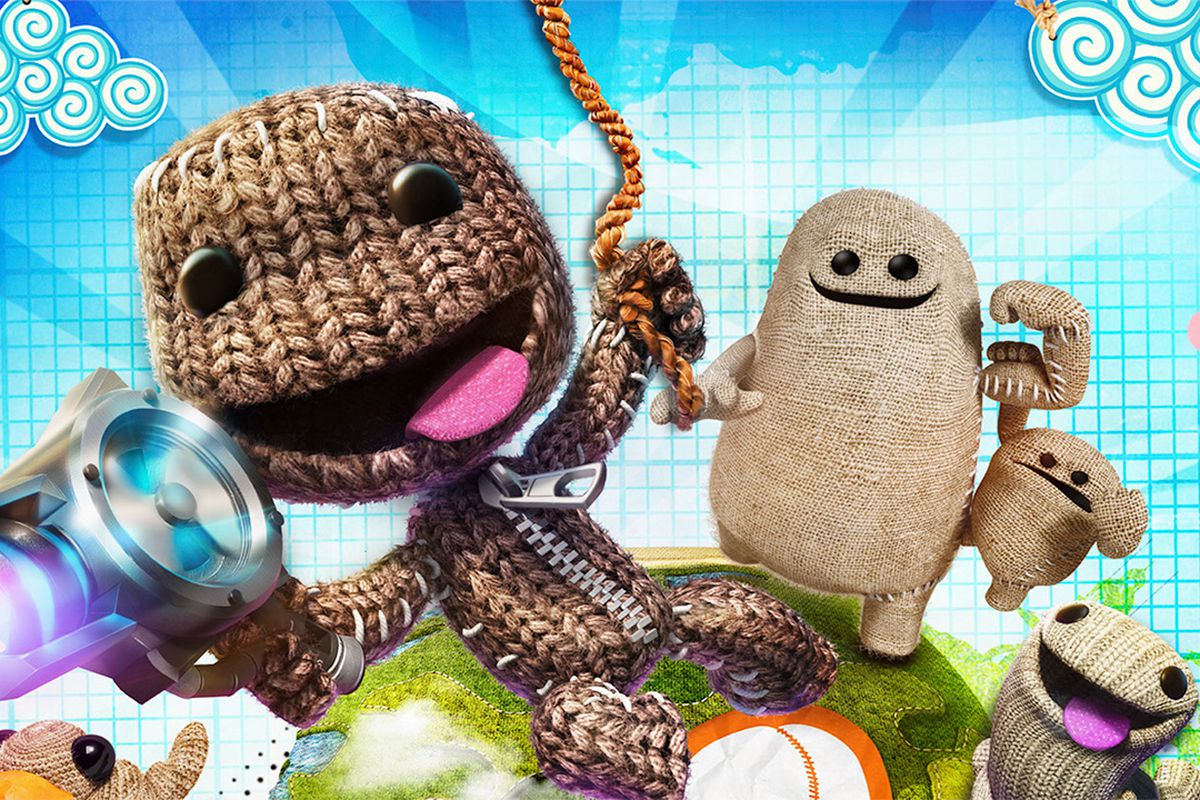 Developer: Sumo Digital
Publisher: SIE
Platform(s): PS4, PS3
Players: 4 players
Too many people sleep on just how expressive and creative the LittleBigPlanet series allowed you to be with its third incarnation showing the most ambition of them all, even if the developers had changed hands. LittleBigPlanet 3 allows you to create your own levels and challenge others to best them, long before Mario had a go.
Up to four players can work together to overcome levels, either official ones or those made by the community, and you will certainly need to lean each other from time to time. That being said, LittleBigPlanet 3's learning curve isn't too bad and its constant stream of fun collectibles will have you coming back for more.
A great game to play with the youngsters to help unlock their creativity.
8. Dead Nation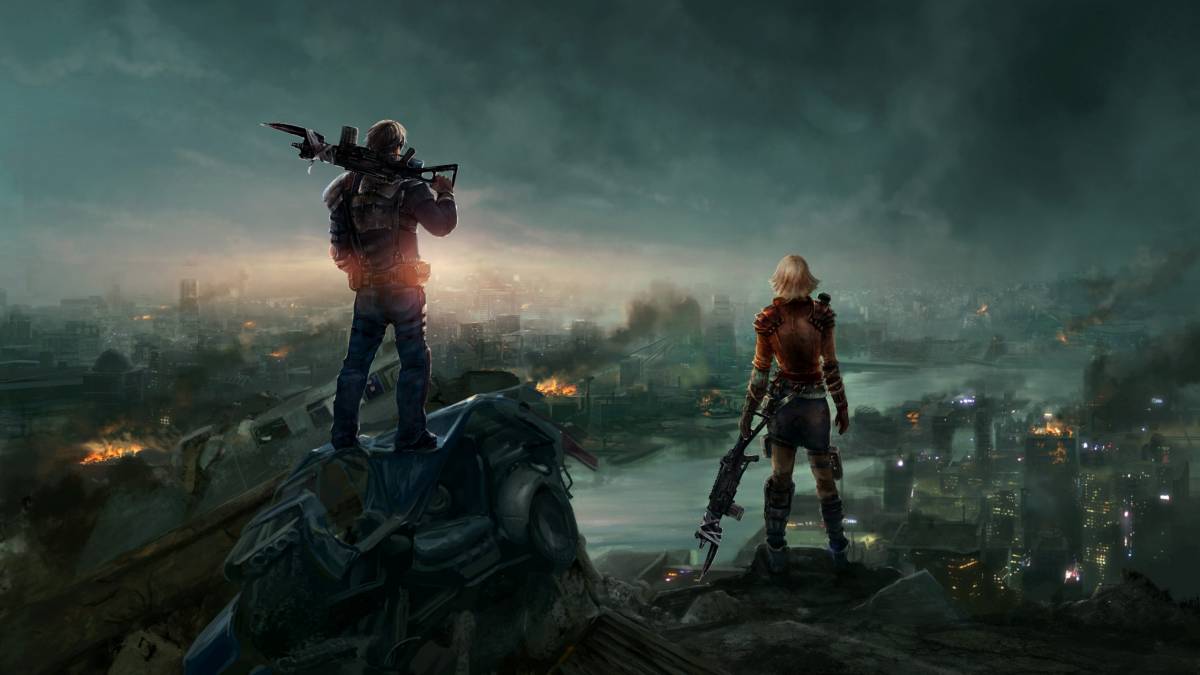 Developer: Housemarque
Publisher: SIE
Platform(s): PS4, PS3, Vita, PSP
Players: 2 players
Killing zombies is just about the most cathartic thing we can think of, mowing down waves of the one-track-minded idiots and letting your troubles dissipate. In the case of Dead Nation, however, it's not quite a walk in the park as the undead threat is numerous and very likely to nibble on your face often. That's why you should bring along a friend to join in with the fun.
Housemarque fans will love what they find in Dead Nation: arcade-y gore that's easy to pick up and play but difficult to master. There's a nice variety of enemies here and plenty of content to not only best but also to achieve high scores in, meaning there's a nice bit of friendly competition between co-op partners.
If you're not convinced, imagine Left 4 Dead was top-down and–oh, you just downloaded it.
9. Rayman Legends
Developer: Ubisoft
Publisher: Ubisoft
Platform(s): PC, PS4, PS3, Vita, Xbox One, Xbox 360, Switch, Wii U
Players: 4 players
Rayman really doesn't get enough love: Legends can hold its own against the biggest platforming greats. It's bright, cheerful, and just generally easy to play if you've ever played a platformer before. It's also great to play with a friend during couch co-op, and you can even bring up to three friends along for the ride.
And what a lovely ride it is, the infectious music of Legends bound to make you and your friend's heads bop as you collect all of the Tings, which will become your life's mission before too long. It's not a terribly difficult game, either, allowing your friends to revive without much hassle by popping their balloon.
If that sounds a bit out there, you're going to have to try the weird and wonderful worlds found in Rayman Legends for yourself.
10. Nex Machina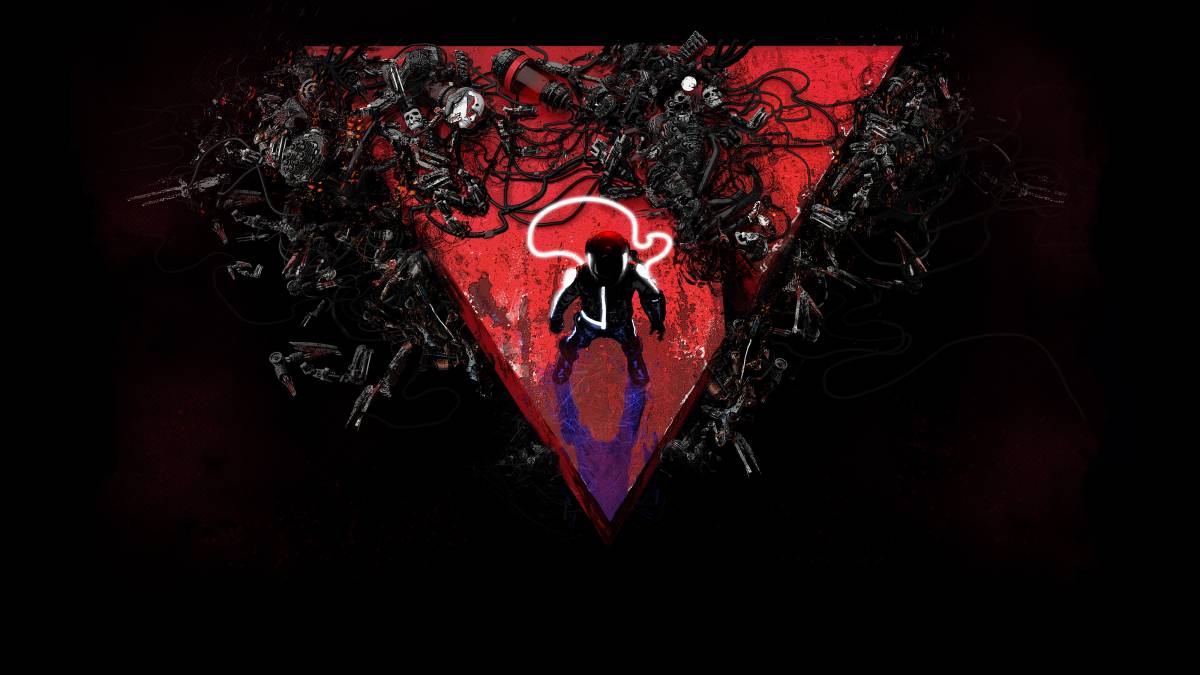 Developer: Housemarque
Publisher: Housemarque
Platform(s): PC, PS4
Players: 2 players
Another Housemarque game, who rather disappointingly decided to abandon the style they made their name on and then return to it.
That hiatus was a shame, because Nex Machina represents them at their very best: a frenetic bullet hell shooter that's sure to drive you and a friend insane in all the best ways. You may think you have the game matched on one difficulty, but if you take it up even the tiniest bit, expect pain.
There's no grand story to Nex Machina. It's just you, your friend, and waves upon waves upon aliens to kill. Just like Dead Nation, Nex Machina pits players against each other for higher scores, which, when combined with the game's wicked pace and tendency to constantly amp up the pressure, will keep you coming back for more.
11. Diablo III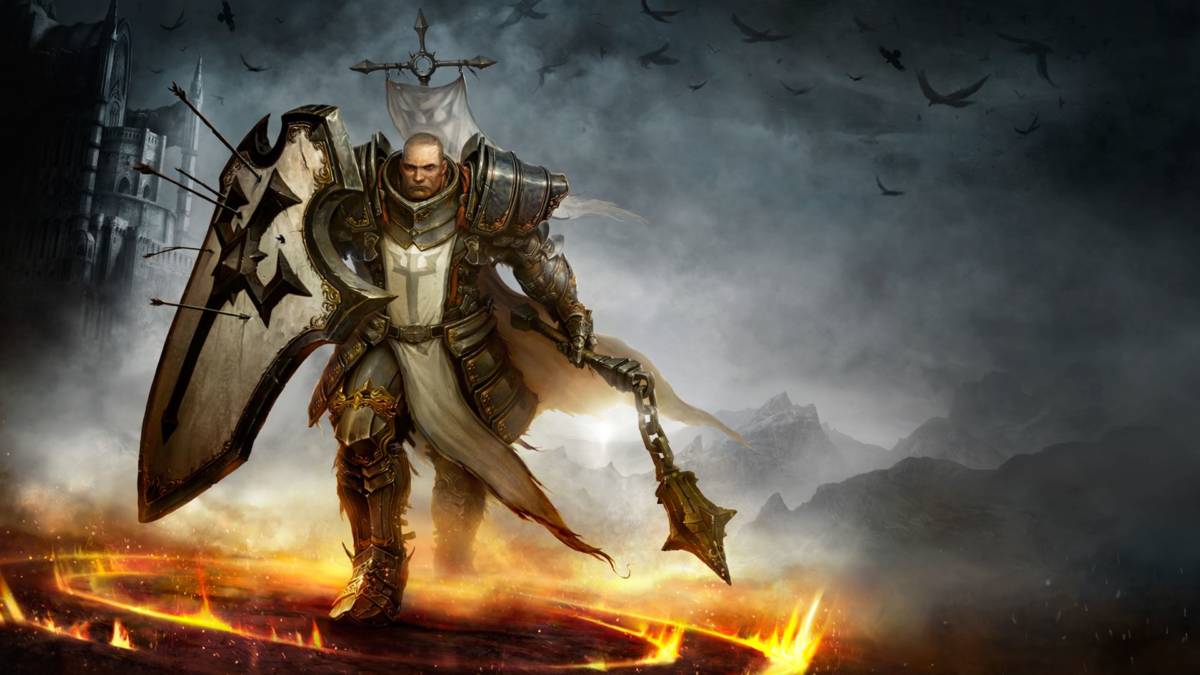 Developer: Blizzard
Publisher: Blizzard
Platform(s): PC, PS4, Xbox One, Switch
Players: 4 players
Exploring dungeons is almost always a solitary experience: Link has been doing it on his lonesome for decades. However, Diablo III actually becomes a better game the more players you have along for the ride, meaning that you can share the spoils of glory with your friends as you cut down the game's many fearsome foes.
You can find Diablo III on many different platforms, but it's arguably best on consoles, which may come as a surprise. Even the Switch, which is not known for its power, can handle you and a bunch of friends beating the snot out of beasties without much hassle.
Diablo III is an endless supply of challenges and content, so you'll no doubt find it as tempting as jamming a Soulstone directly into your forehead for some reason.
12. Halo: The Master Chief Collection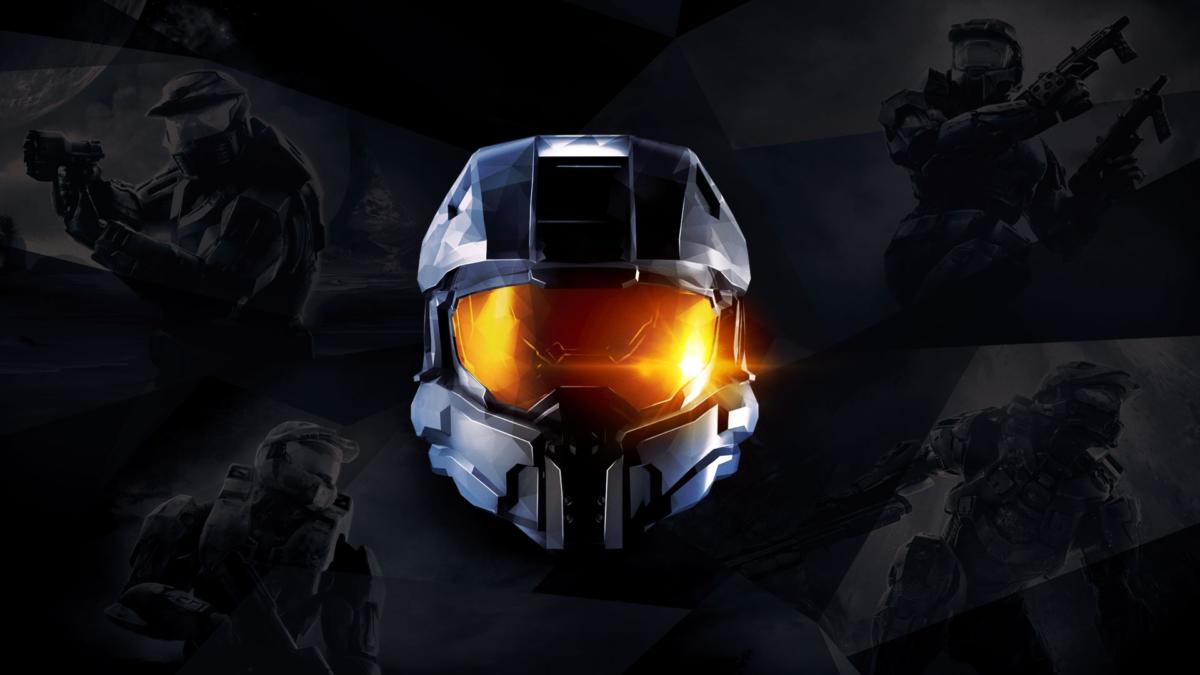 Developer: Bungie/343 Industries
Publisher: Microsoft Studios
Platform(s): PC, Xbox One
Players: 2 players
We've already mentioned Halo on this list of the best couch co-op games and Halo: The Master Chief Collection may just be the best package on this entire list. Featuring the first four entries in the iconic franchise (the first three probably representing it at its peak) with new and updated visuals, it's the best way to play the games of your youth with a friend without the nostalgia glasses slipping off your face.
Whether it's jumping on a Warthog together for the rousing finale of Halo 3 or just cutting a path through the early foes on the Pillar of Autumn in Halo 1, the split-screen is bound to make some memories come flooding back. There's no excuse not to try it out as it's available on Xbox Game Pass, so get it downloaded and get ready to hear those rousing chords during your next social hangout.
Don't forget, though, that some of the games in the collection are split-screen and some aren't. Just something to watch out for.
13. Resident Evil: Revelations 2
Developer: Capcom
Publisher: Capcom
Platform(s): PC, PS4, PS3, Xbox One, Xbox 360, Switch, Vita
Players: 2 players
The Revelations spin-offs are neat little extra peeks into the Resident Evil universe and do a lot to dissuade those who believe that the series has strayed too far from its iconic survival horror roots. Resident Evil: Revelations 2 is closer to Resident Evil 2 than it is Resident Evil 7 and is considerably lower in terms of budget, but don't let that stop you from diving into its nightmares.
Playing as either Moira Burton or Claire Redfield, players must work together to escape Sushestvovanie Island and the grasp of the "Afflicted", which are basically zombies if they had a soft spot for angel dust. In a unique twist, only one player in your duo will have a gun, leaving the other to melee weapons and operating the flashlight.
It's rough around the edges, but probably one of the best horror co-op games going.
14. Rock Band
Developer: Harmonix
Publisher: MTV Games/Harmonix
Platform(s): Various
Players: 4 players
Even the least hip members of your family will have some familiarity with the Rock Band series, much in the same way that the Wii went on to such huge success. They bridge the gap between those who play games and those that do, which means it's a nice surprise to see your otherwise relaxed mother shred one out to Dragonforce.
Really, it's much of a muchness with the Rock Band series: there's not a great deal to distinguish. It's a bit of an expensive party distraction, too: you will need all of the peripherals if you want to get the band back together.
There's nothing quite like pulling off a song in plastic-y harmony, though, especially when everyone's had a little bit too much to drink.
15. Keep Talking and Nobody Explodes
Developer: Steel Crate Games
Publisher: Steel Crate Games
Platform(s): PC, PS4, Xbox One, Switch
Players: 4 players
We all like to think we'll be able to keep our cool in stressful situations, putting on sunglasses and walking away in slow motion after a job well done. Here comes Keep Talking and Nobody Explodes to remind you that you are a sweating mess when you have anything other than making yourself some toast to co-ordinate.
Players must work together to defuse a bomb before it explodes, which typically entails checking a manual and feverishly trying to figure it out. There's also a catch: the player responsible for defusing the bomb also can't see what they're doing so they need total guidance from their friends.
Should be able to to do that without any hitches. Ahem.
16. Don't Starve Together
Developer: Klei Entertainment
Publisher: Klei Entertainment
Platform(s): PC*, PS4, Xbox One
Players: 2 players
Just like you don't want to be trawling dungeons on your own, you definitely don't want to be left on your lonesome on a desert island — remember how nuts Tom Hanks went in Castaway? Don't Starve together takes the wildly successful survival formula of the base game and adds couch co-op into the mix, though you can only find it on consoles.
Whether you're trying to invent something to keep yourself alive or desperately batting away what comes in the darkness, Don't Starve Together is a worthwhile bonding experience. Nothing brings people together quite like trauma, after all. It certainly beats going on a camping trip and being thoroughly miserable the whole time, that's for sure.
*no couch co-op on PC
17. Portal 2
Developer: Valve
Publisher: Valve
Platform(s): PC, Xbox One (BC), Xbox 360
Players: 2 players
Valve's Portal series isn't the biggest IP they have in their (now pretty dusty) collection, but it's one that's almost universally loved by everyone. Portal 2 is more of the same mix of inventive puzzles and irreverent humour, but this time with the introduction of some wonderfully realised co-op that will make you and a friend realise how dumb you are together.
Using the infamous Portal Gun (or Aperture Science Handheld Portal Device, if you want to be all business-like), players must open up new areas by creating portals and then transporting themselves and objects through it.
Despite it being relatively straightforward and not all that long, people still play Portal 2 to this day for a good reason: it's damn fun and easily replayable.
18. Salt and Sanctuary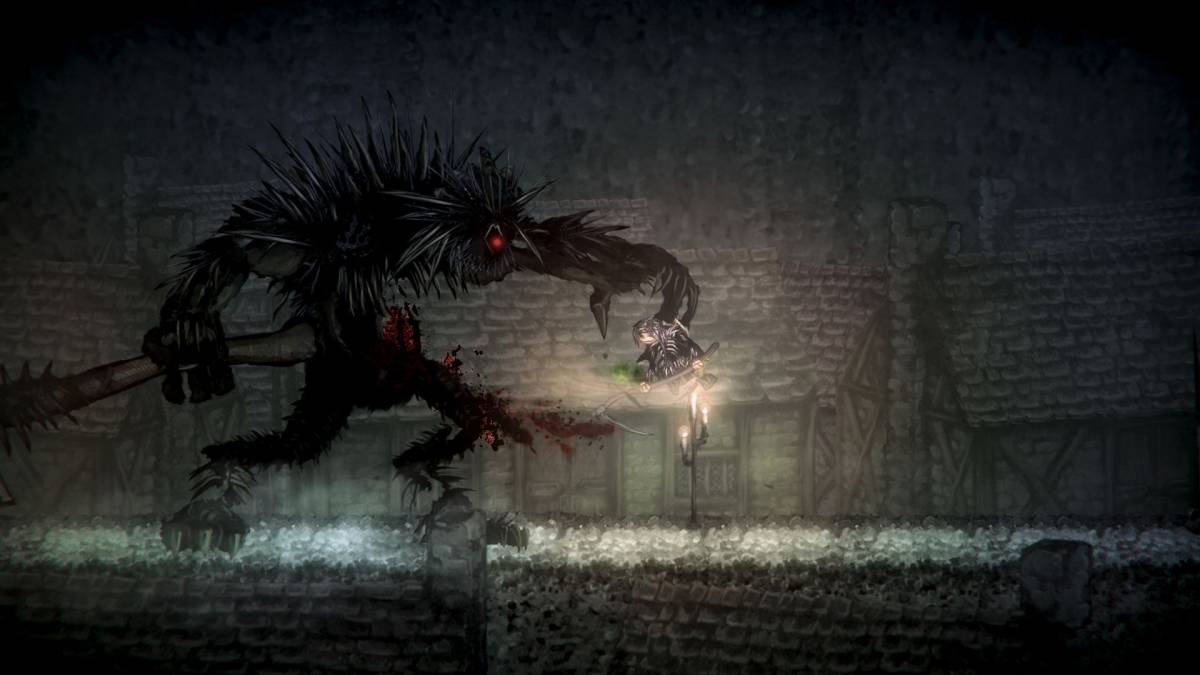 Developer: Ska Studios
Publisher: Ska Studios
Platform(s): PC, PS4, Xbox One, Switch
Players: 2 players
Probably the least pick-up-and-play game on this list of the best couch co-op games, the steps to enabling co-op in Salt and Sanctuary are a little unusual, following the Soulslike tradition of letting you figure it out for yourself. It's a game that constantly wants you to learn the hard way, though having a buddy does make the pain stop, or at least shares the burden of failure.
A 2D side-scroller, Salt and Sanctuary is one of the most outright difficult game on this list, which shouldn't surprise anyone who's familiar with the inspiration it wears on its sleeve.
You'll have to work tactically with your friend as the challenge increases to compensate for an additional party member, so prepare for death and prepare to weep softly into the shoulder of your partner after the seventieth time of trying to beat The Witch of the Lake.
19. Cuphead
Developer: Studio MDHR
Publisher: Studio MDHR
Platform(s): PC, PS4, Xbox One, Switch
Players: 2 players
Speaking of tough games, Cuphead is a notoriously difficult bullet hell platformer that is somehow even harder with another player. If you think the game will let up on you after a giant carrot kills you by an inch of a pixel by bringing a friend along to help out, you are sorely mistaken. It's pain, but the good kind; the one that will keep inviting you back for another try.
With one player playing as Cuphead and the other taking up the handle of Mugman, you must fight your way through relentless levels before going on to challenge the game's many unforgettable bosses before eventually going up against the Devil himself.
The slightest slip in concentration is punished in difficulty, so don't forget to leave your pride at the door before you start playing.
20. Golden Axe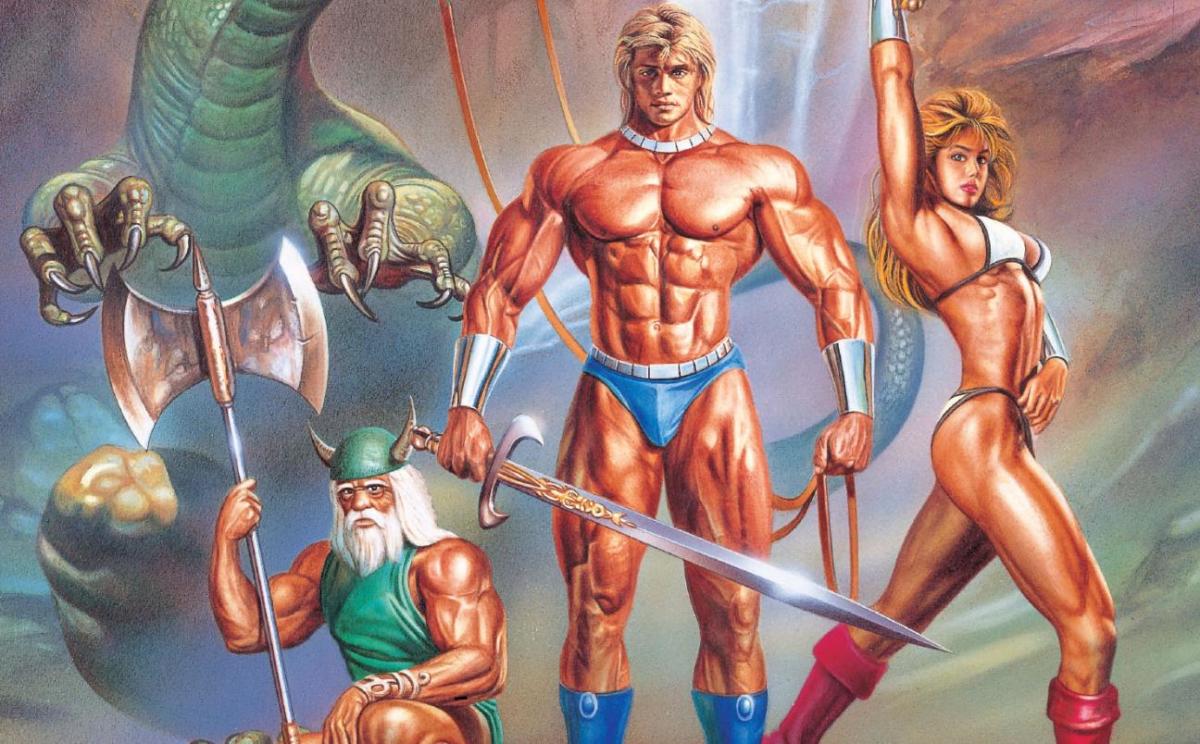 Developer: Sega
Publisher: Sega
Platform(s): Various
Players: Varies
Does Golden Axe stand the test of time of that well? Not really. It's more than rough around these edges these days, its visuals looking more and more disproportionate and just plain odd with each passing year. Still, even when VR consumes us all and we become part of a dystopian hivemind of VR Chat addicts, Golden Axe will remain fun.
Similarly to Streets of Rage, you and friends play as a ragtag trio of heroes as they seek to reclaim the titular Golden Axe — you really shouldn't be looking for anything much more than that.
A side-scrolling beat 'em up that was a pillar of many childhoods, it may not have the polish and high-octane that the modern generation are used to, but make them give it a try and they may be surprised.
If they aren't convinced, trade them in. The kids, not the game.
21. PHOGS!
Developer: Bit Loom Games
Publisher: Coatsink
Platform(s): PC, PS4, Xbox One
Players: 2 players
For anyone who remembers Catdog from the nineties, PHOGS! is a must. For anyone who wants to play as either end of a quite literal sausage dog, PHOGS! is a must. Basically, if it's great couch co-op you want, PHOGS! is a must.
With players each taking control of a doghead connected to one very stretchy body, PHOGS! is a simple puzzle game in which players must work together through varied worlds that take on the themes of Food, Sleep and Play.
Thanks to some very silly physics, a rather lovely, irreverent tone, and the fact that the game has its very own woof button, PHOGS! is perhaps the most underrated game on this list that absolutely deserves more love. And belly scratches.
22. Scott Pilgrim vs. The World: The Game – Complete Edition
Developer: Ubisoft
Publisher: Ubisoft
Platform(s): PC, PS4, Xbox One, Switch
Players: 4 players
After a long wait, Scott Pilgrim vs. The World: The Game is finally back for sale following a digital delisting — and it's like it never left. It's the same game many know and love, but this time bundled with all DLC from day one.
With support for up to four players and various characters from the comic book world of Scott Pilgrim to punch your way through as, Scott Pilgrim vs. The World: The Game – Complete Edition is a solid beat 'em up that requires patience, just as it can be a little on the tough side at points, especially when the League of Evil Exes start throwing more and more obstacles your way.
If you want an alternative to Streets of Rage with a killer soundtrack, plenty of extra content, and some whimsical humor, Scott Pilgrim vs. The World: The Game – Complete Edition is the one for you.
23. Moving Out
Developer: SMG Studio
Publisher: Team17
Platform(s): PC, PS4, Xbox One, Switch
Players: 4 players
Another physics-based co-op game that's designed to test your love of each other, Moving Out from SMG Studio takes the stresses of moving house and dials it up to eleven. Couches will fly, windows will get smashed, and prized posessions will find their way into the pool.
A totally madcap ride that will go from the suburbs to a highway chase (don't ask), Moving Out sees you playing as professional movers who are against the clock to get everything out of a building in time. While this sounds easy, the nature of the game's physics and having two people trying to communicate while the seconds tick by means that furniture will constantly get stuck and screams will regularly be heard higher records slip away.
With a tonne of modifiers to help you play how you want and a lot of content being added post-launch (including a mode to move stuff back in), Moving Out is a great co-op game for a raucous night in.
24. Borderlands 3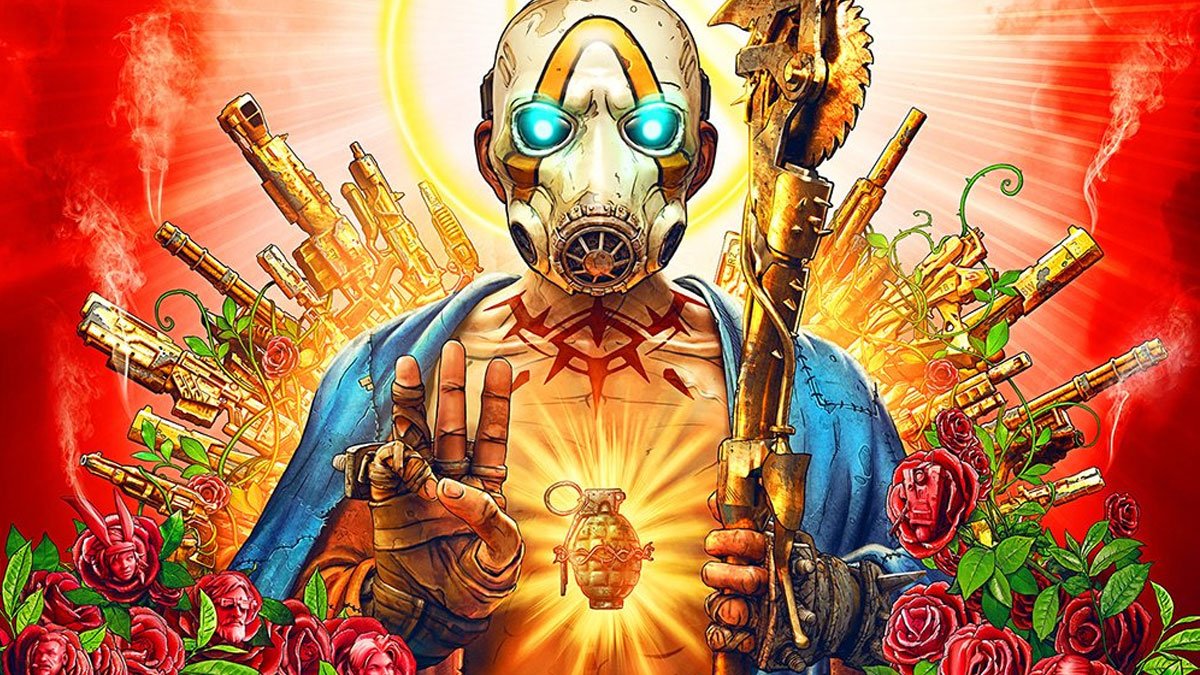 Developer: Gearbox
Publisher: 2K Games
Platform(s): PC, PS4, PS5, Xbox One, Xbox Series X | S
Players: 2 players (PS4 & Xbox One) / 4 players (PS5 & Xbox Series X | S)
After many years of waiting and DLC after DLC for the second game, Borderlands 3 released to provide pretty much the same game as the last time. Hey, if it ain't broke, and all that.
The aim of the game is simple: travel all over the galaxy to put a stop to evil twins, collecting almost endless loot as you go. The weapons are as varied as they are silly, ranging from a few simple pistols to something that feels like it would be right at home in a Looney Tunes cartoon. It's not a game you should take seriously.
A fun, daft looter shooter that is overflowing with content, DLC and otherwise, Borderlands 3 isn't going to win any awards in innovation, but it's just good fun. If you don't mind something slightly older, the second game still hold up mightily well.
25. No Straight Roads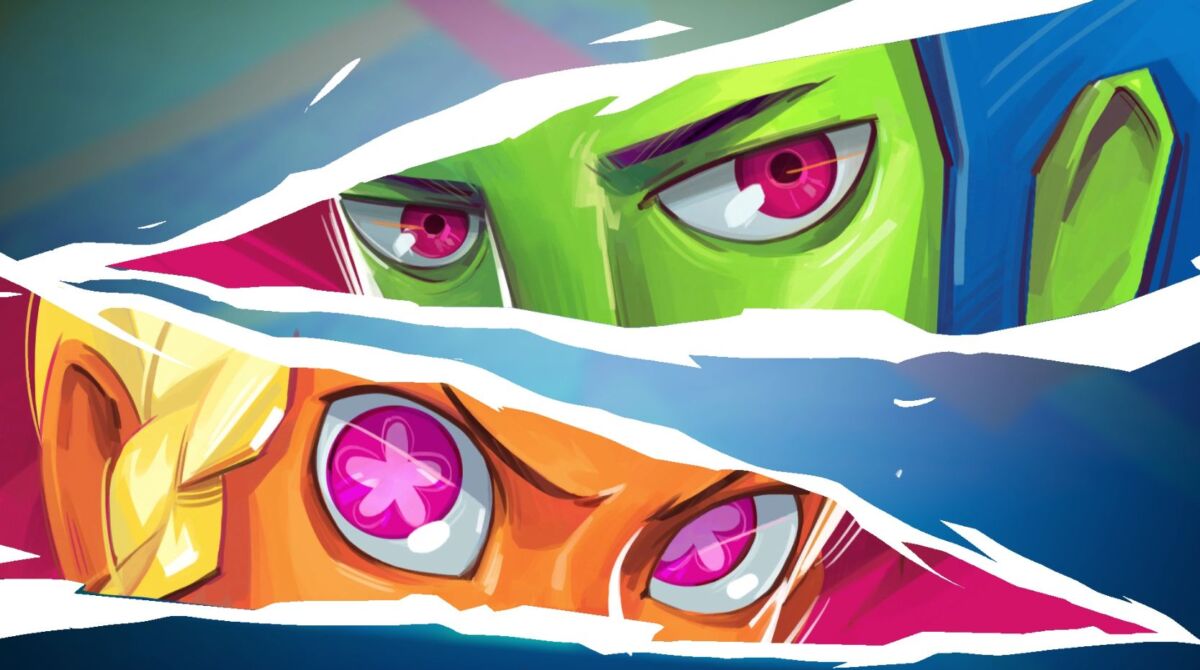 Developer: Metronomik
Publisher: Sold-Out Software
Platform(s): PC, PS4, Xbox One, Switch
Players: 2 players
One of 2020's most underrated games, No Straight Roads follows the rock band Bed Bunk Junction as they look to put a stop to the EDM monopoly in Vinyl City. It's definitely one of the most original setups in gaming in a while.
A beat 'em up with some rhythm elements (though even those with three elbows and no co-ordination at all should be just fine), No Straight Roads is a surprisingly deep time with offbeat humor, likable protagonists, and some memorable bosses.
No Straight Roads is a love letter to rock music of old, but also a celebration of all genres. Whether you're battling a piano maestro or rapping away, No Straight Roads is not just a straight brawler. Give this game a chance and prepare to be charmed by Zuke and Mayday.
READ NEXT: Best PS4 Multiplayer Games
Some of the coverage you find on Cultured Vultures contains affiliate links, which provide us with small commissions based on purchases made from visiting our site. We cover gaming news, movie reviews, wrestling and much more.