In a lot of writing circles, 'trope' seems to be a bit of a dirty word, used as shorthand for 'unoriginal'. But if you know anything about storytelling then you know that there aren't any original stories; only stories told in new ways by new authors. You also know that tropes are tropes for a reason, and that reason is because they are just so gosh darn enjoyable to read.
With that in mind, I've been thinking a lot about them and putting together some lists – because of course I have. Let's kick off with one of the most popular romance tropes: the fake relationship, or fake dating. Fake relationships have so much potential for comedy, for miscommunication, for drama and for pining; it's no wonder that we love it so much.
1. Who'd Have Thought – G. Benson
In New York, a top neurosurgeon, Samantha Thomson, needs to get married fast, and is offering over $200,000 to the person willing to marry her for a year. ER nurse Hayden Pérez is more than willing to take up the offer, even knowing from work that she already can't stand Samantha.
Fans of this book say that the fake relationship part of the story is believable and well-reasoned, and really love the comedy that comes from Samantha and Hayden navigating their way through the marriage. As a bonus, Hayden's best friend Luce is a really well-written non-binary character, which is always a good thing to see.
2. The Dating Plan – Sara Desai
The Dating Plan is brand new, literally just published, and the review for it have been great so far. Daisy Patel is a software engineer who is sick of the familial expectation that she is going to get married. To get them off her back, she asks her best friend's brother, Liam, to join her in a marriage of convenience. Liam has his own reasons for jumping at the chance, and they start fake dating in order to make the relationship 'real'.
If you love the potential for drama when it comes to fake relationships, then The Dating Plan will be right up your street.
3. Boyfriend Material – Alexis Hall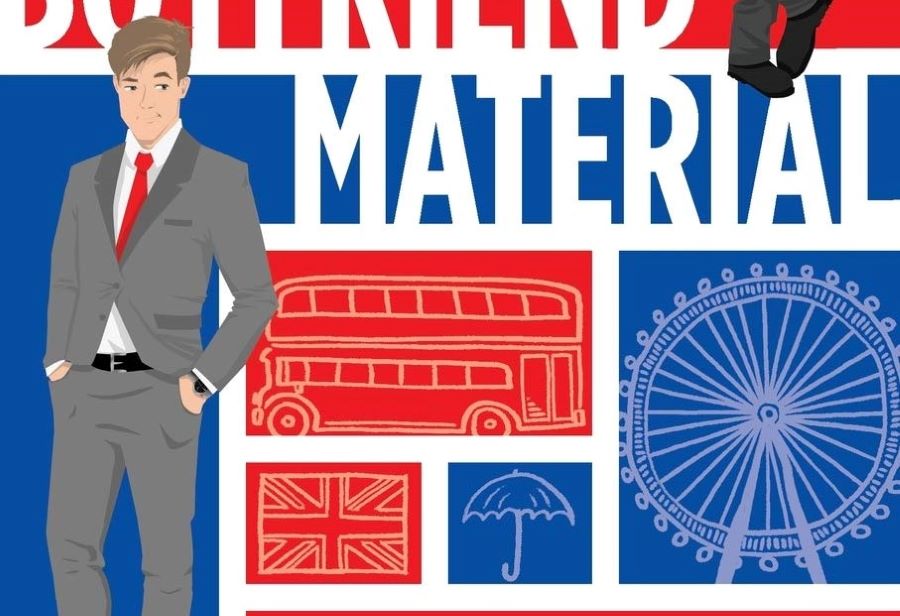 Boyfriend Material was a bit of a hit last year, the British based, queer fake relationship comedy you didn't know you needed. Luc O'Donnell is the messed-up son of rock star parents who has never met his dad. When his old man makes a comeback on a TV talent show, Luc is once again thrust into the public eye, and has to find himself a nice, normal relationship when a compromising photo emerges of him.
So he ends up with Oliver Blackwood, a nice, normal person who needs a date for an event – and the two of them hatch a plan to be fake boyfriends for a while. The plan goes about as well as you'd expect.
4. Take A Hint, Dani Brown – Talia Hibbert
Another hit from last year – see, 2020 did have some good things. When security guard Zaf Ansari saves student Dani Brown from a fire drill gone wrong, the video goes viral and the whole internet is shipping them. They agree to a fake relationship so that Zaf's start-up can benefit from the publicity, but both of them are blissfully unaware that actually the other one quite likes them already.
Take A Hint, Dani Brown grips you from page one – Dani has such a strong narrative voice, and the book is just so funny that you can't help but be swept along with it.
5. Just For Show – Jae
Jae is a total pro when it comes to lesbian romances, with over twenty of the things under her belt. Just For Show is a fake relationship dream of a novel. Claire Renshaw, a couples therapist, has a book deal in jeopardy when her fiancée suddenly ups and leaves her. So she hires out-of-work actress Lana Henderson to play her partner, just until the book deal is signed. Lana is everything that Claire isn't, which is fine – there will be no chance of falling in love with her, right? Right?
If you pick up a Jae romance, you know that you're going to have a good time, and Just For Show is no exception to that rule. Also, did I mention that Lana is a plus-sized character? Representation matters.
6. The Unhoneymooners – Christina Lauren
Fake relationships are great, but what makes them even better is if the two people involved are sworn enemies. It just adds a little something to the spicy mix. In The Unhoneymooners, Olive is the unlucky twin watching her sister Ami get married to the love of her life while she has to be nice to her arch nemesis, Ethan (the best man).
But when literally the whole wedding gets food poisoning apart from Olive and Ethan, they head off on the all-expenses paid honeymoon, and end up in a fake relationship when Olive accidentally meets her new boss. If you like arguing and sexual tension in your fake relationships, this is the book for you.
7. The Walk-In Closet – Abdi Nazemian
Fake relationship novels can't all be fun and games all of the time, and The Walk-In Closet definitely examines some of the more serious reasons that such a relationship might be necessary. Kara Walker is happy to pretend that she is her best friend, Bobby Ebadi's girlfriend. It pleases his parents, and protects Bobby from questions about his sexuality. When his parents want them to marry, Bobby is prepared to give them what they want, but Kara is less sure.
Don't think that The Walk-In Closet doesn't have its fair share of humour, but if you want a more grown-up fake relationship story, this might be the one for you.
8. Fake It Till You Break It – Jenn P. Nguyen
Fake It Till You Break It is a cute and fluffy YA fake relationship story, and probably a book you'd love if you're a fan of To All The Boys I've Loved Before. Mia and Jake have known each other their whole lives because their mums are best friends. The mums think Mia and Jake would be the perfect couple, which is an issue because actually the teens don't like each other that much.
They hatch a plan to fake date and end it all with a massive break up, which should put the problem to bed forever. It's a perfect plan…until it isn't. Mia and Jake are very likeable characters, and if you want something really fun, check out this book.
9. Frankly In Love – David Yoon
This is another YA fake relationship story, but Yoon also deals with thornier issues such as racism, cultural identity and the tricky navigation of those things in adolescence. Frank Li, the son of Korean immigrants, is only allowed to date Korean girls. When he falls for Brit, who is definitely not Korean, he and his friend Joy Song hatch a plan to fake date each other and use it as a cover as they go about dating the people they really like.
Frankly In Love is charming, and although I can't comment on the diaspora of being a second generation immigrant in the USA, Yoon clearly has a lot to say on the subject and cares deeply about it.
10. Counting Down With You – Tashie Bhuiyan
I can't resist banging the drum for a new title that I am looking forwards to, and in this case, that is Counting Down With You. It made our list for most anticipated romance books of 2021 all the way back in January, and we are now so much closer to the 4th May release date.
Karina Ahmed just wants to do as her parents wish, but when they go on a trip to Bangladesh and Karina finds herself fake dating bad boy Ace Clyde, she is about to find that it is much trickier than she thought. I love the idea of the countdown clock adding even more tension to the story.
READ NEXT: 10 Steamy Romance Books To Seek A Dalliance With
Some of the coverage you find on Cultured Vultures contains affiliate links, which provide us with small commissions based on purchases made from visiting our site. We cover gaming news, movie reviews, wrestling and much more.