Will Smith and Suicide Squad is still one of those things I just can't reconcile in my head. I guess after seeing Smith lead and succeed in every type of Hollywood picture imaginable, it's odd to see him in the kind of ensemble blockbusters he first found film fame with.
Suicide Squad features a predominantly youthful cast, and none of them are people who could headline a major film on their own. Watching Smith play with the team in the Suicide Squad trailers, it's not unreasonable to imagine Smith is in some sort of transitional period. His movies are no longer guaranteed to dominate the weekend. Even his runs at Oscar success have been met with a certain amount of indifference. To be sure, Smith is still turning in largely good performances. Yet at the same time, it would seem as though the spark isn't there. It's difficult to say if he has become complacent, or if he's simply in a holding pattern, waiting for something to come along that challenges and interests him.
You almost wonder if the universe is punishing him for turning down Django Unchained
. Or if Smith is perhaps just the collateral damage from the shifting tastes of audiences. Virtually no one can carry a non-franchise spectacular in this day and age.
It's also possible that I'm speculating way too much. It's possible that absolutely nothing about Will Smith has changed. There is no holding pattern. I simply don't respond to the actor's performances as I once did.
Maybe. But as we go through this list of five best Will Smith movies, it's at least fun to speculate. For a number of reasons, his performance in Suicide Squad is something I'm really interested to see. It's up there with the quiet dread that compels me to wonder about Jared Leto's Joker.
If nothing else, it's a little wild to consider the man is forty-seven years old. It could be that after a lifetime and change of youthful energy, he is finally starting to show his age a little.
1. Independence Day (1996)
By the time Independence Day came out, Smith's star was already on the rise. What Independence Day did (besides gross over eight hundred million dollars, and pretty much make it fucking impossible to get rid of director Roland Emmerich) was simply cement Smith's superstar status.
The most interesting thing about that is that Independence Day arguably functions on two levels. Not only is it an ensemble action blockbuster with a massive cast, it's also a star vehicle for Smith. It's possible that no one except Will Smith anticipated the second of those two things. Either way, Independence Day is far more entertaining and likable than it has any right to be. It is one of the few special effects spectaculars from the era that actually lives up to its hype. There are several reasons as to why that's the case. You can't deny that Smith's brash, instantly charming hero pilot is a big part of why Independence Day remains so intensely popular, even with cynical assholes like me.
Smith's "Welcome to Earth" line is one of the most memorable in film. Smith in turn gives one of the most memorable performances in the film. The upcoming Independence Day: Resurgence sequel will probably be fine, but it's still a shame Smith won't be part of the fun. It couldn't hurt to see him return to his old stomping grounds.
2. Men in Black (1997)
Just one year later, Smith was firmly in the driver's seat for projects that proved a number of things. He could have excellent on-screen chemistry with almost anyone (he and Tommy Lee Jones represent one of the best film duos of the 90s). He could carry a movie largely on his own. He could even include a stupid rap over the end credits. It wouldn't matter. We would love him no matter what.
Men in Black isn't just good because Will Smith is in it. However, it's nearly impossible to imagine anyone else as Agent J. Men in Black finds the right balance between comedy, action, and science fiction stylings. For a big budget light show that's based on a Marvel comic that almost no one remembers, Men in Black has a surprising amount of personality and heart. Something would go horribly awry with those things for the sequel that came out a few years later. Thankfully, for now, the first movie remains pretty close to perfect. It is enormously entertaining. The momentum doesn't waver, and Smith definitely contributes something meaningful to that fact.
3. Enemy of the State (1998)
Juese Cutler of Drunk Monkeys and Cultured Vultures believes Enemy of the State to be the best performance of Will Smith's to date. It's hard to argue with that. The best movie Tony Scott ever made features a sprawling cast, and an elaborate, impressively intelligent story of government corruption, espionage, and the privacy of the individual.
Enemy of the State offers more than just a chilling indication of how vulnerable we are to people who want to take control of our private lives. It's also an enormously satisfying spiritual sequel to Francis Ford Coppola's 1974 classic The Conversation. It makes sense that both of those spy movies feature Gene Hackman in the cast. Beyond that, Smith is supposed to stand as our heroic, flawed center piece. Not only does Smith succeed in the role, but he's also extremely believable as a hero isn't quite as cocky as some of his past characters. His role here is victim of circumstance. It is only when we get close to the end of Enemy of the State that Smith takes a more proactive role against his government tormentors. It's a ferocious, perfect ending that Smith sells in spectacular fashion.
4. Bad Boys II (2003)
Calling Michael Bay's Bad Boys II a "good" movie isn't entirely accurate. If you haven't seen the movie, it's a little difficult to explain why people who hate Michael Bay still like this movie. I'm one of those individuals. I still can't really make it clear to you, unless you've seen the movie for yourself.
If you have seen Bad Boys II, then you understand what I'm rambling about. To be sure, Bad Boys II is a pretty stupid movie. Yet not only does it somehow remain fun, even as it goes so far off the rails, it's flying past Eliot, E.T., and that stupid bicycle, but it's also vastly superior to the first entry. You don't really need to see Bad Boys to appreciate Bad Boys II. Although if you're like me, it's fun to pair up two movies that somehow subvert and make violent love to the buddy cop genre in the same decadent, explosion-happy gesture.
Both Will Smith and Martin Lawrence are clearly aware of the many contradictions that run through this profoundly silly movie. Except Smith seems to do a better job at understanding the larger joke Bad Boys II is trying to express. It's rare indeed that a movie this stupid can be so enjoyable. Bay would not repeat the trick again. Neither would Will Smith or Martin Lawrence, for that matter, although Smith has come close.
5. The Pursuit of Happyness (2006)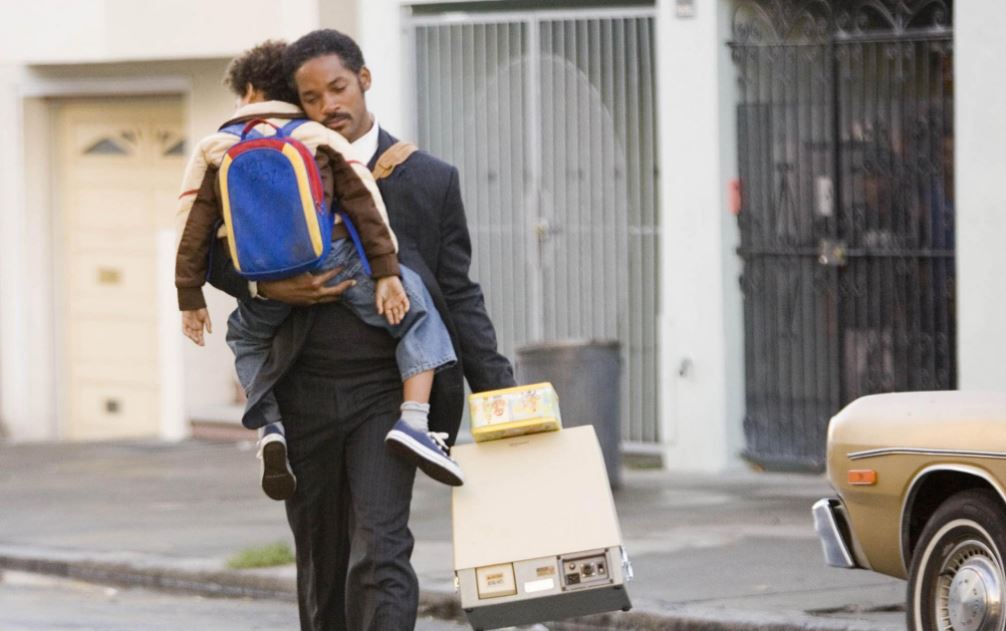 2013's father/son suckfest After Earth is indeed awful. Unfortunately, it's so fucking terrible, people have forgotten that Will Smith and his son Jaden Smith were in a really good film together some years earlier.
The Pursuit of Happyness
avoids coming off as Oscar bait for the intense, painful sincerity of Smith's performance. However you feel about the actual people and circumstances this film is based on, you can't deny that Pursuit of Happyness features the best dramatic performance Smith has given so far. Even better, the scenes in which he is struggling to be the father he knows his son deserves feature Smith and his son in exceptional form. It's easy to focus on the Jaden Smith films that haven't accomplished much of anything for anybody. That's partially because he showed such phenomenal promise with his performance here. It doesn't hurt that his father is around, but it's unfair to deny his young, pitch-perfect work as a small child trying to make sense of everything that's going on.
Pursuit of Happyness is a mildly frustrating indication of just how good Will Smith is. Some people don't feel particularly confident about his ability to craft non-hilarious accents for characters (looking at you, Concussion). However, beyond that, there doesn't seem to be very much he can't accomplish as an actor. He appears to be at home with almost every type of film imaginable. This means that eventually, he's going to find his way into something like Pursuit of Happyness once again. It might be time for Smith to just shift over to the smaller, more character-driven film. Unless he really doesn't care anymore, he's the kind of actor who can do just about anything.
Some of the coverage you find on Cultured Vultures contains affiliate links, which provide us with small commissions based on purchases made from visiting our site. We cover gaming news, movie reviews, wrestling and much more.