Like most battle royales, Rumbleverse is all about massive guns. However, the guns we're referring to in Rumbleverse are huge biceps. It's all about making them gains, bro. Instead of long-ranged weaponry, this battle royale is all about suplexes and superkicks. If you love wrestling and the battle royale formula, it might just be the new multiplayer game for you, but you might want to check out some Rumbleverse beginner's tips first.
Because Rumbleverse is a bit different from the regular battle royale games you can play, some players might need some tips and tricks in order to succeed on the streets of Grapital City. With that in mind, we've put together a collection of ten simple tips and tricks to help beginners on their path to glory within Rumbleverse.
1. The Attack Hierarchy Explained
Rumbleverse plays out like a 3D brawler/fighting game, and with that comes an attack priority system which is important to learn if you're going to succeed long term. Here's how the attack hierarchy is structured, from highest priority to lowest:
– Super
– Power
– Weapon
– Special Strike
– Basic Strike
– Special Vicious
– Basic Vicious
Typically, Vicious attacks are your grapples and throws, which will always be beaten by strikes. You might think that being low on the priority list means Vicious attacks are weaker than most, but they can be used to punish an opponent who is blocking too much, as blocking only protects from strikes, not Vicious attacks.
The Power tier is perhaps the most nebulous, but it's a priority that's only granted to three moves at the moment, two of which are universally available to all players. The first move is the dropick, which is activated by dashing and pressing the strike button. The dropkick has some pretty aggressive tracking, and its status near the top of the priority list means it's a good opening attack.
The second Power move is the spinning backfist, which is activated by pressing strike while downed on the ground. When used, the move will auto track to the nearest enemy and smack them through pretty much any attack they had planned. Ordinarily, you can't hit someone when they're fully down on the floor, so the spinning backfist is a great way to catch an overly aggressive player unawares.
2. Special Moves Are Basically Essential
Instead of finding guns and grenades in loot crates throughout the map, the main weapons you'll find are special move books. These are learnable moves that can give a lot more in the way of versatility and attack power. These moves do use stamina, so you can't just spam them forever, but they're incredibly powerful and worth seeking out. For the sake of balance, it's worth carrying one special strike and one special Vicious, just so you can be prepared for any situation.
Circling back to the Power tier of the attack hierarchy, the final move in that tier is the Omega Uppercut, an incredibly powerful strike that pretty much beats any attack in the game, aside from those in the Power tier or the Super move, which is reserved for when you activate Superstar Mode. More on that one later, but if you happen to find the Omega Uppercut while playing, it's practically an essential item to equip.
3. Dodging And Bailing Out
The best defence in Rumbleverse is to just not get hit, so with that in mind, learning about dodging and bailing out is perhaps the most important piece of information. Dodging is done by pressing both triggers together, and can be used to escape pretty much most moves if done properly, so long as you time it well. Dodging can be performed both on the ground and in the air, so if you see an attack coming, be ready to dodge.
On top of regular dodging, Rumbleverse comes with a mechanic known as Bail Out, which allows players to create some distance from their opponent. Either during a combo, or even during a missed attack, you can perform a dodge to get out of danger. Dodging a whiffed attack costs more stamina, but it can be worth it to avoid taking some serious damage. The Bail Out mechanic is particularly effective during more intense fights, where you're susceptible to being third partied by another player or duo.
4. How The Ring Works
Like all good battle royale games, Rumbleverse's match progression is governed by the steadily encroaching ring that forces players to fight instead of hiding on the outskirts of the map. In Rumbleverse, though, the ring acts a little bit differently than it does in other battle royale games, and it can be worth using that to your advantage.
Instead of taking tick damage while you're outside of the ring, you'll instead be counted down from 10, sort of like how count outs work in wrestling. If you're not back inside the ring by the end of the ten count, you're eliminated from the match, but returning to the ring won't immediately reset your ten count it seems. It will recover, but you can't just keep dipping in and out of the ring in order to survive.
Knowing that the outside of the ring doesn't deal damage means it can be used as a solid hiding space during the mid portions of the match. Running out of the ring and behind a building can sometimes be a great place to heal and catch your breath during a match, though it's wise to use this strategy sparingly. You might get counted out, or some enterprising, kill-hungry player might chase you into the storm to beat you down.
5. Storing Items For Later
The inventory system of Rumbleverse is way more simple than other battle royale games, but knowing how it works is still a core part of winning in this game. Players can pick up items like chicken, which can heal you, or energy drinks which faster stamina regeneration for a limited time. You can even find weapons like bats, planks and steel chairs. It's just like a proper wrestling game.
Players will hold these items in their hand when they're picked up, but pressing a direction on the d-pad will store that item in your inventory for use later. In order to re-equip that stored item, you just need to press the same button on the d-pad. This is essential when it comes to preparing for the late-stage phase of Rumbleverse, as you'll need all the health, stamina and weapons you can find if you're one of the last players standing.
6. Stat Boosters
Alongside the items already mentioned, players can also stumble across stat boost drinks which can give you the edge during the match. There are three stat boost drinks to find: one will increase your maximum health, one will increase your maximum stamina and the last one ups the amount of damage you deal. Each will increase these core attributes by 10% of its base level.
Far from just being a mechanic to allow players to become unreasonably strong, the stat boosting drinks have a cap: you can only hold the effects of the first ten drinks you take. This means that you'll need to make on the fly decisions regarding whether or not you drink every stat boost you see immediately, or if you decide to hold out in order to get the build that's perfect for you.
7. How Superstar Mode Works
Much like how fighting games have a comeback mechanic of sorts, Rumbleverse is no different, with its Superstar Mode proving to be a gamechanger in fights. Players build the Superstar meter by taking or dealing out damage, or by collecting blue stars that are littered around the map and found in loot crates.
Once full, players can press right trigger and B together to activate Superstar mode, which grants passive health recovery, increased damage and access to your Super Move, a short range grab that sees you throwing your opponent in the air, grabbing them and pile driving them back into the ground. Brutal stuff.
However, Superstar Mode also serves a second purpose: if you lose all your health while your Superstar Meter is full, you'll instead be revived with a fraction of your health, giving you a second chance to win you wouldn't normally have. Both functions of Superstar Mode are valuable and have their benefits, so it's about how you want to play more than anything.
8. Throw People Into Walls
When successfully hit, most attacks and combos in Rumbleverse will cause the opponent to be in a hard knockdown state, meaning it's almost impossible to deal any more damage until they stand on their own two feet. They can be hit by elbow drops, which are performed by pressing strike in mid-air, but unless you've knocked someone off a building, it's almost never worth following up with an elbow drop.
In order to deal lots of follow-up damage, the best strategy is to knock enemies into walls. Once they've been splattered onto a wall and when they're falling to the ground, you can land some follow-up strikes and even some special attacks to deal massive damage. As soon as they've hit the ground, it's back to elbow drops or resetting to neutral, but those wall splats can be the difference between an elimination or an enemy comeback.
In order to utilise wall splats, there's a few tools in your arsenal you can rely on. Most special attacks will launch enemies and will cause them to smack into a wall. The tackle in particular also propels you along with the enemy, so if you collide with a wall, you'll be close enough to hit a quick strike combo before they fall down. Another great technique is the Irish Whip, performed by hitting the Vicious button while dashing. While it's easily countered by strikes, it's a brilliant way to manipulate your opponent to go where you want them too.
9. Wake-Up Options
Being knocked onto the ground might sound like the worst place to be in Rumbleverse, but as mentioned, it's hard to deal follow-up damage on a grounded enemy, meaning you have a chance to breathe while lying down. On top of that, you've got a number of wake-up options at your disposal when grounded to ensure you can turn the tables on your opponent.
The most basic options include blocking, using a strike or using a vicious attack. Blocking will let you wake-up already protected from a striking opponent, allowing you to get a counter-attack if possible. Waking up with a strike performs a spinning backfist, which fits into the Power tier of the attack hierarchy, making it a pretty effective tool to blast through most enemy attacks. If your opponent sees it coming, they'll block instead, but using your Vicious attack lets you perform a low blow, and unblockable which stuns your opponent for an easy follow-up attack/combo.
These options are great in and of themselves, but it's the fourth wake-up option that'll separate the strong from the weak: wake-up dodging. Hitting dodge while on the ground will allow you to dodge in any direction, but you can also dodge twice before hitting strike or Vicious attack, and you'll still hit the backfist or low blow respectively. Dodging while downed is a great way to manage distance, either by putting some between you and your opponent, or by rushing them down for a devastating surprise attack.
10. The High Ground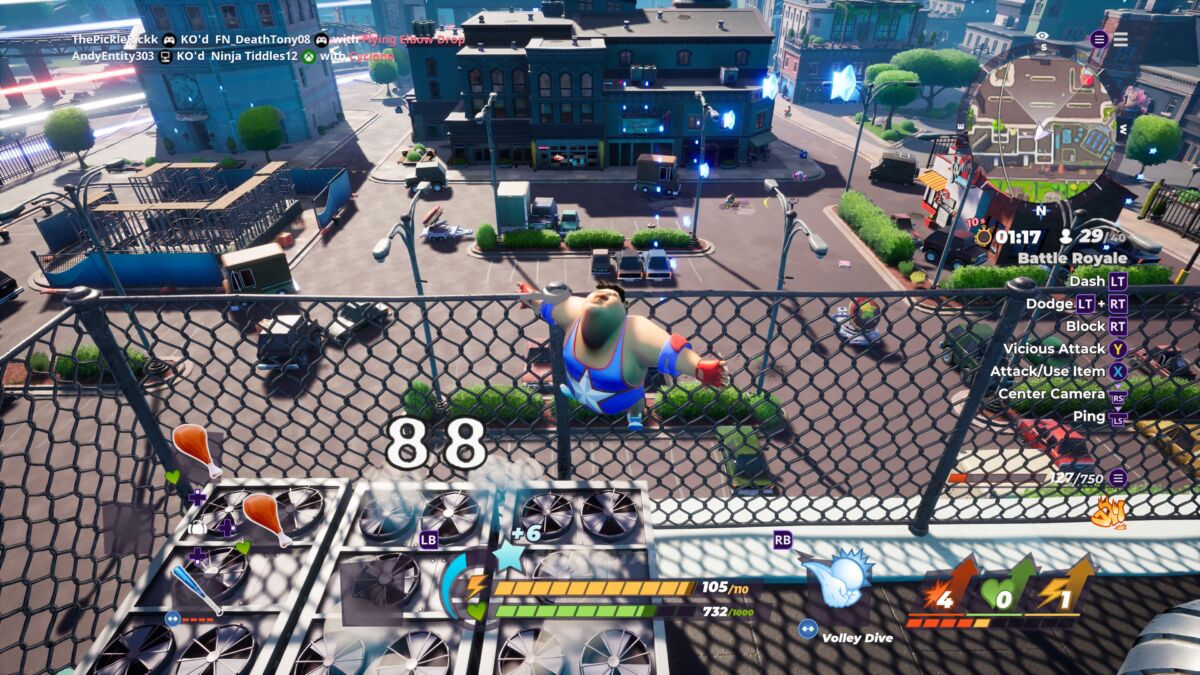 More so than any other battle royale game, verticality plays a huge factor in Rumbleverse. Players can scale any building they see, though doing so will use stamina, and retreating to rooftops can be a great way to avoid scraps, especially during the hectic later stages of a match where the ring is miniscule and there's brawling all around you.
On top of being a safe(ish) space to avoid fights, being on the high ground can be an excellent way to engage and third party some fights with some use of the elbow drop. The move has an inherent ability where it deals more damage across a wider range if you use it from a higher distance, meaning hitting an elbow drop off a skyscraper is going to have more of an impact than just jumping at ground level. If you're on top of a building and you see a fight, you should bide your time and strike at the right moment, as you might get two eliminations in one.
This elbow drop technique should also be applied to the target zones you'll find on the floor around Grapital City too. Players who elbow drop those zones will be rewarded with items, though the more powerful your elbow drop is, the better your items will be. Weak elbow drops grant low-tier stamina recovery items, while stronger elbow drops will lead to chicken, which can be used to heal you in a pinch.
Rumbleverse is currently available right now on PC, PS4, PS5, Xbox One, Xbox Series X & S and Nintendo Switch as a free-to-play game. 
READ MORE: Anarchy Reigns Walked So Modern Brawlers Could Run
Some of the coverage you find on Cultured Vultures contains affiliate links, which provide us with small commissions based on purchases made from visiting our site. We cover gaming news, movie reviews, wrestling and much more.