The Halo franchise has been an important part of the gaming world since the days of the original Xbox console. With many games spread out across almost two decades, the series has made a huge impact and its influence will only continue with the launch of Halo Infinite later this year. With its sci-fi setting, pioneering online multiplayer, and distinctive look, the Halo franchise stands out among the dark and grim first-person shooters of the modern era.
The success of the series simply cannot be denied, with so many spin-offs, novels, and merchandise based on the Halo franchise but ranking the Halo games is no easy task. There are now RTS and mobile releases alongside the mainline titles and all of them have a place, even if some are notably worse than others. Fortunately, we've ranked every single entry to see which are the best Halo games and which ones can be skipped.
Halo Games Ranked
11. Halo: Spartan Assault
Platform(s): PC, Xbox 360, Xbox One, Mobile
Release Date: July 18, 2013
Halo: Spartan Assault was the first mobile Halo game and a spin-off from the main series.
Unlike the majority of titles released in the series, this was a twin-stick shooter developed by Vanguard Games with some input from 343 Industries. Despite being initially designed for mobile devices, it managed to successfully capture the look and sound of the Halo franchise even though the gameplay was drastically different.
While the original mobile release received some praise, the subsequent port to PC and Xbox consoles was lambasted due to the lack of graphical improvement and poor performance. Simply for that reason, Spartan Assault has to be considered the worst Halo game.
10. Halo: Spartan Strike
Platform(s): PC, Mobile
Release Date: April 16, 2015
A follow-up to the twin-stick shooter Halo: Spartan Assault, 343 industries and Vanguard Games created Spartan Strike to address the criticisms of their first effort.
The gameplay was largely unchanged in Halo: Spartan Strike, but there were some notable improvements, especially in terms of mission variety and the more refined controls. The game also introduced Promethean enemies that made their debut in Halo 4, adding a wider array of enemies to tackle in the campaign.
Despite the work done to fix the problems from the first release, Spartan Strike still had a number of major issues. There was no multiplayer, a significant omission considering the history of the Halo series, and players often experienced bugs and glitches during gameplay. Ultimately, the game failed to deliver and Microsoft has since abandoned the idea of launching mobile Halo games.
9. Halo Wars 2
Platform(s): PC, Xbox One
Release Date: February 21, 2017
Halo Wars 2 was the long-awaited sequel to the RTS spin-off Halo Wars.
Set almost immediately after the story of Halo 5: Guardians, Halo Wars 2 sees players commanding UNSC forces aboard the Spirit of Fire as the ship arrives at the Ark installation. Blur Studio also contributed to the project, creating high-quality cinematics to help tell the story of Halo Wars 2.
Releasing some eight years after its predecessor, most people expected to see a whole raft of improvements and additions but that wasn't necessarily the case. It even had some new problems of its own, including issues with the AI, an unambitious campaign, and the unresolved ending to the story.
Even with help from Total War developer Creative Assembly, the game just didn't live up to what came before and was something of a disappointment considering the hype that surrounded its release.
8. Halo 5: Guardians
Platform(s): Xbox One
Release Date: October 27, 2015
Halo 5: Guardians is the most recent Halo game and also the most controversial among fans.
It was 343 Industries' second attempt since being put in charge of the series and it didn't quite live up to expectations.
This was largely a result of the fact that the story didn't just focus on Master Chief, but also on another Spartan known as Agent Locke, who was tasked with hunting down the hero after John had gone AWOL to try and find Cortana. Microsoft built this idea up in what can only be described as misleading marketing in the runup to Halo 5's release, suggesting some kind of deadly conflict between the two Spartans that simply never materialises.
Halo 5: Guardians was in no way a bad game, but it left a lot to be desired as a Halo title. Perhaps the most contentious issue was the inclusion of microtransactions to the multiplayer experience, although a lack of memorable maps was also a big issue. It wasn't all negative, though, with the game also introducing a new mode known as Warzone, a larger 24-player game type that features several objectives and AI enemies.
7. Halo 4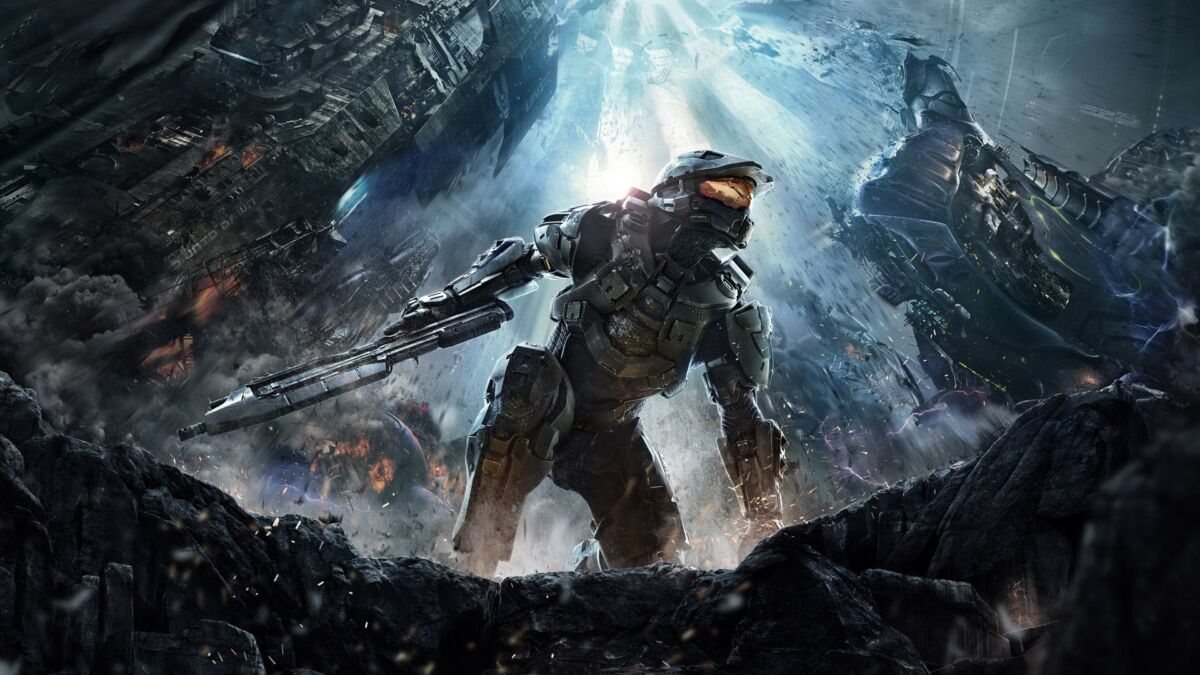 Platform(s): PC, Xbox 360, Xbox One
Release Date: November 6, 2012
Halo 4 was the first game in the main series that was developed by anyone other than Bungie.
The developer worked on several Halo titles after splitting from Microsoft, but duties were handed over to 343 Industries for what would be the start of a brand new Halo trilogy exploring the Forerunners. That meant that the story of Halo 4 is something of a departure from its predecessors, with more focus on the role that the Forerunners played in creating the Halo rings and a complete lack of the Flood threat.
While Halo 4 certainly had some good moments when it came to storytelling, the campaign itself was rather short and repetitive compared to previous Halo games and didn't have as many memorable moments that stuck in your mind. However, it did bring back some popular game modes and had a collection of solid maps for multiplayer matches. A good graphical update was also much appreciated by fans and critics alike, even if Master Chief's new armor was a point of contention for some.
6. Halo Wars
Platform(s): PC, Xbox 360
Release Date: February 26, 2009
Halo actually began life as a real-time strategy game so it makes sense that, at some point, the series would return to its roots. Even though Bungie was less than impressed with the fact that other developers were given licence to work on its franchise, Microsoft pushed ahead with Ensemble Studios to create the first Halo RTS title.
Developed specifically for the Xbox 360, Halo Wars had to address the problems that the genre had when ported to consoles, especially in terms of controlling the action using a gamepad. Ensemble did this by streamlining the gameplay, making it far more accessible to those not particularly familiar with the complex and fast-paced nature of most RTS titles.
With some great cutscenes, a fun campaign, and a good variety of game modes, Halo Wars ended up being a decent entry in the franchise, even if it didn't appeal to quite as many people as the mainline series.
5. Halo 3: ODST
Platform(s): PC, Xbox 360
Release Date: September 22, 2009
Originally starting life as Halo: Recon, this 2009 release was a very different type of Halo game, with the protagonist being a normal human soldier rather than the augmented Master Chief.
Halo 3: ODST took place in New Mombasa just after the Covenant invasion of Earth at the start of Halo 2. Taking on the role of Rookie, the player has to explore New Mombasa, with its open-world hub setting, that's still under Covenant occupation and discover what happened to each member of their team following a massive shockwave that hit the city.
Along with the change in the protagonist, Halo 3: ODST also had a drastic shift in tone and atmosphere, with the visuals taking a distinctive film noir appearance. The musical score abandoned the familiar Halo themes, replacing them with a jazz-inspired soundtrack that gave the in-game world a sense of foreboding. All of this made for a unique experience that told a more personal and emotional story than had previously been possible. Add in the supremely fun Firefight mode that made its debut in Halo 3: ODST and the game is a must-play for any fan of the series.
4. Halo: Combat Evolved
Platform(s): PC, Xbox
Release Date: November 15, 2001
Halo: CE is where it all began for the Halo series, way back in 2001.
What started life as a real-time strategy game eventually became the sci-fi shooter that impressed Microsoft so much that the company acquired Bungie and made the game its flagship title for the new Xbox console. That decision was proved to be the right one, with Halo: CE going on to sell more than six million copies and establishing the Xbox in the competitive console market.
Critics hailed the game as one of the best shooters ever made, with particular praise coming for the game's campaign and its polished multiplayer experience. With balanced weapons, a great selection of vehicles, and a distinctive story, Halo: CE stood out among a crowded FPS market. The one downfall, at the time, was the lack of Xbox Live functionality, forcing players to stick with local split-screen multiplayer, but even this wasn't a huge drawback for what became an incredibly popular game for LAN parties.
3. Halo: Reach
Platform(s): PC, Xbox 360
Release Date: September 14, 2010
Halo: Reach is another departure to the Halo formula, although in a far less dramatic way than Halo 3: ODST.
Reach was a prequel, telling the story of the downfall of the planet Reach directly before the events of Halo: CE. Players take on the role of the latest addition to Noble Team, a group of Spartans who lead a last-ditch attempt to save the planet from destruction and allow the Pillar of Autumn to escape from the invasion.
The game was widely praised for its character development and storytelling, especially when compared to other Halo games. But Halo: Reach really stood out thanks to the extensive multiplayer options that were available, bringing everything that had been successful in previous games and adding a whole host of new modes and features. Popular game types like Firefight returned alongside the Forge creator, with Bungie also expanding the multiplayer offerings with Invasion and Generator Defense, two modes that pitted Spartan and Elite teams against each other.
2. Halo 3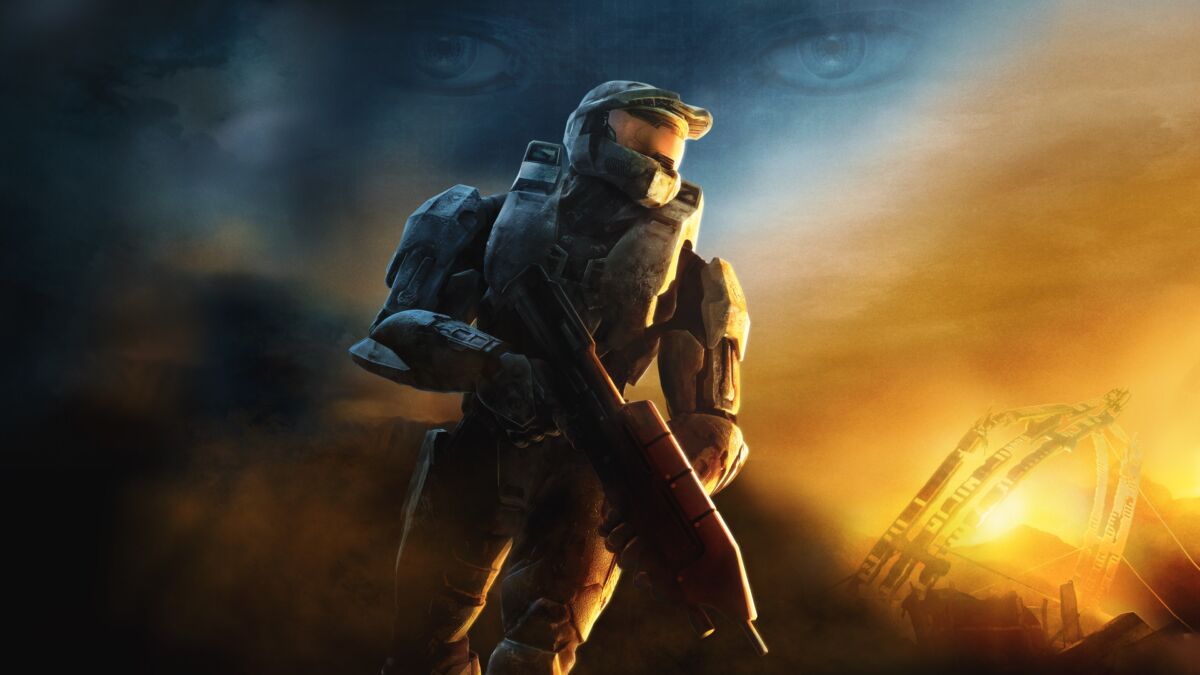 Platform(s): PC, Xbox 360
Release Date: September 25, 2007
Following the success of Halo: CE and Halo 2, Microsoft and Bungie were both determined to end the trilogy on a high.
Few could argue with the results, as Halo 3 became one of the most popular and highly acclaimed shooters of its era. In many ways, the sequel was an evolution of everything that had come before it, bringing the best elements from its predecessors and improving upon them. The developers also managed to conclude the narrative in a satisfying way, something that many series have struggled to do.
But Halo 3 was not just about refining the gameplay and features of the franchise — it also brought with it a series of completely new additions that helped set a new standard for console shooters. These included the Replay mode and Forge, a creator that allowed players to design and build their own maps. Another major plus for Halo 3 was the extensive collection of DLC maps that were released, keeping the multiplayer fresh and ensuring that there were plenty of fan favourites included.
1. Halo 2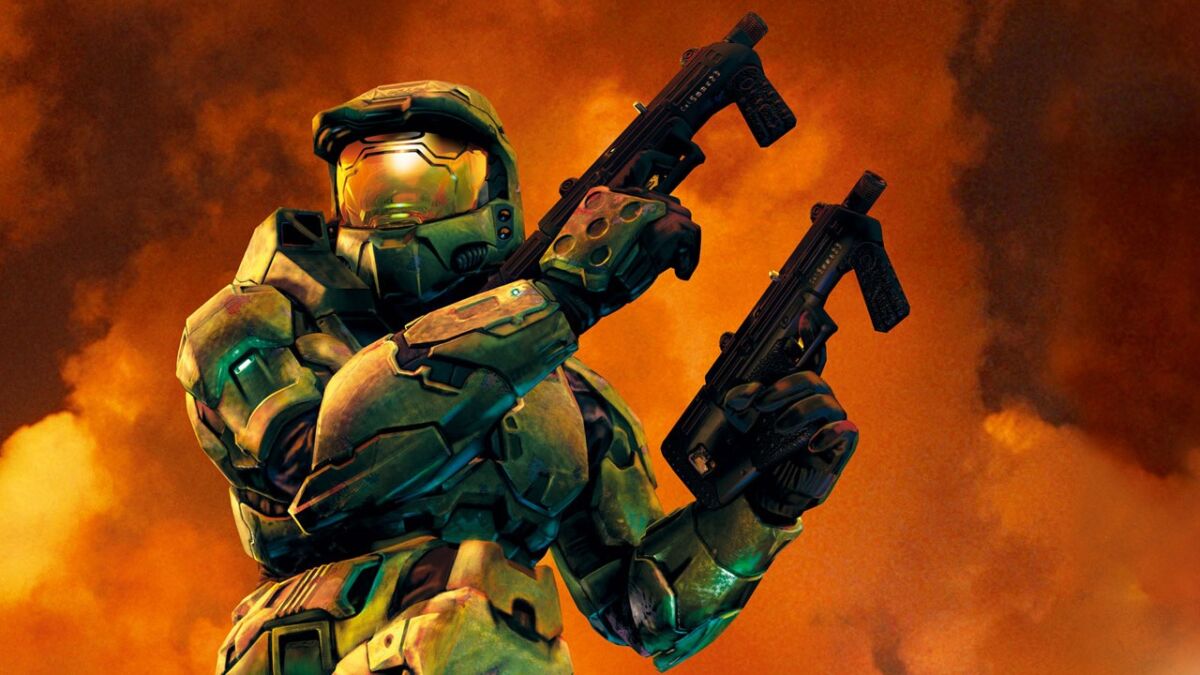 Platform(s): PC, Xbox, Xbox 360
Release Date: November 9, 2004
Halo 2 was arguably one of the most anticipated games of all time ahead of its release in 2004.
Following the huge success of Halo: CE, it quickly became clear that a sequel would release and Bungie set about work also immediately. However, the game had a troubled development, with months of work scrapped and production starting over as various game modes and features were dropped.
All of that didn't stop Halo 2 from being one of the most successful games of all time, selling millions of copies. Not only was the sequel a huge improvement over Halo: CE in terms of its looks, but it also came with a host of gameplay improvements, such as the ability to dual wield weapons. Yet, the most praise came for the game's multiplayer, which paved the way for not just Xbox Live, but all online multiplayer on consoles, with matchmaking, clans, and game lobbies for players.
Few games have had as big an impact on the gaming world as Halo 2, which is why it deserves to be called the best Halo game ever.
READ NEXT: Halo Infinite: The Story So Far
Some of the coverage you find on Cultured Vultures contains affiliate links, which provide us with small commissions based on purchases made from visiting our site. We cover gaming news, movie reviews, wrestling and much more.