After two decades, One Piece continues to be a powerhouse in the anime industry. With over 1000 episodes broadcasted, it's considered to be one of the longest anime ever. Furthermore, the manga just crossed 500 million copies sold worldwide, setting a Guinness World Record for author Eiichiro Oda. There's no questioning One Piece's success, given its several achievements, meticulous storytelling, and the evolution of its animation. However, getting into an anime this long could be intimidating — so you might need a One Piece watch order.
Even though One Piece has told multiple story arcs, it revolves around one goal: Monkey D. Luffy's quest to become King of the Pirates. To achieve his goal, Luffy has to find the treasure left behind by the previous pirate king — the One Piece. Over time, Luffy gathers reliable crewmates, forming his own pirate crew called the Straw Hats. Together with his crew, they venture off to the Grand Line as they try to find the One Piece.
Watching the Straw Hats' adventures will give you an action-packed and emotional experience. If you want to join them in their journey, here's the recommended watch order for One Piece.
One Piece Watch Order
Recommended One Piece Watch Order & Relevant Arcs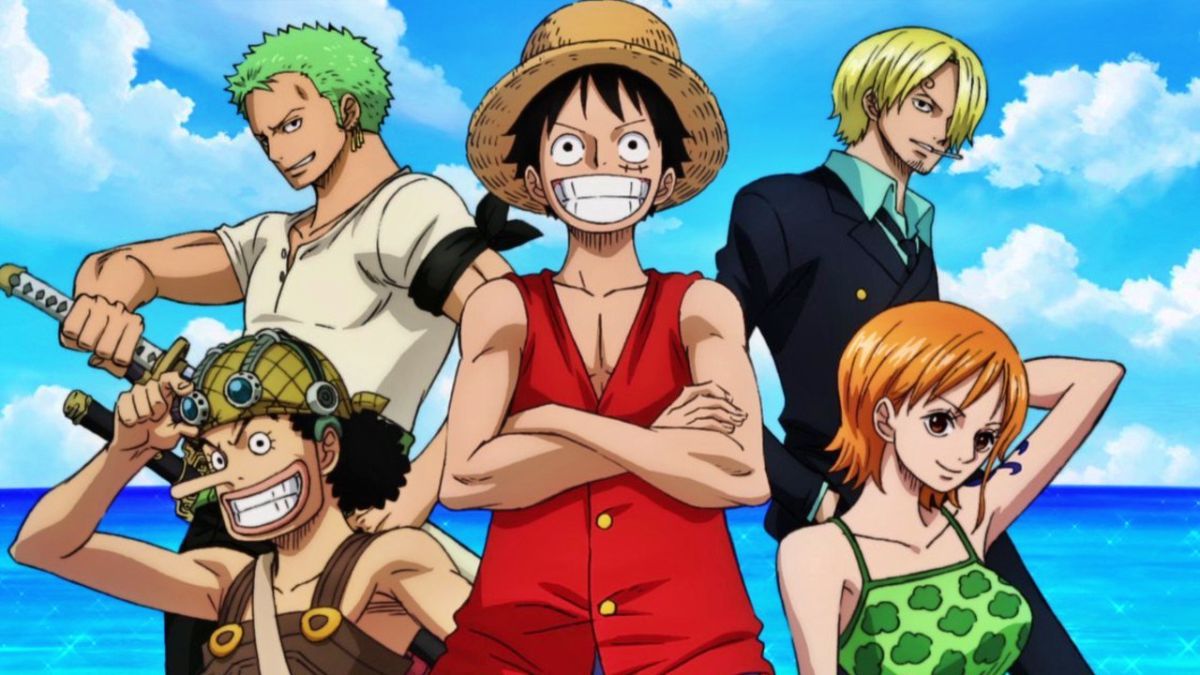 Since One Piece has a lot of episodes, you might consider skipping some of them. If you just want to watch the canon and relevant episodes, then here's the order you should watch One Piece.
– One Piece: Season 1 (Romance Dawn Arc, Orange Town Arc, Syrup Village Arc, Baratie Arc, Arlong Park Arc, Loguetown Arc, Buggy's Crew Adventure Chronicles) (Episodes 1-53, 61)
– One Piece: Season 2 (Reverse Mountain Arc, Whisky Peak Arc, Koby and Helmeppo Arc, Little Garden Arc) (Episodes 62-77)
– One Piece: Season 3 (Drum Island Arc) (Episodes 78-91)
– One Piece: Season 4 (Alabasta Arc) (Episodes 92-97, 100-101, 103-130)
– One Piece: Season 6 (Jaya Arc, Skypiea Arc) (Episodes 144-195)
– One Piece: Season 7 (Long Ring Long Island Arc) (Episodes 207-219, 227-228)
– One Piece: Season 8 (Water Seven Arc) (Episodes 229-263)
– One Piece: Season 9 (Enies Lobby Arc, Post-Enies Lobby Arc) (Episodes 264-278, 284-290, 293-302, 304-316, 320-325)
– One Piece: Season 10 (Thriller Bark Arc) (Episodes 337-381)
– One Piece: Season 11 (Sabaody Archipelago Arc) (Episodes 385-405)
– One Piece: Season 12 (Amazon Lily Arc) (Episodes 408-421)
– One Piece: Season 13 (Impel Down Arc) (Episodes 422-425, 430-456)
– One Piece: Season 14 (Marineford Arc, Post-War Arc) (Episodes 459-491, 493-516)
– One Piece: Season 15 (Return to Sabaody Arc, Fish-Man Island Arc) (Episodes 517-541, 543-574)
– One Piece: Season 16 (Punk Hazard Arc) (Episodes 579-589, 591-625)
– One Piece: Season 17 (Dressrosa Arc) (Episodes 629-746)
– One Piece: Season 18 (Zou Arc) (Episodes 751-779)
– One Piece: Season 19 (Whole Cake Island Arc, Reverie Arc) (Episodes 783-891)
– One Piece: Season 20 (Wano Country Arc) (Episodes 892-894, 897-906, 908-1028)
One Piece released most of its episodes in chronological order. However, the anime still manages to squeeze in a few filler episodes in between arcs. You might even notice that the watch order skipped Season 5 entirely. That's because the whole season was irrelevant and had no bearing on the overall story. The same can be said for the other episodes that were skipped. Some of them interrupt the momentum of certain arcs, taking you out of the moment. But some fillers were still enjoyable and were aired in continuity.
Should You Watch The One Piece Filler Arcs?
The fillers in One Piece might not affect the story as much, but they are still entertaining. If you want to watch One Piece with fillers, then you can start watching chronologically from the beginning.
It's up to you if you want to watch them or not. However, fans all over the world say that some filler arcs should be watched no matter what. A prime example is the G-8 Arc. It shows the Straw Hats trying to escape a marine base after the Skypiea Arc. This arc gave fans a memorable experience as it told an exciting story and became the origin of many memes.
The anime also releases filler episodes connected to their films. Arcs such as Little East Blue led to the events of the movie One Piece Film: Strong World. The Cidre Guild Arc also served as a prologue for One Piece: Stampede. Furthermore, the episodes regarding Uta's past directly tie into One Piece Film: Red. So if you plan to watch any of the movies, check if the anime released special episodes related to it.
One Piece Movies Watch Order
The movies weren't included in the recommended watch order since they don't belong in the anime's original continuity. Unlike other anime like Demon Slayer, which released a canon film, One Piece movies have their own original stories that take place outside of the anime's main storyline.
If you're interested in seeing more One Piece action, here's how you should watch the movies.
– One Piece: The Movie
– Clockwork Island Adventure
– Chopper's Kingdom on the Island of Strange Animals
– One Piece The Movie: Dead End Adventure
– One Piece: The Cursed Holy Sword
– Baron Omatsuri and the Secret Island
– One Piece The Movie: The Giant Mechanical Soldier of Karakuri Castle
– One Piece The Movie: Episode of Alabasta: The Desert Princess and the Pirates
– Episode of Chopper Plus: Bloom in Winter, Miracle Sakura
– One Piece Film: Strong World
– One Piece 3D: Straw Hat Chase
– One Piece Film: Z
– One Piece Film: Gold
– One Piece: Stampede
– One Piece Film: Red
Even though the One Piece movies are non-canon, they're a nice break from the main story. They give us fresh new adventures with the Straw Hats, new villains, and other fan-favorite characters. Furthermore, One Piece Film: Red was just released recently, so this is your chance to watch a One Piece movie on the big screen.
One Piece OVA Watch Order
One Piece also has its fair share of OVA episodes. Some of them don't quite fit in with the story, but they still have their own charm.
Defeat Him! The Pirate Ganzack is the first ever animated adaptation of One Piece. It was released before Toei Animation aired the anime. Because of that, the animation and voice actors are completely different. Furthermore, this OVA only featured the first 3 Straw Hats — Luffy, Zoro, and Nami. The story revolves around Luffy and Zoro fighting against the evil pirate Ganzack to try and save Nami. Even though this OVA wasn't adapted from the manga, it fits the timeline between the Orange Town Arc and Syrup Village Arc.
The second OVA, Romance Dawn Story, remade the events of Romance Dawn. This OVA occurred after the Thriller Bark Arc and before the Sabaody Arc. In the original story, Romance Dawn only featured Luffy. This time around, all 9 members make an appearance.
And finally, One Piece Film Strong World Episode: 0 gave life to Chapter 0 of the manga. It showed us the events that happened 20 years before Luffy began his journey. The OVA focuses mainly on Golden Lion Shiki, but it also shows the world during the execution of Gol D. Roger.
Where To Watch One Piece Online
You may rent One Piece and its movies using Amazon Prime, and you can also stream it on the following streaming services:
– One Piece: Season 1-4 is available on Crunchyroll, Funimation, Hulu, and Netflix.
– One Piece: Season 5-11 can be watched on Crunchyroll, Funimation, and Hulu.
– One Piece: Season 12-20 are all available on Crunchyroll and Funimation.
– All One Piece movies are available on Japanese Netflix, so you'll need a VPN
Where will you begin your One Piece watch through?
READ NEXT: How To Watch Demon Slayer In Order (Timelines & Arcs)
Some of the coverage you find on Cultured Vultures contains affiliate links, which provide us with small commissions based on purchases made from visiting our site. We cover gaming news, movie reviews, wrestling and much more.