The karting genre has always been clearly dominated by the likes of Mario Kart, and while many other series have tried to compete, they've always come a measly second place at best. When the original Nickelodeon Kart Racers released in 2018, it didn't even make it to the podium, as a small roster of characters matched with a lack of voice acting were its downfalls. Two years later, we now have Nickelodeon Kart Racers 2: Grand Prix, and while this sequel may have improved on the original, the voice acting is, annoyingly, still absent.
The limited roster of the first game has now been bumped up, from 12 to 30, and includes a wider variety of characters from different shows. While still keeping classic racers like Spongebob, Patrick, Tommy, The TMNT and Hey Arnold, they are also joined by Danny Phantom, Invader Zim, Rocko, CatDog and Avatar, to name but a few of them. This bigger group of characters makes the game more widely appealing to Nickelodeon fans, and locking characters behind Grand Prix wins and Challenge competitions gives you an incentive to play more. If you're simply looking for fun, there's also the standard free race option, as well as an Arena mode which adds battling chaos into the mix.
The racing itself is a smooth and enjoyable experience, with each character handling slightly differently. Mirroring typical karting stats, the characters will have their strengths in either speed, turbo, steering or drift, and you'll soon find you have a character preference. Being also able to change your vehicle's tyres, engine and exhaust pipe makes Kart Racers 2 feel like a more authentic karting experience as well, and challenges you to find the perfect combination in order to win.
With eight Grand Prix, each containing four races, as well as three different difficulty levels, there's actually a good amount of content in Nickelodeon Kart Racers 2: Grand Prix that will keep you happily racing for a few hours. On top of the Grand Prix, there are also time trials and challenges for you to compete in, some of which will unlock racers for your roster, giving you the perfect reason to go and complete them.
The time trials are self explanatory, but the challenges vary from finishing a race without getting hit or taking out targets to winning a race where everyone is Squidward; you'll be tackling all sorts of things here. There is a degree of difficulty with some of these time trials and challenges as well, which is nice to see in this style of game where the rewards are sometimes simply handed to you.
When you compare Nick Kart Racers 2 to the original, it's clear to see the upgrade. Visually, the game has a much cleaner finish, while still keeping to the expected cartoony look which is perfect for the karting genre. Bright colours on interesting tracks make many of the courses fun to play through, and as with most racing games, there's shortcuts to be found if you want to go looking for them. The tracks may not mean much to you unless you're a hardcore fan of some of the shows involved, but they are still fun to race on nontheless.
As is standard in the karting genre as well, there's boost pads you'll be wanting to take advantage of, and a small selection of power ups that can be your best friend or your worst nightmare. The items are a nice nod to the Nickelodeon shows, while still being useful and typical of the karting genre, with a jellyfish that attacks the player in the first position, a rugby ball that will hone in on the player ahead of you and an Avatar style elemental attack to destroy anything in the close vicinity, be it another racer or incoming projectile. A greater choice of these power ups would have made things more chaotic, and hence more fun, because when you're at the front leading the race, you'll still be left picking up fairly useless items.
Nick Kart Racers 2 has also found a good way of incorporating more characters into the game, while also improving on the driving system in the game. As well as picking a character to race as, you now also need to pick a Chief, a Crew Engineer and a Crew Mechanic. You'll start off with a handful to pick from, unlocking lots more as you complete races and challenges. While these extra characters make minimal appearances in the actual races, the bonuses and extras that they add to your car during the race can be the difference between first and second place.
Crew Engineers and Mechanics are secondary powers that are used automatically, such as when you get hit or collect a power up, and range from giving you a boost when collecting an item, allowing you to ignore terrain changes or giving you certain items, so are definitely handy. Your Chief, though, is probably more helpful, with a bonus you can activate when you fill your slime bar. The use of slime has also been improved from the first game, and now has more of an impact when you collect it by allowing you to use your Chief's skill. These, again, vary wildly, from getting a huge boost, to slowing down enemies around you or allowing you to deflect incoming projectiles. Adding these extras in makes it feel more like a kart racing game, and as such makes the racing a more enjoyable and fun experience.
Nickelodeon Kart Racers 2: Grand Prix is also a great game to pick up and play with friends, and due to having both local and online multiplayer, you can play with friends both near and far. The split screen can be played with up to four players, which makes for a bit of chaos, but is definitely fun to do and the variety in both characters and tracks adds to this. Online racing is done by a matchmaking system in which you'll be paired with other players, or you can pick to search for friends, but unfortunately this wasn't live yet when the review was written. Whatever way you choose to race, there's fun to be had here either with friends or on your own.
Where the game still fails though, like the original, is the lack of voice acting, and this is such a shame. While an upbeat and catchy soundtrack will keep you company while driving, the lack of voices is really noticeable and tarnishes the whole experience. Anything as simple as an exclamation when getting hit or short catchphrases when overtaking another player would really add to the Nickelodeon experience. Without the voices, it does sort of feel like you could be driving round the track as anyone. It's unfortunate Bamtang Games didn't take note of this criticism from the previous game, because lots of other aspects have been improved upon.
While Nickelodeon Kart Racers 2: Grand Prix may not be at the level of previous kart racing games, it's definitely a big improvement upon its predecessor. The racing itself, as well as the choice in characters, have both been upgraded and make the sequel more appealing to a wider audience. Sadly, the lack of voice acting is its downfall, and makes what should be a good racing game only average at best.
A code was provided by PR for the purposes of review. 
Some of the coverage you find on Cultured Vultures contains affiliate links, which provide us with small commissions based on purchases made from visiting our site. We cover gaming news, movie reviews, wrestling and much more.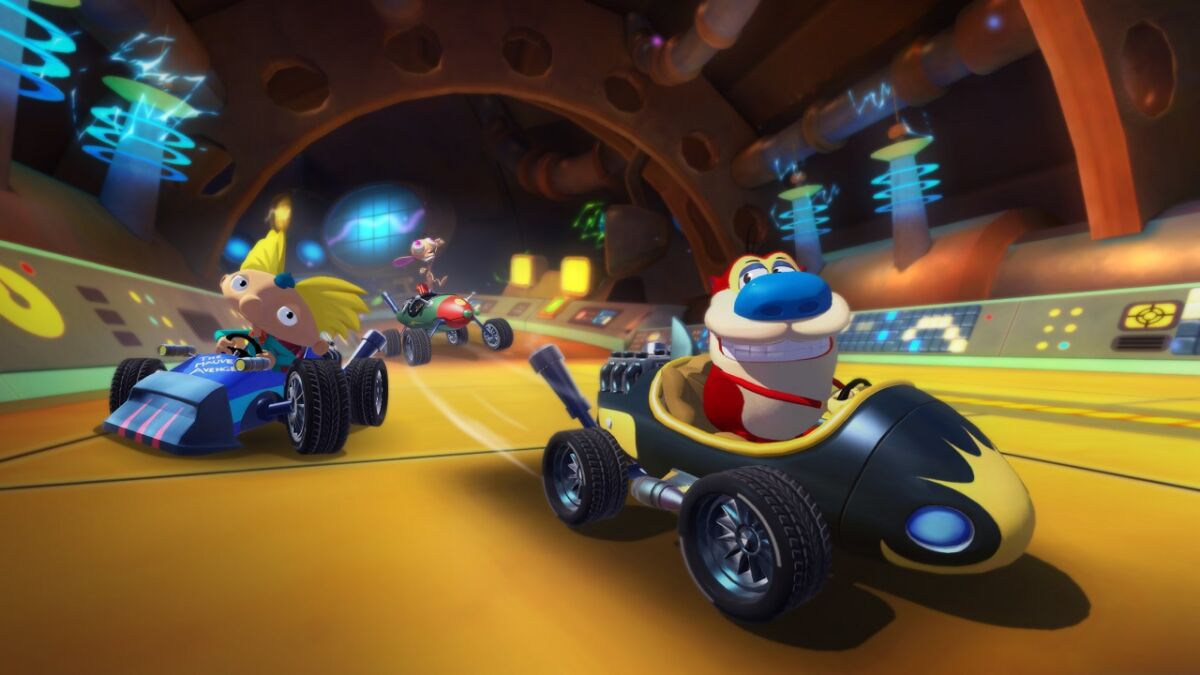 Verdict
While Nickelodeon Kart Racers 2: Grand Prix is a much improved and enjoyable sequel, the lack of voice acting stops the game from feeling like an authentic Nickelodeon experience.