Nobody expected Epic Games to willingly shut down Fortnite back in October 2019, even fewer could've anticipated that they would relaunch it as basically a new game. Fortnite: Chapter 2 was Fortnite 2 in all but name, with the game being a drastically different experience. From the new map to the visuals to the bigger emphasis on doing more than just shooting people, Fortnite: Chapter 2 made waves. But Chapter 3 is now right around the corner.
It's been two years since the grand overhaul and Chapter 2 has already surpassed Chapter 1 in terms of length, even though it has only seen eight seasons so far compared to the ten of Chapter 1. Chapter 2 has been polarising, to say the least, with its excessively long seasons, increasingly high skill gap, and major Chapter 1 nostalgia contributing towards many believing Fortnite to be a dying game. For some, Fortnite: Chapter 3 cannot come soon enough.
Here's everything you should know about Fortnite: Chapter 3, as well as the end of Chapter 2.
What's Going On With Fortnite: Chapter 3?
It's been confirmed that Chapter 3 will directly follow Season 8 by Epic themselves, but there was there was previously a lot of speculation that Fortnite: Chapter 3 would be arriving a lot sooner than expected, with Epic dropping the 10-season format and pressing fast-forward on Chapter 2.
The common belief was that the current chapter, Fortnite: Chapter 2 – Season 8 (also known as Cubed), would be the last season in Chapter 2. Season 8 was due to end on Sunday, December 5th, 2021, which feels like a random day to finish the season on. However, remember that Chapter 1 also ended on a Sunday, with the game going into a black hole for 36 hours before re-emerging as Chapter 2.
A few content creators seem to be in the know on all things Chapter 3, with popular streamer and YouTuber SypherPK claiming that he's heard and seen things which suggest that Season 8 of Fortnite: Chapter 2 will be the last one in the chapter.
He doesn't divulge any specifics in a video titled 'Fortnite Chapter 3 is SOON!', just that he's been told that Season 8 will draw Chapter 2 to a close and that he's pretty much staking his reputation on it. Sypher is as much a brand as he is a creator, so he wouldn't make these claims lightly unless he was certain.
He ends the video repeating the same phrase that Tabor Hill, another Fortnite content creator who has insider information, did in a video called 'Chapter 3 May Be Closer Than You Think…'.
As the creators explain, there are many hints abound over Season 8 bringing Chapter 2 to an end, including in the season's cosmetics, mainly for Cube Queen.
There's her Cube Vortex Back Bling, which warns about time running out.
And also her Reality Render pickaxe, which suggests that the Island's reality will soon be ending.
Perhaps less convincingly, there's also an emote called Page-Turner that's description mentions nearly being at the end of a chapter.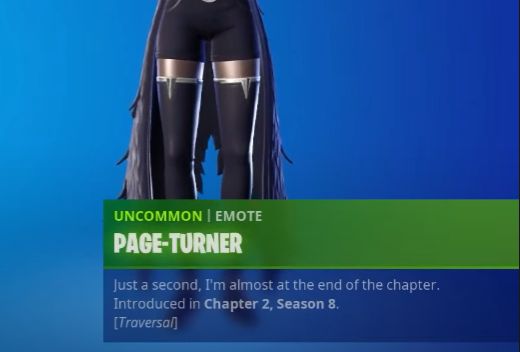 However, Chief Creative Officer at Epic Games and Fortnite narrative head honcho Donald Mustard seems to be the one dropping the biggest hints about Chapter 3 being very soon.
First, there's this tweet he posted near the end of Season 7 in which he says he's looking forward to Season 8 "and the two after it".
I'm ultra biased.

But. I've been SO excited about getting to CH2 S7 for like… a long time. I hope you loved it.

CH2 S8 and the two after it are maybe my very favorite parts.

Well, until that one thing. I can't decide. I love it all. Can't wait for you to experience all of it! pic.twitter.com/g9sV1rFbNM

— Donald Mustard (@DonaldMustard) September 12, 2021
It's strange that he wouldn't just write Season 9 and Season 10 in the tweet, presumably as a way of planting the seeds early for a somewhat surprising transition to Chapter 3.
There's also this tweet from around Fortnitemares in which he says that "Only Nothing will remain."
Only Nothing will remain. https://t.co/4JXeotw4kX

— Donald Mustard (@DonaldMustard) October 19, 2021
The Nothing was most notably referenced during The End event, and seems to be referring to the limbo seen at the end of Chapter 1 during the black hole when the Zero Point was regenerating. It's no coincidence that Mustard is mentioning that again.
Here's the biggest hint yet from Mustard: he's changed his banner to the Zero Point and his bio to Reality Zero.
NEW DONALD MUSTARD BANNER!!

And the bio is "Reality Zero" pic.twitter.com/E05CCnDTTU

— HYPEX (@HYPEX) November 3, 2021
And then, a day later on November 4th, Mark Rein, Vice President and Co-Founder of Epic Games, told a fan that "time will tell" if Chapter 3 would be replacing Season 9.
Time will tell. https://t.co/tJSYcyF3cf

— Mark Rein (@MarkRein) November 4, 2021
Later, with the launch of v18.40, several event tags revealed that the finale for Season 8 would be called The End, just like the Chapter 1 equivalent and that the game would go into downtime for significant time afterwards.
Finally, as if to put an end to any doubt whatsoever, HYPEX confirmed that Chapter 3 is indeed happening instead of Season 9 and will start on December 7th, 2021. There will be a black hole of sorts from December 4th-6th where the game is offline.
Now that "The End" playlist got leaked I can finally talk about this: Chapter 3 is planned to launch on December 7th (It's SOO good btw) and the Blackhole stays during 5th-6th.

These sources were NEVER wrong about many things, if they're wrong this time I'll take the blame lol.

— HYPEX (@HYPEX) November 16, 2021
We now also have a Loading Screen that shows the Season 2 Finale, with the residents of the island gearing up to face the Cube Queen in one last showdown.
On November 24th, Epic finally confirmed that Chapter 3 would be the next season of Fortnite, and that Season 8 would draw to a close one day earlier on Saturday, December 4th, 2021 at 4 PM ET/9PM GMT with the Chapter 2 Finale event. In the event, players will be taking on the Cube Queen in one big battle that they will presumably lose, with the game going into a downtime as a result.
Chapter 3 is happening, and sooner rather than later. Check out fn.gg/TheEnd for all the details on the close of Chapter 2.
Why Is Fortnite: Chapter 2 Finishing Early?
The reasoning behind there being no Season 9 or X in Chapter 2 seems to be that the chapter has already gone on long enough thanks to considerable delays in the early seasons of the chapter. If there was to be another two seasons in Chapter 2 after Season 8, Chapter 2 would end up being close to 1000 days long.
Season 1 of Chapter 2 remains the longest season in Fortnite history at an eye-watering 128 days. There are quite a lot of seasons that have broached the 100+ day mark in Chapter 2, leading to some players getting bored long before a season's over.
There's also the fact that we seem to be at Season X right now in Chapter 2 in all but name. Chapter 2 has followed some of the same beats and structure as Chapter 1 (loot pool, superheroes, map events) and Season 8 seems to be combining the voting of Chapter 1 – Season 8, the turbine movement of Chapter 1 – Season 9, and the mechs of Chapter 1 – Season X. It's very hard to look at Chapter 2 – Season 8 and not see it as a conclusion to the chapter.
Here's hoping Chapter 3 keeps much more to the schedule and content routine of the later seasons of Chapter 2 than how it began.
How Will Fortnite: Chapter 2 End?
It stands to reason that The Cube Queen, the big bad of Season 8 and the leader of The Last Reality, will have some huge impact on Fortnite as a whole. While she didn't seem to do anything at all during Fortnitemares, she is currently suspended above the middle of the map in a similar vein to the Ice King from Chapter 1.
As of this writing, The Cube Queen is actually changing the middle of the map, The Convergence changing into a pyramid as we near the end of Season 8.
There will be an event to close out Season 8 (and the chapter) that will either be an interactive experience in which players do battle with the Cube Queen or watch on hopelessly as she wreaks havoc.
If Chapter 3 will be refreshing things like Chapter 2 did, there can only be one winner, especially when going up against someone whose sole mission is to destroy all Realities. Just in terms of sheer narrative weight, how do you top that if it isn't the finale for a chapter? Watch this space.
What To Expect From Fortnite: Chapter 3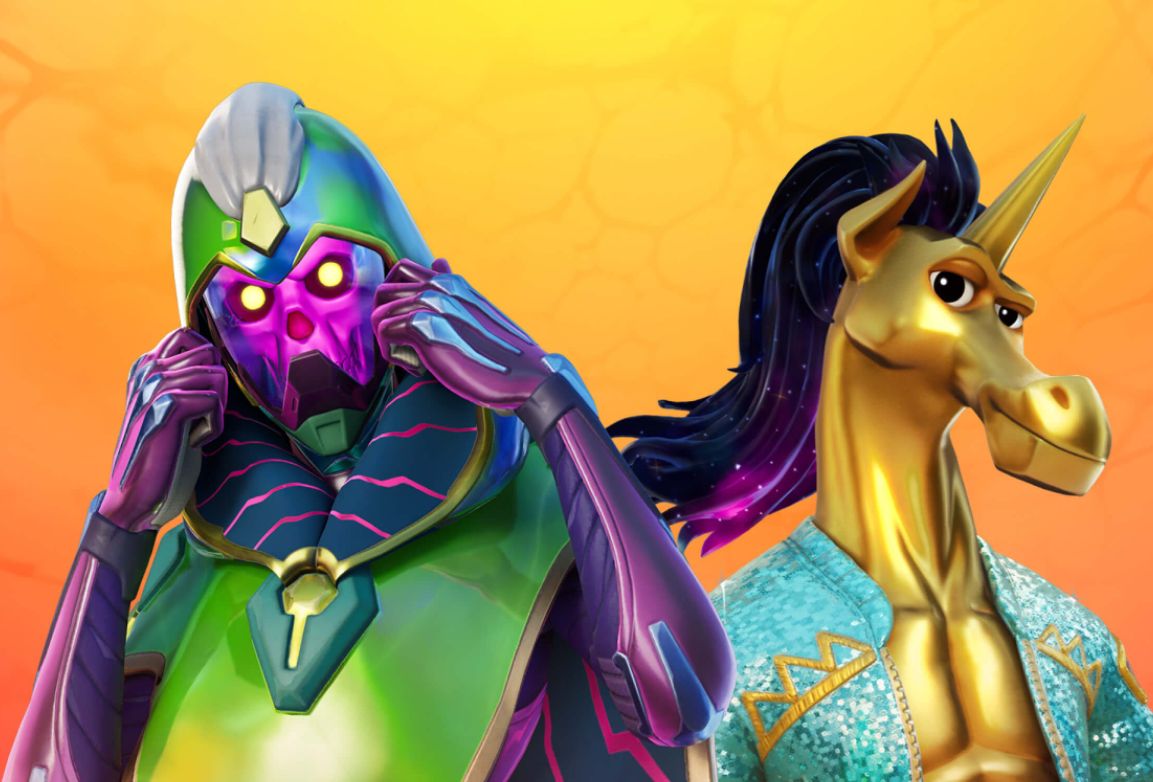 There's lots of things to expect from Fortnite: Chapter 3, but the most immediate change should be in how it utilises Unreal Engine 5, with the game currently on Unreal Engine 4.
UE5 is Epic's biggest, most ambitious engine to date and will be powering countless games this generation. Having it front and center in Fortnite will show off exactly what it's capable of to prospective developers, and will also allow for even more creativity within Creative. It's Epic's end goal to have players create their own games within the mode.
While it was speculated that UE5 wouldn't arrive in Fortnite until 2022, it will be pretty close to 2022 by the time Chapter 3 rolls around, presumably this December.
There are also some leaked features that seem like they've been held back for the new chapter, the kind of fundamental gameplay changes that made Chapter 2 feel so fresh to start with.
Sliding seems to be one of them, likely inspired by Apex Legends and Call of Duty.
Here's a better look at the upcoming sliding mechanic (thanks to @gameshed_ for getting me the image). Here's what we know so far:

– You can shoot while sliding
– Surface angle & type will affect the speed
– 2 Seconds delay between each slide
– FOV increases by 15 when sliding pic.twitter.com/m0INhE322r

— HYPEX (@HYPEX) September 29, 2021
Then there's weapon attachments, which have been in the works for well over a year. We expected to see these around the same time that vehicles got attachments, but that never came to pass.
We might get a new weapons mechanic at some point, epic started testing a new thing called "Weapon Mod Slots" lately and it seems like it gives the weapon abilities/attachements.

— HYPEX (@HYPEX) December 27, 2020
Whatever happens in Chapter 3, it's a safe bet that Fortnite will never quite be the same again.
Fortnite Chapter 3 Map
A supposed map design for Chapter 3 has already been leaked on Reddit that's based on what someone who claims to be in the know, but it's almost impossible to verify. While the Chapter 2 map did leak a long time before it came out, it looked a lot more like a conventional Fortnite map than what this new map is.
That said, Epic have shown that they aren't willing to let Fortnite be the same and even what we expect from Fortnite to become predictable, so a more outlandish map like the one above might not be out of the question.
Based on Chapter 2, though, it's fair expect that some classic POIs will still stay around for Chapter 3, with many expecting a clash of Chapter 1 and 2 locations and a smattering of new spots.
Fortnite is free-to-play on PC via the Epic Games Store, PlayStation 5, PlayStation 4, Xbox Series X | S, Xbox One, Nintendo Switch, and Android.
MORE FORTNITE: Fortnite Refer A Friend: How To Get The Rainbow Racer Skin For Free
Some of the coverage you find on Cultured Vultures contains affiliate links, which provide us with small commissions based on purchases made from visiting our site. We cover gaming news, movie reviews, wrestling and much more.