It's no stretch to suggest that the Xbox One has been a beleaguered console that's really struggled since it launched. Revealed in the worst possibly way in an infamously terrible conference, it's been an uphill battle for Microsoft to make any ground up on Sony and the PlayStation 4.
While their conference may not do enough to sway their biggest dissenters, E3 2018 proved that, given time, Microsoft is a company that adapts and thrives from player feedback, harkening back to Sony's E3 2016 with a deluge of new games and trailers. It was a far cry from the PR babbling of recent years, that's for sure.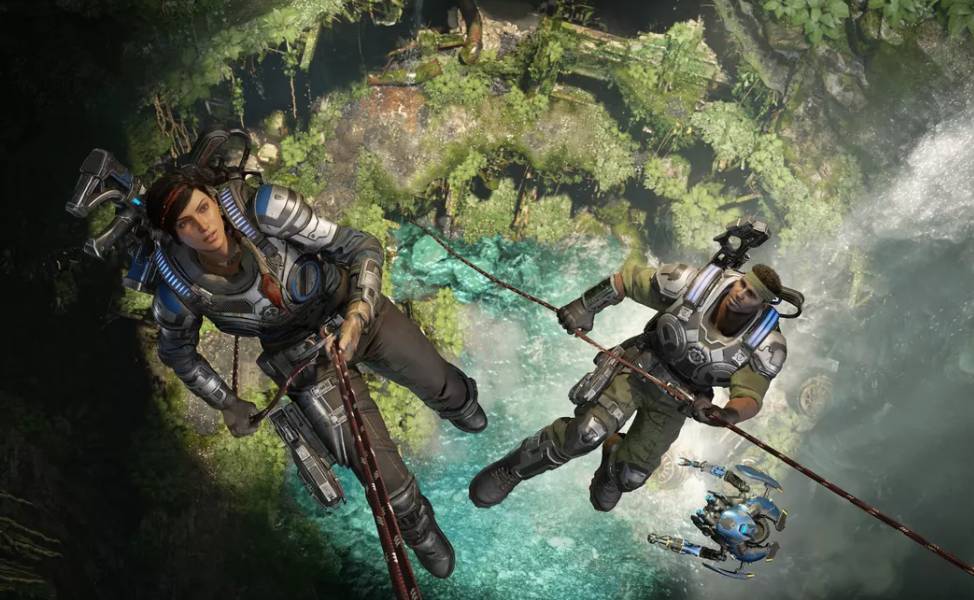 Phil Spencer arrived on stage and wasted no time in laying down the Xbox agenda, announcing that fifty games would be showcased with eighteen of them being exclusives (of some variety) and also a high volume of world premieres that hadn't been seen anywhere yet.
The first game wasted no time in showcasing just that with the reveal of Halo Infinite: the next entry in the Halo series that will supposedly take it in some unexpected directions. A mysterious gauntlet to throw down immediately, but it's one that the rest of the presser picked up and ran with, even if they did focus on Forza for too long.
Microsoft were consistently pull out shocks and nice surprises, including a trio of new Gears games. They pulled off expert level trolling trolling with Gears POP! for mobile devices, XCOM-like intrigue with Gears Tactics, and a close look at Gears of War 5 with a few glances at gameplay. No exact details on any of them, but it's good to see them treating their biggest properties with forward thinking.
And that kind of thinking was behind arguably the biggest news of the presser: Microsoft Studios' acquisition of five developers to come under their umbrella and produce Xbox exclusives, something that fans have been crying out for for years. With Ninja Theory, Undead Labs, Playground Games, Compulsion Games, and the newly formed The Initiative now part of the Xbox family, we won't see an immediate uptick in exclusives, but the foundations are there to wave a solid goodbye to the One and lay the groundwork for the next generation of Xbox consoles.
They also delivered in a big way in terms of third-party premieres, which may not seem that important on paper, but it shows a willing from Microsoft to push the Xbox One forward as the platform, especially with the X's added power. By delivering looks at new multi-platform games like Devil May Cry 5, Sekiro: Shadows Die Twice, The Division 2, Dying Light 2, Just Cause 4, and Cyberpunk 2077, people may just connect those games to Xbox One first and foremost. It makes a nice change from having far too much time dedicated to Minecraft.
Xbox were also diligent in bigging up their many services and new ideas, including a promising look ahead to what's to come on Game Pass. All of their first-party titles were affirmed to be available on day one through the service, but also the likes of Vermintide 2 and Phoenix Point. That's a bold statement that just enriches the value of the subscription, though you have to think that it's just one "big thing" from away from making new subscribers and also keeping them.
Also of note was Microsoft's pledge to make games ready to play far quicker with Fast Start, which actually seems to align with the console's initial plans for almost immediate play. Nobody ever seems to remember that Sony and Microsoft both pledged to allow you to play your games while they were still downloading with many developers instead creating "housing areas" for you to wait in and occasionally do things in while the rest of the game downloaded.
The future for the Xbox One, and Microsoft's gaming arm as a whole, hasn't been as bright as it is now after a massively successful. As someone whose console is collecting dust due to a lack of foresight or ambition from Microsoft, this barrage of exciting news could just make a true fan of me again. The only thing to do now is to wait and see how they go from there, if they can deliver what they promised. For the sake of gaming as a whole, I hope they do.
Some of the coverage you find on Cultured Vultures contains affiliate links, which provide us with small commissions based on purchases made from visiting our site. We cover gaming news, movie reviews, wrestling and much more.