As the old saying goes, war is hell. Fortunately, figuring out the best war movies on Prime Video is a decidedly less diabolical undertaking – all you have to do is read this handy round-up we've prepared for you.
Every possible spin on the genre is on this list, whether you're looking for a battlefield blockbuster, combat comedy, or something in-between. This being a military affair, rank also has a part to play – in the sense that we've also ranked each of these flicks from least to most entertaining. So, your mission now is to review this list of Prime Video's best war movies, pick the one that suits your personal taste, and then sit back and enjoy.
The Best War Movies On Amazon Prime Video
15. Windtalkers (2002)
Director: John Woo
In terms of sheer technical prowess, few movies on this list hold a candle to World War II epic Windtalkers. John Woo is one of the most accomplished action directors of his generation and this 2002 film's masterfully planned and executed battle sequences reflect that. Better still, each of Windtalkers' many skirmishes is expertly captured by cinematographer Jeffrey L. Kimball, with the sweeping shots he employs to document the invasion of Saipan a particular stand-out.
It's a shame then that Woo and screenwriters Joe Batteer and John Rice tell the true story of the US Army's Navajo code talkers from the perspective of Nic Cage's Sergeant Joe Enders. This ill-considered creative choice means that Windtalkers doesn't really bring anything new to the table, narratively speaking. But then, not every movie has to break the mold, and what Windtalkers does well – action scenes – it does very well.
14. Pearl Harbor (2001)
Director: Michael Bay
The first half of Pearl Harbor's 183-minute runtime is a slog, plain and simple. Screenwriter Randall Wallace (who shows up several times on this list) invests heavily in the love triangle between stars Ben Affleck, Kate Beckinsale, and Josh Hartnett, only to saddle the trio with some truly atrocious dialogue. Worse still, all this romance comes at the expense of setting the events of the film within any appreciable historical context. By the end, you'll know that Japan attacked the US, but you won't really know why.
Fast forward (literally) to the extended set piece that lends Pearl Harbor its name and things dramatically improve, though. Director Michael Bay is firmly in his wheelhouse helming blockbuster action scenes, and this infamous 1941 air strike gives him the perfect canvas to work on.
It really is bravura stuff, with cinematographer John Schwartzman's camera swooping from the fighter planes in the skies to the battleships below, as Bay coordinates the on-screen destruction as only he can.
13. Allied (2016)
Director: Robert Zemeckis
Equal parts wartime romance and thriller, Allied didn't exactly conquer the box office when it marched into cinemas back in 2016. Robert Zemeckis' tale of a Canadian intelligence officer who falls for the French Resistance fighter posing as his wife fared about as well with critics, too. Negative reviews of the film at the time focused on the poor pacing and derivative nature of Steven Knight's screenplay, as well as the absence of any romantic spark between stars Brad Pitt and Marion Cotillard.
Yet Allied still has plenty going for it. For starters, Pitt and Cotillard's performances are first-rate, while their lack of chemistry was exaggerated somewhat in initial reviews. Then there's the combination of Don Burgess' gorgeous cinematography and Joanna Johnston's impeccably researched costumes, which perfectly captures the sumptuous feel of similar epics from a bygone era.
Toss in a stunning score by the always excellent Alan Silvestri, and it becomes clear that Allied is one cinematic campaign worth re-examining.
12. We Were Soldiers (2002)
Director: Randall Wallace
There's a lot to like about We Were Soldiers, the 2002 adaptation of Lieutenant Colonel Hal Moore's first-hand account of the Vietnam War (which he co-authored with journalist Joseph L. Galloway).
Director Randall Wallace recreates the Battle of Ia Drang with an impressive degree of fidelity, and his screenplay is admirably even-handed in the way it portrays both sides of the conflict. The film's controversial lead actor Mel Gibson also turns in a creditable performance as Moore that benefits greatly from his undeniable charisma.
So what bumps We Were Soldiers so far down this list of the best war movies on Prime Video? The biggest culprit is Wallace's heavy-handed approach to the genre. It's about as subtle as one of the many aerial bombardments that punctuate its narrative, while the familiar war movie cliches – most notably, the stoic commanding officer/wise-ass second-in-command pairing – pepper proceedings with the same rapid-fire infrequency as an artillery burst.
11. Valkyrie (2008)
Director: Bryan Singer
If there's a more controversial filmmaker on this list than Mel Gibson, it's Valkyrie director Bryan Singer. That said, those viewers who can separate the art from the artist will find that Valkyrie does an effective if unremarkable job dramatizing the 1940 German plot to bump off Adolf Hitler.
On a purely mechanical level, Valkyrie is rock solid. Screenwriters Christopher McQuarrie and Nathan Alexander lead the charge, doing a great job streamlining the potentially labyrinthine narrative and building tension. Singer's direction and Newton Thomas Sigel's cinematography then add a layer of old-school movie-making charm on top, which perfectly suits the material.
It's only when Valkyrie tries to forge an emotional connection with its audience that it comes unstuck. Star Tom Cruise is the real weak link, failing to fully convince as Colonel Claus von Stauffenberg, a role which is admittedly two-dimensional at best. Normally dependable British thespians like Kenneth Branagh, Bill Nighy, Tom Wilkinson, and Terence Stamp don't fare much better, either, left to build whole characters out of a handful of traits each.
10. Braveheart (1995)
Director: Mel Gibson
Mel Gibson's Braveheart has a complicated legacy. Although this 1995 William Wallace biopic nabbed the Best Picture Oscar at the 68th Academy Awards, these days it's cited as one of the worst films to claim that honour. Common complaints about Braveheart include its litany of glaring historical accuracies and aggressive Anglophobia, while the less said about its subplot involving two homosexual characters, the better.
So how did a movie with so many obvious flaws rank so highly on this list of the best war movies on Prime Video? One word: emotion. As a filmmaker, Gibson has an innate knack for making audiences care about his characters by painting in broad, archetypal strokes. And when that fails, screenwriter Randall Wallace comes to the rescue with chest-thumping speeches that instantly rally us behind the Scottish army's fight for independence.
There are also Braveheart's numerous meaty battle scenes to consider, which trade the bloodless, CGI-driven warfare of today for hundreds of extras and buckets of gore. The performances are strong, especially  (dodgy accent aside) Gibson as Wallace, Angus Macfadyen as the conflicted Robert the Bruce, and Patrick McGoohan as the villainous King Edward I.
9. Beneath Hill 60 (2010)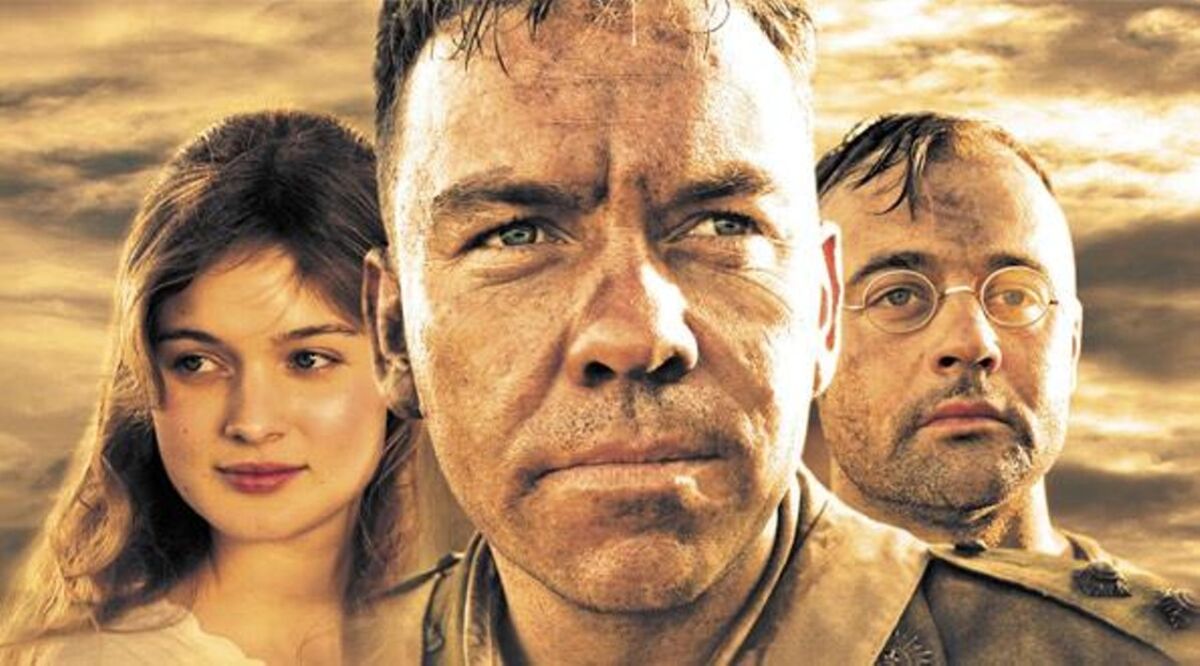 Director: Jeremy Sims
Beneath Hill 60 follows the unsung efforts of an Australian unit tasked with planting explosive charges beneath enemy territory during World War I.
It was inspired by the real-life experiences of Captain Oliver Woodward and the 1st Australian Tunnelling Company, and David Roach's script does their extraordinary story justice. The same goes for Toby Oliver's textured cinematography and Clayton Jauncey's production design, which both epitomize the grimy, claustrophobic conditions Woodward and his men endured.
Beneath Hill 60 is far from perfect, however. Director Jeremy Sims and editor Toby Oliver struggle to build momentum early on, in part due to the film's exhaustive (and, at times, exhausting) use of flashbacks. The troops under Woodward's command aren't always as fully fleshed out as you want them to be, either. Yet these flaws are easy to overlook thanks to the raw power of the story itself, as well as the stellar cast led by Brendan Cowell as Woodward himself.
8. The Courier (2020)
Director: Dominic Cooke
Not many people got to see Dominic Cooke's The Courier in 2020. Yet those who did see this Cold War thriller tend to agree it tells the true story of British businessman turned SIS spy Greville Wynne and his Russian mole Oleg Penkovsky with admirable panache.
Lead actors Benedict Cumberbatch (Wynne) and Merab Ninidze (Penkovsky) deliver the goods, supported by a strong supporting cast that includes Rachel Brosnahan, Jessie Buckley, Angus Wright, and Kirill Pirogov. Cooke is likewise on top form in the director's chair, wringing every ounce of tension out of Tom O'Connor's taut script.
Does it reach the same heights as Tomas Alfredson's superlative 2011 adaptation of Tinker Tailor Soldier Spy? Not really. But does it more than earn its spot on this list of the best war movies on Prime Video? Absolutely.
7. Courage Under Fire (1996)
Director: Edward Zwick
Your response to Courage Under Fire will inevitably boil down to one simple question: can you buy America's Sweetheart Meg Ryan as hardened soldier Captain Karen Emma Walden? Ryan gives the role her all, so if you can set aside your preconceived notions of her range as an actor, chances are you'll quickly get wrapped up in this Gulf War drama.
But then how could you not, when Denzel Washington reports for duty as the leading man? Predictably, the Oscar-winner is magnetic as the US Army officer charged with figuring out whether the late Captain Walden should become the first female recipient of the Medal of Honor. Supporting cast members Lou Diamond Phillips and Matt Damon are no less effective, either.
Better still, everything else in Courage Under Fire – Edward Zwick's direction, Patrick Sheane Duncan's screenplay, Roger Deakins' cinematography, and James Horner's score – is similarly accomplished. So if the only thing stopping you from watching this movie is Meg Ryan, it might be time for a rethink.
6. Good Morning, Vietnam (1987)
Director: Barry Levinson
Good Morning, Vietnam is one of the finest showcases for the late Robin Williams' talents as both a comedian and a dramatic actor. Amazingly, Williams improvised much of the side-splitting dialogue for his Oscar-nominated portrayal of Adrian Cronauer in this loose adaptation of Cronauer's career as an Armed Forces Radio Service DJ during the Vietnam War. The Hollywood legend proved equally adept during Good Morning, Vietnam's more poignant moments exploring the harsh realities of war, too.
The rest of the film doesn't quite reach the same heights as its lead actor's towering turn, though. Mitch Markowitz's screenplay comes across as disappointingly rote at times and director Barry Levinson occasionally struggles to shift gears between humor and heartbreak. It's also not a movie for military history buffs, as many of the key plot developments never happened in real life.
Fortunately, the unbridled brilliance of Williams' powerhouse performance is enough to stop Good Morning, Vietnam from ever veering too far off target.
5. Eye in the Sky (2015)
Director: Gavin Hood
Easily the most timely flick on this list, Eye in the Sky sets its sights on the ethical minefield presented by drone warfare. Director Gavin Hood has marshaled a top-notch cast for this modern-day morality play, too, including Helen Mirren, Aaron Paul, Barkhad Abdi, and the late Alan Rickman in his last ever live-action role.
Working from a sharp script by Guy Hibbert, Hood and editor Megan Gill ratchet up the tension to almost unbearable levels, as the ethics of Colonel Katherine Powell's mission grow increasingly murky. It's the kind of movie that constantly has viewers asking themselves what they'd do in a similar situation and, best of all, avoids offering them any easy answers.
Of course, this action-lite, cerebral take on the war movie genre won't be for everyone, while tech geeks will likely guffaw at some of the movie's more fanciful hardware. But if you're searching for a war movie for grown-ups, look no further than Eye in the Sky.
4. The General (1926)
Directors: Clyde Bruckman, Buster Keaton
They don't make movies like The General anymore – literally. Based on William Pittenger's 1889 memoir The Great Locomotive Chase, it was shot in black and white and without sound, and features more than enough poorly supervised stuntwork to get a modern production shut down. It's also one of the greatest films ever made, thanks in large part to co-director and star Buster Keaton.
Keaton's perfectionism, artistry, and sheer physical daring combine to make The General's train chase a jaw-dropping spectacle that's as breathtaking today as it was in 1926. The same goes for the film's climactic crash sequence, which was accomplished with a locomotive, a bridge, six cameras, and a mountain of cash – and without the benefit of CGI.
Of course, your mileage will vary on how well The General's silent film-era humor holds up almost a century later. Similarly, the movie's lack of spoken dialogue and sound effects is a definite barrier to entry. That said, prospective viewers who can look past (or even embrace) these shortcomings will find a lot to love about this American Civil War caper.
3. Rescue Dawn
Director: Werner Herzog
Rescue Dawn sees Christian Bale portraying a man possessed of a singular, seemingly impossible dream  – a recurring motif in the work of writer-director Werner Herzog. The dreamer in question is real-life pilot Dieter Dengler, who plots to escape a prisoner of war camp during the Vietnam War. True to form, Bale turns in a fully committed performance that reflects Dengler's complex psychology and malnourished physique, carrying the film on his scrawny shoulders.
Rescue Dawn also explores another of Herzog's thematic obsessions, the lone individual pitting themself against nature. Thanks to Peter Zeitlinger's lush cinematography, this struggle has never been portrayed more tangibly on screen.
Filmed in the jungles of Thailand (substituting for those of Vietnam), there's a verisimilitude to each shot in Rescue Dawn that lesser movies can't match. We can almost feel the stifling humidity on our faces and muddy terrain between our toes that Dengler and fellow prisoner Duane Martin (Steve Zahn) have to contend with. This is far from the easiest watch on this list of the best war movies on Prime Video, but it's an undeniably moving one all the same.
2. Lincoln (2012)
Director: Steven Spielberg
As much a biopic as it is a war movie, Steven Spielberg's Lincoln charts the final months of ol' Honest Abe's life, as he fights to abolish slavery against the backdrop of the American Civil War.
It offers up an uncommonly nuanced portrait of Lincoln, too. As envisioned by Spielberg, screenwriter Tony Kushner, and star Daniel Day-Lewis, the 16th President of the United States isn't a saintly figure. He's a skilled politician not above bending the truth in the service of the greater good, and capable of losing his legendary cool when those around him falter. In short: he's an actual flesh-and-blood human – and that alone is revelatory.
The other great joy with Lincoln comes from watching Day-Lewis spark off the brigade of accomplished supporting players Spielberg has assembled. Sally Field, David Strathairn, Joseph Gordon-Levitt, James Spader, Hal Holbrook, and Tommy Lee Jones leave the biggest impression, but virtually every speaking role is expertly filled by a recognisable actor. This, along with the faultless production design, cinematography, and score add to Lincoln's sense of grandeur, making for a fittingly well-crafted recreation of one of America's biggest moments.
1. Hamburger Hill (1987)
Director: John Irvin
Hamburger Hill had the misfortune of hitting cinemas within the same 12-month period as Platoon and Full Metal Jacket – both considered among the greatest Vietnam War movies ever. As such, John Irvin's 1987 dramatization of the Battle of Hamburger Hill often gets overlooked compared to its more celebrated competition, despite its many strong points.
For one thing, the cast – including Dylan McDermott, Steven Weber, Courtney B. Vance, Don Cheadle, and Michael Boatman – are uniformly excellent. For another, there's something remarkably affecting about the stripped-back approach taken by Irvin and screenwriter James Carabatsos. Forget the high-brow philosophizing and symbolism of Platoon or the detached nihilistic wit of Full Metal Jacket.
This is a movie that puts all its creative energy into making you care about whether the men of the 3rd Battalion, 187th Infantry, 101st Airborne Division (Airmobile) live or die. For these reasons and more, when it came time to fill the top spot on this list of the best war movies on Prime Video, Hamburger Hill was the only choice.
READ NEXT: 10 Best Fantasy Movies On Amazon Prime Video
Some of the coverage you find on Cultured Vultures contains affiliate links, which provide us with small commissions based on purchases made from visiting our site. We cover gaming news, movie reviews, wrestling and much more.