Do you want to play the best original Xbox games? Those seeking a dose of warm nostalgia with their original Xbox consoles will want to consider the best original Xbox HDMI converters to connect the system to their new TVs.
Released amidst considerable hype in 2001 in North America (2002 for Japan, Europe, and Australia), the Xbox was seen by many as a breath of fresh air. Whereas the 90s were once simply overwhelmed with consoles for consumers, the early moments of the new century saw only Sony and Nintendo standing tall. A third competitor could potentially shake things up, particularly giving Sony some stiffer competition for its monstrously popular PlayStation 2, and that's certainly what the original Xbox did for millions of players. Microsoft is still going strong some 20+ years later, and many now find themselves nostalgic for their favorite original Xbox games.
We can help with that. Let's check out your best choices for an HDMI converter for your original Xbox.
The Best Original Xbox HDMI Converters
5. Sheiaier Original Xbox to HDMI Converter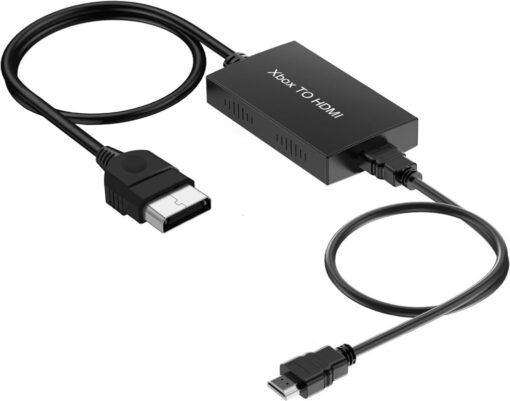 Price: $19.99
One of the first things you should look for with HDMI converters for your original Xbox are ones that work with the Xbox original display mode of your choice. That includes both 720p and 1080p. The Sheiaier Original Xbox to HDMI Converter can handle either option with ease. This HDMI converter is a simple plug-n-play model, meaning you don't need to worry about downloading any drivers or additional software. Simply connect the converter to your Xbox and the TV, and you'll be all set.
The Sheiaier Original Xbox to HDMI converter is also consistently reliable. While offering stunning picture quality and stability, you won't have to worry about anything becoming blurry. You'll be able to make the most of reliving such Original Xbox classics as Halo 2 or Drake of the 99 Dragons without lags or even fuzzy lines to deal with. Sheiaier has built something that works perfectly with any HDMI output, including all current TVs and computer monitors.
4. Jadebones Original Xbox to HDMI Adapter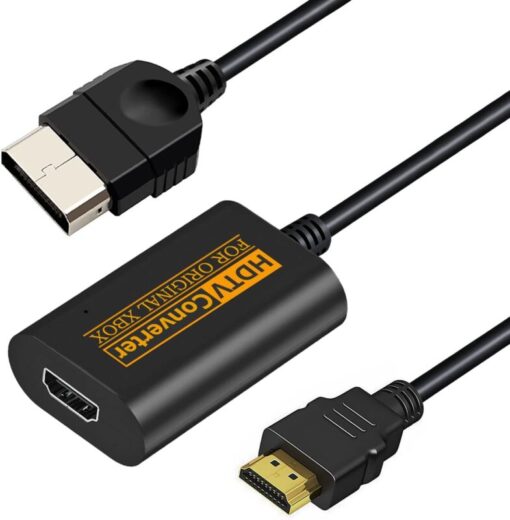 Price: $23.99
A clear image is what you should expect with the best original Xbox HDMI converters. Your Xbox games are going to look fantastic filtered through the Original Xbox to HDMI Adapter from Jadebones. While a little more expensive than some of the other options out there, this particular adapter remains one of the most popular on the market.
Your original Xbox uses something known as YPbPr signals to function correctly. This converter from Jadebones can be plugged in quickly and easily, and it will immediately begin converting those signals into HDMI signals. That's it. Playing your classic Xbox hits has never been more straightforward. You don't need an external power supply for the adapter either. Nothing is required beyond simply connecting your HDMI converter to your Xbox. From image colors to the very details that define these 20+ year old games, you're going to be very happy indeed with the way your old favorites look.
Just keep in mind that the Jadebones [YPbPr Signal Output] Original Xbox to HDMI Adapter is an adapter only. If you're looking for upscaling, meaning the games look better than they did originally, you'll want to look elsewhere.
3. Kaico Original Xbox to HDMI Converter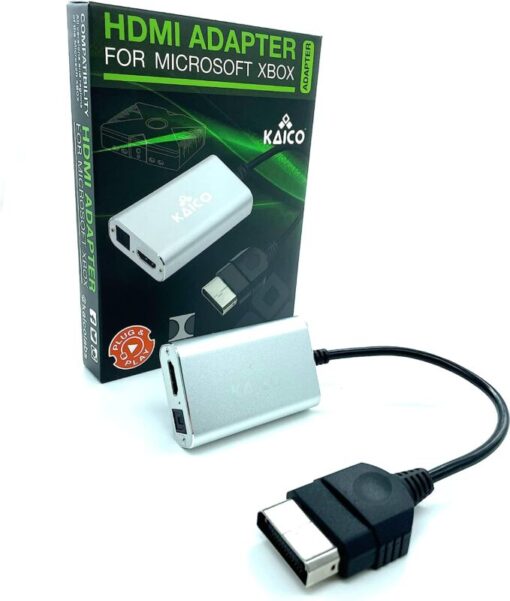 Price: $29.99
Kaico has been a well-regarded company for retro gaming accessories and products for a while now. Their Kaico Original Xbox to HDMI Converter is a very good example of what they bring to the table. This HD link cable has been made specifically with your OG Xbox in mind. True, it's the priciest we've covered so far, but it's also supported by good reviews that center on its excellent performance and ease-of-use. The Kaico Original Xbox to HDMI Converter is for many the only choice among the best original Xbox HDMI Converters.
This converter promises a clearer image than what you would get with the normal AV cable for your Xbox. It doesn't seem to fail at this. You can look forward to sharp, crisp colors and text, presented exactly as they were meant to look. The Original Xbox to HDMI Converter from Kaico is also a highly durable cable that is currently compatible with all Xbox units sold in North American, European, and Japanese markets.
2. POUND HD Link Cable for Original Xbox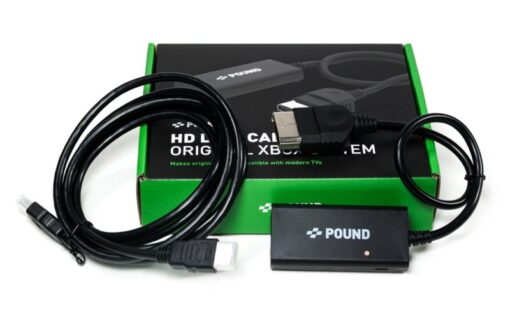 Price: $39.99
Don't let the relatively hefty price tag dissuade you from at least considering one of the best HDMI converters you'll ever find. Whether the games you want to play run in 480i or 720p, the POUND HD Link Cable for Original Xbox will run them beautifully. What matters is making sure these games don't look stretched out, or that the colors look off or even unpleasant. While OG Xbox games are well over 20 years old, they can still look formidable on the most up-to-date screens. POUND has made something that gets the job done with an easy setup and installation.
These games need to look as good as they play in their native 4:3 format. POUND has made numerous converters for a range of retro systems. The Link Cable for Original Xbox proves they clearly know what they're doing with a tough, proven solution to your retro gaming needs.
1. ZUZONG Original Xbox to HDMI Converter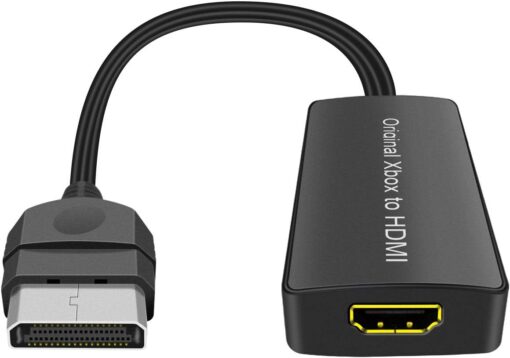 Price: $24.99
ZUZONG is a name that should be familiar to some retro gaming fans. We're weighing a lot on reputation for this article, and to that end their name is one of the best for these converters. The ZUZONG Original Xbox to HDMI Converter is just another example of this professional RJ45 Coupler and audio/video converter manufacturer putting out a high-quality accessory that will have your original Xbox hooked up to your smart TV, computer monitor, or anything else with an HDMI output. Nothing else is needed beyond what comes in the box. Simply connect and start relieving the glory days of Microsoft's first serious foray into the console wars.
While not an upscaler, there's no question that legendary Xbox hits like Ninja Gaiden, Star Wars: Knights of the Old Republic, or Sneakers will look absolutely fantastic on your modern screen. You'll have compatibility with any output mode on the Xbox, and it only takes a few minutes to get started. This is our choice for the best HDMI converter/adapter for your original Xbox.
READ NEXT: 5 Best Dreamcast HDMI Converters You Should Check Out
Some of the coverage you find on Cultured Vultures contains affiliate links, which provide us with small commissions based on purchases made from visiting our site. We cover gaming news, movie reviews, wrestling and much more.