Xbox Game Pass has gained a reputation for being one of the most reliable and affordable subscription services in gaming, and while there's a plethora of different genres available on the service, there's one feature in gaming that transcends genres: the open world. Open world games come in all shapes and sizes, like driving games, RPGs, shooters and more, with the different approaches allowing you to see worlds in different ways.
Xbox Game Pass is no stranger to open world games, with a healthy selection to choose from across a range of genres, but with such an overwhelming array of games at your fingertips, it can be hard to know where to start. Luckily, we've got you covered, as these are the best open world games on Xbox Game Pass that you should play.
Best Game Pass Open World Games
10. Rage 2
Developer: Avalanche Studios, id Software
Publisher: Bethesda Softworks
Avalanche has made their name on creating excellent open worlds filled with objectives to destroy and secrets to find. Meanwhile, id Software has become the undisputed rulers of the FPS genre, creating tightly made shooters that are endlessly fun. Together, the two were able to create Rage 2, which provides one of the best open worlds on Xbox Game Pass. Sure, the world might be dead thanks to a meteor, but there's still plenty worth checking out.
As a ranger, you'll try to bring peace to a ruined wasteland filled with angry mutants, shady townsfolk and an oppressive military force. Along the way, you'll find a host of powerful weapons and abilities that'll make you the most badass warriors in the post-apocalypse. With plenty to see and do in Rage 2's massive world, you'll be exploring for hours.
Or, you'll just spend all your time trying to murder bandits in creative ways. That works too.
9. Just Cause 4
Developer: Avalanche Studios
Publisher: Square Enix
Avalanche's Just Cause series has quietly become synonymous with excellent open world game design, largely because the series gives you a bunch of tools, along with plenty of objectives, and allows you to run rampant in any way you see fit. If you want to pull down a fuel station using only your grappling hook, that's an option, but you can also surf on top of a plane as it crashes into the station, causing a huge explosion. That's also valid, and entertaining.
The Just Cause series follows Rico Rodriquez, a man who specialises in toppling corrupt regimes from the inside, inspiring revolution among the locals, with the fourth entry seeing Rico travelling to the fictional country of Solis to take down a private military called The Black Hand. Just Cause 4's biggest strength lies in the sheer amount of choice it gives players when it comes to tackling its open world.
Whether by land, sea or air, you're never too far away from an opportunity to cause a bit of mayhem and have a lot of fun.
8. No Man's Sky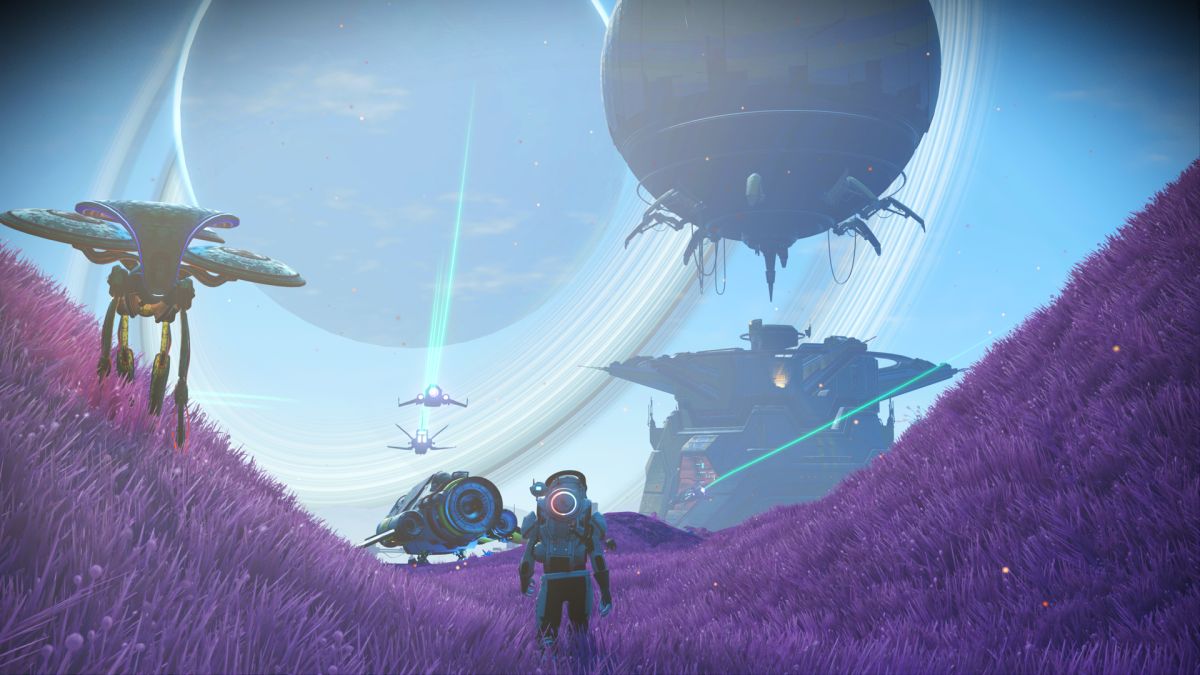 Developer: Hello Games
Publisher: Hello Games
Hello Games has performed nothing short of necromancy when it comes to restoring the reputation and good faith for No Man's Sky. At launch, the game unfortunately underdelivered on what the developers had promised, but a few post-launch updates later and No Man's Sky began to resemble a more feature-complete, satisfying space adventure.
Fortunately for Xbox players, they were able to experience No Man's Sky at its best, as it launched onto the platform with a bevy of updates ready to go. Hello Games weren't going to rest on their laurels though, as they've been hard at work adding even more content and features to their "open-galaxy" exploration game. The best part is that they're nowhere near done either.
If you and your friends want to sink hours into a truly expansive sandbox, No Man's Sky is a great open world game on Xbox Game Pass.
7. The Outer Worlds
Developer: Obsidian
Publisher: Private Division
From one space-faring adventure to another, The Outer Worlds isn't quite as expansive as No Man's Sky, but that doesn't mean it isn't incredible.
Created in the same vein as Bethesda's Fallout games, The Outer Worlds sees you playing as an adventurer who's been trapped in cryogenic stasis for years. After being rescued, you're sent on a mission across the galaxy to save everyone else who was trapped alongside you.
Players are given full control on how they want to level up their hero, whether they'd prefer to focus on speechcraft and diplomacy, or if they'd like muscles all over so they can smack aliens really, really hard. Standing against a huge, capitalist hellscape in space might sound like an overwhelming prospect, but the excellent writing and characters ensure you'll want to explore every inch of The Outer Worlds.
6. Sea of Thieves
Developer: Rare
Publisher: Xbox Game Studios
Exploring the open seas as a group of pirates is practically at the top of the list of gaming fantasies, so it's no surprise that Sea of Thieves has become one of the most successful games on all of Xbox. Much like No Man's Sky, Sea of Thieves was a bit bereft of content at launch, but the various patches and content updates added to the game over the years have helped it become quite the juggernaut.
Sea of Thieves sees up to four players joining together on a boat to complete missions, gather treasure and avoid various creatures lurking in the seas waiting to murder you. Because things aren't always so simple though, Sea of Thieves features emergent competitive multiplayer, as you can be set upon by another pirate crew hoping to steal what's yours.
If a pirate's life is for you, Sea of Thieves is one of the best open world games on Xbox Game Pass.
5. Burnout Paradise Remastered
NOTE: EA Play/Xbox Game Pass Ultimate required
Developer: Criterion
Publisher: EA
We've shared our unmitigated love for Burnout Paradise over the years, so it's no surprise to see the Remastered edition take its rightful place on this list. While some might prefer the non-stop carnage that is Burnout 3: Takedown, Burnout Paradise is worthy of being considered one of the best racing games ever made with its amazing controls and gameplay. Taking down rival racers and seeing their cars crumble into small cubes never gets old.
As for why it's one of the best open world games on Game Pass, the world of Paradise City is a wonder to behold, filled with collectibles, shortcuts and secrets that make it a joy to explore. Despite being such a small world in comparison to some of the other games on this list, Burnout Paradise Remastered manages to pack something to see and do on every street corner,
That's all you can really ask for from an open world game.
4. The Elder Scrolls V: Skyrim – Special Edition
Developer: Bethesda
Publisher: Bethesda
If any open world game deserves a place on this list, it had to be The Elder Scrolls V: Skyrim, which is such a masterful open world. If you want to experience a world that seemingly has something new to see and do every single time you play it, Skyrim is the ultimate pick. This is especially true considering that Game Pass includes the Special Edition version of Skyrim.
This upgraded version of The Elder Scrolls V: Skyrim includes all the DLC, which features expansive quests and storylines in their own right, while also introducing new features like house building to the game. Sure, it's likely that you've already seen for yourself by now whether or not the adventures of the Dragonborn are actually worth your time, but jumping back into the world of Skyrim feels like a cozy blanket on a cold winter's night: it's warm, comforting and safe.
Until those frostbite spiders come along and scare the living hell out of you. No spiders in The Elder Scrolls VI please, Bethesda.
3. Halo Infinite
Developer: 343 Industries
Publisher: Xbox Game Studios
The decision to take the adventures of John Halo Man from a linear shooter to an open world game was certainly a bold one, but arguably it's a change that's made Halo Infinite a much better game. The series has always thrived on the spectacle of huge sci-fi battles where anything can happen, so giving the player a bigger sandbox with which to cause mischief can only be a good thing. It also helps that the game's Grappleshot is excellent.
The main campaign sees Spartan John-117, aka Master Chief, stranded on a Halo ring once again. That doesn't sound all that revolutionary in theory, but this time, he's contending with The Banished, a mercenary group more brutal and lethal than anything the Chief has had to deal with in the past.
With plenty of upgradeable skills and abilities, along with a world that slowly opens as you progress through the game, Halo Infinite is undoubtedly one of the best open world games on Xbox Game Pass.
2. Fallout: New Vegas
Developer: Obsidian Entertainment
Publisher: Bethesda
Obsidian might have done a great job creating an open world RPG with The Outer Worlds, but arguably, they did an even better job a decade earlier with the creation of Fallout: New Vegas. Since Bethesda took over the reins of the Fallout series, they've been responsible for some excellent post-apocalyptic open world adventures (and Fallout 76), though Fallout: New Vegas arguably takes the cake.
As a character known as The Courier, you deliver packages across the ruins of the Mojave Desert, only to be betrayed and left for dead. Luckily for you though, being shot in the head is something you can just sleep off, and after waking up from being buried alive, you set out to get revenge.
Boasting lots of quests, and the power to decide the fate of the entire Mojave Desert depending on which faction you side with, Fallout: New Vegas is as compelling and enjoyable now as it was in 2010.
1. Forza Horizon 5
Developer: Playground Games
Publisher: Xbox Game Studios
It might seem strange to see a racing game this near to the top of an open world list, but Forza Horizon 5 offers an incredibly beautiful and varied environment to explore with its depiction of Mexico. From the ruins and temples of a bygone age hidden in the jungles, to the sparse pockets of civilization spread across the deserts, beaches and countryside, Mexico looks absolutely stunning.
A beautiful open world isn't enough though, but Forza Horizon 5 crams its world with so much content that practically every inch of the game's map has some significance. Whether it's a race, collectible or event of some kind, there's always something to do nearby.
However, the real coup de grace is the fact that players can create their own races and events on top of those already present in the game, so if there's a particular part of the game world you like, you can show it off in your custom event.
READ MORE:  13 Best Xbox Series X & S Co-Op Games
Some of the coverage you find on Cultured Vultures contains affiliate links, which provide us with small commissions based on purchases made from visiting our site. We cover gaming news, movie reviews, wrestling and much more.