In celebration of International Women's Day, we're looking at films about women, films that highlight the joys of female camaraderie and friendship, as well as the discovery of a sense of agency. Be it breaking away from bad habits, or experiencing the growing pains of a being a teenage girl, these are movies that comfort, allowing all of us watching to draw a measure of familiarity from the stories on screen.
Also, I had many more films that I wanted to include, though in fairness, they were all mostly adaptations of Jane Austen's novels, so I recognised that I needed to be more discerning. Here are my top ten picks.
1. The Joy Luck Club (1993)
Director: Wayne Wang
The Joy Luck Club is probably the first adult movie I ever watched. Before, it was a steady diet of cartoons and animated films, and then this film was released. I remember watching it with my mom and aunt, both of whom had read the book. It felt kind of like kismet actually, seeing as how the film itself is about women across different generations. Now there is more diversity on screen, but in the 90s, a movie like The Joy Luck Club stood out from the fray.
It charted the Asian American experience of four women, whose mothers came to America in search of better lives for their family and children. There is a generational gap, made all the more pronounced because their daughters grew up in a Western setting and have adopted such sentiments. The film also dips back into the past, so we get to see the mothers at a younger time in their lives, and what shaped them into the women we see today.
While verging on the melodramatic at times, it will tug at your heartstrings in the most poignant of ways.
2. Little Women (1994)
Director: Gillian Armstrong
Yes, I know there is a more recent adaptation of Louisa May Alcott's Little Women, but since another Greta Gerwig movie is going to appear on this list, I think it's only fair I highlight another adaptation. Personally, this one is my favourite – maybe because it is a more faithful adaptation, or maybe it's Winona Ryder and Christian Bale as Jo and Laurie.
Little Women follows the stories of the four March sisters, all different in temperament and desire, but united in their love for each other, as well as their commitment to their family. It is beautiful and heart-wrenching, and the kind of film that you will find yourself rewatching every few years, just so you can live vicariously through these characters and their experience of sisterhood.
3. Bend It Like Beckham (2002)
Director: Gurinder Chadha
Before Never Have I Ever came onto the scene, all we had in a mainstream sense was Bend It Like Beckham. It was immensely popular in Singapore, and many of us actually went to watch the film multiple times in the cinema (I was one of them).
Were we hooked by the soccer element in the film? Perhaps. But I would like to think that it's because it was just so goddamn funny. The film has so many quotable lines (juicy juicy mangoes come to mind), and had the daring to throw an interracial couple into the mix. This is also the film that led to Keira Knightley getting her big break, in spite of her weird dancing.
Jessminder (Parminder Nagra) has a consuming passion for soccer; she loves Beckham, has clothing that mostly consists of soccer jerseys, and she's great at playing the game. During a random, casual game of footie, she gets spotted by Jules (Knightley), who invites her to come play for the women's team she is a part of. Jess has what it takes to head to the big leagues, but will she be able to convince her parents to let her live her dream?
4. The Sisterhood of the Traveling Pants (2005)
Director: Ken Kwapis
Four different teenage girls able to fit into the same pants? Yeah, that sounds like science fiction to me.
This is the premise of The Sisterhood of the Traveling Pants – the girls go shopping and find a pair of pants they all look good in. Seeing as how they are spending their summers separated, they decide to take turns mailing the pants to each other, so they may be apart, but still together in a symbolic sense.
The talented young cast, comprising of Blake Lively, Alexis Bledel, Amber Tamblyn and America Ferrera, were able to handle the mature themes and elements of the story. All four of their stories were equally compelling, though I have to say I was most partial to Ferrera's plotline.
5. Bridesmaids (2011)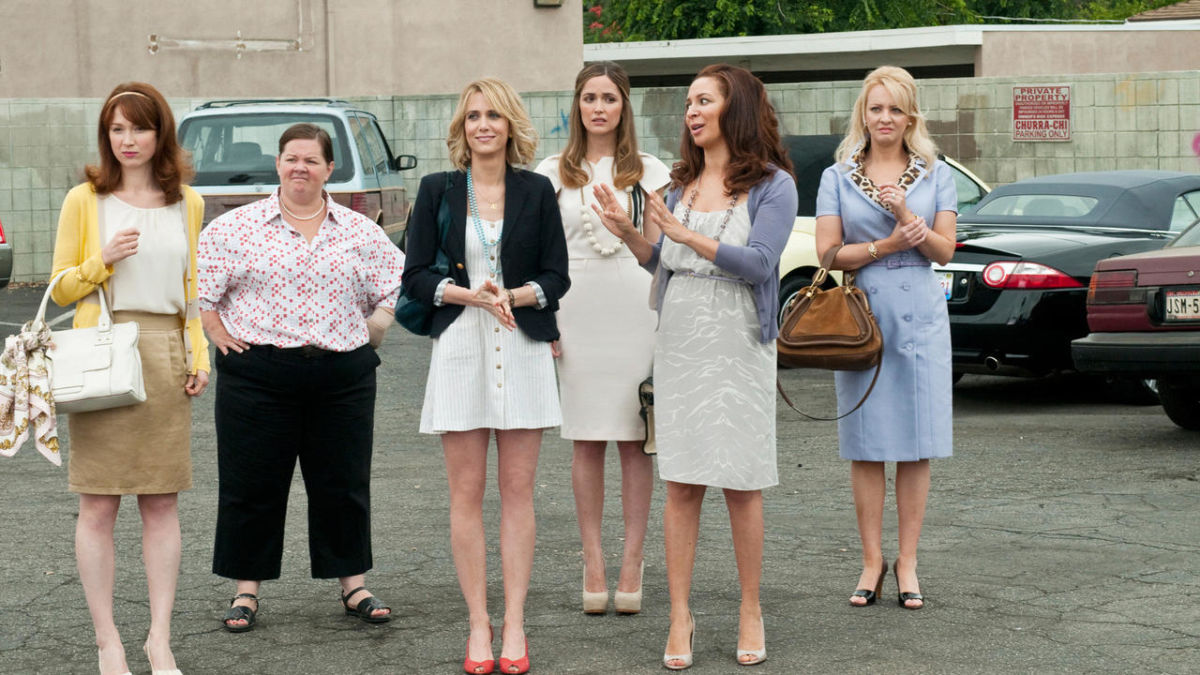 Director: Paul Feig
Paul Feig's movies have been a bit of a hit and miss – A Simple Favor was great, while Last Christmas was aggressively mediocre – but I think we can all agree that Bridesmaids is just the best of the bunch.
Kristen Wiig's Annie doesn't have her life in order, but when her best friend Lillian (Maya Rudolph) tells her she's getting married and wants her to be the maid of honour, of course she's happy for her friend and desires to do what she can to give her friend the best wedding.
However, things are a bit different with Lillian, and it seems that the change comes from Lillian's new friend Helen (Rose Byrne). So many women of comedy in this film, and all of them get to shine in their own ways, though it has to be said that Melissa McCarthy was truly a scene stealer as Megan. Bridesmaids also subverts the neat, delicate image of femininity with various crass shenanigans – it will leave you shitting your pants in laughter, hopefully not in the middle of the street.
6. Lady Bird (2017)
Director: Greta Gerwig
Was this the film that convinced me that Saoirse Ronan was going to eventually win an Academy award? Yes, a thousand times yes. Was this also the movie that alerted me to Greta Gerwig's genius? Yes, definitely so. In time, both women will win what they deserve, but for now, all we can do is praise this gem of a movie, one that doesn't adhere to the usual coming-of-age narratives, and captures so astutely the reality of female adolescence.
There is so much authenticity laced into every moment of the film – be it Lady Bird's turbulent relationship with her mom, her myopic world view, and how easy it is to lose yourself in what you think love and sex has to be. It is such a great movie, and I cannot recommend it enough.
7. Selah and the Spades (2019)
Director: Tayarisha Poe
There seems to be a pattern developing, where we have female directors like Poe and Gerwig batting out a home-run with their directorial debut. Poe's Selah and the Spades is a coming-of-age film, one of the more unique ones I have seen in recent years.
The film follows Selah (Lovie Simone), leader of the Spades, one of the five factions in Haldwell, an elite Pennsylvania boarding school. The Spades deal with the most conventional of vices, meaning alcohol and drugs of your choice. The factions all have to work together so that their various activities aren't found out by the powers that be (i.e the school).
Poe's film doesn't condemn but understands the teenager's need to let loose, offering them spaces to indulge in their youthful vices, in turn asking us not to judge them for their various transgressions – which helps set the tone in our dealings with Selah.
It's Selah's senior year, which means she needs to start thinking about who to pass the torch to, as well as deal with her future college plans. There is much irony here, for Selah, who runs the Spades like a well-oiled machine, doesn't have any agency over her own life, with all her choices and future dictated to her by her mother. Poe's style of filmmaking is memorable (even now I can feel pieces of it fluttering through my mind), with a morally complicated protagonist guiding us through her story.
8. Someone Great (2019)
Director: Jennifer Kaytin Robinson
Someone Great markets itself as a rom-com (one that you can watch on Netflix by the way), but the best thing about it is the focus on female friendships. These are friends who take time off work to help Jenny (Gina Rodriguez) grieve the loss of her 9 year relationship. They give her the time and space to vent her feelings and emotions, support her as she goes on an emotional bender, and ultimately, these are the friends she leans on as she says goodbye to a previous love.
When you find yourself in your first real adult relationship, there is an expectation that this love will be a part of you in a permanent way. So, when you feel the distance and your grasp on the person slipping, it can be difficult to do the natural thing and let go. Someone Great shows us the transient nature of romantic relationships, especially in the face of other life changes. Good friendships though, they are yours to keep forever.
9. Brittany Runs A Marathon (2019)
Director: Paul Downs Colaizzo
I assumed Brittany Runs A Marathon would be in the vein of Amy Schumer's I Feel Pretty, but I was glad to be wrong. It is more than just a film about body image, and losing weight to feel good about oneself. It is funny, earnest, and is about a woman losing her sense of purpose and agency, and gaining it all back when she decides to take charge of her life again.
The marathon here is symbolic of bigger things, and as Brittany (Jillian Bell) prepares herself for the challenge ahead, this comes with numerous challenges and setbacks, which Brittany does succumb to from time to time.
While it does follow the established tropes of inspirational, feel-good movies, the narrative here does feel authentic to Brittany's experience, and we find ourselves relating to her just as much as we cheer her on.
10. Spinster (2020)
Director: Andrea Dorfman
The film is as the title suggests, with Chelsea Peretti's Gaby still single on her thirty-ninth birthday, and the life ahead seems to one spent on the shelf. Andrea Dorfman's film rightly points out how difficult it is to be a single woman at Gaby's age, with Gaby having to deal with invasive questions at dinner parties.
Peretti's performance is truly the highlight of the film. She is so effortlessly funny, and the film and script does a stellar job in letting her shine at what she does best. Gaby's singlehood allows her to reconnect with the people around her and build stronger bonds, instead of chasing romance for the sake of it. With romance such a big aspect in woman's films/narratives, it is refreshing to see the other side highlighted – Dorfman makes it clear that Gaby is living her best life, and she doesn't need a boyfriend/husband to do so.
READ NEXT: 10 Debut Books To Check Out For International Women's Day 2021
Some of the coverage you find on Cultured Vultures contains affiliate links, which provide us with small commissions based on purchases made from visiting our site. We cover gaming news, movie reviews, wrestling and much more.