With this list we are now officially over halfway through our assessment of the 100 best books of the decade. I'll throw some links at the bottom of this list for you to go and check out the fifty books we've covered so far, because it is starting to get a bit unwieldy to put them here at the top. But that's a good thing – we in the book department have been having fun arguing about the titles that should make these lists, and I think it is fair to say that we could have written most of them at least three times over with different entries each time.
But this time, it is the turn of graphic novels. 'Graphic novel' is a medium, rather than a genre; as you will see, the titles we've picked cover lots of different genres in their own right. But, medium or not, graphic novels do get a bit neglected when it comes to these things and we really wanted to cover them. So for now, they are an honorary 'genre'.
1. Sweet Tooth – Jeff LeMire (2010(ish))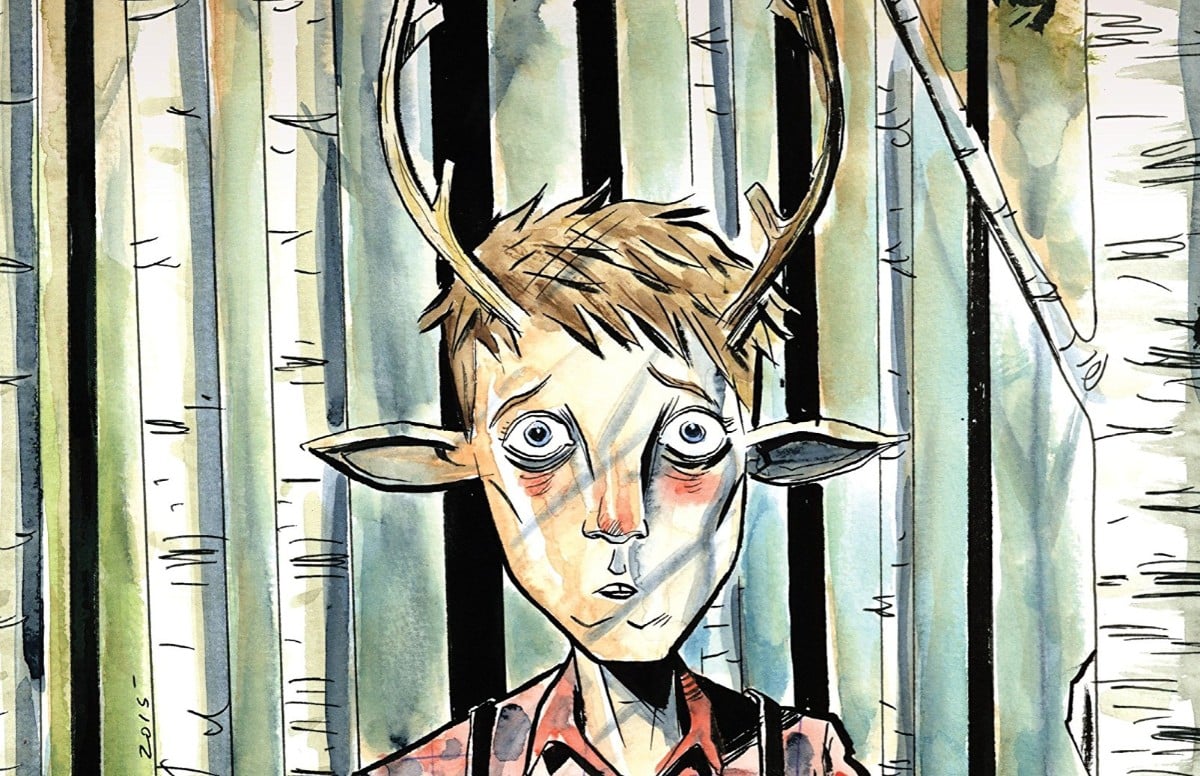 I say 2010ish because I'd written this before I realised that technically the series began publishing very late in 2009. But this is our list, and as it ran for four years, I'm going to call it an honorary member of the 2010 club. Mostly because it is great.
Set in a post apocalyptic world where some creatures are human/animal hybrids, Gus lives with his dad in the woods. Gus is one of those hybrids, a human with deer features, who leaves the forest after his dad dies. He ends up in a scientific facility, makes friends despite the horror, and the first volume ends with them escaping the facility.
LeMire was an accomplished cartoonist before he began this series, working for DC, and he brings all of that experience to this series. Sweet Tooth is equal parts kind of horrifying and tragic, but there's complex and meaningful relationships here, and LeMire gives us a hint of optimism a the end to make up for the torture.
2. Special Exits – Joyce Farmer (2010)
Special Exits isn't the prettiest graphic novel on this list. The drawings are scratchy and it looks pretty old school, but you shouldn't let that put you off. It looks old school because Farmer is an old school cartoonist who has been drawing since the 1970s, and she was in her 70s when she published this, a 'graphic memoir' about an elderly couple who are slowly dying in their farmhouse. Their daughter is the Narrator, and must surely be a stand in for Farmer herself.
This is not a happy book, as you can probably guess from the brief premise, but it is searingly honest and very human – pretty it isn't, but every page feels true. Farmer's dialogue is also funny and lightens the mood, because we know from the start that they aren't getting out of this alive, and it would be easy to dragged down by how oppressive that is. Special Exits is proof that sometimes old school is best, and graphic novels are far from being a young person's game.
3. Kill Shakespeare – Anthony del Col, Conor McCreery, Andy Belanger, Ian Herring, Kagan McLeod (2010)
Kill Shakespeare is on this list for one reason, and that reason is that it is so very entertaining. If you're a literary buff, this is the graphic novel for you. All of your favourite Shakespeare characters are here, and they're having the time of their lives.
The plot is very complicated to explain, although far from being too complicated to follow. In essence, King Richard III charges Hamlet with finding the wizard Shakespeare and taking his magic quill, in exchange for bringing Hamlet's father back to life. Hamlet sets out on his journey and meets a huge cast, from Iago and Lady Macbeth – who are in league with Richard – to Juliet and Othello, who are members of the rebellion. Everyone is there.
The thing that makes Kill Shakespeare so great is that you can tell the creators really love their subject and their story. The story itself is a great adventure, and would work for anyone who has never even heard of Shakespeare. But if you have even a vague knowledge of his creations, then you're in for a world of treats, with clever asides, knowing winks and dialogue that incorporates the Bard's words so smoothly it almost sounds like del Col et al made them up themselves.
4. Daytripper – Fabio Moon, Gabriel Bá, Dave Stewart (2010)
Daytripper is the first graphic novel on this list that I'd say is beautiful in a very objective sense. The pages are stunning, the colours fabulous, the lettering crisp. It is a seriously attractive volume.
Created by twin brothers Bá and Moon, it follows Brás de Oliva Domingos, the child of a Brazilian writer, who writes obituaries and dreams of becoming a successful writer in his own right. Each chapter of Daytripper tells a story from Brás' life, but each one ends with him dying (not a spoiler, it's kind of the whole point!). There's a dreamlike quality to the storytelling and definitely the art, which underlines this episodic and changing narrative.
It is a cliche to say that Daytripper is 'life-affirming', but that's what it is. A book about living life whilst accepting that part of living life is also dying, and about dreams and the things that get in the way of dreams. Daytripper is beautiful, in every sense of the word.
5. Saga – Brian K Vaughan and Fiona Staples (2012)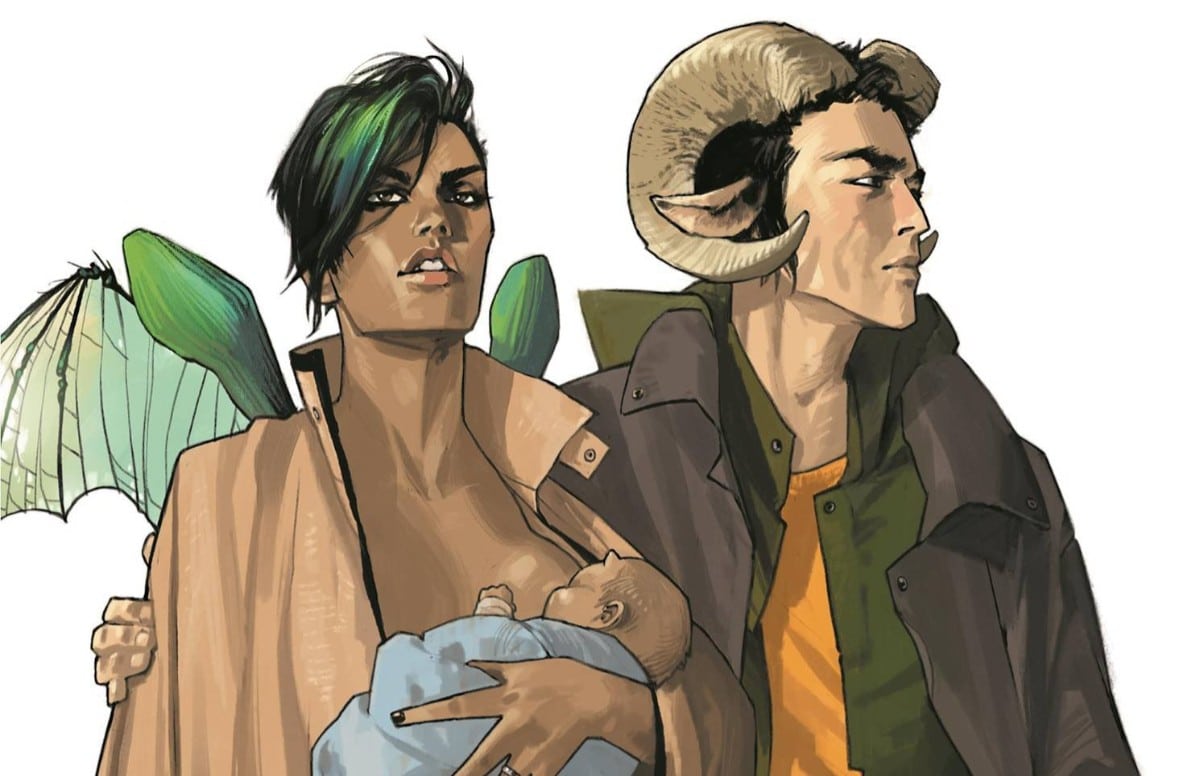 Saga is an epic tale of two young soldiers from two sides of a never-ending space war who meet, fall in love, and run away to try and build a family of their own. It is a powerhouse of fantasy and science fiction, full of all the good stuff like sex and violence, as well as having a great storyline and super imaginative character design. Marko and Alana, our Romeo and Juliet, are funny and compelling and complicated characters, and you will definitely fall in love with them both.
Something about Saga's art speaks to me, particularly the pastel colour palette. It just isn't what you'd expect from a graphic novel like this – space operas are meant to be zany and bright. But the muted tones ground this in a reality that you'd never see coming from the description, and after a while you just accept the characters for who they are – even the seahorse headed ones.
6. This One Summer – Mariko Tamaki and Jillian Tamaki (2014)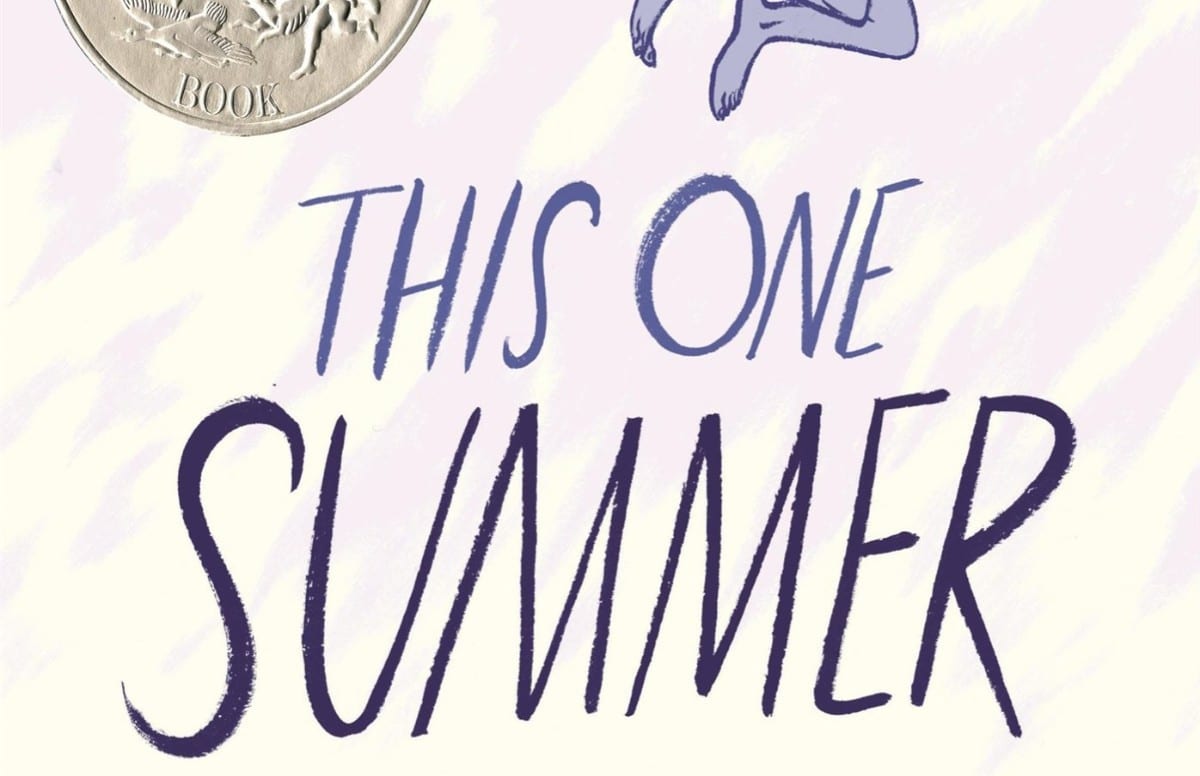 This One Summer is a low-key masterpiece, filled with stunning artwork and a quiet coming of age story that can almost go unnoticed if you don't slow down and really appreciate it for what it is.
Rose and Windy are childhood friends who meet up at the lake every two weeks in the summer. Rose is 12 now, that difficult transitional age between being a kid and wanting to be so much more grown up, and starting to think about boys and romance. Windy, 10, doesn't care much for that at all.
This One Summer is a story about firsts – first crush, first time that Rose notices the lives of the adults around her. There's no enormous and groundbreaking discoveries here, no countdown to the big reveal plot. Just a kid, learning how to live in the adult world, and isn't that exactly how most of us learned to do it?
7. Through The Woods – Emily Carroll (2014)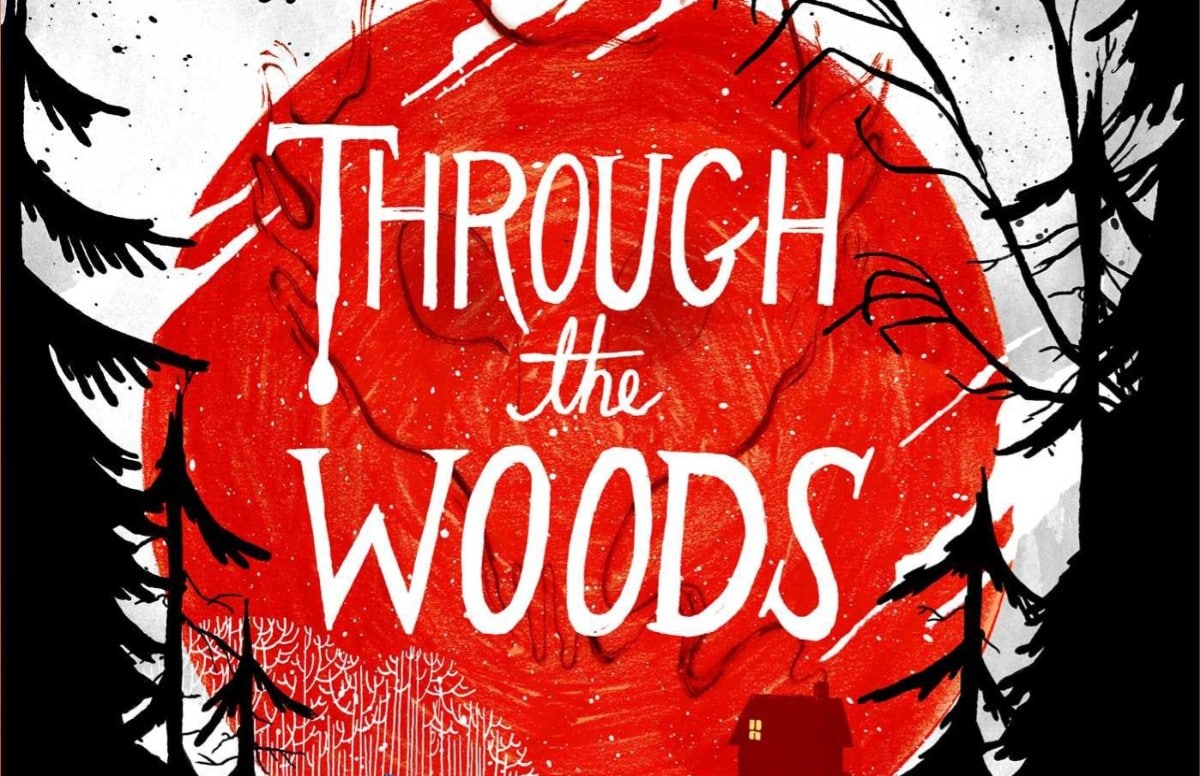 This is a horror novel of the highest order – five spooky or downright terrifying short stories, fairytales gone wrong – each drawn with their own style of illustration, and scaring the pants off a lot of people.
His Face All Red was a breakout webcomic hit which lead to Carroll's publication, but the other four stories are completely new, from Our Neighbour's House where three sisters are stalked by a strange smiling man to My Friend Janna, where two girls pretend to speak to the dead.
This book is full of creepy horror in Carroll's distinct style. It is dark, thematically as well as in the artwork, and unrelenting. It is as though Angela's Carter's Bloody Chamber has had a graphic novel update, but make no mistake – Carroll is a very accomplished writer and artist, and this is only a comparison I'd make if I thought she could compete with Carter herself.
8. Nimona – Noelle Stevenson (2015)
Stevenson is another author and artist who started off with webcomics – I remember following her and her hilarious pop culture drawings back in the heady days of the early 2010s. Nimona started off as a webcomic too, first written when Stevenson was still at art college, and even acted as her senior thesis. Goals.
Nimona is set in a sci-fi/fantasy type world, and follows our titular character, who is a shapeshifter and sidekick of the villain Lord Blackheart. His nemesis is Sir Ambrosius Goldenloin of the Institution of Law Enforcement and Heroics, who sounds like he's the good guy here, right?
Anyway, Nimona is full of everything that makes Stevenson so special. She's got a cartoonish, clean style that expresses so much emotion, and tells a cracking story which is, importantly, just as funny as you'd expect. Don't be fooled though – Stevenson has depth too, and Nimona has that in spades as well.
9. Heartstopper – Alice Oseman (2017)
Oseman is an annoyingly accomplished author at the tender age of 25, with several YA novels and Heartstopper under her belt already. But when the work is this good, can we even be jealous? (Well, maybe a bit).
Heartstopper also started as a webcomic, which you can still read online if you want to. That's pretty cool, but it is very nice to be able to hold the book in your hands, especially when it is so adorable. Charlie, a shy openly gay kid at a school for boys, makes friends with Nick, one of the rugby team. Pretty soon, Charlie is falling hard for Nick and thinking that his feelings will never be returned.
Heartstopper is refreshing because it isn't a 'coming out story' – Charlie knows who he is. Instead it is an impossibly cute and wholesome story about young love, with drawings that match the tone perfectly and leave you feeling all warm and fuzzy by the end.
10. They Called Us Enemy – George Takei, Justin Eisinger, Steven Scott, Harmony Becker (2019)
This book by Team Takei is the most relevant and possibly the most necessary read of any on this list. During the Second World War, for the crime of being first and second generation Japanese-Americans, George and his family were taken to an internment camp in California, along with an embarrassing and shameful number of other families who were seen as 'enemies' of the war effort. It seems mad that this story should be relevant to the modern day USA, but here we are anyway.
This graphic memoir tells Takei's story, of how he grew up behind barbed wire in a place where racism was legalised. It shouldn't be a surprise now, reading this powerful and undertold story, that Takei is so vocal in his opposition to the Trump administration. The art is fairly simple and almost dreamy in places, but so expressive, which seems even more important in this kind of story than any other.
MORE BEST BOOKS OF THE 2010s: Children's | Horror/Sci-Fi| Non-Fiction | Crime/Thriller | Young Adult.