Over the past few years, the video game industry has been pivoting away from physical media and embracing gaming subscription services. There's a whole bunch of different ways to spend your cash monthly if you're a gamer nowadays.
Unless you own one of the companies below, it's unlikely that you will have the resources to afford all of these gaming subscriptions — you may actually ending up paying more a month than you used to if you just bought physically each month.
Personally, I've had them all at one time or another: some have been essential for me and others have been kicked to the curb once the free trial has expired, but different gaming subscription services are better suited to different people.
We've complied a list of the best gaming subscription services based on my previous experiences with pros and cons for each alongside prices. The below are listed in USD and GBP, so regional differences may apply.
The Best Gaming Subscription Services
1. PlayStation Plus Essential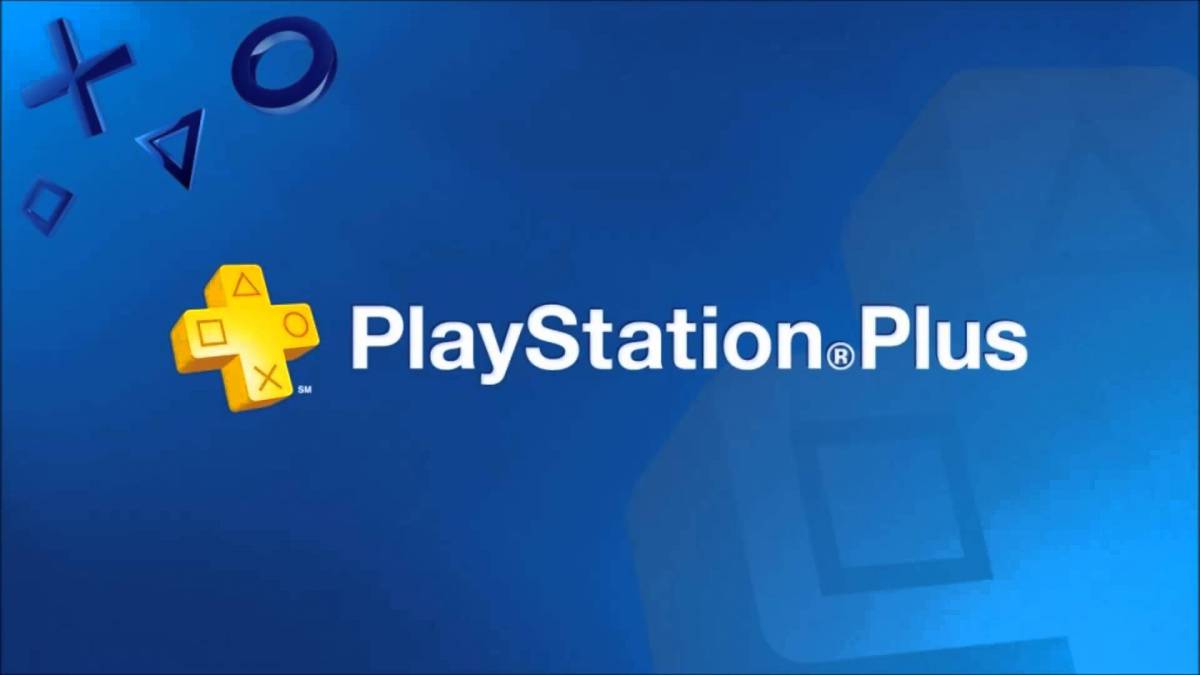 Pros: better games releasing each month.
Cons: Vita and PS3 support being dropped.
Platform(s): PS4, PS5
Price: £6.99/$9.99
Free trial? Yes
PlayStation Plus is a prerequisite to play most PS4 games online, but you tend to get your money back with its selection of free monthly games. It used to be pretty underwhelming until Sony really ratcheted up their game with massive hitters like Bloodborne and The Phantom Pain; two games which already pay for the entry fee.
Sadly, the Vita and PS3 are no longer a part of the service; Sony have given extra save storage in the cloud to try and make up for it. Couple that with needing to pay to play online — a silly idea to PC gamers — and you have yourself some pause for thought before signing up for a monthly plan.
With the launch of the PS5, though, Sony did unveil the PlayStation Plus Collection, a pretty robust compendium of the PS4's biggest hits. You can also subscribe to the Premium and Extra tiers to unlock access to classic retro games and even stream PS3 games with these new tiers being the replacement for PS Now, though they are quite expensive.
DEAL: 1 Year PlayStation Plus Membership
2. Xbox Live Gold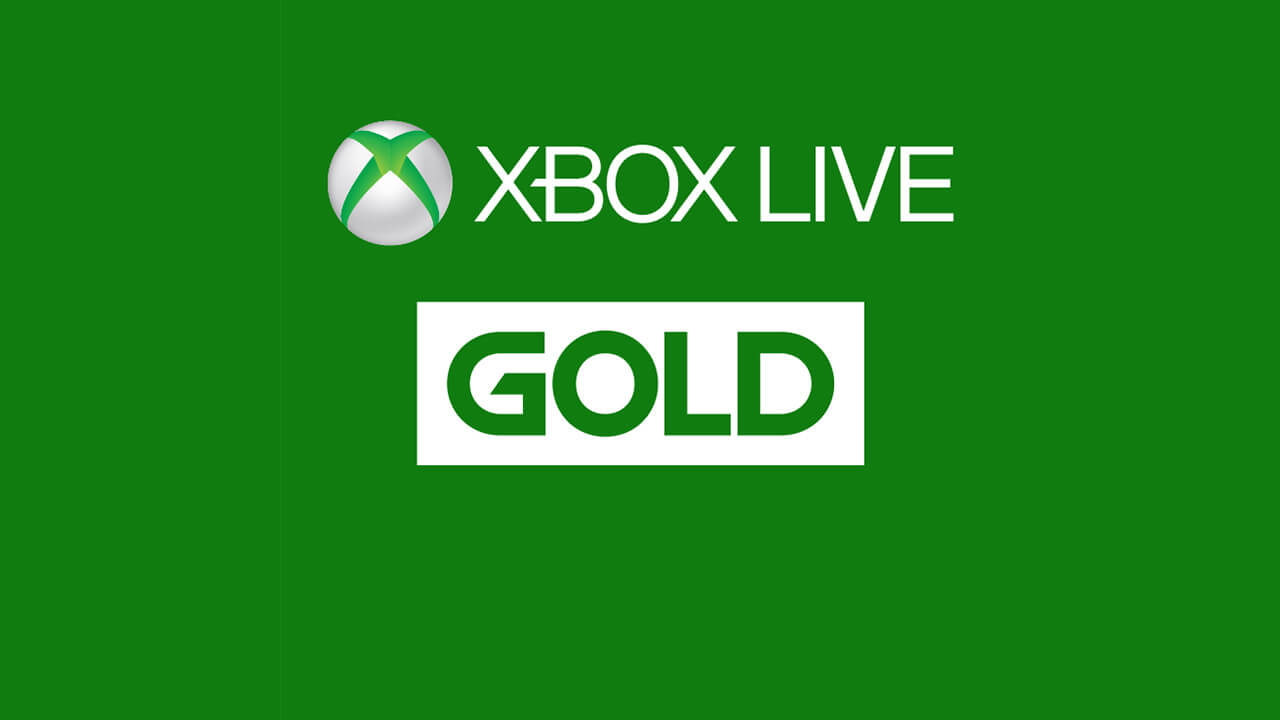 Pros: reliable connection and some decent deals on the store.
Cons: free game quality has been dropping drastically.
Platform(s): Xbox One, Xbox 360, Xbox Series X | S
Price: £5.99/$9.99
Free trial? No
One of console gaming's very first services has remained affordable throughout its lifetime. What hasn't remained consistent, however, is the quality of "free" games it offers, especially if you're wanting relatively modern AAA games.
After routinely trumping PlayStation Plus since the Xbox One and PS4 launched, the roles have been reversed as Games With Gold now trots out some rather uninspired fare seemingly to make Game Pass look even better.
You also need it to play online for most premium games, so if you're more of a single-player gamer, it could be an excess that you can live without. It should really just be a Game Pass perk at this point.
DEAL: Xbox LIVE 12 Month Gold Membership
3. Xbox Game Pass
Pros: all of Microsoft's headlining acts available at launch.
Cons: some games get cycled out each month, no real ownership
Platform(s): PC, Xbox One, Xbox Series X | S
Price: £7.99/$9.99
Free trial? Yes
It's a little wild just how good the value for money with Game Pass is. For a slender amount of money each month, you get access to an impressive library of 360 and One games, including all of the Xbox One's big exclusives going forward, as well as the Series X | S.
We've already had Sea of Thieves, State of Decay 2, and Crackdown 3 at a total snip compared to their retail prices, even better if you take advantage of its free trial for two weeks. It's similar to PlayStation Now but all games are downloaded, and you also get new games from day one release. There's only one real winner here.
There's even the option to sign up for Game Pass for PC, though it is a separate subscription from the console version. You can, however, sign up for Xbox Game Pass Ultimate, which consists of both Game Pass versions with Xbox Live included, as well as EA Play, which we'll be getting to shortly.
DEAL: One Month of Game Pass Ultimate for £1/$1
4. Nintendo Switch Online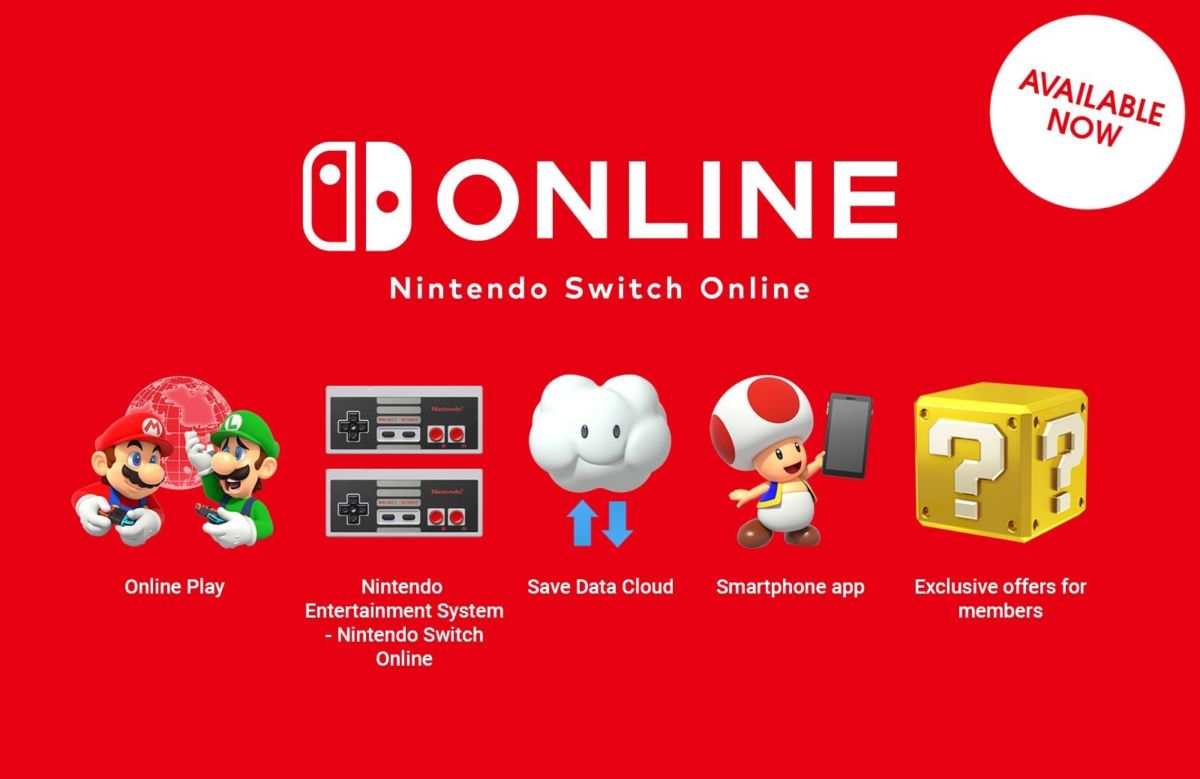 Pros: comparatively cheap, loads of old games.
Cons: the infrastructure isn't brilliant, no new games.
Platform: Switch
Price: £3.49/$3.99 a month, £17.99/$19.99 a year
Free trial? Yes, 7 days
The rather blandly named Nintendo Switch Online is Nintendo's first attempt at a paid subscription service for online gaming, and you can kind of tell.
While a rather good deal overall, the Switch's online play isn't exactly robust and reliable, and there really aren't too many "big" games that actually require a subscription to access online play. Really, Splatoon 2 and Super Smash Bros. Ultimate are the only Switch multiplayer games that most would want to fork a subscription out for.
Still, it's a work in progress, and a very cheap one at that. £17.99/$19.99 a year is pocket money compared to how much others are demanding, and the NES and SNES libraries of games to play that you get with your sub are fairly robust.
5. Nintendo Switch Online + Expansion Pack
Pros: play N64 games on your Switch.
Cons: rough connection, mad pricey.
Platform: Switch
Price: $49.99 / £34.99 per year
Free trial? Yes, 7 days
So if the normal Switch Online is a decent deal, the Expansion Pack offering is pretty much the exact opposite.
Costing more than double the amount of the normal subscription, Nintendo Switch Online + Expansion Pack combines all the benefits of the base membership with access to N64, Genesis and Animal Crossing DLC for a yearly fee.
Doesn't sound too bad, but when you consider that those games are streamed, meaning you're at the whims of Nintendo's internet gods, and that some people may have no interest in Animal Crossing, it makes very little sense.
Swerve this one, at least for now.
6. Prime Gaming
Pros: built-in to the Amazon Prime price, now includes free games.
Cons: yet another launcher on PC.
Platform: PC, Mac
Price: £8.99/$14.99
Free trial? Yes
If you already have an Amazon Prime account, you really ought to take advantage of Prime Gaming, previously known as Twitch Prime. It feels like a lot of people gloss over how good it actually is.
Not only does it give you exclusive loot and a free subscription to your favourite streamer, but it also gives you free monthly games that are a good sweetener for a great deal. Compared to other subscriptions, you actually get to keep the games, rather than losing access should your sub lapse.
The only major downside? You need the Twitch launcher and cannot use the games on Steam; well, not without fiddling. There are so many launchers. Still, hard to resist if you're already using Prime for online shipping or Video.
DEAL: Try Amazon Prime 30-Day Free Trial
7. Humble Choice
Pros: one game is often worth the monthly price,  Humble Games Collection, deals on the store.
Cons: can be very much a lucky dip.
Platform: PC, Mac
Price: $11.99/£8.99
Free trial? No
For sheer value's sake, Humble Choice is a gaming subscription service that's hard to beat. For a relative pittance each month, you get at least one recent game and a collection of indie treasures.
By paying upfront, you get the early unlock to play there and then, which have included the likes of Dark Souls 3 and Civ 6 in the past. The only real downside is that some months are better than others, but if the newest line-up doesn't take your fancy, you can just unsubscribe and recommit when it's more to your taste.
Best of all, you even get access to the Humble Games Collection full of Humble's own published games as long as you remain an active subscriber.
DEAL: Subscribe to Humble Choice for 12 months and get one free month
8. Utomik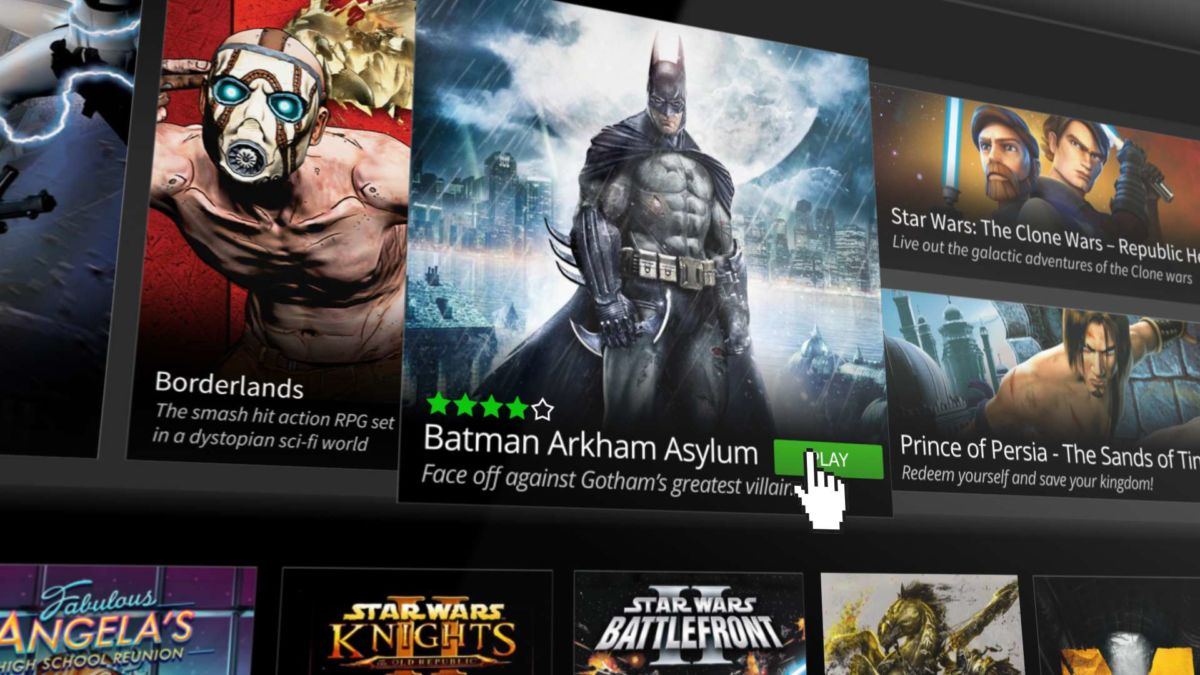 Pros: stream games that you can't find anywhere else.
Cons: no real recent, big games.
Platform: PC
Price: £4.49/$5.99
Free trial? Yes
The least recognised on this list, Utomik certainly still has something to offer — over 700 games, to be exact. While it may not exactly be up to date with the biggest hitters in its library, the selection is still pretty impressive.
Utomik also has games that are no longer compatible with most PCs and all you have to do is download a portion of the game and then the service will stream the rest. Worth a look if you want to play older games at a very fair monthly price.
DEAL: Free 14-day trial
9. GeForce Now
Pros: next-gen games without the next-gen hardware.
Cons: at the mercy of the cloud, have to use your own games.
Platform(s): PC
Price: Free-£8.99/$9.99 per month
Free trial? Yes
Building a PC can be hard, and knowing what games work on which setups at the best settings is arguably even harder. If you don't have the time or immediate budget to buy yourself a high-end rig, GeForce Now is probably your best option.
GeForce Now allows you to play your Steam library through the cloud on the best hardware, meaning that you can enjoy ray-tracing without having the hardware at home to match with up to 1080p at 60 FPS on its middle tier. You can even pay somewhat over the odds to stream games from a remote RTX 3080 rig, but that's probably not the most fiscally responsible.
However, as with so, so many streaming services for gaming, GeForce Now lives or dies by the strength of your internet connection. It's also arguably a little pricey for what it is — you might end up being better to just put your subscription money towards a rig of your own.
10. EA Play
Pros: new games as part of the price, free trials for new EA games.
Cons: it's EA, clumsy interface.
Platform(s): Xbox One, PS4, Steam
Price: £3.99/$4.99
Free trial? No
As much as we may all bag on EA, EA Play is a diamond that gives you access to a whole bunch of quality games for a low fee. Better yet, 6+ months after a game's release, it winds up on EA Play so the library is constantly up to date.
There's even a Steam version of it available. Unfortunately, though, you need a separate subscription for every platform you want to play EA Play on, which just isn't worthwhile at all.
The only downsides are that it's EA, which may instantly put off some folk, and that the interface for the app on Xbox One is absolutely terrible and unresponsive. If you're unsure of a new EA game, you will usually be able to download a free trial: a move that has backfired on EA many times in the past.
If you're an Xbox Game Pass Ultimate subscriber, you can get EA Play as part of the service for no extra charge. That's crazy.
11. EA Play Pro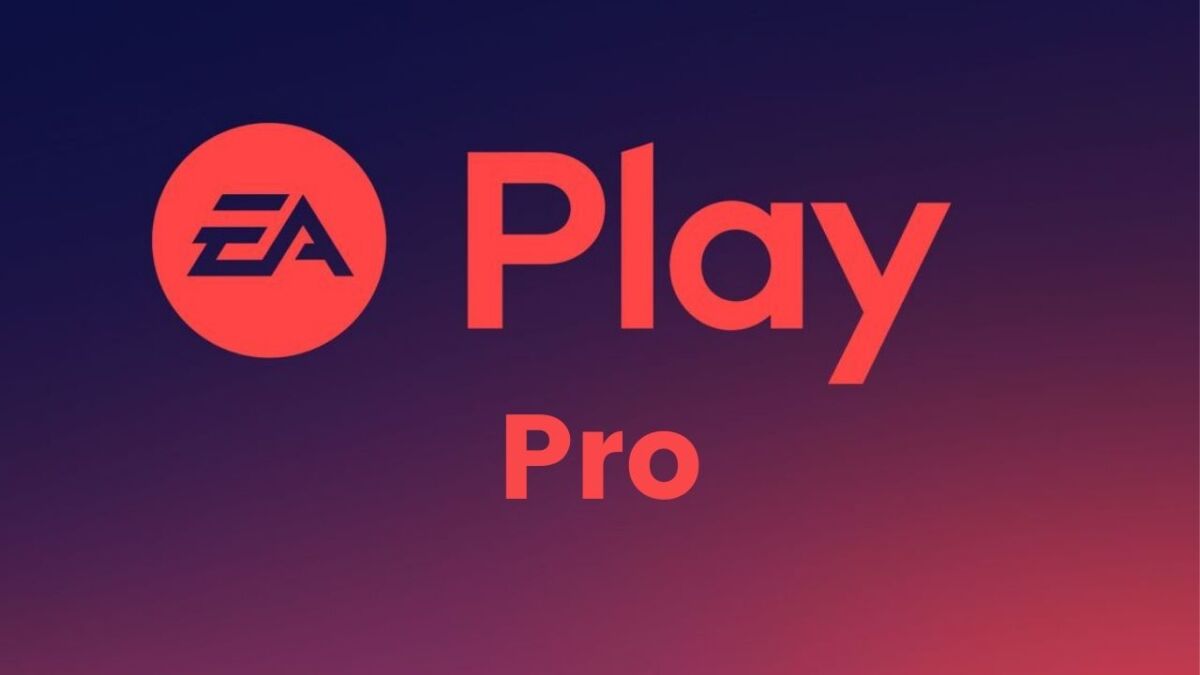 Pros: great PC games at a low monthly price.
Cons: it's EA, another launcher.
Platform(s): PC, Mac
Price: £14.99/$14.99
Free trial? Yes
A very similar subscription service to EA Play, EA Play Pro has many of the same games as its Xbox counterparts but also a few other treasures that weren't published by EA. Of course, there's a catch: you have to use the Origin launcher to play them and cannot plug them into Steam.
Compared to EA Play, though, Pro gives you day one access to EA's newest games and you can play them for as long as you are subscribed. So, for instance, if you don't want to shell out full price for the same FIFA game each year, Pro gives you much better value.
In fact, Pro lets you play some of EA's new games before they are widely released and your subscription will even give you access to the more expensive versions of the game, such as the Ultimate Edition for FIFA.
READ NEXT: Best Free PC Games You Should Play
Some of the coverage you find on Cultured Vultures contains affiliate links, which provide us with small commissions based on purchases made from visiting our site. We cover gaming news, movie reviews, wrestling and much more.