Whether they air on Christmas Day itself or within the fortnight beforehand, a staple of festive television is the sitcom Christmas episode. Whereas on British shows they are typically one-off specials, in American sitcoms they are usually part of the ongoing season, and the nation's longest-running sitcom The Simpsons is no exception.
Whilst Simpsons Christmas episodes are not an annual tradition (unlike Halloween's Treehouse of Horror), they have been a regular occurrence since Season 1, with a total of 17 having aired in the last 32 years and – if you have owned a television during that time – chances are that you will have seen a number of them either when they first aired or during the countless reruns of the iconic cartoon.
As Christmas 2021 approaches and countless people's plans look set to be thrown into disarray for the second consecutive year, it would be fair to say that we could all do with a good laugh, and what better way to do so than by revisiting festive television which evokes feelings of nostalgia for so many of us?
Thankfully, we live in the era of streaming services. With the first 32 seasons of The Simpsons available on Disney+, we no longer need to scrutinise our TV guides to know when to catch the sitcom's festive back catalogue. Whilst our favourite yellow family have celebrated Christmas a total of 17 times, the episodes listed are the 5 which are most likely to lift your spirits in what lyricists have long since deemed the most wonderful time of the year.
1. Simpsons Roasting on an Open Fire (Season 1)
Originally airing on December 17th 1989, Simpsons Roasting on an Open Fire was not only the first ever festive episode, but the first full-length episode of The Simpsons, following 48 roughly-drawn shorts on The Tracey Ullman Show.
When Bart gets a tattoo, Marge has to spend the family's entire Christmas budget on laser removal…not realising that Mr Burns has just denied the Nuclear Power Plant's workforce their Christmas bonuses (the first of many occasions where the family would face monetary problems). Desperate to provide his family with a good Christmas, Homer gets a second job as a mall Santa Clause – a job which pays so poorly that his only hope lies at the greyhound track.
Whilst this is a successful example of a pilot episode as it establishes the show's tone and the central family's dynamic, it is also an excellent example of a Christmas special. There are good festive-themed laughs to be found throughout the episode, such as Bart singing "Jingle bells, Batman smells" at the school Christmas pageant, Homer's clumsy attempts to put Christmas decorations up on the roof and his later work as a gluttonous, accident-prone Santa.
Furthermore, this episode has an accessibility to viewers of all ages which has transcended era – younger children will see themselves in Lisa's efforts in writing a letter to Santa, older children will relate to Bart's boredom over Christmas shopping, whilst parents will know all too well why the expense of Christmas is something that Homer and Marge are conscious of. Plus many adults will relate to Homer's disdain at having to spend Christmas with in-laws – in this case Marge's mean-spirited sisters Patty and Selma.
Nothing else in this episode, however, will fill you with such pleasure as the final scene, in which Homer and Bart return from the greyhound track with a truly wonderful gift which money could not buy. The looks of pure joy on everyone's faces will warm even the coldest of hearts, and this final scene serves as an important reminder that family is of infinitely greater importance and joy than even the most luxurious presents.
2. Marge Be Not Proud (Season 7)
Ah, Christmas. 'Tis the season of goodwill, the season to be jolly, the season to…get caught shoplifting? Well, that is exactly what happens to Bart, who is that desperate to own Bonestorm – the newest, coolest video game, whose advertising includes the most badass Santa ever ("Tell your folks 'Buy me Bonestorm or go to Hell!'") in a clever satire of the extreme commercialisation of Christmas.
Resultantly it seems that Christmas is ruined as, despite Bart's efforts to prevent it, Marge finds out about his shoplifting attempt and is understandably crushed. As Homer berates Bart before losing his train of thought and concluding "stay out of my booze", Marge is too disappointed to even look at her son, leaving Bart feeling rotten to the core in a moment which anyone who knows that crushing feeling of disappointing a parent will find relatable.
It is not just the poignant screenwriting which makes Marge's disappointment in Bart so heartbreaking to watch, but the animation itself. Few episodes truly testify to just how expressive the animation is, and watching Marge's face change from anger at what she believes to be false accusations to horror, sadness and ultimately disappointment as she sees the truth on CCTV is a harrowing moment, thanks to the details in her gradually changing facial expression.
However, this festive episode is thankfully not all doom and gloom – in the final scene, Bart atones for his mistake (following a very clever red herring) in an absolutely heartwarming way. His gesture is simple yet sincere, moving Marge to tears of joy, and this moment exemplifies better than any other that (at his core) Bart is a good kid, whose bond with his mother is one of unconditional love. The simplicity of his gesture also shows that Christmas presents do not have to be lavish or excessively expensive if it is something that the receiver would genuinely appreciate and is given with pure intentions.
3. Grift of the Magi (Season 11)
Whilst Season 11 is generally considered the point where The Simpsons truly erred away from what is known as "The Golden Years", the Christmas episodes nevertheless remained a highlight, as this entry proves.
Following a surreal opening in which Bart cracks his coccyx on a bowling ball, Springfield Elementary is taken over by Kid First Industries, whose staff make school the funnest it has ever been for everyone except Lisa, who simply wants to learn. Lisa later discovers that K.F.I. gleaned information from her classmates to design a new toy called Funzo, which subsequently becomes the top item on everyone's Christmas wishlist. However, after realising that Funzo's programming will ultimately ruin Christmas for everyone, she, Bart and Homer set out to destroy every last one.
As mentioned, the episode starts off on a surreal note and remains as such for pretty well its entire runtime, which makes for a very fun Christmas episode. The efforts of Homer and the kids to get all of the Funzos prove to be hilarious – Bart and Lisa sing carols on doorsteps whilst Homer breaks in through back windows, and the kids are forced to up their volume at the Hibberts' house as Homer is pounced on by the dog in a brief-but-brilliant bit of slapstick.
Like most Simpsons episodes, Grift of the Magi also references a number of films, a notable example being when desperate Springfieldians ransack stores to buy Funzo, which evokes the Arnold Schwarzenegger film Jingle All the Way, whilst also providing clever commentary on the materialistic nature of Christmas. The screenwriters also utilise Mr Burns and Moe to reference A Christmas Carol and It's a Wonderful Life respectively, with the former being visited by three ghosts and the latter seeing what life would be like had he never existed.
However, the episode's highlight is in Gary Coleman's guest appearance as himself. Coleman is depicted as "working" as a security guard at K.F.I. – a clever satirisation of how actors stay busy between jobs that also serves as a subtle nod to his real-life financial hardships. Despite being a useless security guard, he manages to keep his job by breaking out his Diff'rent Strokes catchphrase "What'chu talkin' 'bout?" whenever challenged, and eventually spends Christmas with the Simpsons.
It may be far more off-kilter than previous festive episodes, but Grift of the Magi exemplifies that The Simpsons' creative team would nevertheless continue to craft fun episodes with clever moments post-Golden Years.
4. Holidays of Future Passed (Season 23)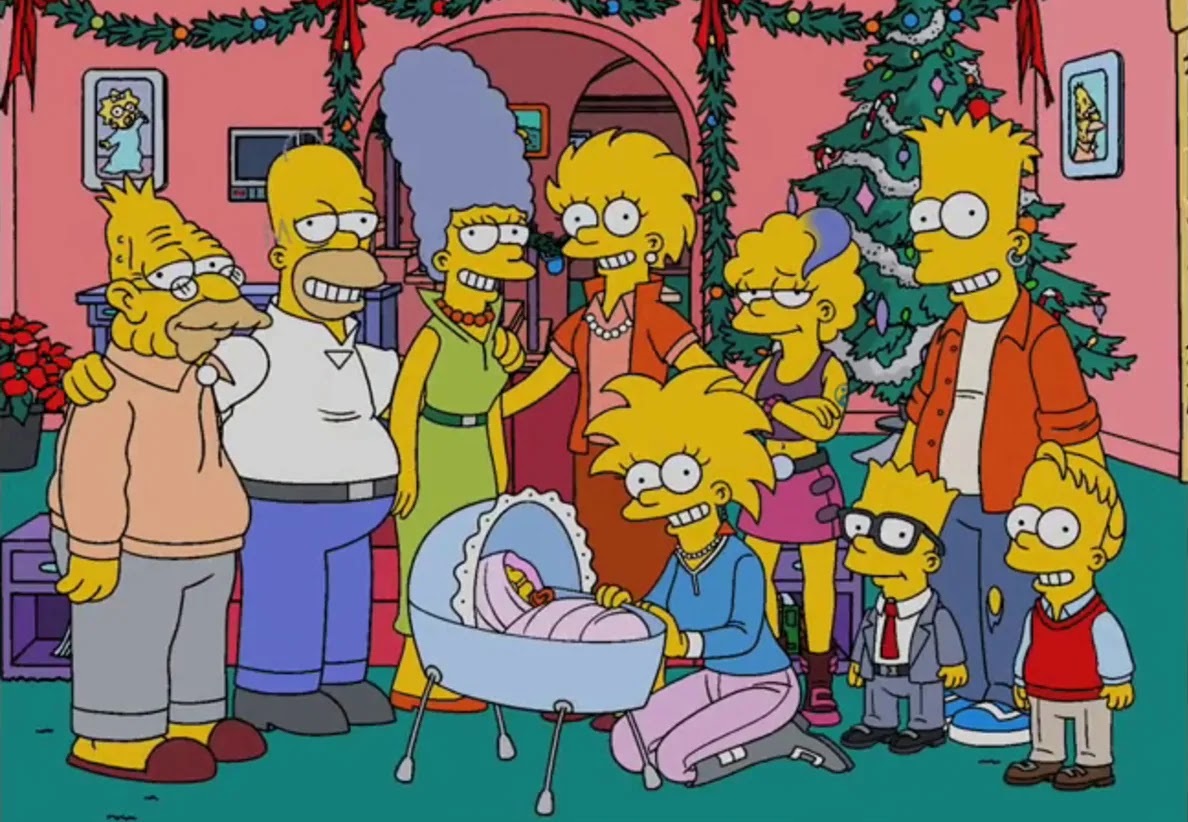 Thanks to its production context, Holidays of Future Passed is a unique Simpsons episode. It is unbelievable now as the show is in its thirty-third season, but back in 2011 the future of The Simpsons seemed uncertain as Fox was struggling financially, and the only way that it could continue would be if the voice cast took considerable pay cuts. Whilst meetings and negotiations were underway, Holidays of Future Passed was penned with the intention that – as well as being a Christmas episode – it would serve as the show's finale if Fox pulled the plug on the iconic yellow family, which really would be a case of coming full-circle.
A brief prologue depicts Bart and Lisa as frustrated at having to pose for the family's Christmas card photo, for which Marge points out that they will do the same thing with their children one day. A photo montage then shows the next 30 years of family Christmas cards, depicting them gradually aging and the kids becoming adults, at the end of which the body of the narrative commences 30 years in the future. As with most future-set episodes, there is a wealth of new technologies, Bart is a deadbeat, Lisa continues to be a high achiever and Maggie still never speaks.
As they prepare to spend Christmas with Homer and Marge, they each have their own dilemma – Bart is very conscious of how estranged he is from his sons Jiff and Skippy, Lisa is unsure how to parent her and Milhouse's teenage daughter Zia, and Maggie (now a famous rock star) is pregnant with an illegitimate child. Homer and Marge – who feel delighted to have the whole family together for the first time in years – take the initiative to help their children navigate the minefield that is being parents, having learnt from their own mistakes.
Whilst many long-term Simpsons viewers felt that it was simply not that funny anymore by the time that Season 23 premiered, this episode proved that the screenwriters could still pen sharp and witty episodes, as there are a plethora of great verbal and visual gags throughout the runtime. Some are daft, such as Grampa falling asleep face-first in the mashed potato and becoming convinced upon waking up that he is now Santa. Others are clever references to Simpsons lore, such as Apu having 64 grandchildren after each of his octuplets had octuplets. There is also a very clever moment of meta-humour as 40-year-old Bart admits that he spent too many decades living like a 10-year-old.
However, like the all-time great Simpsons episodes, there is also a lot of heart. Whilst it is wonderful to see Homer explaining to Jiff and Skippy that they should go easy on Bart as no father is perfect, the true heart of this episode is a scene in which Bart and Lisa get drunk in the treehouse together and open up about what they find difficult about parenthood. This is not only a beautiful tribute to how the often-squabbling siblings have always been able to be vulnerable with each other, but is a moment which parents viewing the episode would be able to relate to.
And relatability is why (despite the futuristic setting) this is such a grounded and appealing festive episode. Younger viewers would see themselves in Jiff and Skippy's delight to be spending Christmas with their grandparents, whilst grandparents would totally get why Homer and Marge are just happy to have the whole family together. Not only is this an excellent Christmas episode, but it is an outstanding Simpsons episode in its own right, proving that such quality could still be found despite the show's longevity, and had this been the finale then it would have been a wonderful note for the sitcom to end on.
5. The Nightmare After Krustmas (Season 28)
Whilst Holidays of Future Passed would have been a fitting finale, The Nightmare After Krustmas is another example of how the creative team continued to craft good festive episodes as they got ever closer to the thirtieth anniversary. Even without knowing the title, from its very opening this episode could not be mistaken for anything else – The Simpsons theme music is replaced by an instrumental version of the Hark the Herald Angels Sing and the couch gag is Mr Burns releasing "the festive hounds".
The main plot of the episode sees Krusty and his daughter Sophie spend Christmas together, the clown being left stunned to learn that she has been raised a Christian and does not practice Judaism, for which he berates her whilst ironically being served a bacon and lobster sandwich. Meanwhile, Reverend Lovejoy's ministry hits a slump and his Parson (a caricature of Holiday Inn and White Christmas star Bing Crosby) tells him to grow his flock. These two threads come together when Krusty and Lovejoy meet, with the former converting to Christianity, but it later becomes apparent that a key factor in this choice is Krusty's belief that it would help him be a better father to Sophie.
This episode has a very different concept to the others on this list, but shares a common theme of the importance of family. As Sophie and Krusty spend time together, it becomes apparent that – despite being of different faiths – Sophie just wants to have quality time with her dad during the holidays, which conveys to viewers the importance of family and also serves as a reminder that Christmas is a time where people should show love and good will to everyone, regardless of their differences.
Krusty eventually comes to realise this, but not after almost drowning – a scene made surprisingly funny by his self-deprecating humour ("I haven't been current in years") and water coming out of the flower on his shirtfront when Lovejoy performs CPR. That is just one of a number of hilarious sight gags in this episode – others include Chief Wiggum's tongue sticking to his gun and a blink-and-you-miss-it innuendo when Homer sees Marge in festive lingerie.
Whilst the main plot has a lot of heart in its exploration of the importance of spending Christmas with family, this episode also satirises contemporary festive traditions (or social media bandwagons, depending on how cynical you feel) through a B-plot. Homer and Marge buy Maggie a "Gnome in Your Home" (a shameless parody of the "Elf on the Shelf" craze). With its sinister grin and excessively large eyes, the doll is simply nightmare-fodder for Maggie, and viewers of any age who remember being unnerved by a doll will empathise with her.
However, Maggie once again proves that she is not the baby who shot both Mr Burns and Fat Tony for nothing, and the gnome's fate is a lovely nod to The Godfather that will appeal to viewers who grew tired of #elfontheshelf dominating their social media feeds. This is a B-plot that will please old and new Simpsons fans alike, within another festive treat from the long-running show.
READ MORE: 10 Best Historical Christmas Books
Some of the coverage you find on Cultured Vultures contains affiliate links, which provide us with small commissions based on purchases made from visiting our site. We cover gaming news, movie reviews, wrestling and much more.