A whole year after the god awful wedding and affair storyline with Lana and Rusev, the "Almighty" Bobby Lashley has finally reached the top of the mountain after dethroning The Miz in the main event of the March 1st episode of RAW to win his first, and well deserved, WWE Championship.
Lashley's sudden win has come as a surprise to many seeing how The Miz was only 8 days into his title reign before being derailed by The Hurt Business' muscle in under three minutes.
So long as another sudden title change does not occur at Fastlane, Lashley will head into WrestleMania as champion. So there stands a single question: who will take on "The Almighty" on the "grandest stage of them all"?
Without further ado, here are the five possible opponents for Lashley at WrestleMania.
1. Brock Lesnar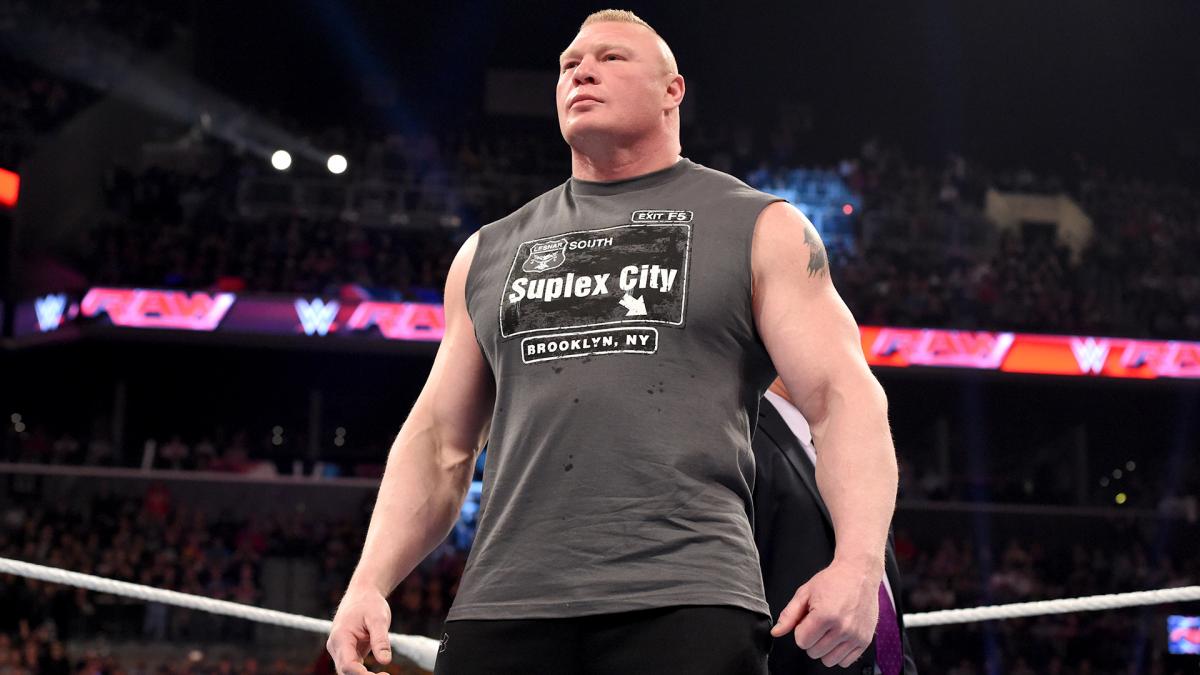 After Lashley defeated The Miz on RAW, one word began trending on Twitter; Brock. A match between "The Beast" Brock Lesnar and "The Almighty" Bobby Lashley is something that fans have been craving for years now, both inside the squared circle and an MMA cage.
Likely the most dominant men to ever step foot into both, it's a complete shock that Lesnar and Lashley haven't faced off before and when Lashley returned to the WWE in 2018 stating he had "unfinished business", everyone assumed that a match with Lesnar would soon be on the horizon, however it never appeared.
It's a match that sells itself; both superb physical specimens, and both execute a dominant MMA style, so a WrestleMania main event would easily sell tickets. The match itself would easily be more of a brawl than a fight, maybe even with a submission match stipulation to really give it an MMA feel.
If the two do finally face off at WrestleMania then Lashley should undoubtedly win, Brock has become less and less prominent in the WWE and being defeated by Lashley could be a symbolic passing of the torch from one "Beast" to another.
2. Drew McIntyre
It's safe to say that The Miz successfully cashing in his Money in the Bank contract on McIntyre at the Elimination Chamber after the "Scottish Psychopath" was laid out by "The Almighty" post match definitely did not make a lot of people happy. So McIntyre having the opportunity to regain what was unjustly taken from him would make perfect sense.
Of course, WWE did away with its "rematch clause" a few years back meaning that McIntyre will likely have to fight for a spot at Mania, but if he does win then he and Lashley will easily put on a clinic of a match. Both men are incredible powerhouse wrestlers with an immense amount of strength so, to quote good ol' JR, the match will surely be a "Slobberknocker".
3. AJ Styles
Wrestling veteran Jim Cornette once said that a good name should be something that looks good on a marquee or on a poster, and I think I speak for everyone when I say "The Almighty" versus "The Phenomenal" is certainly a matchup that would look good lit up by the marketing hype. Styles is an amazing figure with a more agile, high flying style of professional wrestling, and countless times wrestling fans have seen how well agility and powerhouse wrestlers synergise with each other; producing magic.
Styles has proven this in his matches against the likes of Sheamus, Randy Orton, and "The Monster Among Men" Braun Stroman, so there is no question that he and Lashley could easily put on a stellar WrestleMania main event.
Styles is forever going to be a main eventer however he is yet to have his WrestleMania moment, and that could very well be defeating Bobby Lashley for the WWE Championship in April.
4. Keith Lee
Another match that screams physicality. Keith Lee has proven time and time again just what he is capable of. Whether it's in his matches in NXT or his short but fantastic meeting with Brock Lesnar in the 2020 Royal Rumble, Keith Lee has demonstrated his worth and talent to WWE fans who may not be familiar with his talents.
The duo have met before on the November 23rd 2020 edition of RAW, when they faced off to see who would enter a Triple Threat match to determine the #1 contender for then champion Drew McIntyre's WWE Championship. Lee would win the match, however, it would disappointingly be caused by a DQ finish.
Off the back of that, a rematch between the two with a non-Dusty finish is yet to be seen and WrestleMania may make the perfect stage for that rematch. To avoid a DQ finish the match could even have a no disqualification stipulation such as a Last Man Standing or Extreme Rules match which would just exasperate the physicality between the two and give fans a brutal match that the two are certainly capable of giving.
5. Braun Strowman
If this list is anything to go by, the potential for Lashley to have an insanely physical match at WrestleMania is too good of an opportunity for WWE to pass up.
The "Strowman Express'" push into the WWE title picture fell off the rails after the ludicrous Swamp Match against The Fiend at Extreme Rules. However, a decent feud with a dominant heel is all he needs to be thrust back into main event stardom, and at the minute there is no one more dominant than Bobby Lashley.
Lashley and Strowman have faced off in recent memory with the two wrestling on the February 22nd edition of RAW to see who would challenge The Miz the following week for the WWE Championship. Lashley would have to put "The Monster Among Men" asleep with The Hurt Lock in order to win the match, so WrestleMania could be a perfect time for a rematch to see if Strowman can finally defeat Lashley.
Whoever it is that does go on to face Lashley at WrestleMania, it's my opinion that Lashley should walk in and out of the event as champion. He has the potential to be a champion on par with Brock Lesnar in terms of domination, especially with The Hurt Business behind him who are quickly becoming the most domineering faction on the main roster.
READ NEXT: 5 WrestleMania 37 Opponents For Brock Lesnar
Some of the coverage you find on Cultured Vultures contains affiliate links, which provide us with small commissions based on purchases made from visiting our site. We cover gaming news, movie reviews, wrestling and much more.