Rumours are afloat regarding Brock Lesnar's status for WrestleMania 37, outlining various different names to be next in line for a trip to Suplex City. Although nothing is confirmed, it wouldn't come as a surprise if 'The Beast Incarnate' was brought back to the squared circle to help boost sales figures after a pretty dire year for the industry as a whole.
The last we saw Brock Lesnar was at WrestleMania 36, where he dropped the WWE Championship to Drew McIntyre in the show's main event. It was a huge moment for McIntyre, one which could have been far more spectacular if the pandemic hadn't reared its ugly head. Up until recently, it was believed that this could have been Lesnar's final appearance for WWE, at least for a while. In the meantime, Brock seems to have returned to the farm to grow a beard and relish in the McMahon millions, but all good things come to an end, especially during 'Mania season.
With the Royal Rumble just around the corner, we could very well see the return of Brock Lesnar as part of the 30 man battle royal, where he could either go on to become a two-time winner or set up his feud in time for WrestleMania. Assuming that Lesnar will be used for the latter purpose, let's run down 5 potential opponents for 'The Beast' heading into the Grandest Stage of them All.
1. Kevin Owens
One of the most rumoured names for Brock's WrestleMania programme is 'The Prizefighter' Kevin Owens. Set to wrap his feud with Roman Reigns at the Royal Rumble event, Owens has been positioned nicely for an upper mid-card role heading into WrestleMania. Personally, I'd much rather see KO reignite his feud with Sami Zayn, now with the dynamics between them reversed and a potential Intercontinental Championship to be up for grabs. Failing that, Owens/Lesnar has yet to go down on PPV, so why not at WrestleMania?
Kevin Owens has started to come into his own as a top babyface star for SmackDown Live, channelling his inner Stone Cold and bringing the 'working man' gimmick to life once again. Should KO manage to score a huge elimination over Brock in his post title fight Rumble appearance, this could be a great way to really hit home how tough Owens is, by allowing him to take countless German Suplexes and F5s and still stand up fighting.
We all know Brock loves to work with the more physical opponents, I'm sure Owens would fit into that bracket better than most.
2. Matt Riddle
The backstage heat between Matt Riddle and Brock Lesnar has been well documented over the years. Both former UFC fighters with a genuine distaste for one another (for reasons unknown), the kayfabe-breaking storyline writes itself as both men head towards WrestleMania.
Brock Lesnar was long considered one of Riddle's dream main roster opponents, and if the high praise for Riddle still exists backstage, then putting him in a big 'Mania contest against Brock could be a sure-fire way to making him a star.
It's hard to not see this match as marquee, especially if you're a fan of MMA. On paper, Brock would take Riddle to the woodshed, but in the realm of sports-entertainment, this could be a real fun back and forth affair between two guys wanting to kick the living you-know-what out of each other. If Riddle manages to pick up a victory over Brock, then there'd be nothing standing in The Original Bro's way as he climbs the ranks of Monday Night RAW.
3. Bobby Lashley
Here's a fun one. When Bobby Lashley first returned to WWE in 2017, reports were hot on the idea that he was being groomed for a one-on-one bout against Brock Lesnar. Lashley is an accomplished MMA star himself and has developed one heck of a portfolio since returning, yet the match between him and Brock never came to be. What better time than the present to finally make good on WWE's vision.
Quite frankly, Bobby Lashley has never looked as good as he does right now. With The Hurt Business at his side, putting him in the ring with Brock Lesnar might be the first time that 'The Beast' has the odds stacked against him. Lashley has evolved into an absolute monster and should he drop the United States Championship to Riddle in the near future, then he's more than worthy of moving onto a bigger feud in time for WrestleMania.
I'd love to see this match, even if it's just a few minutes of two big dudes throwing fists, it'd be a clash for the ages.
4. Cesaro
Humour me.
'The Swiss Superman' has had quite the two weeks on SmackDown Live, defeating Daniel Bryan and Dolph Ziggler and setting himself up for a potential Rumble win come Sunday. This is quite possibly the closest Cesaro has ever been to reaching his destiny of being a main event star. Although, let's face it, WWE will pull the plug on him at the last minute, just like they've done in the past.
But what if they don't? What if Cesaro happens to prove everyone wrong and go on to redefine his career during the Rumble match, whether that be through winning it or spoiling the night for certain superstars like, I dunno, Brock Lesnar. Cesaro could easily match 'The Beast' in terms of strength and would likely be an ideal opponent to guide him through a great match.
Brock has always worked well with the younger wrestlers that have the knack for carrying big guys like him. Cesaro could be the perfect hand for a WrestleMania match between David and Goliath, just where David happens to be able to toss Goliath over his head.
5. Drew McIntyre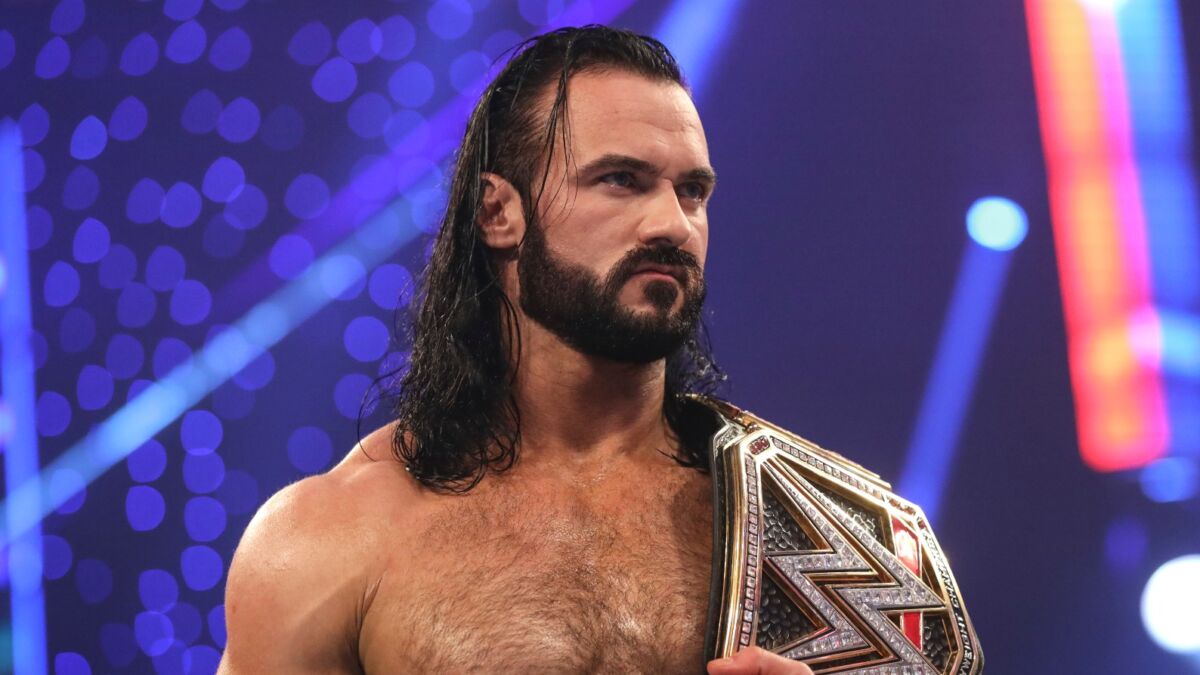 Did I hear someone say rematch? Brock Lesnar and Drew McIntyre closed the show at WrestleMania last year, but unfortunately didn't get to enjoy the pomp and circumstance that comes with a 'Mania main event. Not that I expect to see hundreds of thousands packed into a stadium in April, but it'd be nice for both men to do what they do best all over again with at least a few fans in attendance.
Drew has built his champion's gimmick around slaying the Beast, his titantron is literally an image of Brock's logo being stabbed with a sword, how much more obvious can we make it? For Lesnar to return, shredded and ready for revenge, it could be a huge way to build WrestleMania this year, kind of like a better version of the Andre/Hogan rematch from WrestleMania 4.
There's money in this match, all it takes is a little patience.
READ NEXT: Brock Lesnar's 5 Best WWE Matches
Some of the coverage you find on Cultured Vultures contains affiliate links, which provide us with small commissions based on purchases made from visiting our site. We cover gaming news, movie reviews, wrestling and much more.