WWE's Elimination Chamber event ended with The Miz successfully cashing in his Money in the Bank briefcase on Drew McIntyre to become WWE Champion. This was a surprising turn of events as many expected McIntyre to carry his title into WrestleMania 37, where he could defend it victoriously one year after his first reign began.
At time of writing, Miz is still the champ, but Bobby Lashley is set to receive a title opportunity on RAW – and we still haven't heard from McIntyre. There's over a month left until the big event, so plenty of time for more twists and turns on the road to WrestleMania, but who should be WWE Champion when 'Mania finally arrives?
The Miz
With his successful cash-in, Miz began his second reign as WWE Champion and joined Edge as the only other person to cash in Money in the Bank twice despite only winning the titular ladder match once. There's no doubt that Miz's tenure and consistent effective heeling has earned him another title run and high profile WrestleMania match, and this year would mark ten years since his last and only 'Mania main event, where he successfully defended the same title against John Cena (featuring Rock shenanigans).
Although he does have his critics, Miz has continually proven that he can hang as a top heel title holder. His 2016 Intercontinental Championship run in particular was fantastic, allowing him to both show off how much he's improved in ring (his No Mercy match with Ziggler was outstanding) and go full arrogant movie star on the mic. Glimmers of this were seen in his first WWE Championship run, but Miz now excels in the role.
On RAW, he could hold his own against Lashley just long enough before interference by Morrison allows him to escape with the title. We could then watch Miz confidently swagger into 'Mania, only for a vengeful McIntyre to beat him in seconds.
Bobby Lashley
Alternatively, Lashley could crush Miz in their match to win his first WWE Championship. Upon his return to the company in 2018, following a dominant run in Impact Wrestling and now with some MMA credibility to his name, many expected WWE to have another go at going all in on 'The Almighty', similar to his initial run with the company. Unfortunately, Lashley has not had much to do since his return, save for a few short IC Title reigns, until his recent run with The Hurt Business.
With his new teammates supporting him and, more importantly, able to do his talking for him, Lashley has been looking strong. This, combined with his impressive fight record, makes him a good fit for the WWE Championship right now; especially if his first defence were against the similarly tough-looking McIntyre. If he were to carry the title into 'Mania, Bobby Lashley Vs Drew McIntyre would undoubtedly be a hard-hitting clash between two quick-moving big men, and I for one would love to see it.
Sheamus
Sheamus is a former four-time world champion, and he recently pinned McIntyre on RAW after turning on his former friend earlier in the month and promising to take his WWE Championship.
Between the end of his last reign in 2015 and his on-screen friendship with Drew in 2020, Sheamus has produced the best work of his career as part of The Bar with fellow underutilised superstar Cesaro. The two men were entertaining as hell and put on classic tag bouts with the likes of The New Day, The Hardys, and Rollins & Ambrose.
It is high time Sheamus (and Cesaro, for that matter) receives another championship opportunity. While frequent title changes aren't ideal, ultimately the match I most want to see from the list of possibilities would be Sheamus as WWE Champion defending the belt against his returning friend. But hey, if they want to throw Lashley in there for a triple threat, that would be fine too.
Drew McIntyre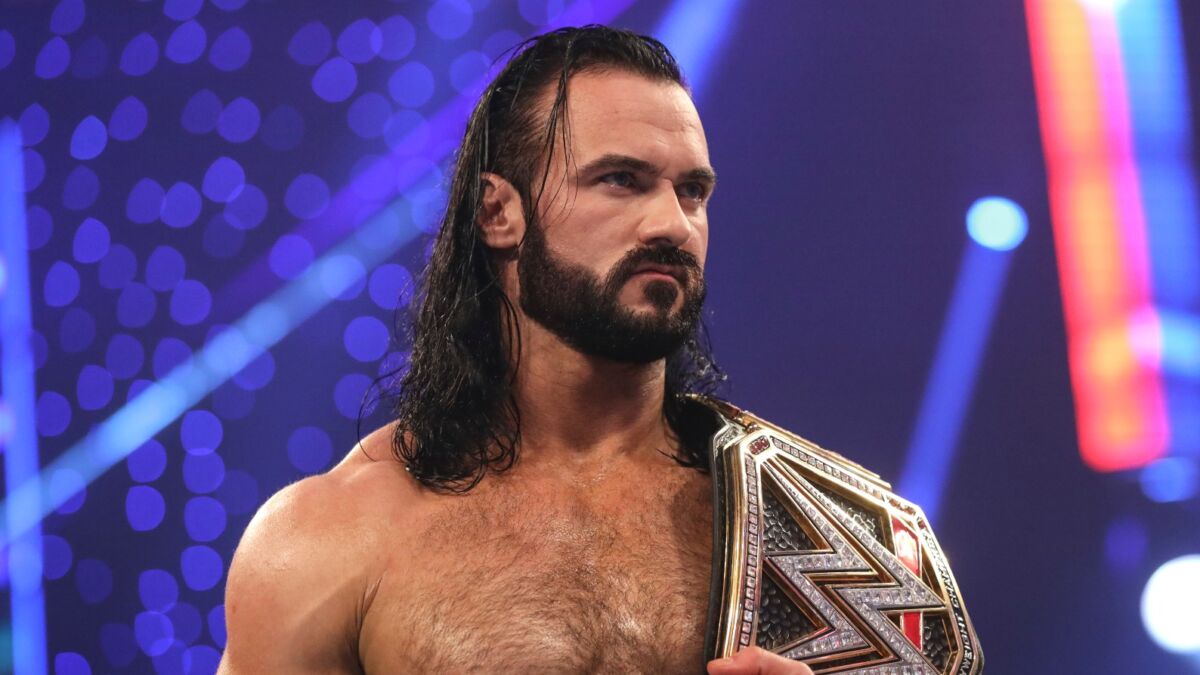 I think what most people want to see is Drew winning – not defending – the WWE Championship at WrestleMania in front of a (real) live crowd who can explode with joy when it happens. Like most of early pandemic no-fans wrestling, when it happened last year it couldn't help but feel less important than it should have. But now WWE have a chance to fix that.
However, it is WWE and so it's entirely possible that McIntyre will return in a week or two and regain his belt and take it into 'Mania. It appears the company is more interested in giving him multiple reigns rather than a longer time as champion, since they had him drop the belt to Orton only to regain it less than a month later, so we may as well get the next one started. Plus, having Drew as champion in the weeks leading up to the event may draw more casual eyes than Miz, for example.
If it has to happen this way, I do believe it's still possible to have Drew's eventual victory at the event feel even more important, as important as last year should've felt, and that's to have him beat all of his challengers in one night. He could take them on individually over the two nights or beat them all in one go in a gauntlet or fatal 4-way match. A dominant showcase like this will echo his initial championship win over Lesnar last year, but this time with the appropriate crowd response that the man deserves.
Ultimately, it doesn't really matter who takes the title into 'Mania, but the pool of contenders is certainly the strongest it's been in a while. As long as Drew holds the belt high to close one of WrestleMania 37's two nights, all will be right. Oh also, as long as he returns to his 'Broken Dreams' theme. Please.
READ NEXT: Which Wrestler Has The Most WWE Championship Reigns?
Some of the coverage you find on Cultured Vultures contains affiliate links, which provide us with small commissions based on purchases made from visiting our site. We cover gaming news, movie reviews, wrestling and much more.