You won't need me to tell you how much of a crazy year it has been, and the wrestling world is no exception to this with over 75% of the year's proceedings happening in front either glitchy facecams or "performance centre recruits".
But with everything considered, 2020 has been a good year for the "wrestling juggernauts" with many memorable moments created and many new stars made but who are WWE's breakout stars of 2020?
5. Jey Uso
If I had told you this time last year that one of the Usos would open and main event separate PPV's and become a top babyface by the end of 2020, you would question if I'd ever actually watched wrestling. But in a year where tag team wrestlers have broken out as solo superstars, Jey Uso has been the notable example of just that.
The Roman Reigns vs. Jey Uso story is proof that WWE can still book a rivalry to perfection and the latter has been excelling in his role of making 'The Tribal Chief' look like the badass heel we have all been waiting on for years.
Technically speaking, Jey Uso has always been a star but in his brother's absence through injury, he has proven there is way more to him than just a tag team belt.
I can't wait to see what's next for the Samoan.
4. Otis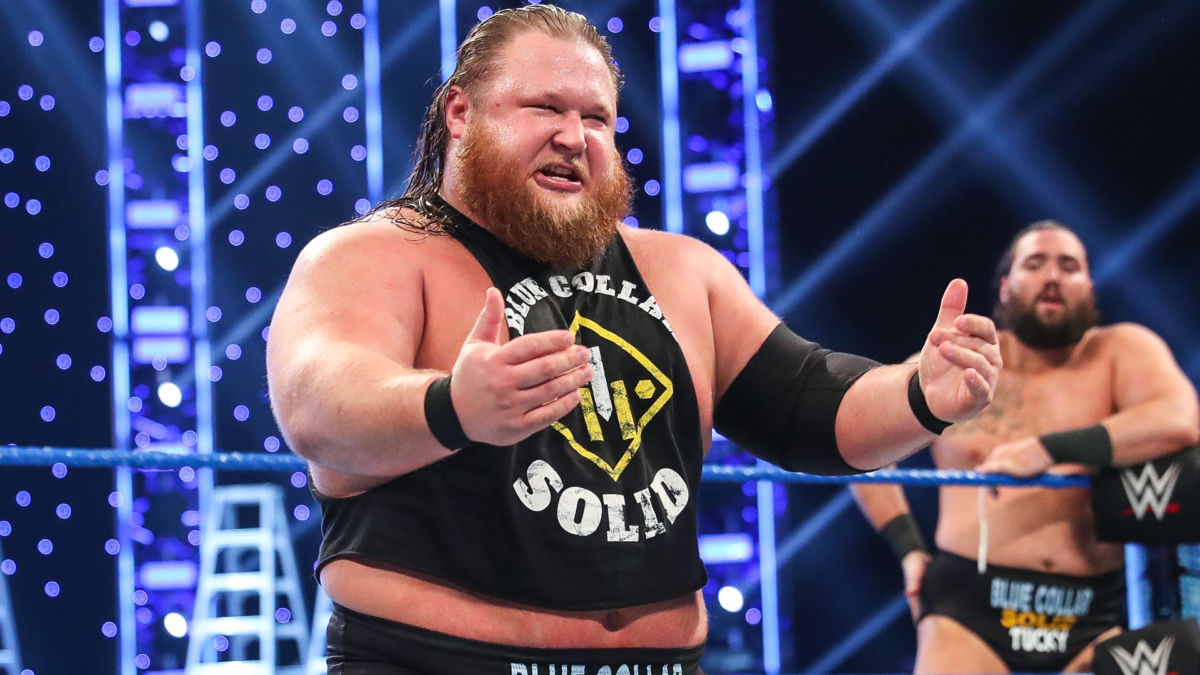 Another team we didn't expect to see come to its bitter demise in 2020 was Heavy Machinery but when Vince has the ball at his feet he does like to run with it and that is exactly what happened with the blue collar caterpillar of Friday Nights.
Otis came into the year in the midst of a love angle with Mandy Rose, and on the Valentine's day edition of Smackdown, Otis' planned date with 'The Golden Goddess' ended in heartbreak when WWE's resident ladies' man, Dolph Ziggler, showed up in the 300+ pounder's place. This was later discovered to be a setup by Sonya Deville, who would have been on this list herself if she was still employed by the company.
He then had his own Randy Savage/Miss Elizabeth moment at WrestleMania, reuniting with his "peach" and sailing off into the sunset after a surprising singles win over Ziggler.
Otis reached his heights when he battled through WWE Headquarters to become Mr Money In The Bank, all thanks to AJ Styles' butterfingers.
Unfortunately, his 2020 has taken a downwards trajectory after losing the briefcase to The Miz in a court case featuring JBL, Ron Simmons and even Teddy Long, yes that did happen. After getting turned on by Tucker at Hell In A Cell, Otis is now a fully turned solo star and despite his momentum slowing down as the year draws to a close, Otis is by far a bigger star than what he was last year and is still potentially the biggest breakout star of 2020.
3. Dominik Mysterio
When you are the son of Rey Mysterio, trained by the likes of Konnan, Lance Storm and Jay Lethal and has Eddie Guerrero as a godfather, it was pretty hard to fail in becoming a professional wrestler, but while we all expected the transition to happen eventually, no one expected how quick and effective Dominik Mysterio's debut would be.
After watching Seth Rollins bludgeon his father's eye out of its socket, Dominik took matters into his own hands by regularly confronting and attacking the 'Messiah' and getting the better of him and his disciple Murphy. This would then lead to a match at Summerslam where the 23-year-old made his in-ring debut against one of the most trusted workers in the business.
While that match ended in defeat for Mysterio, his showing was nothing short of outstanding and the kid that was once just the son of a luchador has become a big name of 2020.
Without doubt, Dominik has one hell of a future in front of him and using Rey to start that promising career was the right call. Once he breaks off from his father and becomes his own man, then we will truly see the capabilities of this superstar we all watched grow up on our very screens.
2. Keith Lee
Arguably, Keith Lee burst onto the scene at Survivor Series 2019, when he went toe to toe with Roman Reigns. As soon as we saw that, we knew 'The Limitless One' would break through in 2020.
This year has seen Keith Lee win the North American Championship from Roderick Strong, step into a Royal Rumble ring with Brock Lesnar, end Adam Cole's record breaking 403-day reign as NXT Champion and even help Karrion Kross become a star. Then he got called up to the main roster and that's where the problems started.
In proof that the NXT curse can catch anyone, Keith Lee made his previously announced debut by coming to the ring with the most generic of WWE themes, whilst wearing a brand-new outfit that makes him look like a cheerleader for the local netball team.
Putting the music and attire aside, Keith Lee has felt like an afterthought since the callup, playing a third wheeler in the Mcintyre-Orton feud before going face to face with Braun Strowman in a hot prospect match that had no real story behind it.
But, let's not let the past month or two deceive us from the reality that Keith Lee has had a breakout year in 2020, and has further reinforced his status as one of the most interesting and talented wrestlers on the planet.
1.  Drew McIntyre
2020 belongs to Drew McIntyre.
'The Scottish Psychopath' has always been seen as a midcarder who one day might fulfil that potential and as time went on, 'The Chosen One' turned into the 'The Forgotten One'. That was all until the turn of the year.
McIntyre was feuding with AJ Styles and Randy Orton in the build-up to the Rumble and there was no real evidence to suggest that the Scotsman was going to win the prestigious match. Then came January 26th inside Minute Maid Park.
The story of the match was all based around who would be the one to eliminate Brock Lesnar from the Rumble, but after many fell to 'The Beast', one man was the eventual roadblock for the then WWE Champion, and that was Drew McIntyre. With one kick, McIntyre engraved his future.
After that Claymore, Drew didn't need to win the Rumble, as the foundations of the Lesnar story were there but he went on to win it anyway and subsequently reached his destiny to become WWE Champion at WrestleMania, albeit not the way a little Scottish boy dreamt all those years ago.
Despite having no audience, McIntyre's reign as champion was impressive with matches against the likes of Seth Rollins, Bobby Lashley, Dolph Ziggler and most recently Randy Orton, who he lost and then won back the title from.
Yes, he was a big name before this year but the rise of 'The Scotsman' in 2020 has been nothing short of incredible and Drew has really grabbed that chance and has become one of the biggest wrestling stars not only in WWE but in any promotion.
Who else did you think had a breakout 2020? Let me know in the comments below.
READ NEXT: What's Next For A-Kid In NXT UK?
Some of the coverage you find on Cultured Vultures contains affiliate links, which provide us with small commissions based on purchases made from visiting our site. We cover gaming news, movie reviews, wrestling and much more.