I'll be the first to admit how much I love the To All the Boys series. I mean, yes, I did wish for Lara Jean to end up with John Ambrose, but it's fine. I dealt with my heartbreak and moved on. So when I heard Kitty (Anna Cathcart), Lara Jean's younger sister, was getting a spin-off series set in Korea, I was over the moon. Cathcart plays Kitty with such adorable enthusiasm that I was sure I would enjoy the series. However, unlike To All the Boys, this series doesn't develop the characters as much, and focuses a fair bit on various plot elements that are tedious and unnecessary. There are still aspects to enjoy, but it's not as rewatchable as the movies are.
In the third To All the Boys movie, Kitty met a cute boy called Dae in Korea while on a trip. It's been 3 years since then, and she's still talking to him regularly, though lamenting the distance between them. Her solution? Apply to the same school he's at, Korean Independent School of Seoul (KISS), and spend her junior year of high school in Korea. She approaches her father with this madcap idea, who insanely agrees, even though his child would be in a foreign country with no adult support system. So off she goes, only she doesn't tell Dae (Choi Minyeong), hoping to surprise him at the welcome party.
When she arrives, gleefully dreaming about Dae sweeping her off her feet, she instead finds him saddled with a new girlfriend, Yuri (Gia Kim). Kitty cannot understand how Dae would betray her like this, but we all discover that Dae was forced into it by Yuri, who's using him to hide the reality of her sexuality.
Cathcart has spent three movies playing Kitty, and she slips back into the role with ease. Kitty has always been aggressively perky and confident, and it's no different here. Kitty's costuming also does a good job of fleshing out this transition from young kid to young adult. The problem is, they don't develop her beyond her romantic relationships. They set her up with so many romantic possibilities beyond Dae, which is fine but maybe hold your horses and focus on developing one relationship at a time.
If you've read Jenny Han's books, you'll know that generally the female protagonist will always end up with the first boy she ever loves. Many have found this to be unrealistic, since most of us move on from our first love to love other people. So I understand why she's trying to move away from that trope in this series, with Kitty having more opportunity to explore instead of immediately tie herself to one guy.
But the series needs to show us why they aren't a good match, or something lacking in the relationship. Kitty's constantly over the moon about being with Dae, yet suddenly has a change of heart and we don't really understand why. I know that perhaps they're trying to highlight the fleeting nature of teenage crushes, but this is handled in a way that gives the viewers whiplash, and we become unsure of what we're supposed to root for.
The only characters that get a little more development are Q (Anthony Keyvan) and Min Ho (Sang Heon Lee). Kitty's relationship with Q is the strongest in the series, where we see both characters lean on and support each other. They're not afraid to tell each other the harsh truths, even when it would be easier not to. Kitty's relationship with Min Ho starts out more antagonistic. He thinks she's a creepy stalker, and she thinks he's too full of himself.
While he's visibly annoyed with her, he still helps her prepare a feast for chuseok – the Korean version of Thanksgiving – and is quick to come to her assistance when she requires it. He's also the one to correct Kitty on her perception of love, citing the messy reality of his parents' divorce even though they were perfect for each other on paper. Seeing as how Min Ho is with Kitty for the first and last scenes of the series, it's clear that he will be a huge part of season 2 if the show gets renewed, and that is perhaps why they spent so much time on his characterisation.
In comparison, Dae barely gets any development at all, and all he gets to do in the movie is yearn for Kitty and be an academic genius. It's like Han and her writing team got bored with his character and just left him by the wayside.
Even though the series is set in Korea, it doesn't really make use of its setting. Most of the scenes are on campus, and Kitty barely even journeys out into Seoul, despite her desire to know her mom through her experiences. Even when they go to camp, most of the scenes are confined to the interior of their tents. It feels like a waste, and detracts from the purpose of setting the series there in the first place. Kitty also has to unravel a pregnancy plot involving her mom, which is uninteresting and takes time away from Kitty's own journey and narrative.
The series utilises K Drama tropes and visuals, like the whole fake dating plot, Kitty's extra klutzy ways (the female lead is always quirky and clumsy), and the revelation of a family secret. However, we only get 10 episodes, 30 minutes per episode, while K Dramas get at least 16 episodes, with each episode between 45 minutes to an hour. These dramas take its time to set up the characters and the narrative bones, so XO, Kitty feels rushed in comparison.
The cast are talented and charismatic enough to make XO, Kitty something watchable, but the writing doesn't match their talents. Maybe the show might find its way if it gets a second season.
READ NEXT: 10 Best Spin-off Shows You Should Be Watching
Some of the coverage you find on Cultured Vultures contains affiliate links, which provide us with small commissions based on purchases made from visiting our site. We cover gaming news, movie reviews, wrestling and much more.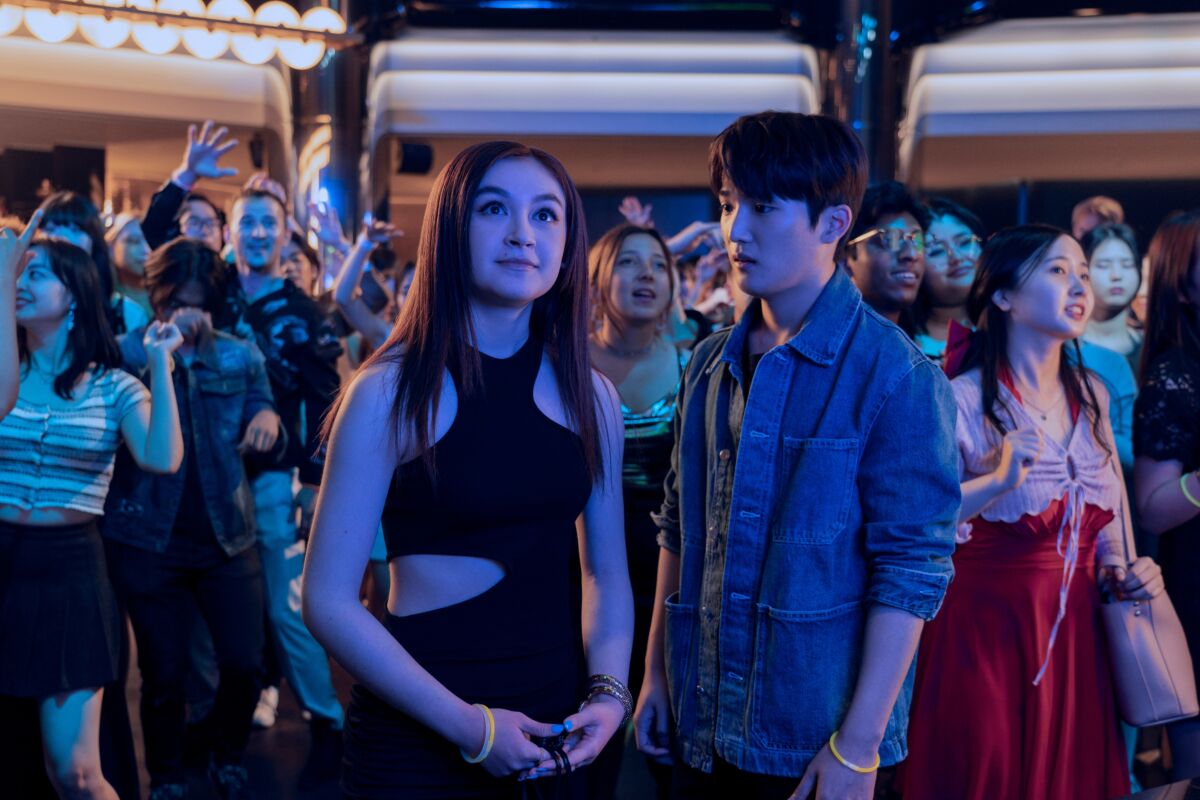 Verdict
XO, Kitty has its charms, one of which is its talented cast. Drawing inspiration from K Dramas, it does have elements that rom-com lovers would enjoy, but the writing fails to develop these characters beyond their romantic relationships.