WWE 2K22 has launched today on PC, PS4, PS5, Xbox One and Xbox Series X | S, and it's a massive improvement on previous instalments. One big reason for that is the re-introduction of the highly requested GM Mode, now rebranded as MyGM Mode. We had the chance to sit down with MyGM Designer Alan Flores from Visual Concepts before launch to discuss why it's been brought back, how the mode has changed over the years and how it could improve in the future.
GM Mode has been hugely requested by fans, and was a featured part of UpUpDownDown with Battle of the Brands. Were the fans a driving force behind reviving the mode as MyGM, or is this something you've wanted to revisit anyway?
The fans were definitely one of the driving forces, absolutely. And it has definitely been on our list as well. We know this is something they have been asking for for a while, but we also understand many of our fans never got the chance to experience GM Mode in the past. So we wanted to offer something both old fans and new fans could enjoy.
What did you do to recapture the feel of GM Mode so that fans feel immediately at home?
One of the first things we have players do as a GM is draft a roster. It's something we don't see in any other mode in our game but we feel it eases you into your newfound role as GM. Players should feel like their choices matter as the GM and we hope they start feeling at home in the mode as they get comfortable making decisions for their brand. From there, we wanted to make it easy for both new and old fans of the mode to book great matches and build rivalries as we felt that was the main driving force of the past GM Modes.
The wrestling landscape has changed a lot over the past decade and a half, especially with regards to social media as it's used to build hype and awareness for matches. Was any consideration made for how changes like that could factor into GM Mode?
Definitely, and you'll see reflections of that in MyGM. Social media has played a huge part in modern day wrestling to help extend storylines and rivalries outside of the show so we wanted it to be represented in MyGM in some manner. Superstars and fans will react to the show, matches, rivalries, and more with social media posts after every show. We're hoping we can do some more interesting stuff with social media in the future as well.
MyGM Mode will let you play every match you book, but how important is that? Could a player sim some matches and still succeed, or will playing matches have a bigger impact on a player's score?
It's not exactly important for your success as a GM, but for us as developers, it was important that the players also had the option to play the matches. Players drafting their dream rosters and setting up dream matches wouldn't feel the same if they didn't get the chance to play them.
Whether a player decides to sim or play their matches, they'll see relatively the same success or failures. We didn't want a scenario where players were forced to play all the matches on their card in order to have an advantage.
Selecting your GM is an important feature for MyGM, especially as you can now create your own. Will players be able to insert themselves into on-screen storylines and feud with top talent? I can imagine booking yourself as champ is an easy way to turn viewers over to the competition.
Players will get the chance to book themselves as ringside interferers in matches, but they won't be able to be booked as participants in matches. With the ability to make your own GM and select from past icons, we wanted to give the players a way to see themselves in the action while not taking away the spotlight from their superstars. So you can book yourself to be in the corner of a superstar in a match where you can get involved in various amounts of shenanigans. But beware, that may cause some drama with the superstar getting interfered with.
What would you say is the best feature or new addition, or what's something that might go underappreciated in the MyGM mode?
We're really happy with the Power Card system that we've added to MyGM. Power Cards are usable abilities that can range from turning local talent to full-time superstars to vetoing opposing champions from being used in matches. How and when you use it will have quite an influence on the outcome of your season. Players can earn Power Cards by completing weekly goals given by the commissioner or by buying them from the Power Card store (with different cards every week).
On top of that, the selectable brands and GMs all come with unique power cards to help differentiate each choice from each other. These cards are not available as rewards or for purchase. So hopefully the fans can mix and match different combinations and see what works best for them.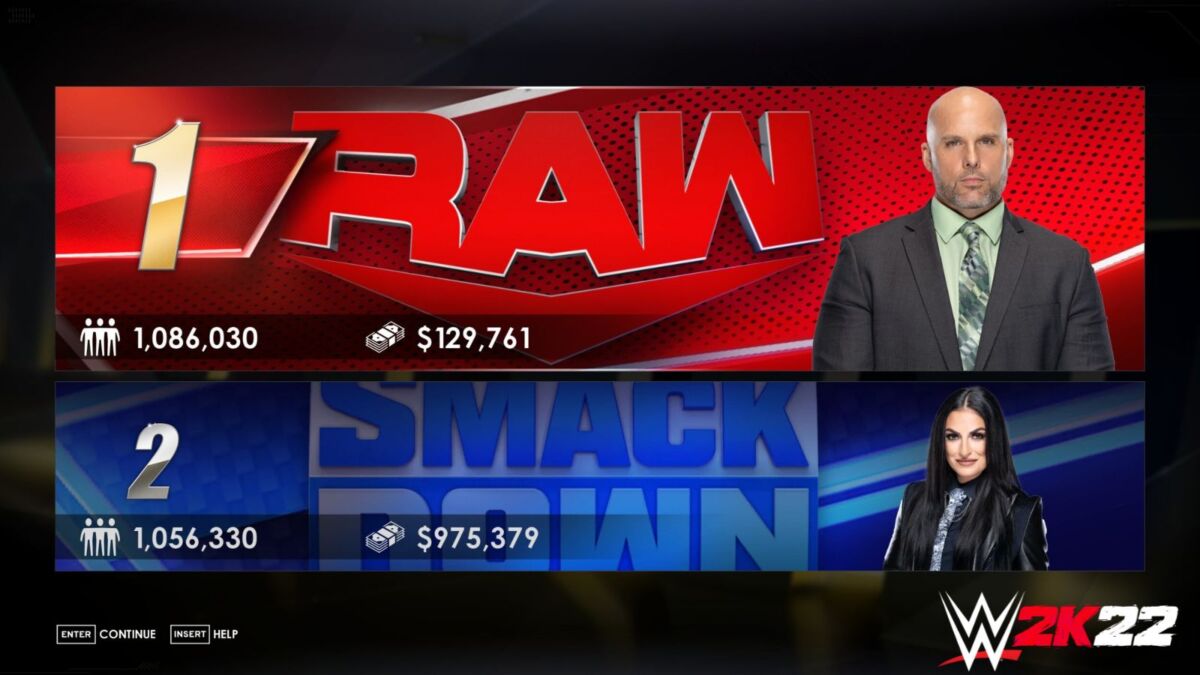 How much unique written dialogue is there in the mode based on the conversations you can have with specific superstars? There seemed to be quite a lot in our preview.
We added quite a bit to accommodate all the different scenarios that can occur in the mode! We can't say specifically how much, but we definitely wanted players to experience different dramas every time they played.
Did you find a way to incorporate a superstar's on-screen persona into the dialogue? Is Roman Reigns constantly asking you to acknowledge him?
Yes! We've included specific dialogue that only certain superstars will say to give some of these conversations a little bit more personality. So Roman Reigns will definitely be asking you to acknowledge him at some point!
Previous WWE games have been expanded post-launch with new content. Will MyGM go through the same process, like the return of classic GMs? I imagine Teddy Long would have an ability where Tag Team matches and one-on-ones with The Undertaker gain extra bonuses.
We're really interested in the game with post-launch updates in the future, but for WWE 2K22 it was really important to us that we set up a foundation for the mode moving forward. While we probably won't be seeing any new GMs this year, we want to make sure the mode's economy is stable so we'll be supporting that in any way we can.
READ MORE: WWE 2K22: How To Collapse The Ring
Some of the coverage you find on Cultured Vultures contains affiliate links, which provide us with small commissions based on purchases made from visiting our site. We cover gaming news, movie reviews, wrestling and much more.