Let's cut right to the chase here: WWE 2K22 is a marked improvement over the infamously flawed predecessor. While 2K22 isn't perfect, there's a lot to love here in comparison to every other WWE game since 2K14, and it feels like 2K Sports are laying down the foundations for what could be an even better 2K23.
The bulk of the upgrades come with the renewed gameplay engine. Since WWE 2K15 introduced a more simulation focused game engine, the pace of matches could be described as glacial at best. Limited reversal stocks meant that gameplay would go through significant lulls as you'd have no choice but to watch yourself get wailed on if you ran out of them, while punitive stamina meters meant that you'd be tuckered out after just a few moves.
After years of that style of gameplay, 2K have finally switched things up and it's all the better for it.
The new control system features light attacks, heavy attacks and grapples, with set combos based on different button presses. It's a classic approach that immediately gives the game a more old school feel in the best way possible. While it's not quite on par with the AKI engine classics like No Mercy, the fighting is fairly reminiscent of the Def Jam games.
Crucially, 2K have made the decision to remove reversal stocks all together, allowing the players to basically reverse most moves whenever they like. Quite why reversals were changed in the past is bonkers to me, because now that they're back to the way they were, the speed of the game has quickened immensely. Most matches now become thrilling affairs, where victory seems so close only for a reversal to come out of nowhere, leading to impressive sequences and quick exchanges.
The enhancements also extend to the animation blending, which appears to have been given a significant upgrade compared to previous years. Striking seems to have received the lion's share of the upgrades, as some of these attacks look absolutely brutal. Despite WWE's relatively sterile presentation, the animation often feels more reminiscent of a hard-hitting indie show where the wrestlers go hell for leather. If I didn't know any better, I'd think it was an AEW video game with how satisfying the striking is, though maybe that's also due to the swathes of released wrestlers that comprise the WWE 2K22 roster.
This isn't to say the animation is issue-free though, as there are still moments where your wrestler will try to perform an action that doesn't work with body types and situations at play. One consistent issue during my playthrough involved my created character using a powerbomb where their arm was meant to go through the opponent's legs, but it wouldn't. It's not a gamebreaker, at least not that I've seen when compared to previous years, though it could be for some.
One new gameplay addition that perhaps isn't as well implemented is breakers, which allow you to interrupt a combo or grapple in progress by pressing the correct corresponding button, otherwise you're locked out of trying for the rest of the combo. It might be a personal thing of trying to acclimate to them being an option, but most breakers seemed to be executed via a fluke rather than any actual intention.
Still, when the game is cooking, WWE 2K22 is a delight to play. Again, it's the best the series has felt in a long time, and reinstates WWE 2K22 as an accessible and enjoyable party game. WWE games are at their best when you've got multiple players to mess around with, preferably locally, and with the faster pace of the gameplay, WWE 2K22 is more likely to hold your attention for longer.
As for the modes, WWE 2K22 is filled to the brim with them, though the quality does tend to vary. One of the biggest highlights, shockingly, is the Showcase mode. Typically, Showcases have been fairly lifeless retreadings of various wrestler's careers or specific periods or storylines in wrestling history, but this new Showcase, based on the career of Rey Mysterio, nails the documentary feel that this mode strives for, thanks in part to the removal of the usual commentators. Instead, they're replaced with Rey talking about the match as it happens, complete with actual real life footage, which makes the mode feel more authentic and historical.
There are some shocking match omissions in Showcase though, like Rey's World Heavyweight Championship win at WrestleMania 22, and the mode attempts some mental gymnastics to explain why the match with JBL after WrestleMania 22 has been featured instead, but it's a great showcase of Rey's career against a varied list of opponents. It's also a great excuse to both revisit some of Rey's finest matches with Eddie Gurerro, along with the meme worthy 2009 feud with Batista.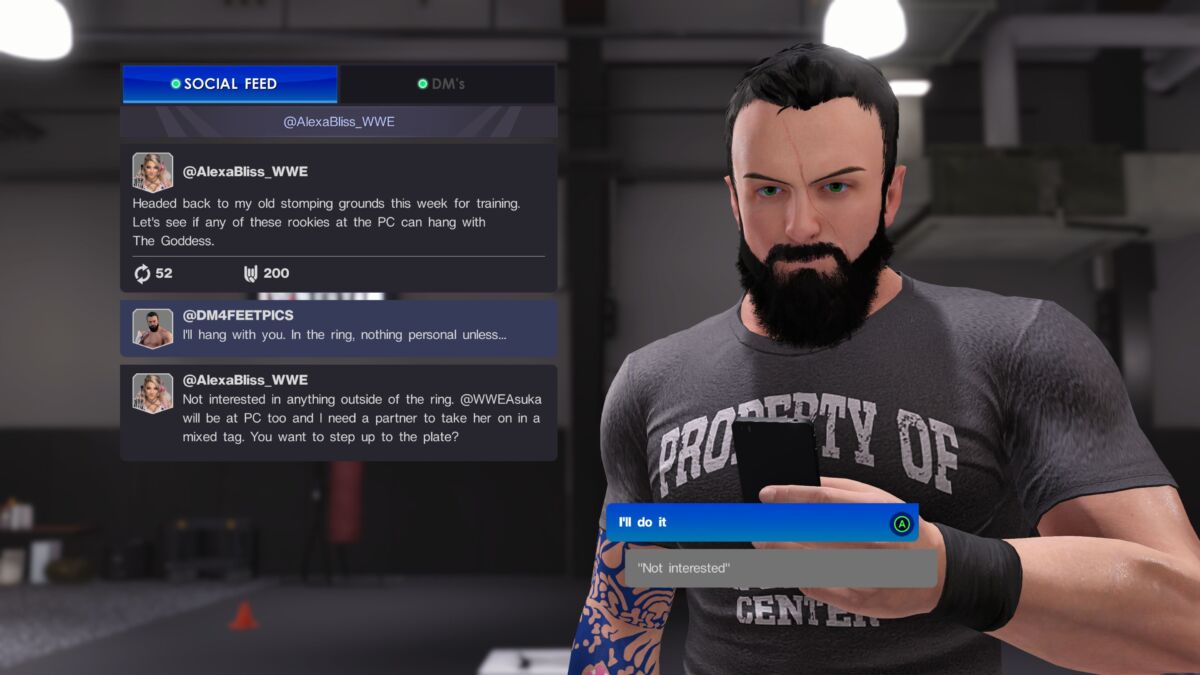 The Career mode has also been rebranded as MyRise, and instead of playing through a linear campaign with one overarching storyline, you can create a male or female superstar and control them as they navigate the world of WWE. Through both careers, you'll start at the Performance Center before being signed to either Raw, SmackDown or NXT, experiencing various self-contained storylines during each one, and you'll have decisions to make that can determine if you're working face or heel.
The stories themselves are pretty entertaining, and can exemplify parts of wrestling that are only really possible through the medium of video games. Stealing one of Eddie Guererro's cars just to wind up Rey Mysterio is something that real WWE would never think of airing, but it's the right level of both outlandish and entertaining to make sense as part of WWE 2K22.
If there's a knock to be had with the MyRise mode, it's that the women's portion of the game feels lesser when compared to the men's career. There's a significant amount less storylines overall and many feature the same recurring wrestlers, with both yourself and the rest of the roster flip-flopping between face and heel depending on the needs of that particular storyline.
Some of it can be laid at 2K's door, with certain storylines being copied from the men's career, along with some inconsistencies with character booking and representation. One original character in the women's career, Meilee, spends the entire Performance Center section glommed onto me like a best friend, but as soon as we both reach NXT, she's slating me on social media for some joke my character made. With friends like these, eh?
Despite that, not all the fault can be attributed to 2K. The real life WWE roster has been decimated by so many cuts and releases, and the women's roster in general is small compared to the men's roster. On top of that, the women's division doesn't have a secondary belt for each brand that they can compete for unlike the men. It stands to reason that less opportunities in real life equates to less opportunities in game, but it still makes the women's division feel like a weaker choice from a gameplay and content perspective.
Still, it does have this brilliant moment.
In an attempt to appeal to old school Smackdown Vs Raw fans, WWE 2K22 also includes MyGM, a mode where players can manage their own brand, draft wrestlers and book shows in competition with a rival brand that can either be controlled by AI or another player locally. You'll manage wrestler expectations, fund the backstage production and use power cards in an attempt to sabotage your rival.
As a lite management sim, it's a fun mode, but the range of options you have when booking a show compared to something like Universe Mode, which offers complete control over all aspects of your virtual WWE Universe, it feels a bit lacking. There's only support for 1v1 and 2v2 matches, with no tag belts to compete for and no real control over how rivalries play out beyond playing the matches yourself. It's somewhat soulless, as you're not booking storylines, you're just sticking compatible wrestlers together and watching a number go up. Still, it's something that can easily be improved with updates and reiteration.
About Those Microtransactions
WWE 2K22's MyFaction mode is where the game's microtransactions are located. You can purchase VC with real cash, with costs ranging as follows.
5000 VC – £1.69/$1.99
15000 VC – £3.99/$4.99
35000 VC – £7.99/$9.99
75000 VC – £15.99/$19.99
200000 VC – £39.99/$49.99
450000 VC – £79.99/$99.99
Players can then use VC to purchase card packs, with the basic card pack costing 5625 VC, meaning you'll have to buy at least two 5000 VC packs or a 15000 VC pack in order to purchase the card pack. Card packs can also be purchased with MF points, which are earned in-game by completing matches and challenges.
Lastly, MyFaction is the game's equivalent of something like FIFA's Ultimate Team, with players opening card packs to form their super faction. Each card has its own rating and rarity rank, which you'll then use to fight in various single player towers. It's easily the weakest mode, as you're just grinding to unlock new card packs (or spending actual money), and it's hard to see how the mode could expand in the future. There's no online functionality with regards to playing against other players' factions, but with the microtransaction in play, adding that would be considered pay to win.
Despite the issues with different aspects of WWE 2K22, it's still a huge leap in the right direction for a series that has been languishing for the longest time. Taking a year and a half off to regroup and refocus on what WWE games should be about has allowed 2K22 to feel fresh and enjoyable. If the previous direction of WWE games has put you off, this could be the game to pull you back in.
A Deluxe Edition copy of WWE 2K22 for Xbox Series X was provided by PR for the purposes of this review. 
READ MORE: WWE 2K22: How To Unlock Eddie Guerrero
Some of the coverage you find on Cultured Vultures contains affiliate links, which provide us with small commissions based on purchases made from visiting our site. We cover gaming news, movie reviews, wrestling and much more.

Verdict
Though not a flawless reinvention, WWE 2K22 is a monumentally large step in the right direction for the series.