If you watch a lot of Food Network TV, every now and then you'll see a story of a restaurant that knows exactly what it wants to serve, and refuses to do anything else. A generations-old burger joint sells hamburgers and fries, and if you want cheese, you bring it yourself. There's something admirable about these establishments, where they have dedicated themselves wholly to one kind of culinary experience. The chefs devote their time and attention to burgers, and nothing but burgers. They live and die by their one recipe. Tales of Arise is this restaurant's JRPG equivalent.
The latest installment in Bandai Namco's long running Tales series, Tales of Arise knows exactly what it wants to be, and if that interests you, great, and if it doesn't, it's not interested in changing your mind.
The plot is traditional JRPG fare: A race of scientifically – and magically – advanced human beings from a world called Rena have enslaved the planet Dahna, and rule over its people with a fascist authority. Alphen, a slave in a mysterious iron mask (who also has amnesia, of course), discovers Shionne, an escaped Renan with mysterious magic powers, and together the two of them venture across the five kingdoms of occupied Dahna, teaming up with other like-minded people, both Dahnan and Renan alike, to stop their sinister oppressors and save their world. The plot does take a few unexpected left-turns at times, but always finds its way back to the comfortable melodrama of similar stories of fantasy and friendship.
This is a familiar story, and one that players will doubtless anticipate the broad strokes of, even if a few presentation choices do keep the experience compelling, if not unpredictable. As the party grows and Alphen and Shionne meet other lovable characters like the hot-headed young man or the bookish teen mage, players will likely feel a sense of familiarity, but not to the point of being bored. These plot beats are familiar in the way that jazz standards or classical music are familiar, and Tales of Arise is like watching a professional concert pianist just go wild on those old Mozart tracks you've heard a thousand times before.
Your teammates' personalities and conversations with each other get a lot of attention in between the major plot beats, and give the game a charming sense of perspective in quiet moments. You'll often be prompted to press R1 to view a quick side conversation between your characters, and when resting at campfires you can view more optional conversations to further deepen their relationships. These optional scenes are full of endearing low-key character beats that make everyone feel more well-rounded, and have some of the best writing in the game.
Visually, the game is a stunner too, with bright pops of color and stark, memorable character designs that communicate a lot of information and detail. Even in darker environments like caves and snow-swept mountains, Arise is full of lush, lively colors and details that make each environment feel memorable and distinct. The game's more sterile, high-tech environments still feel personalized, like they were designed by a civilization with certain principles in mind. All of the game's combat animations and cutscenes are likewise full of energy and expressiveness. There is a problem with draw distances, though, where characters and environmental elements will pop in from out of nowhere while running around, which does break the game's otherwise sterling presentation.
The combat system in Arise is a thing of beauty. Like its predecessors in the Tales series, you and your party fight enemies in circular arenas that appear when you run into an enemy walking around in each area — no random battles to bog you down here. Within the fights, you, your teammates and the enemies all move and attack in real time. You have a basic attack and different special attacks called Astral Artes that you can use sparingly (and using the same Arte repeatedly weakens it, incentivizing you to mix up your moves). You can swap among your party at any time, though they'll still fight well when controlled by AI. Each party member also has a bar that fills up over time to trigger a different special move that deals damage as well as having specific benefits, such as knocking down airborne enemies or breaking a targeted enemy's shield. Also, you can occasionally fill up your Over Limit, which makes your attacks stronger and can be used to hit a character-specific super-move. Finally, hitting an enemy in rapid succession when their health is low can fill up another meter that, if successful, triggers a two-person 'Boost Strike' finishing move.
If that sounds like a lot of things to juggle in combat, that's because it undoubtedly is. However, the real triumph in Tales of Arise is how this battle system works extremely well in application. When you're rotating your special moves, activating Boost abilities one after the other, and building to a finisher, you feel like a conductor in front of an orchestra — everything falling into place, every teammate hitting exactly how you want them to hit, and it all building to consistent climaxes as you knock through enemies one by one.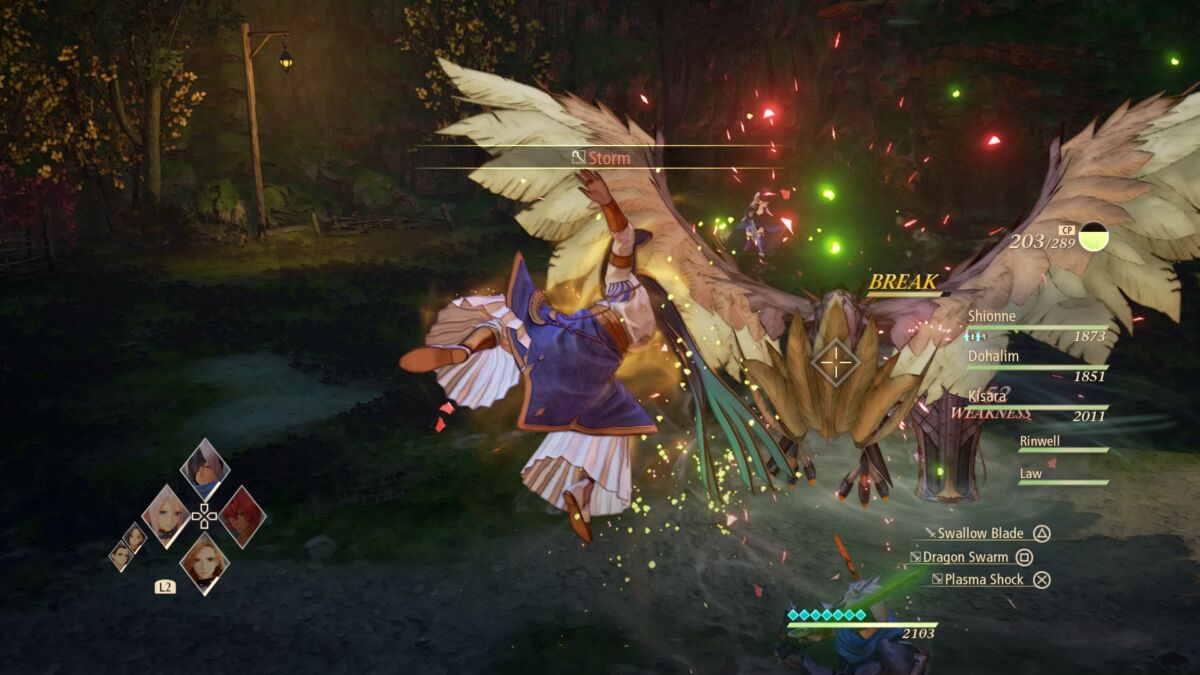 Your screen will definitely fill up with fifty different kinds of flashing lights and filling meters though, and while I can't say for certain I always know what the rest of my party is doing in combat, I can always find my character and read their current situation easily. It's a testament to how well the game is designed that for all of the torrents of enemies and multi-colored explosions on my screen, my clunky old PS4 never had any performance issues or frame rate drops once during my playthrough. No matter how long or late I let a play session run, the mechanics of combat were never boring or unenjoyable.
Thank God I didn't find the combat boring, because Arise, beholden to the usual JRPG sins, requires a lot of grinding. This is not an easy game, and the difficulty spikes are frequent and pronounced. You will have to devote lots of time grinding up experience and leveling up your team for each new batch of enemies.
The difficulty is further complicated by Arise's rather busted economy. Items cost a lot, and grinding up enemies doesn't really yield much coin for your troubles. Side quests are more reliably profitable, but unfortunately Arise's side quests are mostly a matter of gathering materials or killing a set number of enemies. The items you buy to use in battle can also be used by your other party members if you aren't careful and don't tell them not to. While this means that your party is smart enough to heal itself, there were definitely moments where opening my inventory and seeing a lack of healing items felt like finding out my kid had borrowed the credit card without asking.
Granted, there are lower difficulty settings that would likely smooth out the challenge, but at its core, the more punishing combat encounters in Arise are harsh in a way that can't be strategized or planned around. Elemental type advantages are a factor, but not in a manner you can majorly exploit or learn to anticipate. You either have a high enough level and strong enough equipment to make a dent, or you don't.
Tales of Arise also has a pronounced pacing problem, especially in its final third. The main story can be completed in around 40 hours, and that in itself isn't necessarily a dealbreaker — it's a perfectly fine length for a JRPG. Rather, the problems come in how this time is used.
As you progress through what feels like the climactic section of the game, Tales of Arise develops a pathological need to tell you you're almost done, and then pull the rug out from under you to reveal another hurdle before the end. This happens at least four times.
Later areas are also plagued by being drawn out unnecessarily and filled with repetitive enemy encounters. The combat is fun and engaging all the way through, yes, but narratively it begins to feel a little like busy work when you have three hours of dungeon crawling to get to what the game heavily indicated would be an immediate final battle. This sort of repeated toying with player expectations feels like arbitrary padding, like the developers wanted to hit that 40 hour mark, whether the story could justify it or not.
On the topic of the story, it too loses its way in the last stretch of the game. While Arise isn't reinventing the wheel narratively, it does hit on some unique specific perspectives on ideas like living in occupied territory, radicalization, and the cost of indefinite armed conflict. All of these elements fade as Arise attempts to take a premise built on stories of inequality and oppression and then abstracts them with magical concepts and cosmic-level conflicts into something more generalized and vague. The story eventually loses sight of the specificity of its opening act in favor of bombastic over-the-top action. Again, this is the usual fare of JRPG story escalation, but it still feels like Arise loses the plot at times.
About Those Microtransactions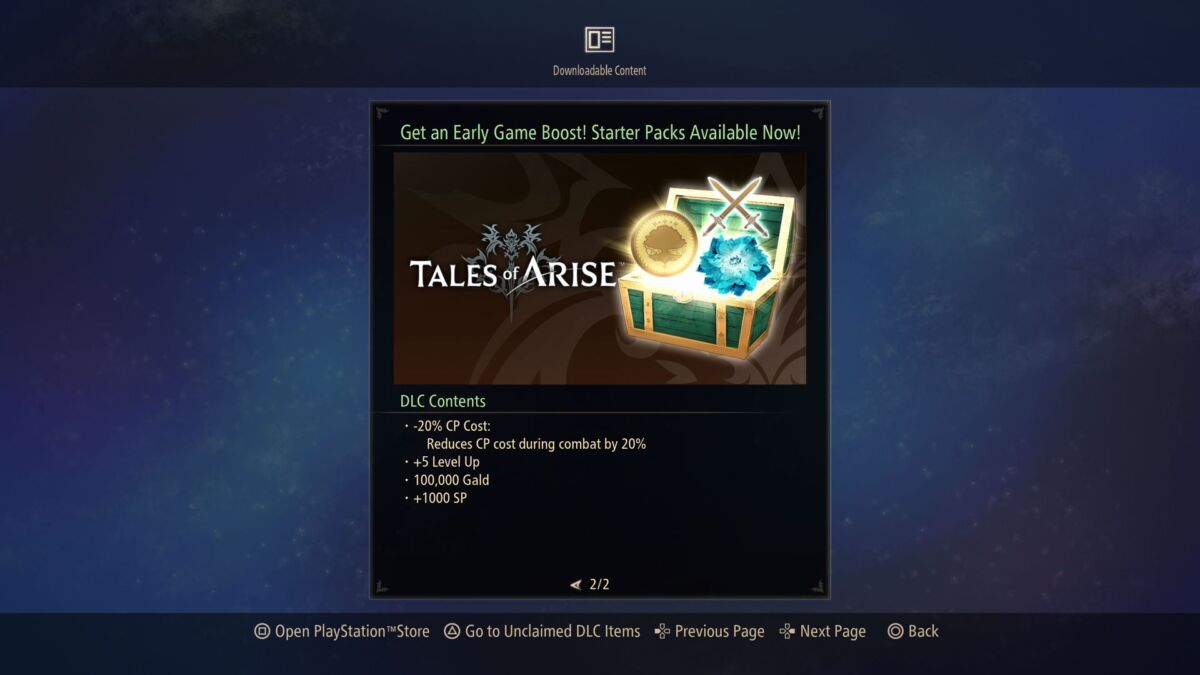 Tales of Arise also has an in-game marketplace of sorts where you can use real-world currency to purchase cosmetic items like alternative outfits for your player characters. You can also purchase "support" packs that include sizable in-game currency and items that decrease shop prices, increase consumable item effects, and even increase the rate at which characters gain experience. These items are only available through purchase and do not appear naturally in-game.
After finishing the story, I reloaded an old save file and used the DLC items that were included, but not automatically implemented, in the Ultimate Edition I received for reviewing the game. The added 20% EXP item is a ridiculous game-changer, a pay-to-win tool that honestly feels like cheating. It's only available through additional purchases, and in practice it seems sort of self-defeating. If players are so interested in Tales of Arise that they want to buy an Ultimate Edition or give extra money for DLC, why pay real cash for something that will make it go by more quickly?
For all of the long periods where Tales of Arise had me groaning, there were plenty of moments that poked through the fog and made me cheer. Major set pieces, memorable boss fights, and the occasional late-game reveal had me gasping out loud. Tales of Arise has plenty of highs to offset its lows, making for a rollicking, if uneven, playing experience.
Looking back, I'd describe Tales of Arise as a fantastic and inventive thirty-hour JRPG, which also has an extra ten hours tacked on at the end. If this is what you're craving, then you likely didn't need to read this review to know Tales of Arise is exactly what you're looking for. If you're a JRPG skeptic, Tales of Arise won't change your mind, because it was never interested in appealing to you. For those with the right kind of palate, Tales of Arise is that artfully-made burger and fries. For that clientele, the game is a success, made with confidence and charm.
A Ultimate Edition key was provided by PR for the purposes of this review.
Some of the coverage you find on Cultured Vultures contains affiliate links, which provide us with small commissions based on purchases made from visiting our site. We cover gaming news, movie reviews, wrestling and much more.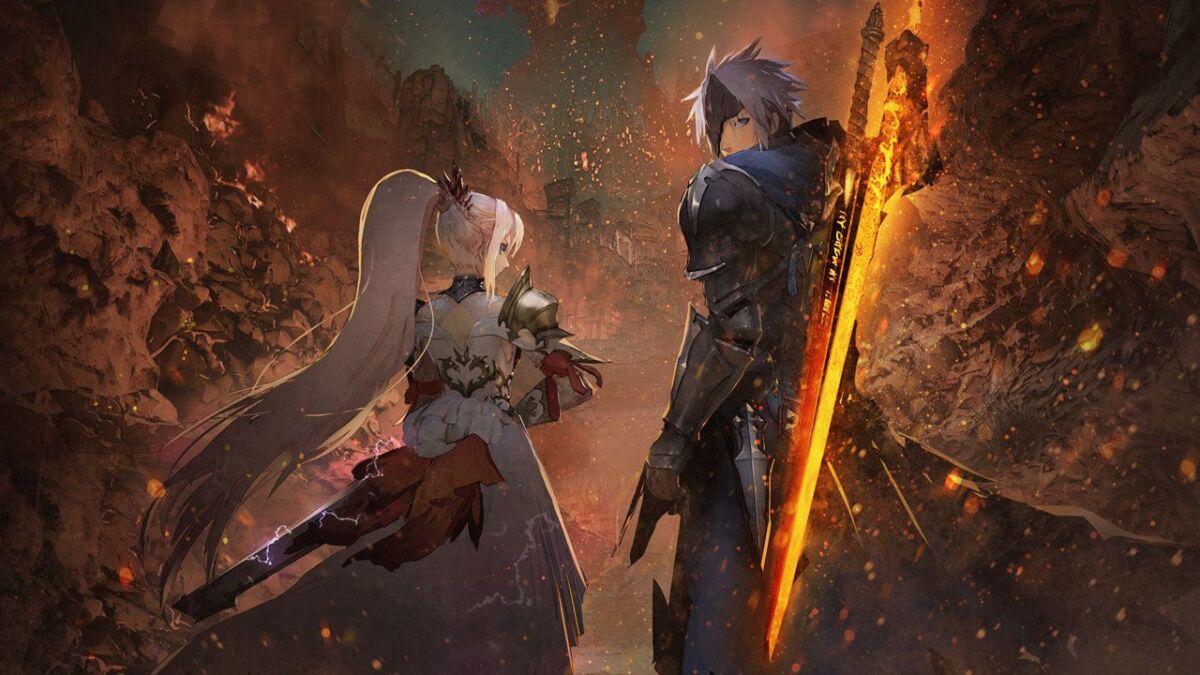 Verdict
Dedicated fans of the genre will find exactly what they were looking for here. While its pacing doesn't treat players' time as well it could, Tales of Arise is an enjoyable, memorable action RPG.