In one of 2023's most exciting moments in gaming, Leon S. Kennedy is returning to consoles in the long-awaited remake of Resident Evil 4. After the tepid response to Resident Evil 3, Capcom is aiming to deliver a true remake that all fans can get behind. It's Leon's most dangerous mission yet, retooled to enhance the experience players clamored for in 2005 using modern hardware and some lessons learned.
Aiming to hit as much of the Resident Evil fandom as possible, Capcom opted to keep the remake on all available platforms sans the Switch. With any new Xbox release, the question always turns to whether or not the game will land on the platform's premium subscription service, Xbox Game Pass, when it releases on March 24th, 2023, for Xbox One and Xbox Series X & S.
Unfortunately for Game Pass subscribers, they won't have a free ride to join Leon on his assignment to rescue the president's daughter, as Resident Evil 4 isn't coming to Game Pass, at least not yet. Though Resident Evil VII once found a home on Microsoft's beloved digital library, Capcom's premier survival horror series has generally remained off the ecosystem.
If it's a Game Pass horror experience you want, though, Tango Gameworks' The Evil Within series and the Dead Space trilogy are available for download.
About Resident Evil 4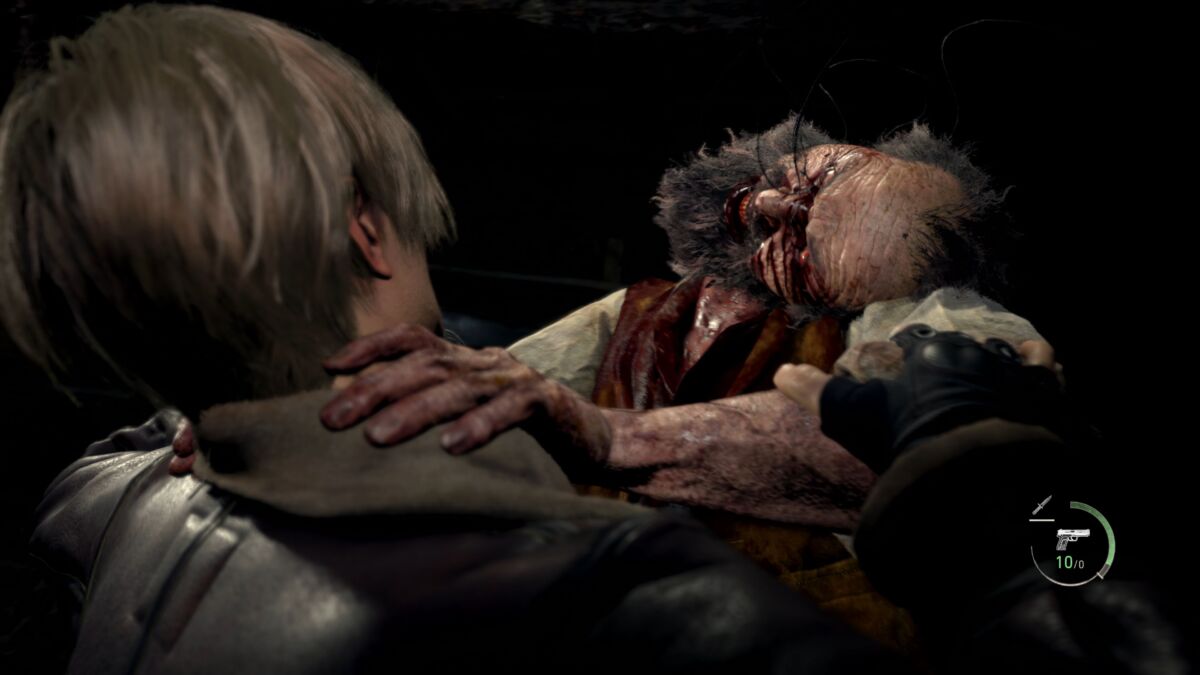 It's been years since Leon, Claire Redfield, and Sherry Birkin barely escaped the clutches of Sherry's mutated father in Racoon City, and the trio has split up. The former rookie cop now finds himself under the U.S. President's employ. As a special agent, Leon is tasked with finding Ashley Graham, the president's daughter, expected to have been kidnapped by a mysterious cult stationed in Spain.
Resident Evil 4 leaves behind the traditional T- and G-viruses for something far more sinister—the Las Plagas parasite. Battling through mind-controlled villagers, cult leaders, trolls, lake monsters, and other horrors, Leon must find Ashley and escort her to safety all while dealing with his own parasite infection. The remake promises to at least touch on some of the exploits Leon faced in between Resident Evil 2 and his current outing, including his complicated relationship with mercenary and temporary tutor, Major Jack Krauser.
The original game was the series' departure from its iconic tank controls and the remake further enhances the over-the-shoulder combat its predecessor popularized. Leon's second outing also veered away from strict survival horror aesthetic, layering a hint of action to give the series a new direction. Despite the cut content that Resident Evil 3 fans experienced, Capcom assures that its latest remake will remain largely true to the original while providing a fresh, new experience. If the brief but tense Chainsaw Demo was any indication, it's clear Capcom can deliver on that promise.
The Resident Evil 4 remake is scheduled for release on March 24th, 2023, and is the last known Resident Evil remake in production. In October 2022, Resident Evil 4 producer Yoshiaki Hirabayashi confirmed that there had been no movement on a Code Veronica remake.
READ NEXT: How To Play Xbox Games On Your Phone
Some of the coverage you find on Cultured Vultures contains affiliate links, which provide us with small commissions based on purchases made from visiting our site. We cover gaming news, movie reviews, wrestling and much more.