Wolfenstein is one of the oldest video game franchises of all time – and one of the most influential. The series started out by laying the groundwork for many of today's stealth games with 1981's Castle Wolfenstein, before going on to define what modern first-person shooters should be with 1993's Wolfenstein 3D. There are now 12 entries in this venerable series to choose from, which is why we've pulled together this list of every Wolfenstein game, ranked from best to worst.
To decide these rankings, we've used three core criteria. First, there's the gameplay – above all, how fun is each of the games to play? Then there's the overall level of innovation involved, whether that's in relation to the Wolfenstein franchise or even the video game industry as a whole. Finally, there are the presentation aspects, such as how well the graphics, audio, design, and storytelling in a given title stack up against the other entries in the series.
So, grab your nearest weapon – or video game controller – of choice and let's charge into this Wolfenstein ranking.
Wolfenstein Ranked
12. Beyond Castle Wolfenstein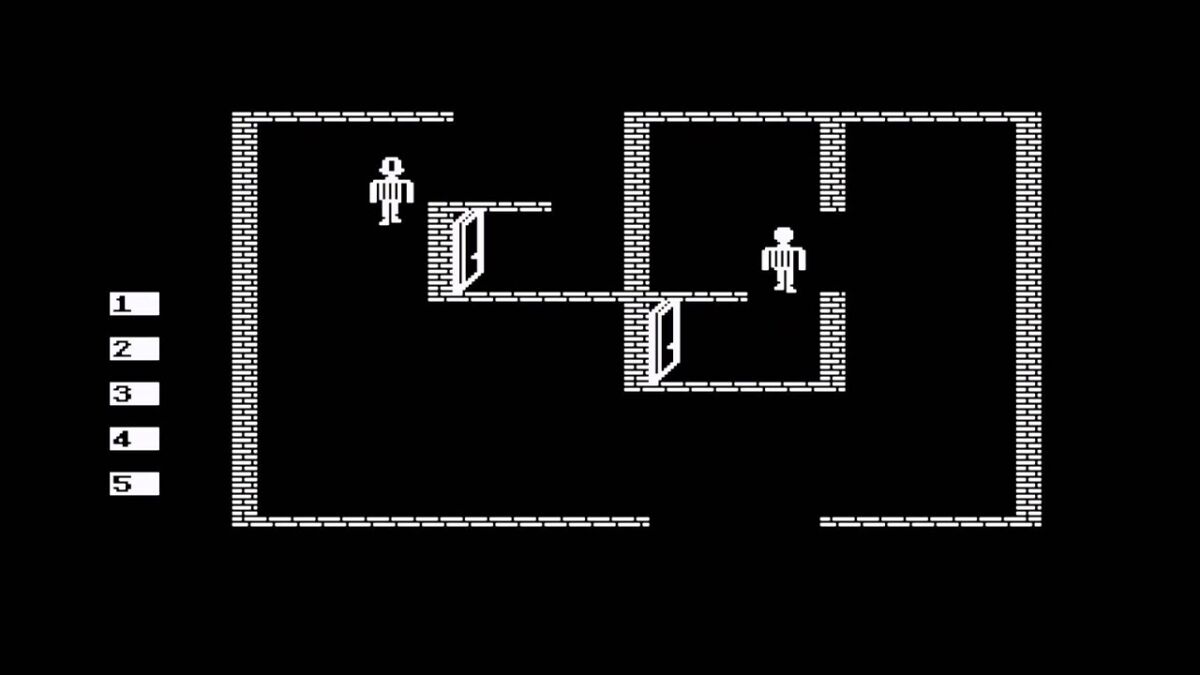 Developer: Muse Software
Publisher: Muse Software
Platform(s): Apple II, Atari 8-bit, Commodore 64, MS-DOS
Beyond Castle Wolfenstein is the second-ever entry in the Wolfenstein franchise and the hardest to recommend.
Developed by series creator Muse Software and released for Apple II, Atari 8-bit, Commodore 64, and MS-DOS, this 1984 top-down stealth game sees you on a mission to blow up Hitler's secret bunker. You sneak around, try to convince Nazi grunts you're one of them, and either bribe or shank them when you can't.
In fairness, there's some novel stuff here – particularly the ability to drag dead bodies around that foreshadows similar mechanics in the Metal Gear, Hitman, and Assassin's Creed franchises. But even gameplay features like this aren't enough to make up for Beyond Castle Wolfenstein's disappointing similarity to its predecessor, Castle Wolfenstein. In essence, it's just a lightly upgraded version of the first game, without any of the freshness,
Toss in graphics that felt dated at release, long load times, and limited replay value and there's little reason to dig out this retro title. That said, Beyond Castle Wolfenstein is also one of only three games on this list that gives you the opportunity to bump off the Fuhrer himself, which probably counts for something.
11. Wolfenstein: Youngblood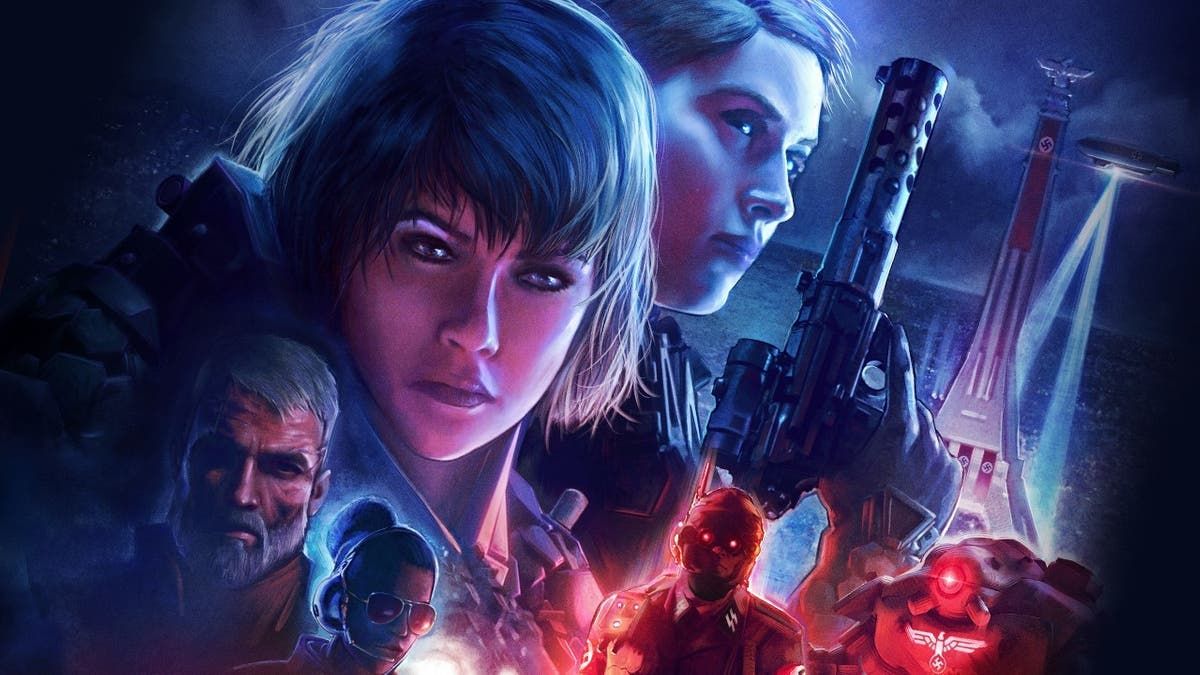 Developer: MachineGames, Arkane Studios
Publisher: Bethesda
Platform(s): PC, PS4, Xbox One, Switch
If there's one thing you can say about Wolfenstein: Youngblood, it's that it takes some big swings. MachineGames and Arkane Studios' 2019 first-person shooter not only includes the franchise's first true co-operative campaign, but it also introduces the first female protagonists in Wolfenstein history. Sadly, neither of these supposed advancements proves as satisfying as they should.
For starters, the two-player gameplay mechanics are painfully shallow. Aside from performing flanking manoeuvres in the admittedly well-designed levels, the co-op in Wolfenstein: Youngblood amounts to flipping switches simultaneously and prying open doors together. The characterisation of Jessica and Sophia Blazkowicz isn't much better – instead of marking a progressive step forward, these twin sisters are surely among the most obnoxious player characters of any gender in any game, ever.
Still, Wolfenstein: Youngblood looks and sounds great, and plays a lot like the sublime Wolfenstein II: The New Colossus (which makes sense, given it's a spinoff running on the same engine). It even boasts slightly more refined RPG elements and a greater emphasis on non-linear gameplay than that game, so it's not a total bust. Yet in the end, nothing can make up for the frankly baffling decision to leave series protagonist BJ Blazkowicz's story unfinished in favour of an ill-conceived adventure that fails to properly capitalise on its 1980s setting.
10. Castle Wolfenstein
Developer: Muse Software
Publisher: Muse Software
Platform(s): Apple II, Atari 8-bit, Commodore 64, MS-DOS
Castle Wolfenstein deserves props not just for launching the entire Wolfenstein franchise, but also for almost single-handedly birthing the stealth game genre itself. Muse Software's top-down shooter (developed for the Apple II and later ported to Atari 8-bit, Commodore 64 and MS-DOS) flipped the genre on its head. Instead of gunning down enemies to win, players' ultimate goal is to evade them – with sneaking often more effective than shooting.
All this innovation doesn't mean that Castle Wolfenstein is enjoyable to play these days, though. While there's an undeniable thrill to slipping past the game's Nazi patrols, this 1981 title has more than its fair share of rough edges. Lag is a constant issue across each of the game's 60 procedurally-generated rooms, the simple act of opening a chest is beyond tedious, and bumping into walls risks triggering a brief visual glitch.
The graphics also haven't aged overly well compared to other titles from the era, although the sound effects (especially the Nazi vocals) remain impressive considering the technical limitations involved. The final verdict? Castle Wolfenstein is one for completionists and video game history buffs only.
9. Wolfenstein: Cyberpilot
Developer: MachineGames, Arkane Studios
Publisher: Bethesda
Platform(s): PC, PS4
MachineGames' Wolfenstein: Cyberpilot is the franchise's first foray into the VR gaming arena. As such, this 2019 release, which puts players in the shoes of French Resistance computer hacker Cyberpilot, was always going to score well in the innovation department. After all, it offers a Wolfenstein experience like no other (although recent mods have diminished its uniqueness somewhat).
Where Wolfenstein: Cyberpilot loses points is on the gameplay side of things. The controls are awkward, forcing players to lumber around in one of the game's numerous armored vehicles using a trackpad. Worse still, the actual interactivity in Wolfenstein: Cyberpilot is woefully basic. You're free to look around each war machine's cockpit, but when it comes to actually using the controls in front of your face? No dice. Combat itself is equally undercooked – you get a couple of attacks per vehicle, both of which get old fast.
Wolfenstein: Cyberpilot's story isn't much to write home about either. The narrative lacks the winning blend of bombastic plot elements, gratuitous violence, and heartfelt emotion that makes other recent franchise entries like Wolfenstein: The New Order and The New Colossus so memorable. So, while the graphics certainly are pretty, it's a generous gamer indeed who would review this list of every Wolfenstein game, ranked worst to best, and push for Wolfenstein: Cyberpilot to rate higher.
8. Wolfenstein (2009)
Developer: Raven Software
Publisher: Activision
Platform(s): PC, PS3, Xbox 360
The belated follow-up to Return to Castle Wolfenstein, 2009's Wolfenstein feels more like an evolution of that game than a full-blown revolution for the franchise overall. Developed by Raven Software, it adds new mechanics – most notably, supernatural powers – and generally leans more heavily into the supernatural and sci-fi elements of the franchise.
Yet, at its heart, Wolfenstein is a decidedly old-school first-person shooter, with gameplay that feels overly familiar, even dated. Certainly, if you compare this game to its bar-raising contemporaries like Call of Duty and Left 4 Dead 2, it lacks ambition. Even Raven Software's attempts to incorporate non-linear level design and sandbox exploration come across a bit half-baked. It's not that Wolfenstein isn't fun (although the multiplayer mode is unforgivably vanilla) – if nothing else, there's an unmistakable charm to mowing down Nazis with outrageous weapons like the Particle Cannon. It just feels a little, well, stale.
The same goes for Wolfenstein's graphics. Sure, these visuals are a leap forward from 2002's Return to Castle Wolfenstein, but they're also running on an engine that was starting to show its age by 2009 – a bit like the Wolfenstein franchise itself.
7. Wolfenstein: Enemy Territory
Developer: Splash Damage
Publisher: Activision
Platform(s): PC
Wolfenstein: Enemy Territory is the first (and to date, only) dedicated multiplayer title in the history of the franchise. Whether you consider this a pro or a con will obviously depend largely on how much you value competitive play versus campaign mode, but only the most staunchly anti-multiplayer gamer would deny how entertaining Splash Damage's 2003 first-person shooter is.
Released as freeware, Wolfenstein: Enemy Territory was developed as an expansion pack for Return to Castle Wolfenstein. As such, it builds upon that game's existing multiplayer component – adding new gameplay modes, maps, player classes, and RPG elements. In short: it's an even better version of an already excellent multiplayer experience.
Otherwise, Wolfenstein: Enemy Territory is virtually indistinguishable from Return to Castle Wolfenstein, as far as presentation goes. It uses the same modified version of the id Tech 3 engine and sports the same graphics, soundtrack, and library of audio effects. Fortunately, the game's freely available source code means there's a whole raft of amazing fan-made mods you can download to spice things up as required.
6. Wolfenstein RPG
Developer: id Software
Publisher: EA Mobile
Platform(s): iOS, Java, BREW
Bringing fully-fledged role-playing mechanics to the Wolfenstein franchise was a big gamble by id Software and Fountainhead Entertainment, but one that paid off in spades. Wolfenstein RPG is that rare mobile game spinoff that plays to the strengths (and, more importantly, weaknesses) of mobile hardware to deliver more than just a crappy IP cash-in.
A turn-based, first-person RPG, this 2008 title adds a new strategic element to the franchise's traditional "guns blazing" approach to gameplay. The pacing is methodical yet thrilling, as you use Wolfenstein RPG's intuitive controls to decide what your best next move is before your Axis enemies get to take their turn. It's a throwback to the RPGs of yesteryear but reimagined in a way that feels fresh.
So does Wolfenstein RPG's tone, which is much more light-hearted than other entries in the series. It comes complete with kickable mutant chickens, crazy-eyed asylum escapees, and tongue-in-cheek dialogue. True, the animation is a little basic, and the slick cartoonish graphics won't be to everyone's taste. Those minor complaints aside, anyone eager for a break from conventional first-person shooters will have a great time with Wolfenstein RPG.
5. Wolfenstein: The Old Blood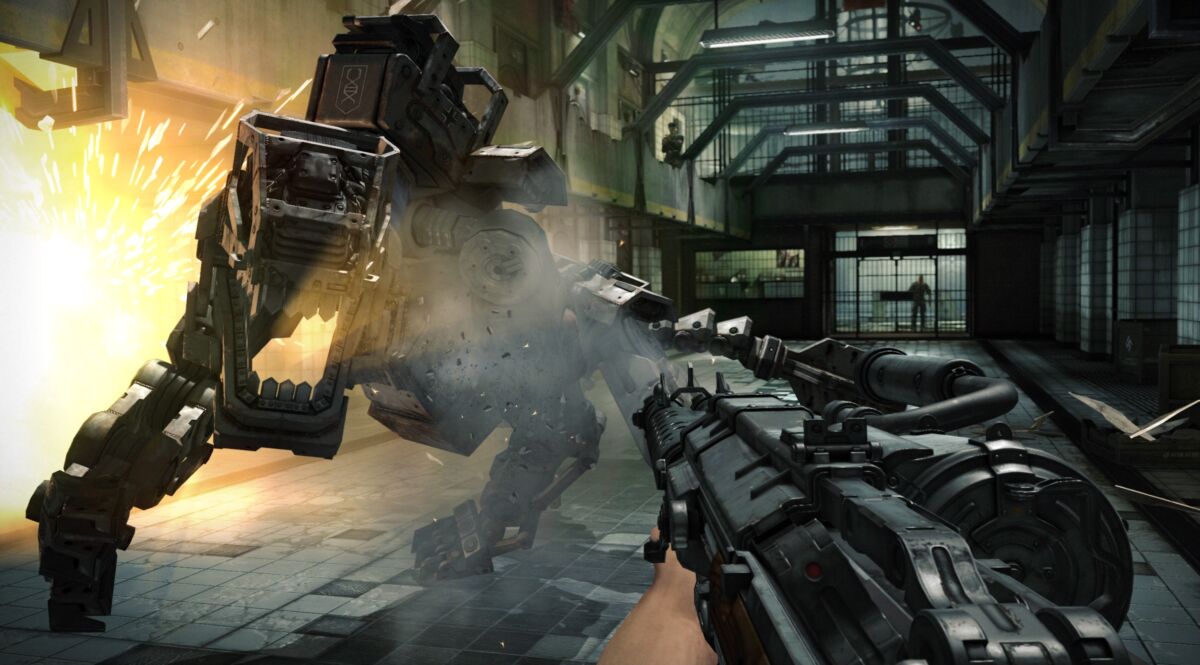 Developer: MachineGames
Publisher: Bethesda
Platform(s): PC, PS4, Xbox One
A prequel to Wolfenstein: The New Order (as well as a quasi-remake of Return to Castle Wolfenstein), Wolfenstein: The Old Blood returns the franchise to its stealth roots. To their credit, the team at MachineGames does a stellar job of incorporating these mechanics without skimping on the first-person shooter elements fans have come to expect from a Wolfenstein title.
The result is a game that effortlessly shifts gears from tense puzzle solving to thrilling, well-paced firefights, something that sets Wolfenstein: The Old Blood apart from its peers. This 2015 release also introduces a fantastic new weapon to the franchise: the Pipe. Players can use this multi-purpose weapon/tool to batter Nazis to death, scale walls, and much more besides, and all of it feels great. What's more, there's plenty of replay value on offer here, courtesy of the Challenge Arena mode and Wolfenstein 3D-inspired Nightmare Levels.
So why doesn't Wolfenstein: The Old Blood place higher on this list of every Wolfenstein game, ranked from best to worst? Well, for one thing, some of the stealth sequences could've used a bit more polish. For another, the cover-based gunplay – while excellent – doesn't really iterate much on what Wolfenstein: The New Order gave us. And while this is an undeniably sharp-looking game, its B-movie-inspired story is serviceable at best.
4. Return to Castle Wolfenstein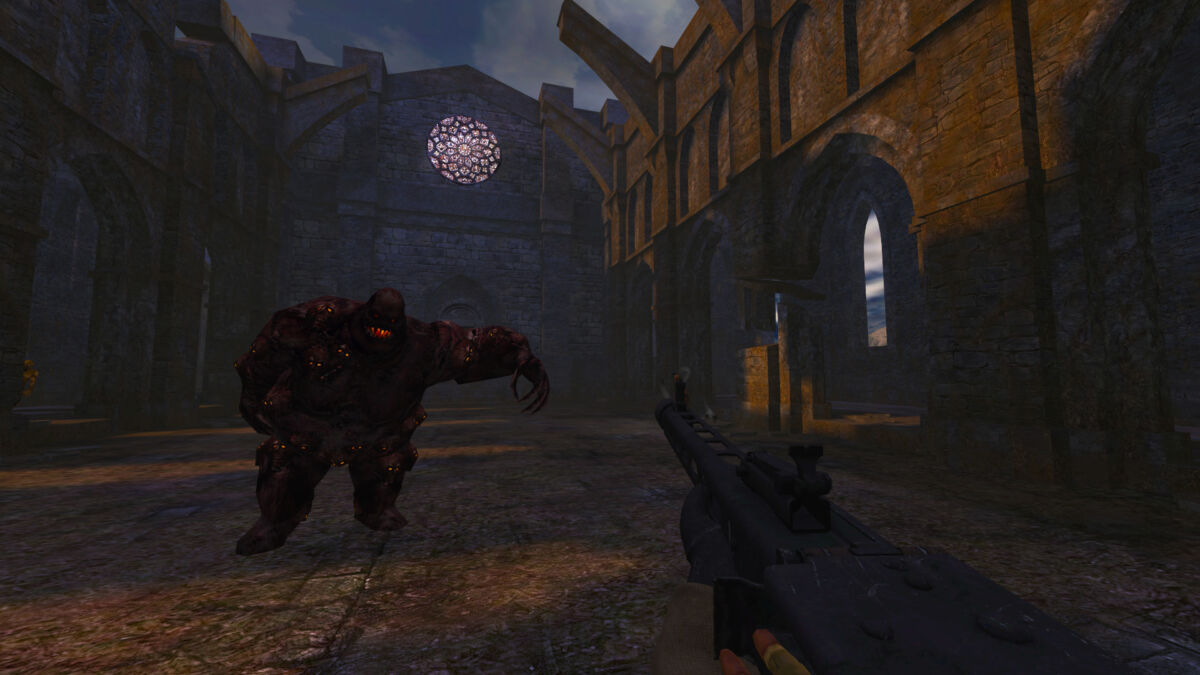 Developer: Gray Matter Interactive
Publisher: Activision
Platform(s): PC, PS2, Xbox
2001's Return to Castle Wolfenstein was the franchise's first new entry in nearly a decade and had the unenviable task of reimagining Wolfenstein 3D for a modern audience. Gray Matter Interactive (with help from Splash Damage and Nerve Software) proved largely up to the challenge, turning in a solid single-player campaign that honoured the spirit of its predecessor while also edging the series' lore further into supernatural territory.
In hindsight, this campaign is good without ever being truly great – although it's more than long enough and benefits from strong level design and varied environments. But really, the best thing Return to Castle Wolfenstein brings to the table is its multiplayer, which helped set the standard for competitive first-person shooters back in the day.
Return to Castle Wolfenstein's graphics are also lightyears ahead of those in Wolfenstein 3D, and the score and sound effects are still pleasant to the ear. By contrast, the storytelling has aged poorly (spectacular opening cutscene notwithstanding), particularly the decision to render franchise icon B.J. Blazkowicz mute throughout.
3. Wolfenstein II: The New Colossus
Developer: MachineGames
Publisher: Bethesda
Platform(s): PC, PS4, Xbox One, Switch
2017's Wolfenstein II: The New Colossus doesn't so much innovate as it perfects. Nearly all the best aspects of the other games on this list show up again here – only they're executed far, far better. So, when it came time to compile a list of every Wolfenstein game, ranked worst to best, this MachineGames effort was a shoo-in for the top three.
Above all else, Wolfenstein II: The New Colossus is tremendously fun to play. The level design is inventive right from the jump, with players starting their campaign trading fire with Nazis while confined to a wheelchair. All the core mechanics are finely tuned as well, from the hyper-addictive cover-based gunplay to the simple-yet-exquisite thrill of plunging a hatchet into an unsuspecting Nazi's skull. There's also an incredible sense of spectacle to proceedings, as later levels feel like you're playing the lead in your very own Hollywood blockbuster.
The presentation is top shelf, too. The id Tech 6-powered graphics look almost as good today as they did five years ago, and take Wolfenstein: The New Order's aesthetic to the next level. These flashy visuals – not to mention the strong voice acting – help bring Wolfenstein II: The New Colossus' gripping alternate history narrative to life. It's an engrossing yarn that offsets its more ludicrous plot points with a disarmingly moving insight into BJ Blazkowicz's painful backstory, while also giving centre stage to one of the most hissable video game villains in recent memory, Frau Engel.
2. Wolfenstein 3D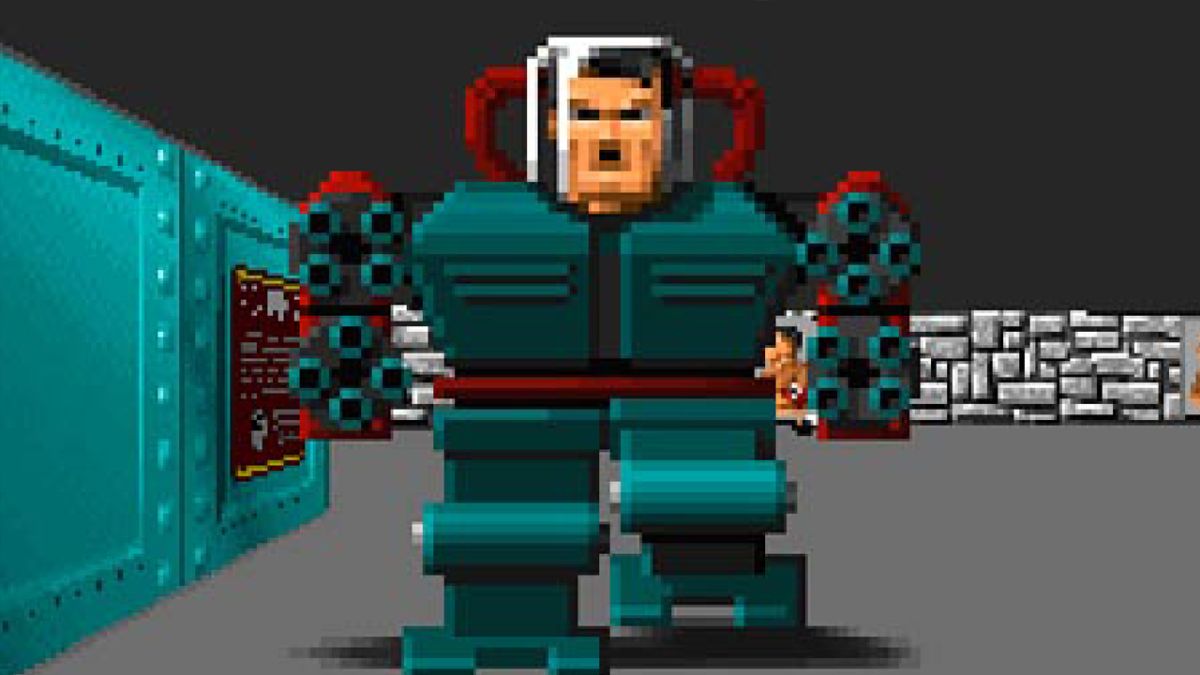 Developer: id Software
Publisher: Apogee Software
Platform(s): Various
Let's be real for a second: no Wolfenstein 3D means no first-person shooter genre, period. The fundamentals that make modern titles like DOOM, Halo, and Call of Duty possible – stuff like fast-paced gameplay, bleeding-edge graphics, and immersive virtual worlds – were first mapped out by id Software's 1992 shooter. In terms of pure innovation, no other game on this list comes close to matching Wolfenstein 3D.
Wolfenstein 3D also remains a blast to play, 30 years on. Although the mechanics are simplistic by today's standards (you can't even look up and down), the controls handle well and each of the game's increasingly more high-powered weapons still pack a tangible amount of punch. The 3D environments and 2D sprites (particularly the enemy death animations) have also aged surprisingly well, as has the varied soundtrack and limited sound effect library (Hitler's final line is *chef's kiss*).
Admittedly, the level design and enemy sprites are a bit repetitive, and the enemy AI presents little challenge on all but the hardest difficulty settings. Yet these are minor quibbles, and they're all addressed to differing degrees by the Spear of Destiny expansion pack.
1. Wolfenstein: The New Order
Developer: MachineGames
Publisher: Bethesda
Platform(s): PC, PS4, PS3, Xbox One, Xbox 360
You can trace pretty much everything that works about the Wolfenstein franchise today back to 2014's Wolfenstein: The New Order. Key innovations like the post-World War II alternate history setting, cover system-based gunplay, customisable weapons, melee attack system, character-driven storytelling, and narrative-altering player choices all got their start here.
MachineGames pulled together all Wolfenstein: The New Order's advancements in an impressively sleek package, too. The combination of the id Tech 5 engine's graphical horsepower and some inspired production design results in a game with breathtakingly well-realized, highly detailed character models and virtual environments. The sound effects and vocal performances are all spot-on as well, as is Mick Gordon's unconventional, distortion-heavy score.
Yes, 2017 sequel Wolfenstein II: The New Colossus does some things better, but never forget that Wolfenstein: The New Order did them all first.
READ MORE: The Best FPS Games On Xbox Game Pass
Some of the coverage you find on Cultured Vultures contains affiliate links, which provide us with small commissions based on purchases made from visiting our site. We cover gaming news, movie reviews, wrestling and much more.