The biggest new racing games of 2021 and beyond has taken shape, and already I can tell you that it's a bit disappointing, purely because we still don't have a new F-Zero game to look forward to. At this point, I'd just take a remaster or port of F-Zero GX. Nintendo could charge me $60 for the privilege, I don't even care.
Alright, we've gone off-topic a little bit here, but the point is that there's still plenty of fantastic upcoming racing games to look forward to in 2021, even if some of them aren't strictly racing games. You'll see what I mean in a second. Here are the biggest new racing games of 2021 and beyond that you should be looking forward to for PC, PS4, PS5, Xbox One, Xbox Series X | S, and Switch.
New Racing Games of 2021
Destruction AllStars | February 5th, 2021
Developer: Lucid Games Ltd, Wushu Studios
Publisher: Sony Interactive Entertainment
Platform(s): PS5
Arguably seen as the game that made people balk the most at the $70 price tag of PS5 games, the developers of Destruction AllStars made the wise decision to launch the game as part of the PlayStation Plus line-up for February 2021. This means that all PS Plus users will be able to claim the game and play it forever so long as their subscription doesn't lapse.
While not strictly a racing game, Destruction AllStars does see players competing against each other in vehicles, so it sort of counts, right? We've counted Rocket League in these kinds of lists before, so we're counting the PS5 exclusive Destruction AllStars, which looks like the Destruction Derby games of old combined with Overwatch, or at least just any kind of brightly coloured game with distinct characters.
Taxi Chaos | February 23rd, 2021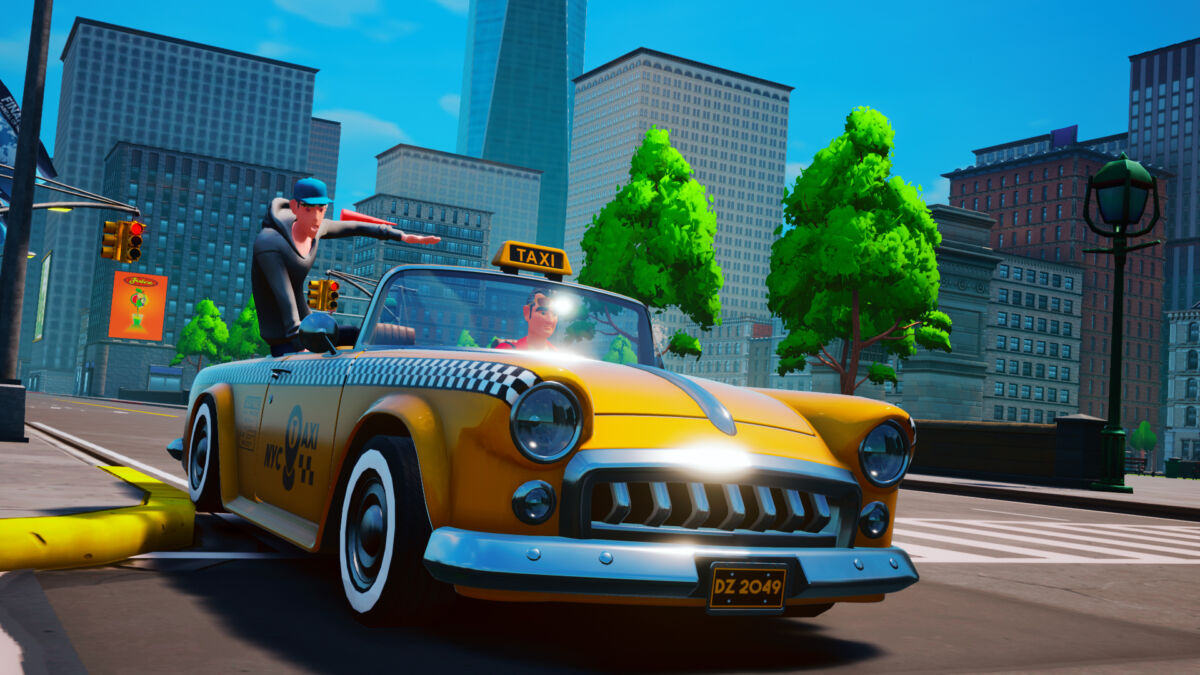 Developer: Team6 Game Studios
Publisher: Lion Castle
Platform(s): PS4, Xbox One, Switch
While it might not have as catchy a title as Crazy Taxi, Taxi Chaos aims to channel that nostalgia for SEGA's beloved franchise into a spiritual successor. Spiritual successors to popular driving games can be a risky business (see: Dangerous Driving), but the formula of driving to a destination as fast as possible is a hard one to mess up. Even The Simpsons managed to do an okay job with it.
Taxi Chaos sees players racing against time to deliver as many passengers to their destination as fast as possible, utilising skills such as drifting, jumping and knowledge of the map's intricate shortcuts to achieve the best possible time. Hopefully Taxi Chaos will also have those weird yet stupidly hard minigames like Crazy Bowling.
From our review:
On the surface, Taxi Chaos looks like an enjoyable slice of nostalgia bait that's fun for a little while before you move on to another game. There's truth to that statement, but there's plenty of issues with the core experience that make Taxi Chaos tougher to recommend, especially at the £25 asking price. Heck, it costs over £30 on the Switch, which is just too much. Wait for a sale, and the patches too.
Circuit Superstars | March 5th 2021 (PC Early Access) / Console Release TBD
Developer: Original Fire Games
Publisher: Square Enix
Platform(s): PC, PS4, Xbox One, Switch
Top-down racing games were one of the first genres to succeed in gaming, though most games in the genre have moved on to more realistic depictions of motor vehicles. That doesn't mean that more retro offerings have to go the way of the dodo however, as Circuit Superstars aims to prove that sometimes an old dog can still learn new tricks.
Original Fire Games have created Circuit Superstars with the intent on blending the top-down, arcade racing of old with a physics engine that provides some simulation of realistic driving conditions. Circuit Superstars features various cars from different eras of motorsport too, so if you're a bit of a retro gearhead, this should be right up your alley.
F1 2021 | July 16th 2021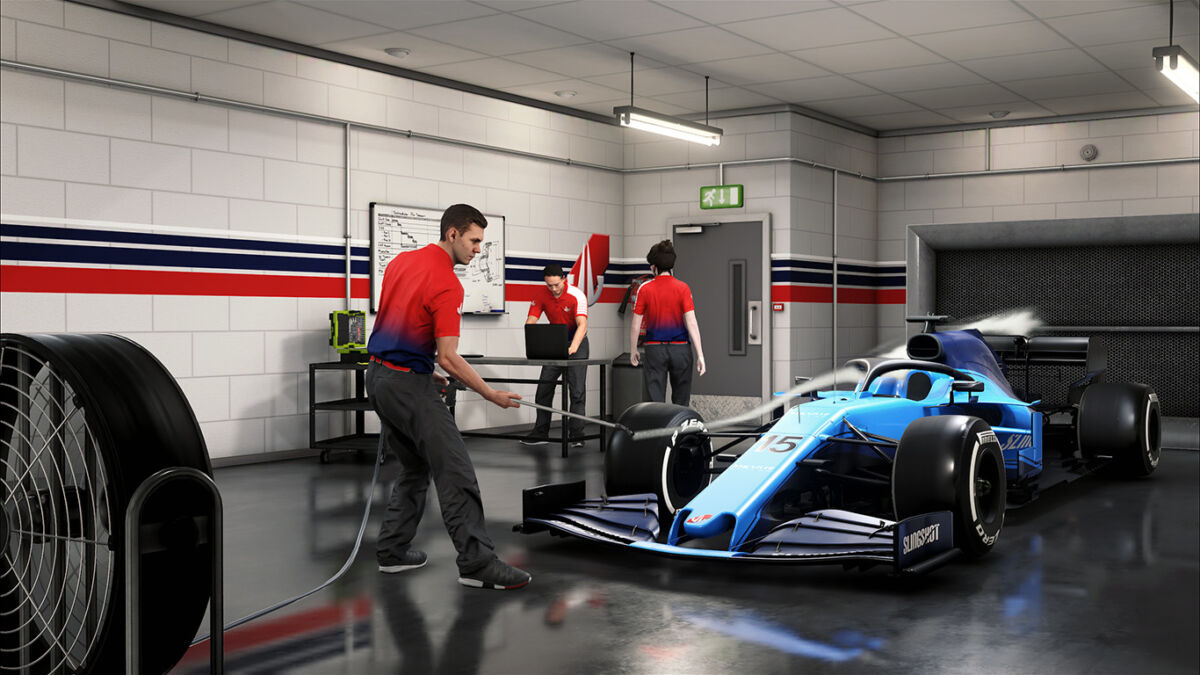 Developer: Codemasters
Publisher: EA
Platform(s): PC, PS4, PS5, Xbox One, Xbox Series X | S
Seeing EA's publisher credit on a Codemasters came is going to take some getting used to, that's for sure, but their first game together, F1 2021, looking set to be the start of a solid partnership between the two. The F1 series of games tend to be faithful and enjoyable recreations of the real sport, and F1 2021 looks set to be no different.
As for what's different in this year's release, Codemasters appear to be throwing the kitchen sink at the game, with plenty of new modes and legacy content to enjoy. Perhaps the biggest additions to this year's starting grid include the Braking Point story mode, and the inclusion of a two player career mode. Hopefully, these will make F1 2021 a racing game for the ages.
Riders Republic | September 2nd 2021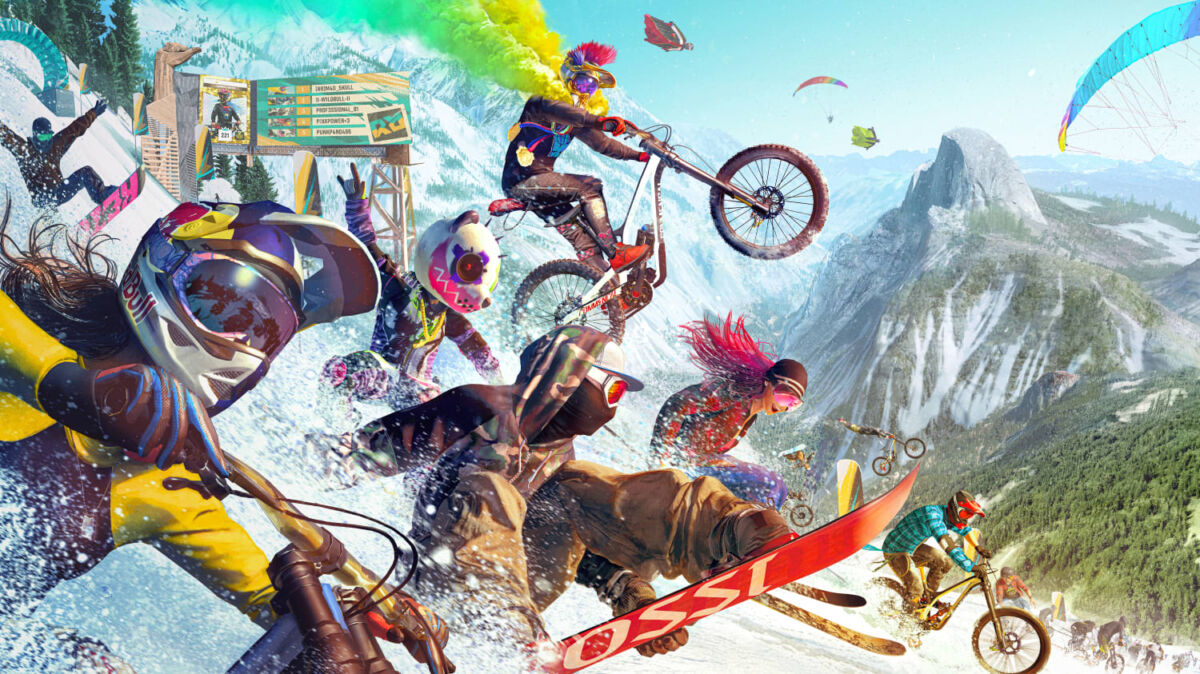 Developer: Ubisoft Annecy
Publisher: Ubisoft
Platform(s): PC, PS4, PS5, Xbox One, Xbox Series X | S, Stadia
Lowkey one of the more exciting racing games on the horizon, Riders Republic seems to take elements of what worked about Steep and amplify them exponentially. Instead of being limited to just snowboards, skis and wingsuits, bikes have now been added, meaning there's something for pretty much everybody, so long as you like going downhill fast anyway.
Riders Republic will see players takes to the mountains and compete in a variety of disciplines in an open world environment that pulls from US national parks like Yosemite, Zion and Bryce Canyon. You can compete against 20 players simultaneously, and the sight of 2o players hitting snowboard tricks off the same ramp likely will never get old.
Forza Horizon 5 | November 9th 2021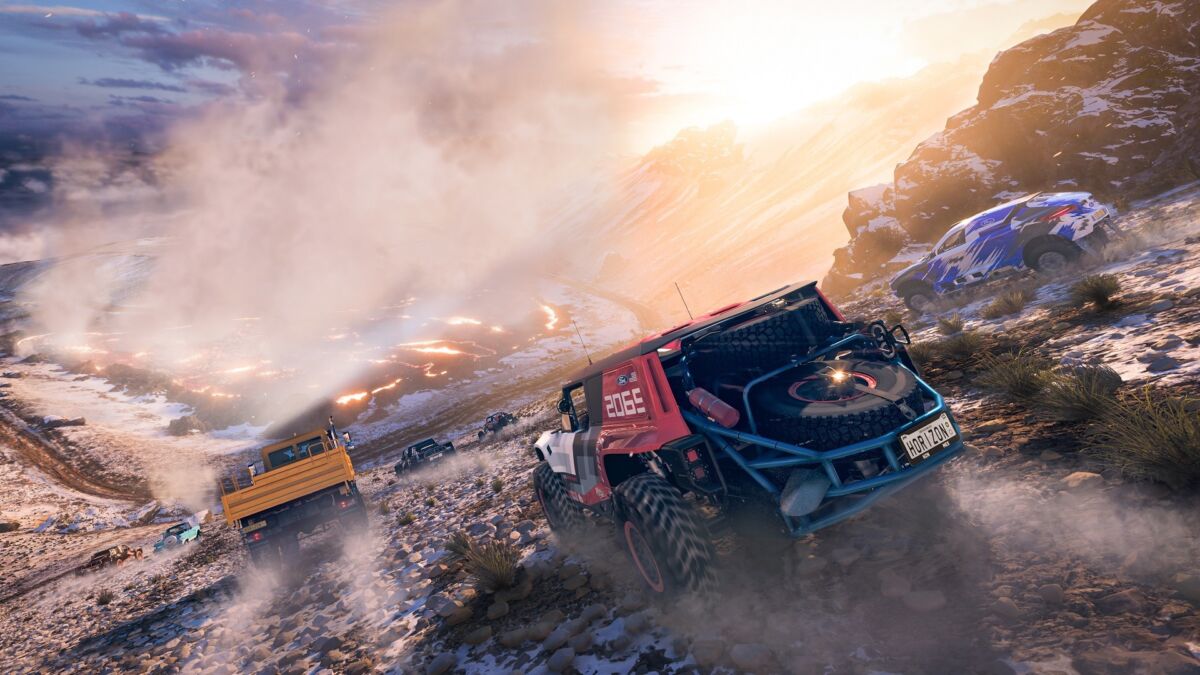 Developer: Playground Games
Publisher: Xbox Game Studios
Platform(s): PC, Xbox One, Xbox Series X | S
For a lot of players, Playground's Forza Horizon series is the superior Forza series, and the latest instalment, Forza Horizon 5, looks set to continue a winning tradition. The new game takes the open world exploration of Horizon to Mexico, introducing a diverse environment filled with races, activities and secrets to find.
Aside from the new world to explore, customisation and creation seem be given a renewed focus in Horizon 5, with players given more tools to create their own extreme race events and share them online. Both the social and campaign aspects of the game have been improved too, which should mean that Forza Horizon 5 is the best the series has ever been. We've got high hopes for this one.
Dangerous Driving 2 | TBC 2021
Developer: Three Fields Entertainment
Publisher: Three Fields Entertainment
Platform(s): PC, PS4, Xbox One, Nintendo Switch
The spiritual successor to Burnout that tried yet didn't quite succeed, Dangerous Driving 2 hopes to triumph where its predecessor failed. Considering the fact that Three Fields Entertainment is staffed by former Burnout devs, and the team has spent their entire existence emulating the different aspects of that iconic racing series, we're crossing our fingers that DD 2 is a much needed improvement.
As far as details are concerned regarding the sequel, we already know that the game will be borrowing from Burnout Paradise by introducing an open world to explore. However, the races will still be confined to closed tracks like the older games, so none of the open route races from Paradise will be featured. Also unclear is whether or not this game will have a soundtrack, or just utilise Spotify integration again.
The Next Need For Speed | TBC 2021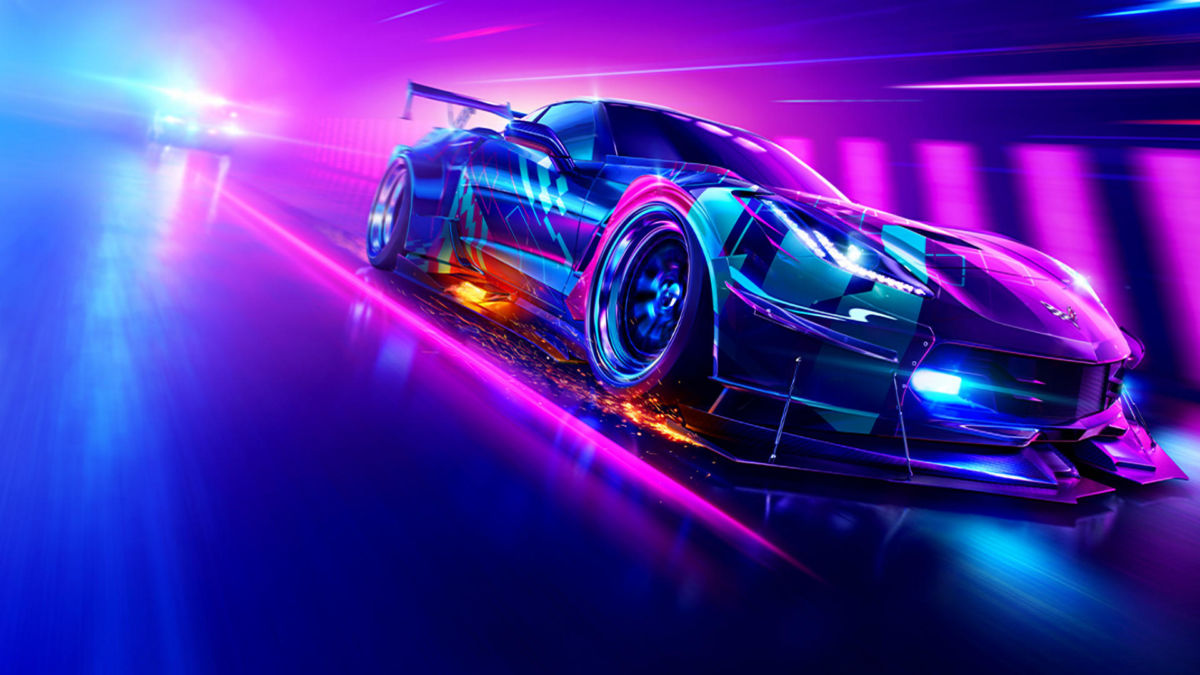 Developer: Criterion
Publisher: EA
Platform(s): TBC
It's been confirmed for a while that Criterion would once again be taking over the reins of the Need For Speed series, following on from Ghost Games who helmed the series from Need For Speed: Rivals in 2013 through to Need For Speed: Heat in 2019. Unfortunately, the games failed to set the world alight, leading to EA handing control for the series back to Criterion. I mean, NFS: Heat was good, but still.
Not much is known about what form the next Need For Speed game will take, but if it's anything like Criterion's last offering, 2012's Most Wanted, it should be an absolutely fantastic racing game. In fact, given that EA put in the work to remaster Hot Pursuit, why can't they redirect that energy into a Most Wanted remaster? I'd buy that. Hell, everybody would buy that.
KartRider: Drift | TBC 2021
Developer: Nexon
Publisher: Nexon
Platform(s): PC, Xbox One, Xbox Series X | S versions likely
Revealing during X019, KartRider: Drift's impending arrival on Xbox has seemingly been forgotten about. Aside from a closed beta in 2020, there's been no other news to speak of, which is a shame. A big online multiplayer kart racing game, which is crucially free-to-play, seems like a lucrative get for the big green brand, so hopefully we'll hear more about it soon.
Like Crossfire, another game that's launching on the Xbox, the KartRider series has been huge in Asia on both PC and mobile. Another mobile game, KartRider: Rush + launched in 2020 on mobile, and surpassed 10 million players in two weeks, so perhaps that success will translate when Drift launches on Xbox in 2021.
Gran Turismo 7 | TBC 2022
Developer: Polyphony Digital
Publisher: Sony Interactive Entertainment
Platform(s): PS5, PS4
The PlayStation's byword on simulated racing games, Gran Turismo 7 looks like it'll set the bar for graphical capabilities on the PS5. Racing games in general have always been some of the prettiest games to look at, and the Gran Turismo series is especially true of that regard. It's still amazing that Gran Turismo 4 looked as good as it did on the PS2.
The Gran Turismo games have always set the bar for in-game visuals, but the gameplay is also stellar too, allowing for some truly intense racing experiences. It's also home to some of the most frustrating driving challenges this side of the Driver tutorial with the License Test missions, which are bite-sized tasks that'll test your skills in ridiculous ways.
Forza Motorsport | TBC
Developer: Turn 10 Studios
Publisher: Xbox Game Studios
Platform(s): PC, Xbox Series X|S
We've talked about the PlayStation's byword on racing games and graphical quality, so now let's switch over to the Xbox's with Forza Motorsport. The next racing game from Turn 10 will take the popular simulation series to new heights, with ray traced visuals, optimised loading times and many more enhancements besides.
The Motorsport series of games tends to appeal more towards proper racing game and simulation fans, so expect hundreds of licensed cars, a couple dozens licensed and original tracks, and the ability to really tinker under the hood of your favourite cars. Fingers crossed that it's the best the series has to offer.
Test Drive Unlimited: Solar Crown | TBC
Developer: KT Racing
Publisher: Nacon
Platform(s): TBC
Probably the most far-flung offering on this list, all we have to go on for Test Drive Unlimited: Solar Crown's release is two CGI trailers that didn't really reveal much in the way of details. Still, the news of a new Test Drive Unlimited is fantastic, considering that the first two games are some of the most underrated racing games ever made. Seriously, TDU 2 felt like Forza Horizon before its time.
The Test Drive Unlimited games felt like equal parts racing game and life sim, as you explored a picturesque island with plenty of supercars at your disposal. Players could explore the island, race the AI or friends online, buy properties, take on odd jobs, visit a casino (if you had access to TDU 2's DLC anyway) and much more. Hopefully, Solar Crown can live up to expectations, especially if it wants to compete with the Forza Horizon series.
BeamNG.drive | TBC
Developer: BeamNG GmbH
Publisher: BeamNG GmbH
Platform(s): PC
Here's one that might feel like a blast from the past for you, but BeamNG.drive has been available in Early Access on Steam since 2015, with the physics-heavy racing game receiving a host of constant updates and features from then until now. That's not to say we know when the game will leave Early Access, but it's still coming and it looks impressive.
The biggest selling point for BeamNG.drive is the fact that it's a soft-body vehicle physics game, meaning that when you crash, your car will crumple up into a ball like a piece of paper, leading to some truly satisfying carnage. I'm crossing my fingers for the possibility of a console launch, just so I don't have to throw a silly amount of money at this racing game. Please.
READ NEXT: Biggest Upcoming New Survival Games of 2021
Some of the coverage you find on Cultured Vultures contains affiliate links, which provide us with small commissions based on purchases made from visiting our site. We cover gaming news, movie reviews, wrestling and much more.