So we all knew that Disney was going to empty the Star Wars well of not only new episodic stories but also delve into the rest of the universe.
Now while this isn't exactly a huge sidetrack from the world we already know, exploring the past of Han Solo is certainly an intriguing prospect.
Let's get right into it and look at what could have made the nerf herder quite so scruffy.
1. Cast Living Up To Expectations
We already know that Alden Ehrenreich will have the honour of playing the lovable rogue Han Solo. The expectations will of course be through the roof with this casting so the film really hinges on if this works on not.
Alden won't really be known to the mainstream film audience. He's mainly been plying his trade in more independent movies, his most high profile role so far being in the Coen brother's latest film Hail, Caesar!
While the talent of Alden is of course paramount to the role he needs a good supporting cast. With fan favourite Donald Glover playing the smooth talking Lando Calrissian and Emilia Clarke recently announced, we already have a good foundation to build off.
Seeing a young Han run around with his old friend Lando and get up to all kinds of no good with new love interests is what we've all come to expect from the smuggler. Oh, and there's also a big hairy guy that helps balance Han out.
2. Han And Chewie's Relationship
Who doesn't want to see how these two got together? By all accounts it was due to a life debt being owed to Han from Chewie. How that exactly came about, well that's for them to show us.
Considering the affection the two clearly have for each other, it's important to show a relationship formed not just by debt, but by real loyalty and friendship.
Also, more importantly, how the hell did Han resist using Chewie's crossbow blaster until The Force Awakens?
3. Revelatory But Still Ambiguous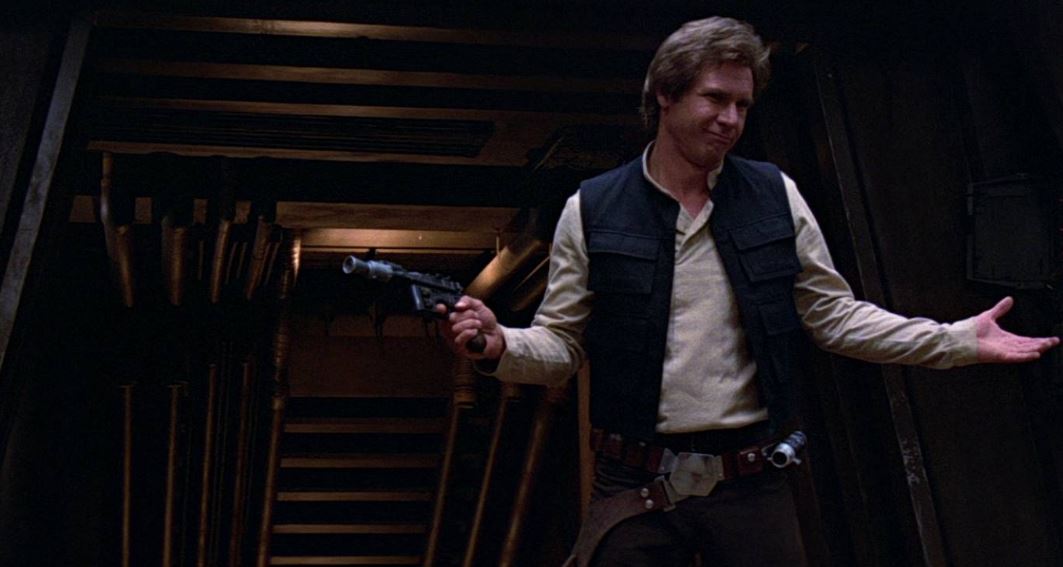 A very tight rope to walk here. While, of course, the point of this film will be to explore the early life of Solo, there's a lot to be said for what makes Han so awesome in the first place.
That's mystery. One of the reasons we love Han is the fact that he has that mysterious rogue demeanour. If too much light was to shine on what makes Han what he is, would he lose that shimmer?
So this will be a very interesting choice of direction for the filmmakers. I for one am of course eager to see the early years of the Rebellion General, but let's leave at least some of his backstory to the imagination
.
4. How Han Got The Falcon
One story element that just has to be explored right? According to what we heard in Empire Strikes Back, Han won the Falcon from Lando after some form of gambling.
This would be great to see on the big screen as it would provide another opportunity to showcase Han's reckless yet charming character.
This will also help to flesh out Lando's character, how did he react? It may reflect on how convincing Lando was after reuniting with Han in Cloud city. Although he probably had some time to simmer down, after all, he's an old friend of Han's right?
5. Hokey Religions And Ancient Weapons
Considering we've seen the eventual acceptance from Han that the Force is real, wouldn't it be great to see where all the stubbornness originally came from?
Han must have had some run with all kinds of force related folk in his time. He has flown from one side of the galaxy to the other you know.
To see Han interacting with whatever hokey antics and remain completely unimpressed would provide great bookends to his arc in this story.
Whatever happens in this film we can all agree that we all can't wait to see more of Han Solo. Since we won't be getting Harrison Ford back anytime soon, it will feel bittersweet but also help the mourning period.
Some of the coverage you find on Cultured Vultures contains affiliate links, which provide us with small commissions based on purchases made from visiting our site. We cover gaming news, movie reviews, wrestling and much more.