Slay the Spire took the video game world by storm with its charm, fast-paced combat, and addictive roguelike deck-building gameplay. Though card battler and deck-builder have been around even since before Slay the Spire, its smash success has ignited a fire of interest in developer teams to recapture that bright spark. Here are ten games like Slay the Spire across PC, PS4, PS5, Xbox One, Xbox Series X & S, and Switch worth checking out.
Games Like Slay the Spire
10. Guild of Dungeoneering
Developer: Versus Evil
Publisher: Gambrinous, Versus Evil
Platform(s): PC, macOS, Android
One of the few dungeon crawler deck-builder games released before Slay the Spire's momentous arrival, Guild of Dungeoneering contains some of the same elements that made the former so captivating. Particularly in its charm, due to the pen-and-pencil art style and aesthetic, as if you're doodling on the side of your homework or preparing for a tabletop role-playing game session.
Versus Evil's game doesn't quite have the same depth and complexity as Slay the Spire's extensive card mechanics and deck management, but it makes up for it in its quick pace. Guild of Dungeoneering is a perfect roguelike if you want to do a few runs in quick succession and then come back later. In addition, the combat system is relatively simple, which can ease you into how the game works without bogging you down in masses of cards and effects, which some deck-builders struggle with.
In a way, if you've never tried Slay the Spire and are intimidated by its reputation and mechanics, then Versus Evil provides a perfect entry point for beginners to see what deck-builder dungeon crawlers are all about. Guild of Dungeoneering may be lighter in its mechanics than some of the other games on this list, but it's still worth your time, especially if you're curious to expand your library of card games.
9. Gordian Quest
Developer: Mixed Realms, Swag Soft Holdings
Publisher: Mixed Realms, Coconut Island Games
Platform(s): PC
Gordian Quest ups the ante with more involved deck-building and card management mechanics. Of the plentiful roguelike games on the list, this one attempts to add more narrative heft and character development, though the narrative's structure comes across as low stakes and repetitive.
Luckily, the gameplay is where Gordian Quest truly shines. Firstly, the game's combat engagements have much more space to work with compared to other games of this type, leading to more maneuvering potential and flexibility in positioning. Secondly, Gordian Quest sports a deep card customization system, where you not only manage the cards in each of your characters' decks, but also have the ability to empower and develop cards further for greater control over your playstyle and tactical options.
Gordian Quest also has an amazing Avatar: The Last Airbender-like anime-inspired aesthetic that makes each action all the more exciting and the animations captivating. It may falter in the story department, but Gordian Quest is another great entry point into deck-builder roguelikes with equal levels of fast-paced combat and solid card management systems.
8. Banners of Ruin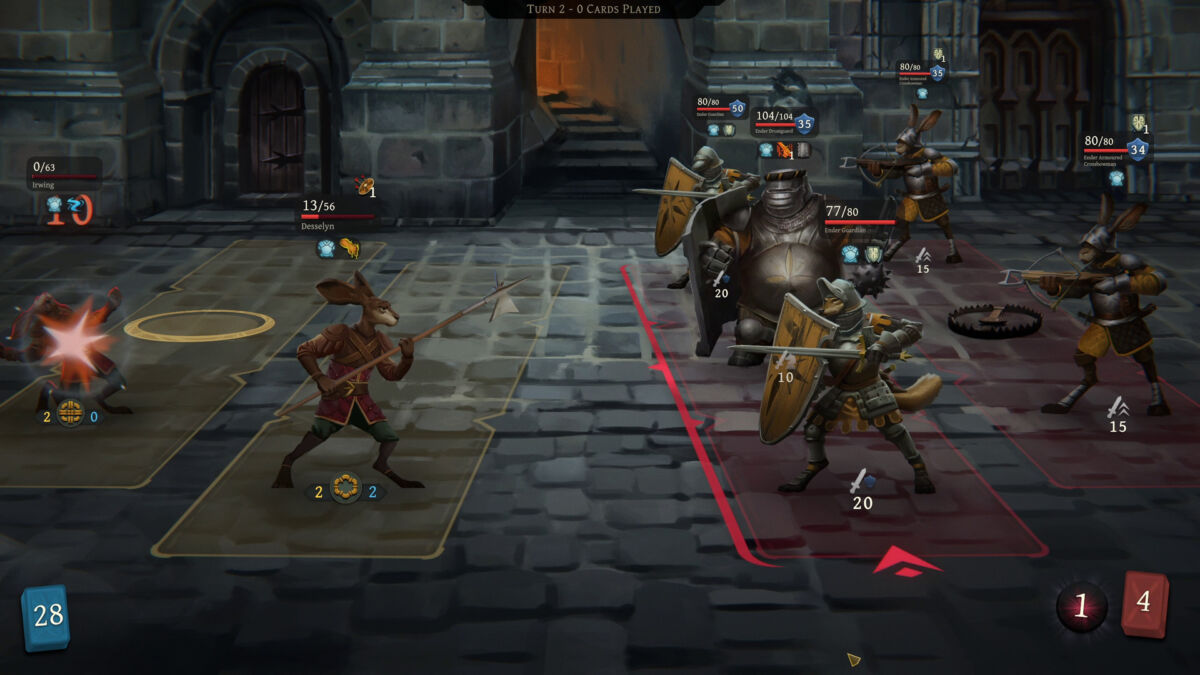 Developer: MonteBearo
Publisher: Goblinz Studio, Mugen Creations, Maple Whispering
Platform(s): PC, macOS, Linux, Switch
Many deck-builder games emphasize speed and a quick pace to keep the excitement at a heightened level and have fresh encounters to keep you on your toes. Banners of Ruin is one of those strategy games that goes the other route and slows the action down to focus more on effective decision-making and longer-term planning in combat encounters.
Banners of Ruin first hooks you with its creative anthropomorphic animal setting with a Medieval-esque backdrop, clothing, and architecture. There are a fair number of characters from different animal families, each with their distinct playstyle and tactics, giving plenty of variety for each run. As a result, each combat encounter, due to the slower pace of combat, turns into a battle of patient attrition and careful application of cards to maintain the long-term health of your party.
At times though, Banners of Ruin's difficulty isn't quite seamlessly balanced, leading to uneven pacing throughout the game, which can lead to some encounters either being way too easy or way too hard. Nevertheless, Banners of Ruin does a solid job of standing apart from the rest of the pack with its interesting take on dungeon-crawling gameplay — perfect for players looking to cool off from some of the more hectic deck-builders out there.
7. Tainted Grail: Conquest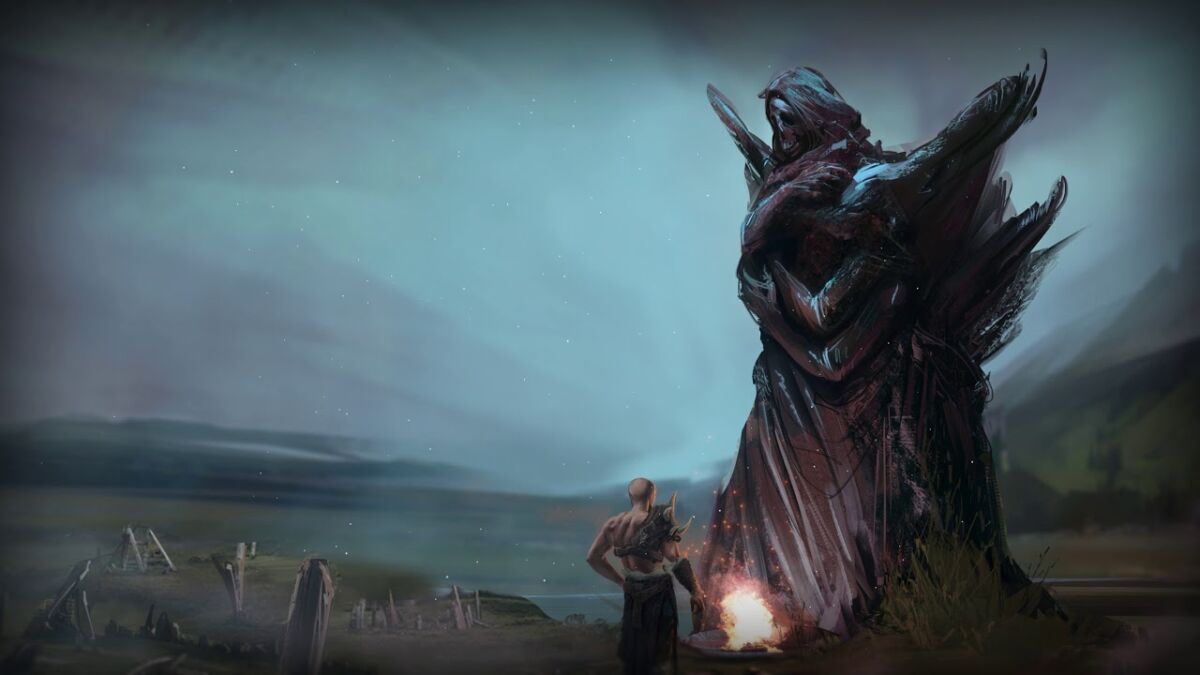 Developer: Awaken Realms Digital
Publisher: Awaken Realms Digital
Platform(s): PC
Tainted Grail: Conquest stands out on our list as a digital adaptation of a well-regarded board game that combines elements of Arthurian legend and Celtic mythology for a unique dark fantasy world, something many games set in King Arthur's world are doing. Unlike the previous entries, Tainted Grail makes exploration a more expansive part of the gameplay by doing away with the traditional dungeon-crawling setting, opting for an ever-shifting procedurally generated world map.
Undoubtedly the game's greatest strength is its vast cast of characters, each with their own decks of cards, progression paths, and playstyles that make every run fresh and a game of discovery in itself. Exploration only makes this better, as random events can affect your character's deck in surprising ways that could either help or harm your ability to proceed, similar to Slay the Spire's elements of randomness in deck-building.
The flipside of exploration being such a big part of the gameplay is that it can be a bit grindy and repetitive with the drab gray color palette hampering some of the game's replayability. But perhaps of all the games on the list, Tainted Grail is one of the few games where the well-defined setting does prop it up and make it a great companion piece to Slay the Spire.
6. Into the Breach
Developer: Subset Games
Publisher: Subset Games
Platform(s): PC, macOS, Linux, iOS, Android, Nintendo Switch, Stadia
It may not be much of a deck-builder, but Into the Breach is in the same family of roguelike strategy games as Slay the Spire. It essentially exchanges and substitutes card management and deck building with pilot skills, mech squad composition, and upgrades.
Unlike many strategy games out there, even Slay the Spire, where the goal is to quickly dispatch of your opponent to move on to the next encounter and next piece of exciting loot, Into the Breach is instead a game of damage mitigation and delay. Here you'll face off against an innumerable horde of kaiju in order to protect evacuation efforts. Due to the small size of maps and tile-based approach to positioning, Into the Breach's micro-tactics gameplay makes it the most chesslike in its flow.
Into the Breach does suffer a bit in the replayability aspect, as encounters, especially in the latter stages of a run, can feel samey or somewhat gimmicky. Nevertheless, the tactical gameplay is engrossing and the challenge level high, making it a worthy game like Slay the Spire.
5. Inscryption
Developer: Daniel Mullins Games
Publisher: Devolver Digital
Platform(s): PC, macOS, Linux
Inscryption is unlike any game we've ever played. Calling it solely a roguelike deck-builder would be cutting it short and not giving it enough credit. Its sense of atmosphere and sheer creativity is off the charts and creates a video game world full of whimsy, creepiness, and secrets.
In the main storyline, cards and adventure do play a role, but it's more the atmosphere, characters, and mystery that carry the game. However, the Kaycee's Mod update added a whole mode to the game solely focusing and expanding upon the deck-building mechanics, which rival even that of Slay the Spire with the number of unique card interactions and the unique visual style.
Inscryption is a game that all fans of gaming should experience at least once.
4. Darkest Dungeon
Developer: Red Hook Studios, Sickhead Games
Publisher: Red Hook Studios, Merge Games, Degica
Platform(s): PC, macOS, Linux, iOS, PS4, PS Vita, Nintendo Switch, Xbox One
Though Darkest Dungeon isn't really a roguelike and isn't at all a deck-builder, many attribute the success of this game to inspiring Slay the Spire. So how does a game that's seemingly alien fit into our list of games like Slay the Spire?
Out of the gate, Darkest Dungeon shares Slay the Spire's unique sense of art direction, where the former goes for Lovecraftian horror rather than fantastical absurdism and humor. Next, though Red Hook Studios' seminal piece doesn't include an explicit roguelike system of repeating playthroughs, something made far more explicit in Darkest Dungeon 2, the dungeon-crawling core of Darkest Dungeon is very much like Slay the Spire in spirit.
Where Slay the Spire succeeds in masking the inherent repetitiveness of roguelikes with engaging deck-building mechanics, Darkest Dungeon, especially if played in long sessions, can quite easily feel repetitive and grindy, which may lead to many not finishing their campaigns due to exhaustion. For its one-of-a-kind stunning visuals, excellent presentation, and awesome party composition system though, it's totally worth playing through Darkest Dungeon.
3. Monster Train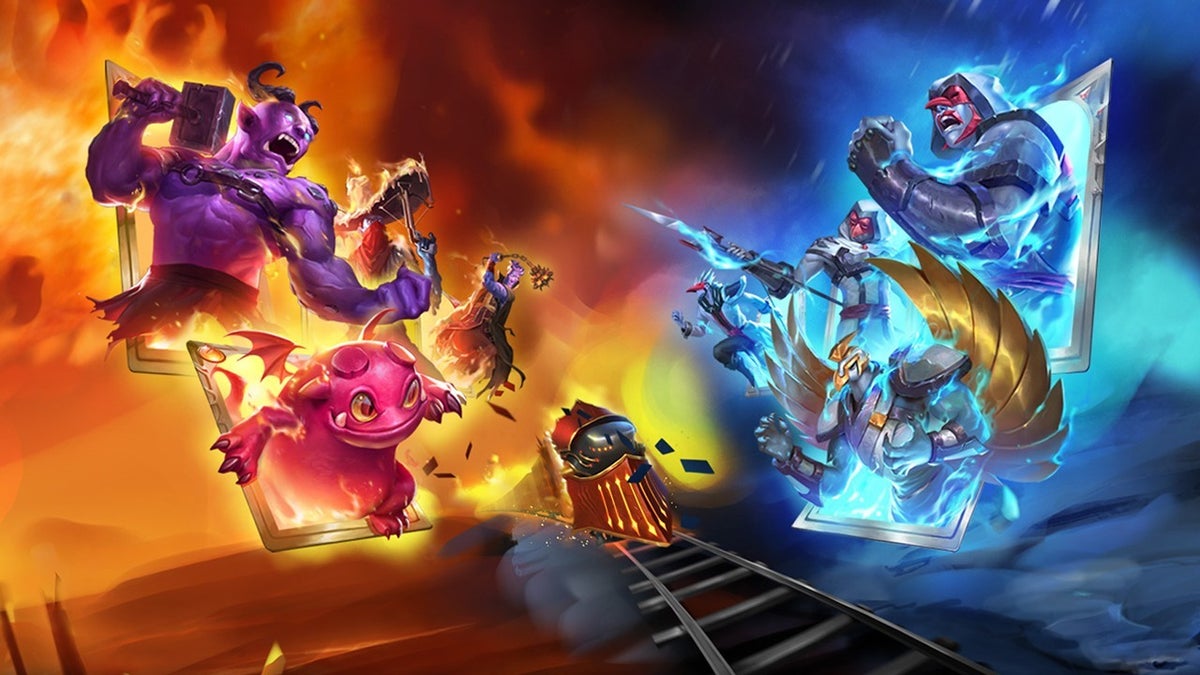 Developer: Shiny Shoe
Publisher: Good Shepherd Entertainment
Platform(s): PC, Switch, Xbox One
In most of the games we've listed, the player plays as the typical "good side," as they face off against terrifying threats to their world. Monster Train flips that entire premise on its head and instead you play as clans of monsters that are trying their best to return to their home, all the while harassed by pesky goody-two-shoes heroes and adventurers who are trying to shut down the titular train.
Slay the Spire's card mechanics are closely tied with character action, be it utilizing a weapon or casting some spell, while in Monster Train the deck-building centers around summoning creatures and denizens to fend off invaders. Along with its subversive premise, Monster Train also adds a time-challenge multiplayer mode where players compete with each other at completing runs as quickly as possible. Multiplayer is quite a rarity in roguelikes and deck-builders, so Shiny Shoe gets extra points for thinking outside of the box and doing something fresh.
Unlike some of its brethren though, Monster Train's visual style, while flashy and vibrant, doesn't quite have that same consistency or flavor as something like Darkest Dungeon or even Gordian Quest. However, it's Monster Train's varied gameplay and unique setting that give it a spot as one of the best games like Slay the Spire.
2. Loop Hero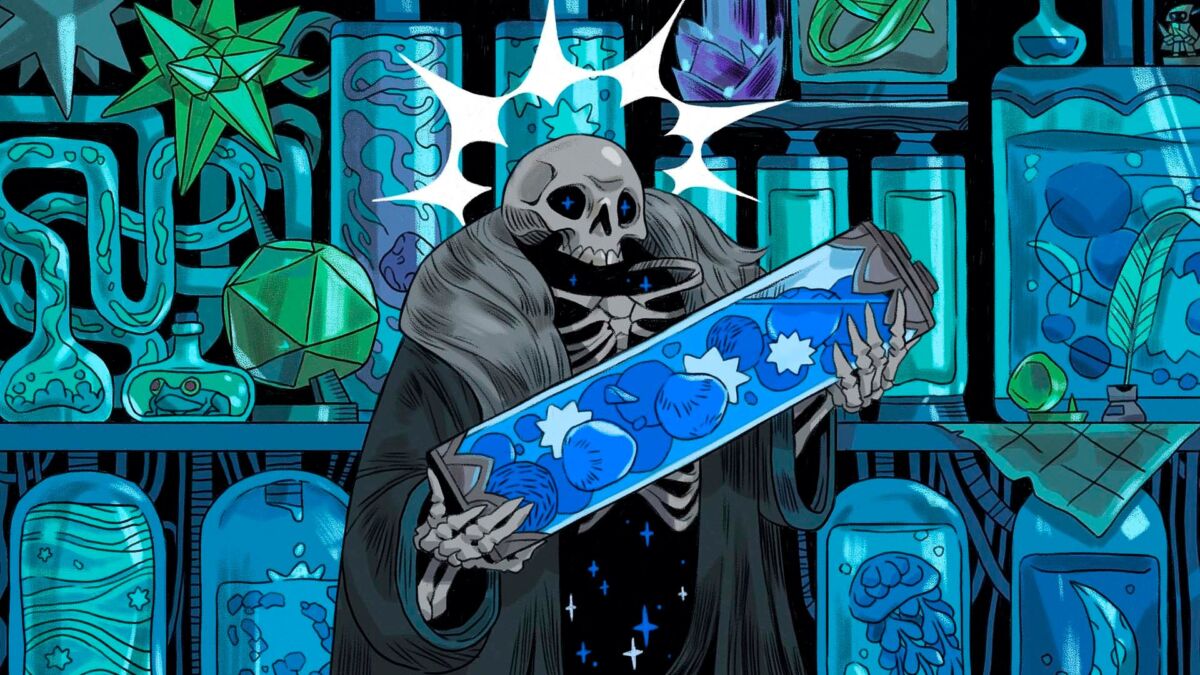 Developer: Four Quarters
Publisher: Devolver Digital
Platform(s): PC, macOS, Nintendo Switch
Our final non-deck-builder to make the list, Loop Hero is a solid roguelike in its own right that combines auto-battling systems for its combat for a more strategic experience. Curiously, despite not including explicit card management mechanics, Loop Hero's distinct terrain and tile placement feature feels a lot like Slay the Spire's deck-building, as you try to create favorable terrain for your character to traverse and level up.
Following on with a common theme from most games on the list, Loop Hero charms you with a beautiful high-detail pixel art style that perfectly fits its fantasy setting, giving it a timeless quality, as though it's been pulled from some time long ago. The game also offers plenty of challenge and difficulty for you to contend with, keeping every run fresh. Unlike Banners of Ruin, Loop Hero balances and paces its difficulty spikes quite well and avoids frustrating unfairness or blocks in gameplay.
The game's auto-battler combat system does take away some player agency and cheapens the tactical dimension of the game, preventing it from reaching that coveted legendary status that Slay the Spire has claimed. But when all's said and done, Loop Hero is an excellent roguelike, with great balance and enticing gameplay that will consistently offer up unexpected twists, turns, and revelations.
1. Griftlands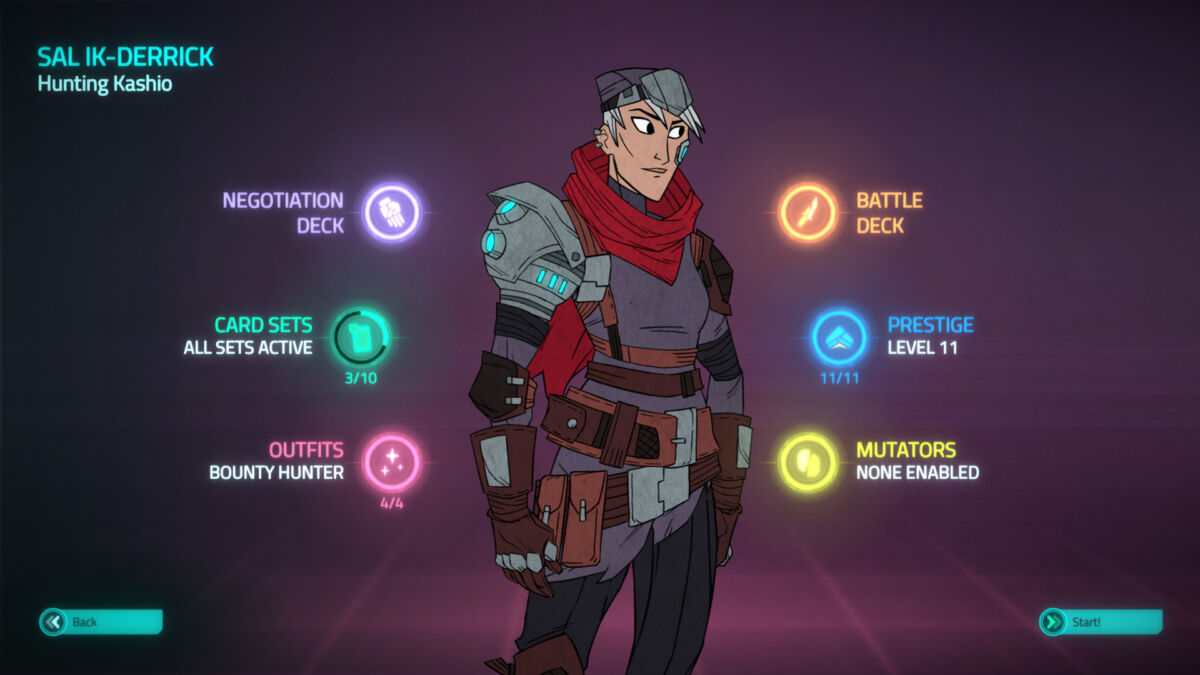 Developer: Klei Entertainment
Publisher: Klei Entertainment
Platform(s): PC, macOS, Linux, PS4, Switch, Xbox One
Griftlands is essentially what Gordian Quest tried to do with its emphasis on story. Klei injects the typically narrative-light formula of roguelike deck-builders with a healthy dose of engaging story-telling following three separate characters in an incredibly well-illustrated sci-fi world.
Gameplay-wise, Griftlands includes all the hallmarks of such a game: turn-based positional tactical combat and deck management. However, the developers at Klei go a step further and freshen up the formula even more by adding an innovative conversation system that also uses cards. Not only do you have to prepare and play around with combat encounters and fights, but you'll also need to be ready to engage in a battle of words to get what you need and unlock new pathways.
Each character's story does lack significant replayability, due to a lack of meaningful branching paths, though the journey to the end of each playthrough is what sells Griftlands. It may be smaller in scope and not quite as expansive as some of the other games, but Griftlands is as close to perfect as it gets in recapturing Slay the Spire's fire.
READ NEXT: 50 Best Strategy Games of All Time
Some of the coverage you find on Cultured Vultures contains affiliate links, which provide us with small commissions based on purchases made from visiting our site. We cover gaming news, movie reviews, wrestling and much more.