Animal Crossing has always been one of Nintendo's flagship titles, but the most recent addition, New Horizons, is currently the second best-selling Switch game of all time. Its calm, carefree atmosphere and familiarity was and still is the perfect escape route from real life.
However, Nintendo has confirmed that its latest 2.0 patch will be the final major update for New Horizons, and a new Animal Crossing game is likely a very long way off.
Although this is disappointing news, there are plenty of other Animal Crossing-style games if you're still in the mood for something light, cozy, and relaxing.
For those days where you just want to chill out and unwind, here are 10 games like Animal Crossing you should play.
Games Like Animal Crossing
10. Garden Paws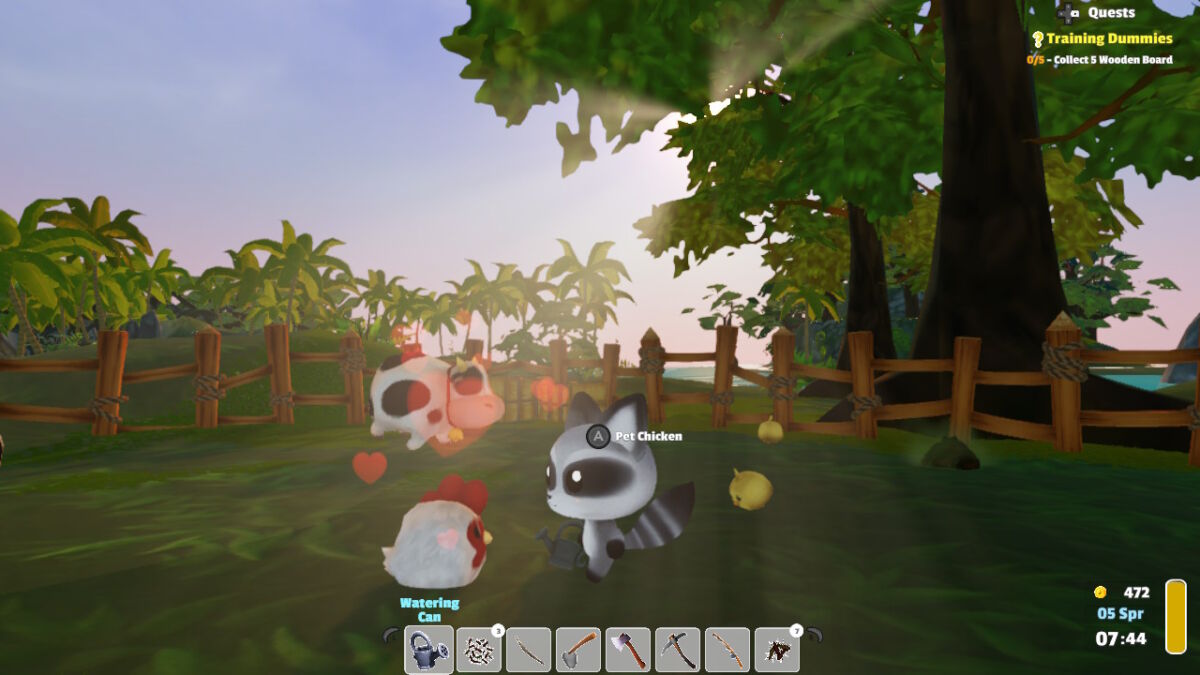 Developer: Bitten Toast Games
Publisher: Bitten Toast Games
Platform(s): PC, Mac, Switch
Garden Paws is heavily inspired by Animal Crossing, both in its charming visuals and addictive slice-of-life gameplay. After inheriting a farm from your grandparents, it's up to you to build up the town to unlock its full potential.
You can play as a diverse selection of characters, including a horse, dog, cat, human, and even a dragon. Just like Animal Crossing, the world is filled with a huge variety of anthropomorphic characters to befriend, though, sadly, you can't hit those you dislike with a net.
Alongside mingling with the local residents, there is a huge range of activities to keep you busy and help you earn the funds to improve the town. You can raise animals, grow crops, mine, fish, hunt for treasure, cook, manage your shop, complete quests, participate in seasonal events, craft furniture, and much more.
As you expand the town, additional residents, items, and quests will unlock. There are a ton of customization options for your character, house, and town, allowing you to unleash your inner creativity.
Garden Paws features a lot of the same gameplay elements as Animal Crossing, in addition to a relaxing, slow-paced experience.
9. Stardew Valley
Developer: ConcernedApe
Publisher: ConcernedApe, Chucklefish
Platform(s): PC, Mac, Linux, PS4, Vita, Xbox One, Switch, iOS, Android
Another game with a laid-back, tranquil atmosphere is Stardew Valley. After leaving your monotonous office job, you move to Pelican Town to live on your grandfather's old farm.
The farm is overgrown and pretty sparse in buildings, so you'll need to put in a lot of hard work to make it a profitable, thriving business. Much like Animal Crossing, there are plenty of villagers in the town to meet and greet, each with their own unique personalities and backstories.
Like most farming sims, you can raise animals, grow crops, mine, fish, gather resources, take part in seasonal events, craft, cook, and form romantic relationships. Although not plot-centric by any means, Stardew Valley does have a simple story you can follow at your own pace.
The community center, which was once the heart and soul of the town, is now in a state of disrepair. It's your job to bring to its former glory, which can be achieved either by donating specific items or by purchasing a membership at Jojo Corporation.
The latter is the easier path, but it means supporting the company that is putting the local shops out of business.
8. Hokko Life
Developer: Wonderscope, Wonderscope AB
Publisher: Wonderscope AB, Team17
Platform(s): PC, Mac
With its peaceful, cozy vibes and similar formula to Animal Crossing, Hokko Life hits all the buttons for players craving a brand new town to design with more anthropomorphic residents.
After falling asleep on the train and missing your stop, you arrive in the delightful animal-run town of Hokko. There are a decent number of character customization options to play about with, including the ability to change your hairstyle, eye, skin, and hair color.
However, the game's house town design options are where it really shines. You can style just about everything to create the town of your dreams, including your villagers' houses. It's up to you to make Hokko a charming and fun place to live in.
When you're not busy planning and developing your town, you can catch bugs, go fishing, talk to villagers, grow crops, mine, and dig for resources. Hokko Life is as close to Animal Crossing as you can get, but fortunately, there is no greedy tanuki rinsing your pockets dry.
7. My Time At Portia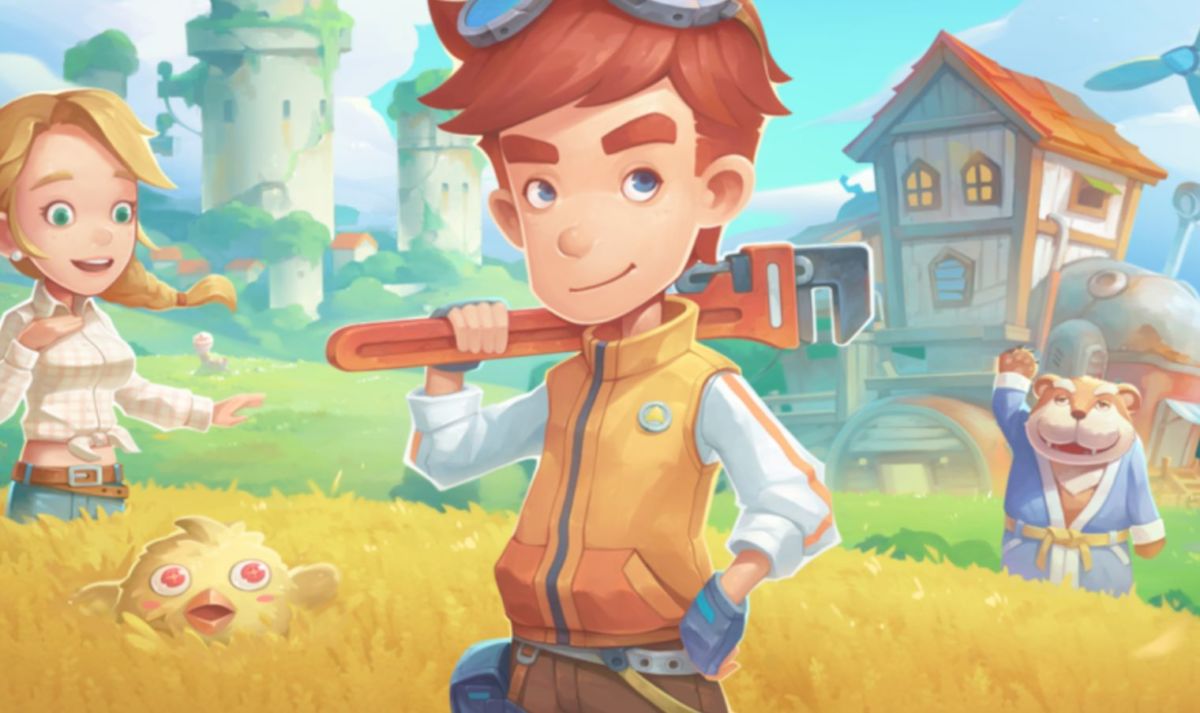 Developer: Pathea
Publisher: Team17
Platform(s): PC, PlayStation 4, Xbox One, Nintendo Switch, iOS, Android
Set in a post-apocalyptic world, My Time At Portia has the same simple but addictive gameplay and cheerful atmosphere that Animal Crossing is known for. The town of Portia looks pleasant enough, but it's filled with dark secrets that you'll eventually unearth as you progress through the story.
You play as a builder who can craft an array of objects and contraptions to fulfill commissions and improve the town. Crafting is your main money maker in the beginning, but it won't be long until you can engage in other activities like growing crops, raising animals, fishing, collecting relics, mining, and even fighting some baddies for valuable loot.
Although combat is needed to advance the story, it can be completely avoided during a normal day if you'd rather focus on other tasks and building your relationships with the town's residents.
The villagers in My Time At Portia are as intriguing as they are interactive. As your friendship or romantic level with them grows, you'll unearth more of their backstory and be able to go on 'playdates' or 'dates' with them, which includes going for dinner, stargazing, and chatting on the beach.
6. Alchemy Story
Developer: Éloïse Laroche
Publisher: Éloïse Laroche
Platform(s): PC
Alchemy Story follows an apprentice alchemist who's tasked with the big job of undoing a dark curse struck upon a village, which has transformed all the townsfolk into animals. With the help of a Professor, it's up to you to lift the spell and set things right.
The game's friendly atmosphere and casual gameplay will most likely appeal to Animal Crossing fans, as well as its cute visuals. A big focus of Alchemy Story is brewing potions, which can be sold or used to help you complete quests and daily tasks.
In addition to crafting brews and elixirs, you can run a farm and care for animals like sheep, cows, and chickens. Gaining their trust will provide you with rare ingredients needed for specific potions and quests.
You can also tend to your garden, fish, mine, forage, and spend time with the town's residents. Once you've lifted the curse on the village and turned the villagers back into humans, you'll be able to romance and marry your favorite one.
5. Yonder: The Cloud Catcher Chronicles
Developer: Prideful Sloth
Publisher: Prideful Sloth, Merge Games, Nippon Ichi Software
Platform(s): PC, PS4, PS5, Xbox One, Xbox Series X | S, Switch
Boasting stunning visuals and serene open world exploration, Yonder: The Cloud Catcher Chronicles is perfect for Animal Crossing players looking for another light-hearted game to unwind with.
Set on an enchanting island called Yonder in Gemea, you play as a nameless hero who must search for strange beings known as Sprites. With their power, you'll be able to clear the lands of an evil force that has shrouded everything in a dark, gloomy substance.
The game is free of combat and death, so you can freely wander through your surroundings and complete objectives at your own leisure. There are eight biomes to traverse, from sandy beaches to majestic snowy mountain ranges, as well as a wide range of activities to do.
You can tame wild animals, get to know the inhabitants of Yonder, complete quests, run a farm, fish, mine, and take up various crafting professions to assist you during your adventure.
Much of Yonder is about discovery and exploration, which paired with its tranquil ambiance and mellow soundtrack make it wonderfully immersive.
4. Spiritfarer
Developer: Thunder Lotus Games
Publisher: Thunder Lotus Games, Thunder Lotus
Platform(s): PC, Mac, Linux, PS4, Xbox One, Switch, Stadia
For a game where you play as a ferry master to the dead, Spiritfarer is a strangely heartwarming and relaxing adventure. You assume the role of Stella, the newest spiritfarer who must take spirits to the afterlife after granting their final wishes.
Your primary mode of transport is a boat, which you can customize and expand to meet the needs of the spirits in your care. There's plenty to keep you busy while you're managing your boat and caring for spirits, including cooking, fishing, mining, harvesting, and gardening.
Exploration is a key part of Spiritfarer and there are numerous islands to survey and scour for resources. Some sections are also blocked off until you learn the respective ability needed to pass them.
You'll meet a variety of spirits on your journey, from a food-orientated frog to a flirty lion, and it's your duty to satisfy their every whim.
As your friendship with each spirit grows, they'll confide in you and reveal more personal information. Eventually, you'll need to deliver the spirits to the afterlife, an emotional part that never gets easier.
3. Ooblets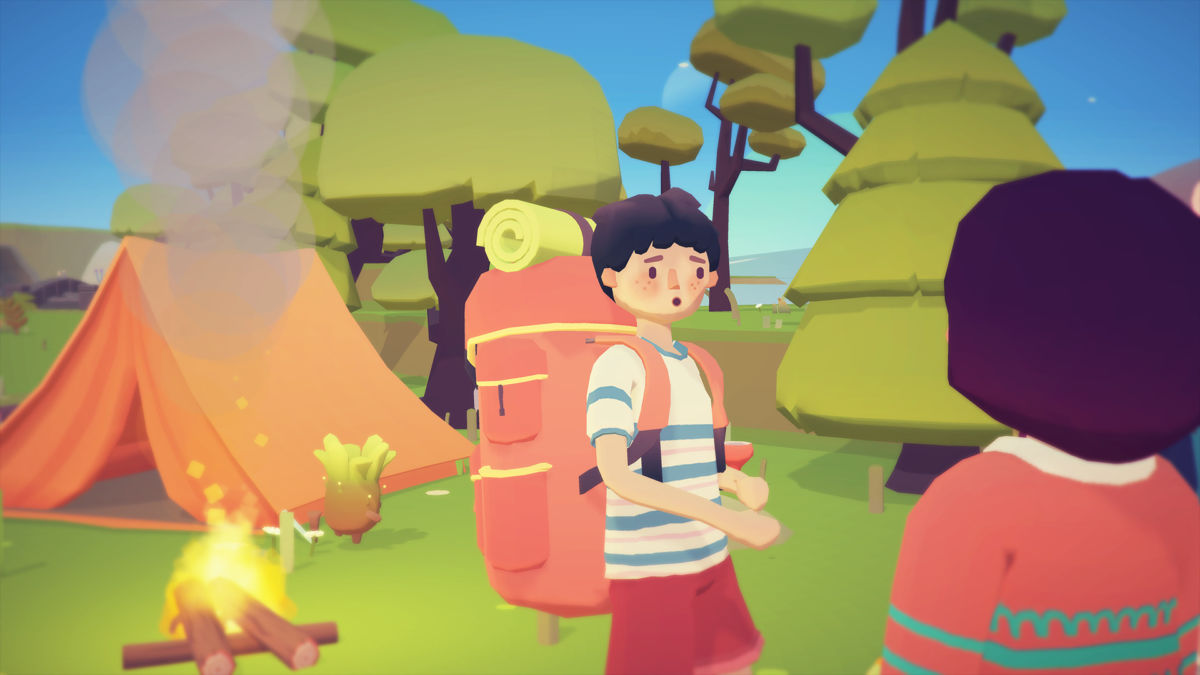 Developer: Glumberland
Publisher: Glumberland, Double Fine
Platform(s): PC, Xbox One
Ooblets is essentially a combination of Animal Crossing and Pokémon, allowing you to collect adorable creatures, explore vibrant lands, and get to know the quirky inhabitants of the world of Oob.
The titular ooblets are tiny, strange but adorable creatures with a love for dancing. You'll need to compete with them in card-based dance battles in order to increase their level and battle with other ooblet trainers.
Alongside dance-offs, the other gameplay cores are quests, farming, and home management. You can customize your character and house, but it's not as expansive as Animal Crossing's design options.
Farming primarily involves tending to plants and crops, which serve as a source of income and are also needed for certain quests. After building oobcoops, your ooblets will be able to help you with farming and care for your crops.
Ooblets is a wonderfully weird game, making it a solid choice for players looking for something a little silly and upbeat.
2. Story of Seasons: Pioneers of Olive Town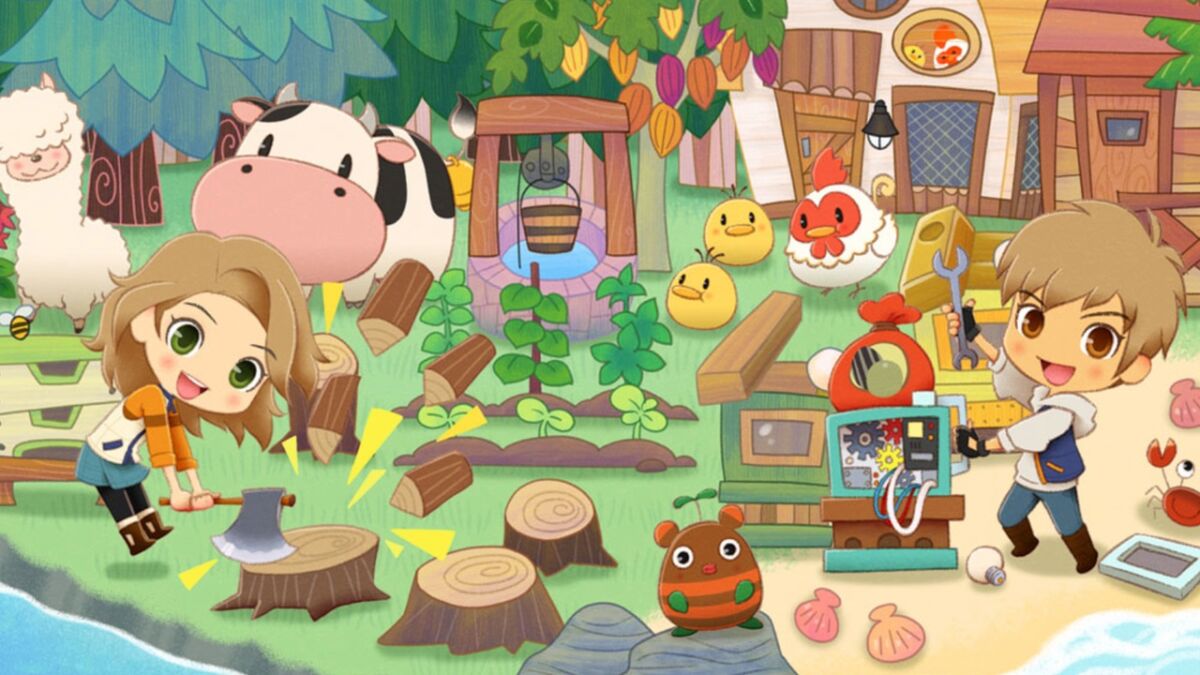 Developer: Marvelous Aql Inc., Three Rings Design
Publisher: Marvelous Aql Inc., XSEED Games
Platform(s): PC, Switch
While any title in the Story of Seasons series is worth playing as an Animal Crossing fan, the newest entry, Story of Seasons: Pioneers of Olive Town brings additional features and enhancements to the franchise.
Its cartoony art style, addictive gameplay loop, and wholesome vibes will make any Animal Crossing enthusiast feel right at home. As you'd expect from a farming sim, you move to a rural town to escape your boring day job and work on your grandfather's dilapidated farm.
Olive Town is a sleepy, unexciting place and is in dire need of a makeover to give its inhabitants a reason to continue living there. No one else is up to the task, so it's up to you to revitalize the town, while also managing your farm.
Compared to its predecessors, Story of Seasons: Pioneers of Olive Town has a larger focus on crafting (most likely influenced by Stardew Valley). The lands are also more expansive for richer exploration.
The gameplay loop of past Story of Season games and other farming sims is familiar: raise animals, grow crops, mine, fish, befriend residents, find a romantic partner, etc. Despite its identical formula, it doesn't stop the game from being enjoyable or eating up all your spare time.
1. The Sims 4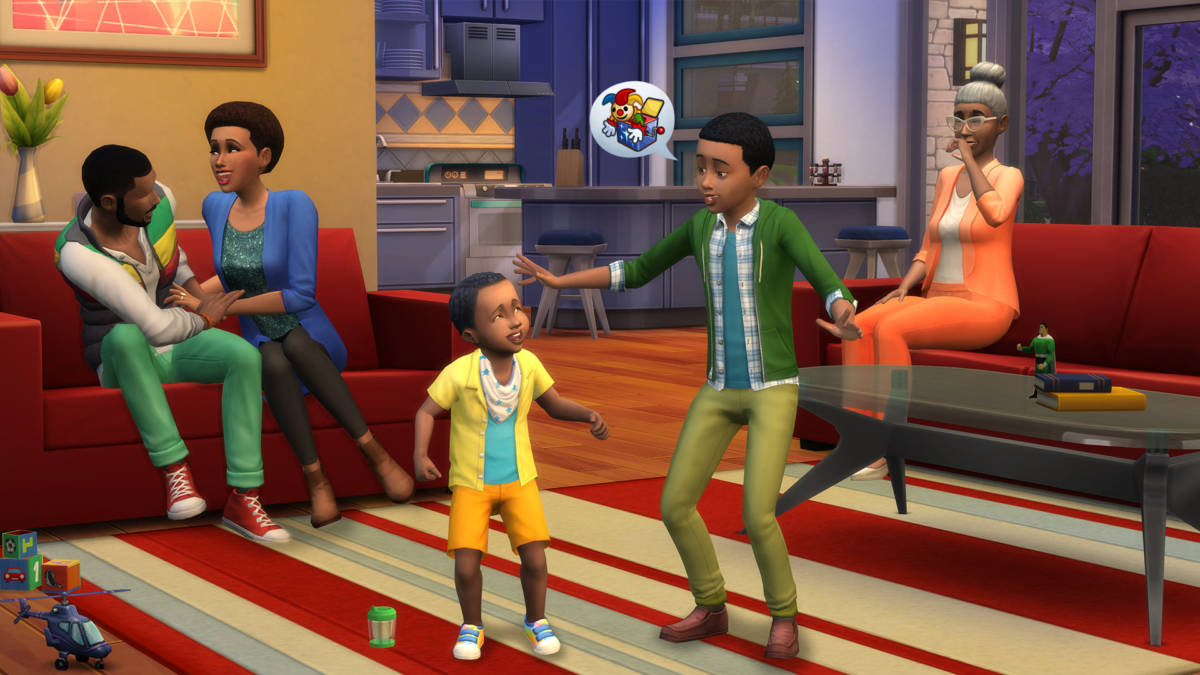 Developer: Maxis, The Sims Studio
Publisher: EA
Platform(s): PC, Mac, PS4, Xbox One
Although The Sims 4 doesn't contain any anthropomorphic neighbors, its focus on creativity and freedom has a lot in common with Animal Crossing. If you enjoyed designing your town and home in New Horizons, The Sims 4 will blow you away with its sheer number of customization tools.
You can create houses and characters using your imagination or replicate those from your favorite movies, TV shows, games, etc – that's how in-depth and detailed the Build Mode and Create a Sim is, even more so when used with mods.
You can live vicariously through your sims or lead them down a path of ruin – you have free will, but they don't unless you give it to them. While you probably should take care of their needs (hunger, hygiene, social, etc), you can do the complete opposite if you're set on making your sims as miserable as possible.
There are a staggering number of expansions and DLC packs for The Sims 4, which gives you extra features, activities, actions, clothes, furniture, hairstyles, and just about everything else you can imagine. Unfortunately, if you want to experience everything The Sims 4 has to offer, you'll need to part with a hefty sum of cash to do so.
READ NEXT: 10 Games Like Terraria You Should Play
Some of the coverage you find on Cultured Vultures contains affiliate links, which provide us with small commissions based on purchases made from visiting our site. We cover gaming news, movie reviews, wrestling and much more.